Chongqing Tours & Chongqing Yangtze River Trips
Chongqing, located in Southwestern China, is the Mountain City of China overlooking the Yangtze River and the Jialing River. It is an important port city as the launching point for 4 days & 3 nights downstream cruise from Chongqing to Yichang, as well as the ending site for 5 days & 4 nights upstream cruise from Yichang to Chongqing. Almost half travelers to China every year would like to put a cruise experience with Three Gorges and Three Gorges Dam visiting along the longest river in China into a long China tour.
Chongqing itself is an underrated destination and there are a lot of see and do in the "Little Hong Kong". It is a good choice to do half day, 1 day or 2 days Chongqing tour before or after your cruise. This sprawling metropolis is home to spicy food, friendly locals, cultural museums, and even UNESCO World Heritage Sites - Dazu Rock Carvings and Wulong Karst Landscape.
Besides, Chongqing is one of four directly controlled Chinese municipalities, joining Beijing, Shanghai, and Tianjin. Neighbouring with Sichuan, Hubei, Hunan, Guizhou, and Shaanxi in different directions, Chongqing is very large simultaneously a city and a province. Many travelers would like to cover Chengdu, Xian, Guilin, Zhangjiajie, Leshan Giant Buddha, Mount Emei and more stunning destinations into the Chongqing cruise trip. We, Yangtze-river-cruises.com, running an office in Chongqing, will offer you the best Chongqing tour & Yangtze River cruise experience at the lowest local price.
Top 8 Chongqing Tour Packages - Travel Chongqing with Classic Itineraries
Our Chongqing tour packages cover popular Chongqing Yangtze cruise tours (Chongqing to Yichang cruise tour / Yichang to Chongqing cruise tour ), hot city tours, inspiring side trips to Dazu Rock Carvings (for 1 day), Wulong Karst Landscape (for 2 days), and Mount Jinfo (for 1 day). Also, you can choose the Yangtze cruise tours from/to Chengdu, Zhangjiajie, Xian, etc for more interesting exploration along the way. Feel free to select your likes or if you have your own needs or personal requirements, please tell us. Based in Chengdu and Chongqing, we are here to help you customize your own trip!
Chongqing & Yangtze Cruise Essential Guide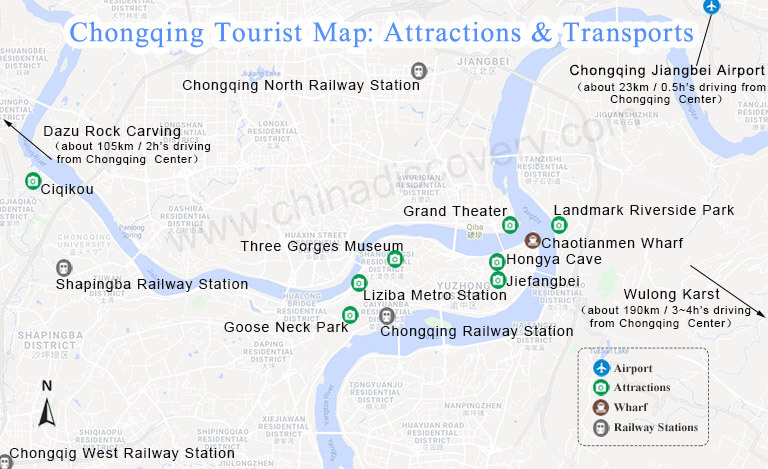 How to Plan Your Chongqing Tour or Chongqing Yangtze Cruise Tour?
The classic Yangtze River cruise takes about 4 or 5 days. And it is a common choice for most travelers to spend about half day or 1 full day exploring in the downtown area of Chongqing to experience its special topography, delicious cuisines and city panorama...In the downtown, visit Three Gorges Museum to have a rough idea about Chongqing City and Yangtze River. Ciqikou Old Town is featured in traditional buildings, snacks and souvenirs for a nice strolling. Don't miss the hotpot in the restaurant along Yangtze River which is the best way to experience the hot and spicy of this passionate city. Besides, Dazu Rock Carvings and Wulong Karst Landscape are worth your visit, which would take 1 or 2 days for each attraction. To well combine a Chongqing tour with Yangtze River cruise, you can learn more about: How to Plan a Yangtze River Cruise | Yangtze Cruise Ultimate Planning for 2023/2024 >>
Chongqing Rough Guide
Chongqing & Yangtze Highlights
China Yangtze Tours with Chongqing - Strongly Recommended
For most first-timers to China, they would like to cover several hot destinations in China, such as Beijing, Xian, Shanghai, Yangtze River, Guilin, Chengdu, Lhasa, Zhangjiajie to get an overall impression about the vast and beautiful China. Usually, Yangtze River cruise is served as a relaxing short break during the whole vacation. The following are the top 6 strongly recommended China Yangtze tours with a visit in Chongqing, and you can select your favored trip based on your interests, travel length and budget! If you have got your own ideas, contact us directly to discuss the travel plan and we can tailor made the tour for you!
Not easy to find the right cruise ship/itinerary for you? Please contact one of our Yangtze cruise specialists to save your time and money. Click the right button to send an online inquiry and we will get back to you within 0.5~23.5 hours.
Your can rely on our expert knowledge and endless enthusiasm!
Have a question? Get answers from our travel experts or guests