Chengdu Tours & China Chengdu Travel
Chengdu, about 306 kilometers in the northwest of Chongqing, is one of the most popular cities to combine into your Chongqing Yangtze cruise tours. Known as "the Hometown of Giant Pandas" due to the excellent reputation of the Chengdu Research Base of Giant Panda Breeding with over 100 giant pandas, lovely baby pandas and red pandas, Chengdu is well worth exploring in its own right. Chengdu has held onto its ancient roots despite becoming increasing modern and once you get on the land of Chengdu, you'll find the laid-back attitude through the temples and monasteries, leafy parks and traditional tea houses. As a result, Chengdu is ranked one of the most liveable magacities in China. Food is a highlight here, and trying the spicy Sichuan hotpot is almost a rite of passage. Hence, Chengdu is the UNESCO's first-ever City of Gastronomy.
Within reach of the city are Mount Emei and the Leshan Giant Buddha, where you can learn more about the region's Buddhist beliefs. As well, Chengdu is the gateway city to Jiuzhai Valley and Huanglong National Park for good appreciation of exceptional natural beauty...
Most importantly, we are local headquartered in Chengdu and running an office in Chongqing, and we can provide you best tours to any destinations of the whole Sichuan Province and Chongqing. Local best prices are guaranteed! Travel with us now!
Top 8 Chengdu Tour Packages - Travel Chengdu with Classic Itineraries
Our Chengdu tour packages cover popular Chengdu tours, amazing Chengdu side trips Leshan Giant Buddha and Mount Emei, extension tour to Jiuzhai Valley and Huanglong National Park, as well as a Yangtze River cruise tour starting from Chengdu. Also, you can make Chengdu Yangtze cruise tours to longer with interesting exploration to all Sichuan and Yangtze River. Feel free to select your likes or if you have your own needs or personal requirements, please tell us. Local based in Chengdu and Chongqing, we are here to help you customize your own trip!
Chengdu & Yangtze Cruise Essential Guide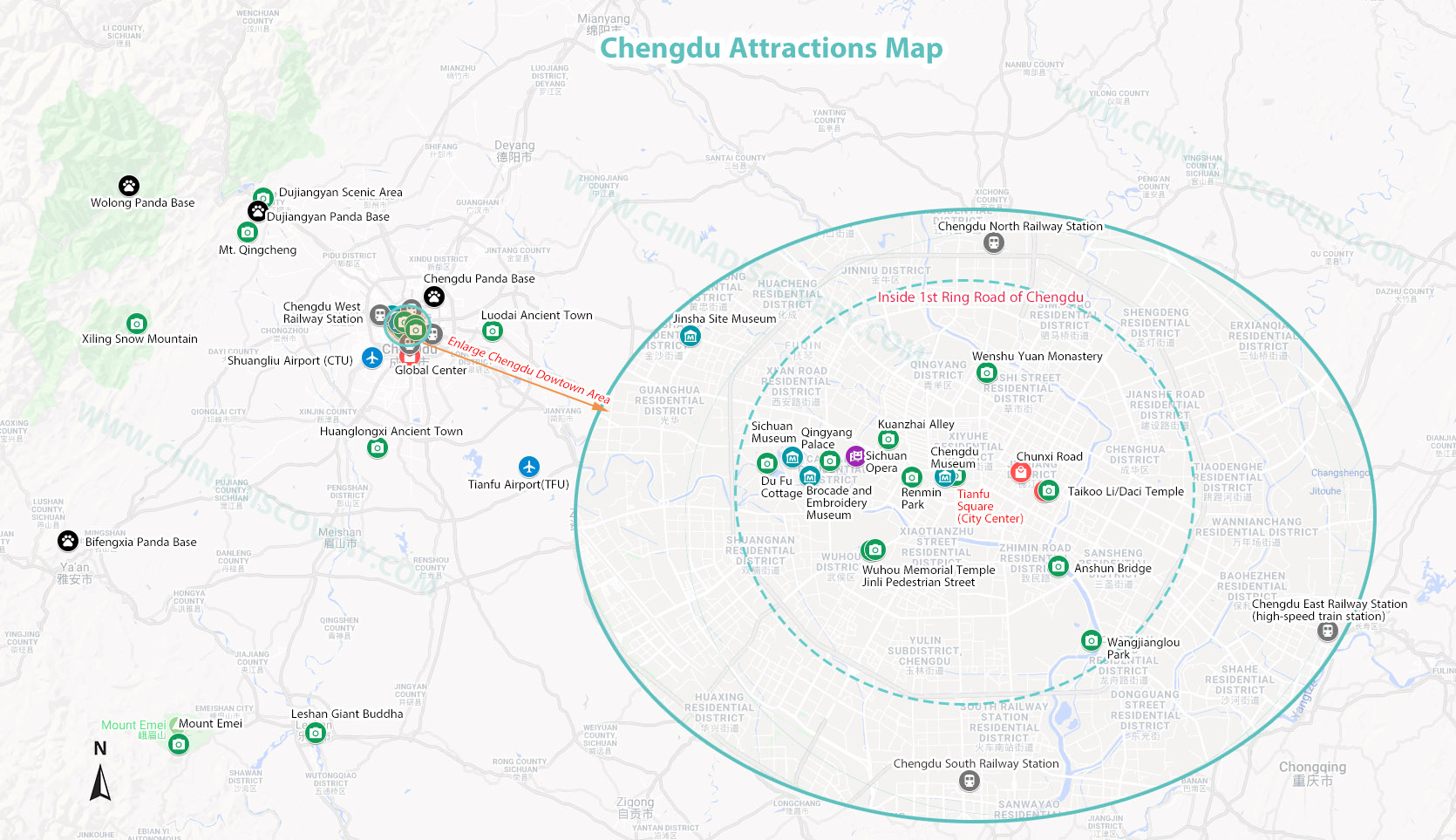 How to Plan Your Chengdu Tour or Chengdu Yangtze Cruise Tour?
For most travelers planning a trip to Chengdu, they would like to spend about 2 to 4 days in and around Chengdu. It is a good idea to spend one full day exploring the city highlights in the downtown area for vibrant, yet laid-back street life, incredible culinary prowess and a fascinating 3,000-year-old history. The must-see attractions include Chengdu Research Base of Giant Panda Breeding, Wenshu Monastery, Renmin Park and Jinli Old Street. For panda fans, they would head to Dujiangyan Panda Base to do the one day volunteer program to take care of the cute creatures. Take another two days to extend to Leshan Giant Buddha and Mount Emei.
The classic Yangtze River cruise usually takes about 4 or 5 days. For a Yangtze River cruise from Chengdu, it usually takes about 6 to 8 days in total. To well combine a Chengdu tour with Yangtze River cruise, you can learn more about: How to Plan a China Tour with a Yangtze River Cruise >>
Chengdu Rough Guide
Chengdu & Yangtze Travel Ideas
Chengdu & Yangtze Highlights
China Yangtze Tours with Chengdu - Strongly Recommended
For most first-timers to China, they would like to cover several hot destinations in China, such as Beijing, Xian, Shanghai, Yangtze River, Guilin, Chengdu, Lhasa, Zhangjiajie to get an overall impression about the vast and beautiful China. Usually, Yangtze River cruise is served as a relaxing short break during the whole vacation. The following are the top 6 strongly recommended China Yangtze tours with a visit in & around Chengdu, and you can select your favored trip based on your interests, travel length and budget! If you have got your own ideas, contact us directly to discuss the travel plan and we can tailor made the tour for you!
Not easy to find the right cruise ship/itinerary for you? Please contact one of our Yangtze cruise specialists to save your time and money. Click the right button to send an online inquiry and we will get back to you within 0.5~23.5 hours.
Your can rely on our expert knowledge and endless enthusiasm!
Have a question? Get answers from our travel experts or guests