Wuhan Tours & China Wuhan Traval
Wuhan is located on the banks of the Yangtze River in central China, and Hanshui, the main tributary of the Yangtze River. It is divided into three parts that converge at the Wuhan Yangtze River Bridge: Wuchang, Hankou, and Hanyang. There are three other bridges across the Hanshui River that link the city as well. Therefore, it has the nick-name, "City on Rivers". As the capital city of Hubei Province, Wuhan is not only historically significant, but also a major player in China' rapidly developing future.
Wuhan is not always listed on the must-visit list for first-time travel in China. BUT, it has own charm for an exploration. With over 3,500 years of history, Wuhan has enough cultural relics to keep travelers busy. You can have a city in Wuhan or start a Yangtze River cruise from Wuhan. No matter which way is your style, feel free to contact us for a customizable tour at the best price in 2021/2022!
Top 4 Wuhan Tour Packages - Travel Wuhan with Hot Itineraries
Our Wuhan tour packages cover popular Yangtze cruise tours from Wuhan, hot city tour, inspiring side trip to Mount Wudang - No.1 Taoist Mountain in China and the birthplace of Wudang Kung Fu - Tai Chi. Besides, Wuhan is often served as the transit city for it has good transportation network that many travelers first head to Wuhan and then make a transfer to Yichang for cruise. Feel free to select your likes or if you have your own needs or personal requirements, please tell us directly. We are here to help you customize your own trip at any time!
Wuhan & Yangtze Cruise Essential Guide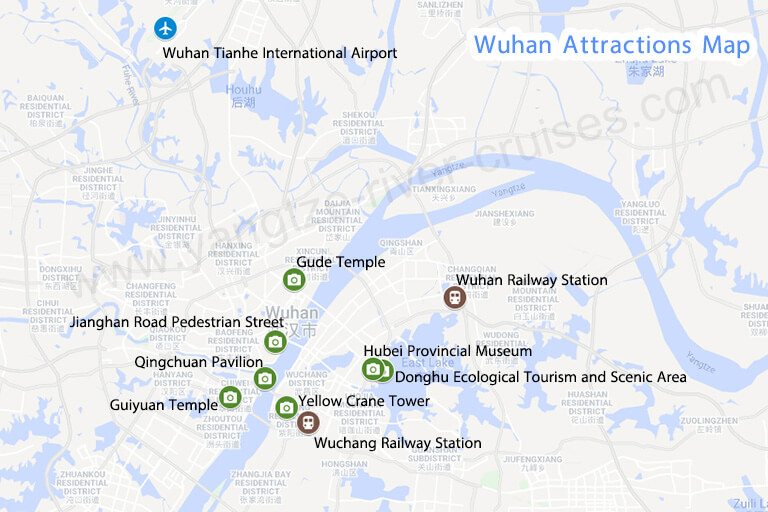 How to Plan Your Wuhan Tour or Wuhan Yangtze Cruise Tour?
For most travelers, they would like to spend 1 or 2 days exploring in Wuhan City. The top attractions in Wuhan like Yellow Crane Tower, Hubei Provincial Museum, Guiyuan Temple and Wuhan Yangtze River Bridge present you ancient history and thriving present of Wuhan. Extend to the Taoist mountain - Wudang Mountain from Wuhan by high speed train within 2 hours to practice Taichi and meditation with Taoist priests. It takes about 2 days for a visit to Wudang Mountain.
The classic Yangtze River cruise sailing along the golden section usually takes about 4 or 5 days. Both Wuhan and Yichang are located in Hubei Province, that travelers can get from Wuhan to Yichang by high speed train for the cruise. To well combine a Wuhan tour with Yangtze River cruise, you can learn more about: How to Plan a Yangtze River Cruise | Yangtze Cruise Ultimate Planning for 2021/2022 >>
Wuhan Rough Guide
Wuhan & Yangtze Travel Ideas
Wuhan & Yangtze Highlights
6 Strongly Recommended China Yangtze Tours
For most first-timers to China, they would like to cover several hot destinations in China, such as Beijing, Xian, Shanghai, Yangtze River, Guilin, Chengdu, Lhasa, Zhangjiajie to get an overall impression about the vast and beautiful China. Usually, Yangtze River cruise is served as a relaxing short break during the whole vacation. The following are the top 6 strongly recommended China Yangtze tours, and you can select your favored trip based on your interests, travel length and budget! If you have got your own ideas, contact us directly to discuss the travel plan and we can tailor made the tour for you!
Not easy to find the right cruise ship/itinerary for you? Please contact one of our Yangtze cruise specialists to save your time and money. Click the right button to send an online inquiry and we will get back to you within 0.5~23.5 hours.
Your can rely on our expert knowledge and endless enthusiasm!
Have a question? Get answers from our travel experts or guests