Discover the magnificent Yangtze River in luxury and comfort at unbeatable local price!
Based in Chongqing & Chengdu, we are the leading local travel agency for traveling to Yangtze River and China. With many years' experience, no matter you book the all-inclusive Yangtze cruise, or tailor make your worry-free China Yangtze holiday, you can be assured you're in "Quality, Service and Value" at your own pace!
Top Yangtze River Cruises at Local Price
Take the most popular Chongqing Yichang cruises with great deal in 2023/2024! There're 26 ships sailing downstream (4 days & 3 nights) and upstream (5 days & 4 nights) on Yangtze River. Book early at a cheaper price!
2023 Best Yangtze River cruise ship

From $491-$537

Enquiry

2022 New sister ship of Century Glory

From $491-$537

Enquiry

2019 newly built super 5-star luxury cruise

From $491-$537

Enquiry

Largest & 2020 newly built eco-friendly luxury cruise

From $499-$570

Enquiry

Classic leading luxury Yangtze vessel for all types

From $438-$483

Enquiry

Star Flagship of American managed Yangtze cruise

From $362-$453

Enquiry

Famous luxury 5-star sister ship of Century Paragon

From $438-$483

Enquiry

New & Luxury Yangtze Gold Cruise

From $354-$420

Enquiry

No.1 spacious & luxury Yangtze Gold Cruises ship

From $354-$420

Enquiry

Top family-friendly large luxury Yangtze cruise

From $362-$415

Enquiry
view all Yangtze ships
Cruise with Our Top Cruise Companies on Yangtze
Specialized in booking Yangtze River cruise for many years, we know the area, the Yangtze cruise companies and Yangtze cruise ships very well. Here, we have provided you the top 6 cruise companies with detailed ship info, prices, deals, schedules and itineraries etc. Choose your favorite one and start your relaxing Yangtze vacation right now!
Latest Port News for Embarkation & Disembarkation: Chongqing Chaotianmen Port and Yichang Maoping Port are the main piers for Yangtze cruise. 1) For upstream cruise, travelers should first gather at Yichang East Railway Station or Yichang Three Gorges Cruise Terminal to take bus arranged by the cruise companies to Maoping Port for embarkation. 2) For downstream cruise, travelers will disembark at Maoping Port first and then take the arranged bus at Three Gorges Dam Site to Yichang downtown area for leave.
China Tour Packages with Yangtze River Cruises
China is full of contrasts in landscape, culture and historical sites. You'll not only get an awesome cruise experience on Yangtze River, but also deep into many classic destinations that ships cannot go.
To best suit your interests, you could have a look at our city tours & cruises along Yangtze River, Yangtze cruises with unique sites, China Yangtze tours from Beijing, Shanghai or Hong Kong etc. We are here offering you more than a perfect tour, it is about real discovery. Get inspired now! >> View all Yangtze River Tours
Since we are based in Chongqing & Chengdu, it's a good choice to take our local tours with cruises at the competitive price. You just need to sit back and enjoy, we take care of all details.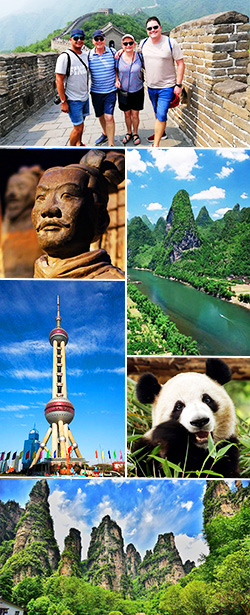 Why Book a Cruise from Us
The Local Cruise Agency

Located in Chongqing, the significant Yangtze pier, we are the leading local travel agency for traveling to Yangtze River and China.

Lowest Price Guaranteed

Specialized in Yangtze River cruise booking for several years, we have great relationships with all ship companies.

24/7 Customer Care

With one-on-one service, our cruise experts provide 24-hour support and are always patient and friendly to make your travel as easy as possible.