Yangtze 1
9.5
/ 10
Yangtze 1 is 2023 Yangtze Only cruise through Three Gorges Dam Ship Lift & Gezhou Dam for Three Gorges full view appreciation. Just refurbished in early 2023, it is one of the top newest ship. Offering the valuable ALL-INCLUSIVE package, Yangtze 1 is the best ship for a memorable classic Yangtze River discovery of high quality!
2023 Top Highlights of Yangtze 1 Cruise:
Complete Three Gorges Scenery: The ONLY ship providing the rare chance to enjoy breathtaking scenery of the whole Xiling Gorge.
Free & Special Experience to Inspire You: The ONLY ship sailing through Three Gorges Dam Ship Lift for Free.
Cruise Route:
Price:
Enquiry Now
Yangtze 1 Overview
Yangtze 1, first launched in 2006, is an honored Yangtze River cruise, which has received multiple state guests from various countries / regions and also held the important conferences including the Boao Forum for Asia. Thus, this ship has rich experience in providing quality service to international visitors! Besides, just refurbished in 2023, it is the top brand-new ship to enjoy a great cruise holiday with everything new and of high quality!
In addition, Yangtze 1 creatively offers the unique Yangtze Three Gorges cruise vacation experience in 2023 by directly sailing through the beautiful Xiling Gorge given up by most other fleet. So, it gives the only chance to see the true appearance of the entire Three Gorges section. Furthermore, as a much smaller luxury cruise ship, Yangtze 1 is qualified to take the awesome Three Gorges Dam Ship Lift, the world largest ship lift, by itself to pass the dam project, which is also the exclusive experience only for visitings sailing by Yangtze 1, reducing much time and effort for changing sightseeing boats as cruising with other cruise brands!
Introduced the advanced designing advantages for ocean cruises, Yangtze 1 is modern and boutique with extinct exterior and exquisite interior decortion. With its hollowed-out hall and appropriate lightening, this cruise is like an ancient style castle. To enrich your wonderful and worry-free time onboard, Yangtze 1 has allocated a series of great facilities and amenities, including elevator, 2 restaurants, multi-function hall for lectures and shows, sun deck, reading corner, massage room, gym, and so forth! Besides, 4 distinct kinds of comfortable accommodations are prepared with quality appliances, linen and daily housekeeping service, to give you a nice sleep every night onboard. If you are looking for a new ship with good service and special visiting experience, do not hesitate to select Yangtze 1!
Maiden Voyage

2006

Refurbished

2023

Tonnage

5263 T

Length

103.8 M

Width

16 M

Speed

26km/h

Itinerary

CQ=YC

Capacity

218

Crew

127

Decks

5

Elevators

1

Restaurants

2

WIFI

Yes

Swimming Pool

Yes

Laundry Service

Yes

Cabins

109

Private Balcony

Yes

Private Bathroom

Yes

Hair Dryer

Yes

VIP Restaurant

Yes
Yangtze 1 Exclusive Complimentary Services 2023

Yangtze 1 Exclusive Complimentary Services
| | |
| --- | --- |
| ☆ Luggage Handling Service | ☆ Embarkation Night Dinner |
| ☆ Selected Free Wines & Drinks for Lunch and Dinner | ☆ Night Snacks Daily |
| ☆ Exquisite Buffet Gourmet | ☆ Staff Performance |
Why Choose Yangtze 1?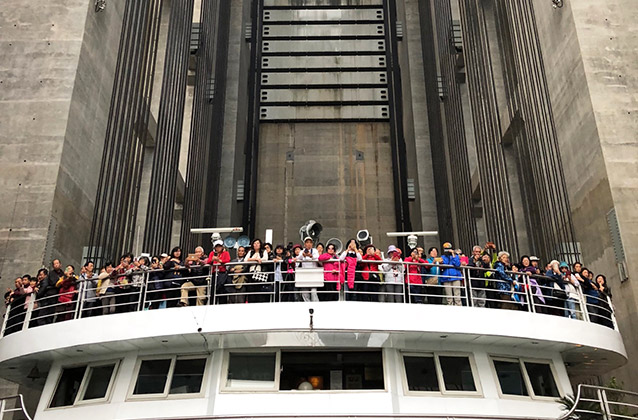 Yangtze Only Ship Through Xiling Gorge & Ship Lift
Yangtze 1 cruise is 2023 only luxury tourist cruise ship that can sail through Xiling Gorge, enabling her travelers to achieve the admiration of the entire range of the classic Three Gorges. Besides, due to its much smaller ship size, it is also the only Yangtze ship with the honor of taking the worldly-famous Three Gorges Dam Ship Lift, for the unique Yangtze cruise memory!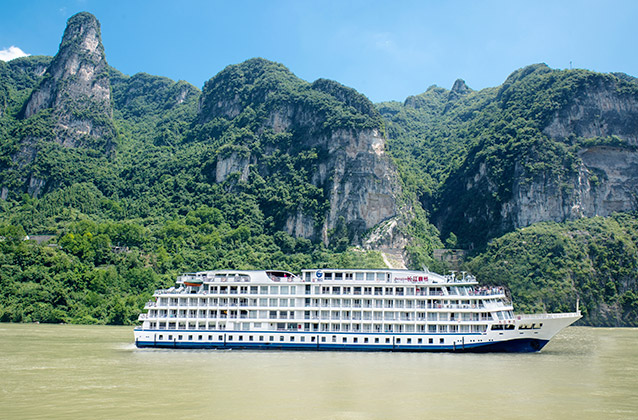 State Guests Chosen Fleet
Changjiang Cruises is the honored and proud cruise brand specialized in providing Yangtze River cruise service to the state guests visiting China. The courteous reception and strict management makes Changjiang Cruises the popular choice for global visitors!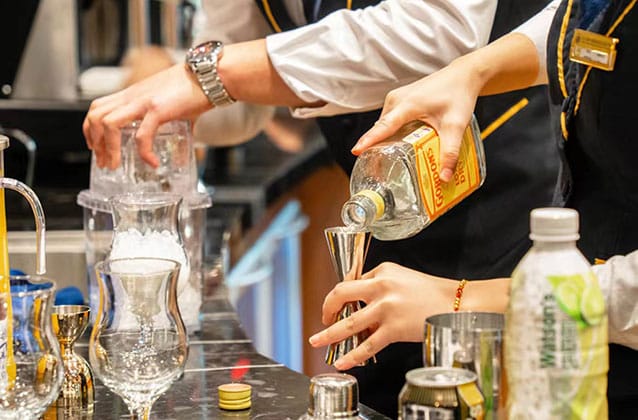 All-Inclusive Cruise Package
Yangtze 1 innovates its cruise vacation package product, leading among all Yangtze cruise ships, and offers the valuable all-inclusive package that covers the dining, drinking, accommodating, site visiting, entertaining, and so on during the entire Chongqing Yichang cruise trip! Cost-effective and worry free!
Brand-new Exquisite Ship: Just refurbished in the early 2023, Yangtze 1 cruise has upgraded all its hardware onboard, from the guest rooms and suites, dining places, lobby, to the sun deck and more public spaces. It emphasizes to offer the brand-new vacation experience of state standard to global visitors!
Great Honors: Yangtze 1 receives the honors of the "pilot ship of quality cruise route of special cultural tour" by the Ministry of Transport and "case of creation and and service of travel industry".
Special Exclusive Goddess Sky Road Splendor: Standing on the observation deck at Changjiang Cruises exclusive Goddess Sky Road scenic area, you can admire the terrific poetic scenery of Wu Gorge high from the peak. (available for downstream cruise from Chongqing to Yichang)
2023 Yangtze 1 Cruise Routes
The authentic classic downstream itinerary to see the complete Three Gorges view and top symbolic culture & nature.
Destinations: Three Gorges, Three Gorges Dam, Ship Lift, Goddess Sky Road, Shennong Stream
The quite popular route to discover the golden section of Yangtze with a more leisure pace and an amazing tribe visit.
Destinations: Three Gorges, Three Gorges Dam, Ship Lift, Gezhou Dam, Tribe of Three Gorges, Xiaoguanshan Courtyard House
What to Expect on Yangtze 1?
DINING
Rich and diverse delicious food selections are prepared in both restaurants with sightseeing windows! Enjoy your food indulgence!
Schedule of
Yangtze 1
Jan.
Feb.
Mar.
Apr.
May.
June.
July.
Aug.
Sept.
Oct.
Nov.
Dec.
Sun
Mon
Tue
Wed
Thu
Fri
Sat
1
2
3
4
5
6
7
8
9
10
11
12
13
14
15
16
17
18
19
20
21
22
23
24
25
26
27
28
29
30
Please Note:
The above price range is based on a standard cabin for twin sharing.
The prices are valid by Dec.31 of the year.
Please enquire us of the exact price according to your nationality, cruising time and cruising route.
The cruise prices for holidays such as National Holiday (the first week of October), Labor Day, Spring Festival, etc., are quoted upon request.
Limited winter schedules may be adjusted into other dates, cruise ships, etc. based on the arrangement of the cruise company.
Other Ships of this Company
Sorry, the related data does not exist.
Save up more to Book a China Tour Package including Yangtze Cruise
Not easy to find the right cruise ship/itinerary for you? Please contact one of our Yangtze cruise specialists to save your time and money. Click the right button to send an online inquiry and we will get back to you within 0.5~23.5 hours.
Your can rely on our expert knowledge and endless enthusiasm!
Have a question? Get answers from our travel experts or guests