Yangtze 3
9.8
/ 10
Yangtze 3, making her first voyage in 2022, is the newest vessel managed by Changjiang Cruises that is especially served for state guests. It ranks as the top MOST LUXURY, LARGEST AND NEWEST Yangtze River Cruise ships and the new generation of Yangtze cruises with edge technologies, tasteful decoration and standard service for international cruise guests!
2023 All-inclusive Yangtze 3 Cruise Experience: The outstanding Yangtze 3 takes the lead to offer the valuable and high-quality All-inclusive cruise package for all its cruise guests, which includes set meals, drinks, accommodation, shore excursions, public amenities and service listed on the itinerary during the entire cruise!
Cruise Route:
Price:
Enquiry Now
Yangtze 3 Overview
Yangtze 3 Cruise is the BEST vessel of Changjiang Cruise fleet that is specialized in serving state guests from various countries and regions. Just making its maiden voyage in 2022, this brand-new ship is quite popular listing as the top deluxe, largest and green Yangtze cruises.
Adopting the strict criteria of European inland river cruises and the high-end ocean cruises, Yangtze 3 is built with the most advanced technologies to ensure a fine appearance, intelligent management system, stylish decoration, efficient electric propulsion with vibration and noise reduction, and safe environmental care sailing. Focusing on the green, high tech, business-friendly, comfortable experience, safety and intelligence, Yangtze 3 aims to become the new flagship of the sixth generation of high-end inland river cruises in China! Equipped with the smart ventilation system with sterilization function in each room unit, Yangtze 3 emphasize the joyous stay in health. Also, all the air-condition, lighting, check-in process, facial recognition, sight introduction and other aspects on the cruise are well linked by VR and AR techniques, for your convenient and worry free trip on the brand new Yangtze 3.
Designed by the professional team, Yangtze 3 contains altogether 7 floors to allocate the 250 fine and spacious cabins and suites of 10 types for different needs and likes. Besides, the three delicate restaurants, beautiful bars, opening viewing deck, luxurious commercial street and other multiple great public entertainment places are all designed and managed to give you a happy and satisfying cruise holiday with Yangtze 3!
Maiden Voyage

2022

Tonnage

16438 T

Length

149.9 M

Width

23 M

Height

29.6 M

Speed

25km/h

Itinerary

CQ=YC

Capacity

600

Crew

170

Decks

8

Elevators

Yes

Restaurants

4

WIFI

Free

Swimming Pool

Yes

Laundry Service

Yes

Cabins

250

Private Balcony

Yes

Private Bathroom

Yes

Hair Dryer

Yes

VIP Restaurant

Yes
Yangtze 3 Exclusive Complimentary Services 2023

Yangtze 3 Exclusive Complimentary Services
| | |
| --- | --- |
| ☆ Luggage Handling Service | ☆ Embarkation Night Dinner |
| ☆ Selected Free Wines & Drinks for Lunch and Dinner | ☆ Tailored Refreshment |
| ☆ Exquisite Buffet Gourmet | ☆ Night Snacks Daily |
| ☆ Staff Performance | ☆ Health Monitoring |
Why Choose Yangtze 3?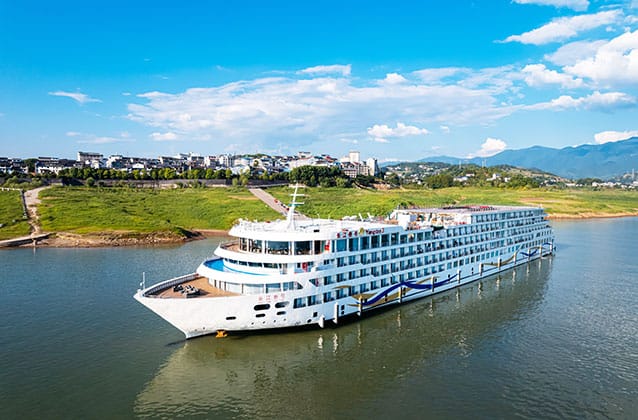 Brand New Large Vessel
Making her first sailing in 2022, Yangtze 3 is the top newest cruise ship sailing on the Yangtze, with the new advanced technologies, new elegant aesthetics on exterior and interior decor and intelligent systematic management for your brand new cruise experience in China!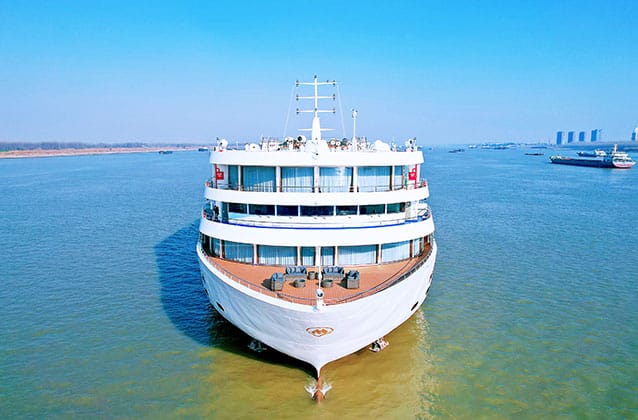 State Guests Chosen Fleet
Changjiang Cruises is the honored and proud cruise brand specialized in providing Yangtze River cruise service to the state guests visiting China. The courteous reception and strict management makes Changjiang Cruises the popular choice for global visitors!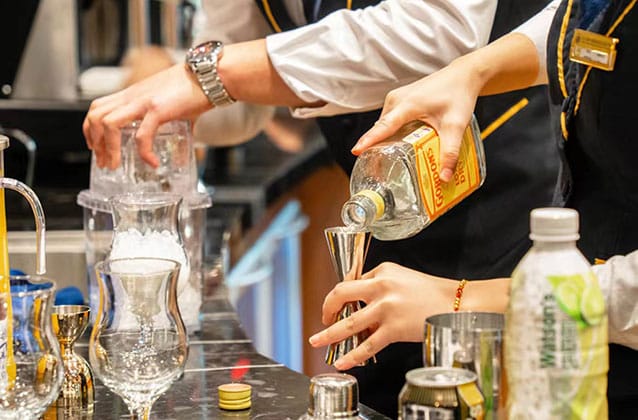 All-Inclusive Cruise Package
Yangtze 3 innovates its cruise vacation package product, leading among all Yangtze cruise ships, and offers the valuable all-inclusive package that covers the dining, drinking, accommodating, site visiting, entertaining, and so on during the entire Chongqing Yichang cruise trip! Cost-effective and worry free!
Sweet Housekeeper Service: The strictly trained staff care guest experience highly and provide the considerate housekeeper service to give you ultimate worry-free enjoyment throughout the trip! Warm, considerate, free and happy!
Highest Level of River Cruise Design & Construction: Integrating the highly strict construction and designing standards of high-level ocean cruise and completed by professional well-known construction team, Yangtze 3 represents the highest standard of design and construction among all inland river cruises.
Great Honors: Yangtze 3 receives the honors of the "pilot ship of quality cruise route of special cultural tour" by the Ministry of Transport and "case of creation and and service of travel industry".
Special Exclusive Goddess Sky Road Splendor: Standing on the observation deck at Changjiang Cruises exclusive Goddess Sky Road scenic area, you can admire the terrific poetic scenery of Wu Gorge high from the peak.
2023 Yangtze 3 Cruise Routes
Most popular downstream itinerary to see the best significant mountains and gorges of Yangtze.
Destinations: Three Gorges, Three Gorges Dam, Fengdu Ghost City, White Emperor City, Goddess Sky Road
Another classic upstream route to appreciate the golden section of Yangtze with a more leisure pace.
Destinations: Three Gorges, Three Gorges Dam, Tribe of Three Gorges, Fengdu Ghost City, White Emperor City, Goddess Sky Road
What to Expect on Yangtze 3?
Schedule of
Yangtze 3
Jan.
Feb.
Mar.
Apr.
May.
June.
July.
Aug.
Sept.
Oct.
Nov.
Dec.
Please Note:
The above price range is based on a standard cabin for twin sharing.
The prices are valid by Dec.31 of the year.
Please enquire us of the exact price according to your nationality, cruising time and cruising route.
The cruise prices for holidays such as National Holiday (the first week of October), Labor Day, Spring Festival, etc., are quoted upon request.
Limited winter schedules may be adjusted into other dates, cruise ships, etc. based on the arrangement of the cruise company.
Save up more to Book a China Tour Package including Yangtze Cruise
Not easy to find the right cruise ship/itinerary for you? Please contact one of our Yangtze cruise specialists to save your time and money. Click the right button to send an online inquiry and we will get back to you within 0.5~23.5 hours.
Your can rely on our expert knowledge and endless enthusiasm!
Have a question? Get answers from our travel experts or guests
Why Cruise with yangtze-river-cruises.com
The Local Cruise Agency

Located in Chongqing, the significant Yangtze pier, we are the leading local travel agency for traveling to the Yangtze River and China.

Ultra-Low Prices

Specialized in the Yangtze River cruise booking for several years, we have great relationships with all ship companies.

24/7 Customer Care

With one-on-one service, our cruise experts provide 24-hour support and are always patient and friendly to make your travel as easy as possible.