Century Oasis
9.9
/ 10
Good News! Another top-luxury cruise – Century Oasis is expected to make its maiden voyage in April 2023. It is the sister ship of luxury Century Glory and Century Victory under the excellent cruising company – Century Cruises. Choosing it definitely gives you the best way to travel the Yangtze River for the ultimate in luxury and relaxation.
Cruise Route:
Price:
Enquiry Now
Century Oasis Overview
Century Oasis, the best large 5-star cruise ship under the management of Century Cruises, is expected to make its first sailing in March 2023 between Chongqing and Yichang. Just like its sister ships – Century Glory and Century Victory, the interior is designed by the professional team of Studio-L, and is attractive with large space, warm decoration, intelligent technology and environment-friendly designs. Reaching 149.98 in length, 21.5 in width and 29.6 meters in height, it has a large capacity of up to 650 people. There are 7 decks equipped with different cabins, facilities and public space to provide passengers with a better experience. You can giggle in the live bars or KTVs, spend me-time in the Spa houses, tuck into Chinese and Western buffet and A-La Carte gourmets in its two restaurants, or indulge yourselves in a 360-degree view of the Three Gorges from the top deck. With intelligent technology adopted in the cruise, Century Oasis sails more steadily and quietly, and produces less pollution than many other cruises.
Good facilities and delicate designs are not enough to make a memorable trip for travelers, Century Oasis is also equipped with kind and helpful cruise staff who are well-trained to the highest Western standard. They are always ready to help you enjoy your cruise journey to your fullest. Many interesting activities for both adults and kids are arranged by them every day. No matter you plan a family tour, honeymoon trip, or a solo journey, the cruise can create the best memory for you. To seek a luxury and memorable Yangtze River cruise vacation, Century Oasis your reliable cruise!
Maiden Voyage

2023

Tonnage

15000 T

Length

149.98 M

Width

21.2 M

Height

29.6 M

Speed

26km/h

Itinerary

CQ=YC

Capacity

650

Crew

180

Decks

7

Elevators

Yes

Restaurants

2

WIFI

Free

Swimming Pool

N/A

Laundry Service

Yes

Cabins

260

Private Balcony

Yes

Private Bathroom

Yes

Hair Dryer

Yes

VIP Restaurant

Yes
Why Choose Century Oasis?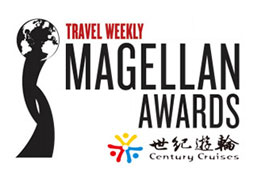 Top of the Top
It is one of the star cruises of Century Cruises, the fleet with new generation hardware (new ships, grand atrium lobbies, private balconies, largest standard cabins, etc.) and international 5 star quality service (western style buffet, Chinese cultural exercises, on board entertainment, etc.).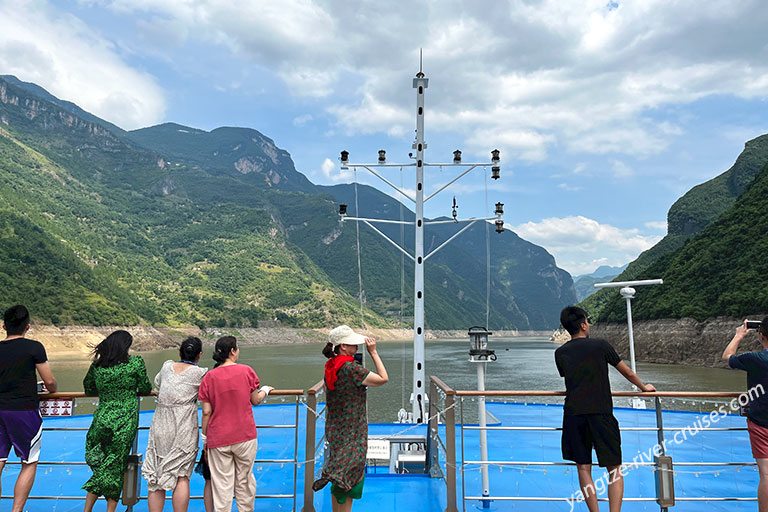 Proud Newest Cruise on Yangtze River
After making its first voyage in March 2023 under great public concern, Century Oasis will be most brand new sailing cruise vessel to enjoy the top best new facilities, amenities, new standard services and fresh enjoyment along Yangtze River for all global visitors.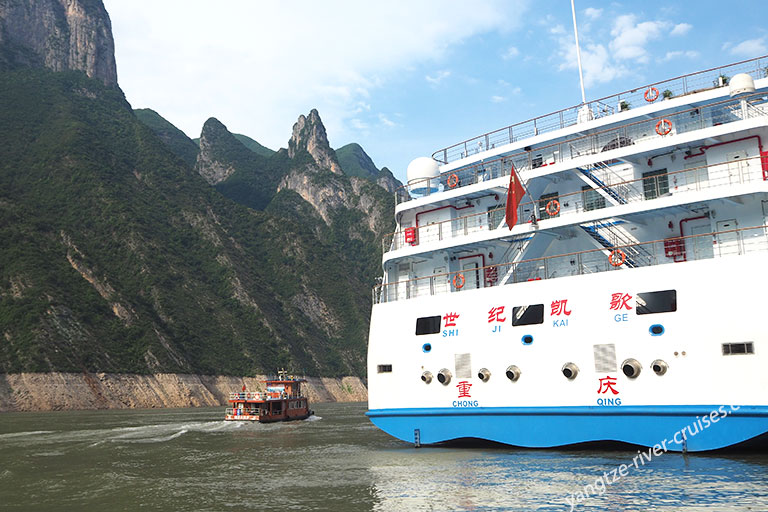 5 Firsts for Your Exclusive Holiday Experiences
First create various luxury rooms on water, first create mobile intelligent cruise, first create luxury cruise with most restaurants on Yangtze, first create super large sun deck of 1,000 square meters, and first create river cruise with a highly quiet environment, zero oil painting, and super comfort.
Rich Selections of Accommodation: Century Oasis prepares in total 6 types of cabins and suites to satisfy your different needs when traveling with family, partner, in group, in business, or alone, etc.
Creational Savory Moments of Food: The Yangtze unique double-deck Global Restaurant, viewing dining bar at the prow and the VIP restaurant collecting various food of Chinese, Western and Asian styles offers fantastic moments of gourmets.
Highly Quiet Cruise Environment: All guestrooms are arranged at the front part of the cruise ship, considerately protecting everyone from noise and disturbance during your sailing.
Fresh & Comfortable Always: All the central air-conditioner are managed with the best cozy temperature and every room is facilitated with private a refreshing system for the easy access of fresh air outside on the river, just to let you fully relax in the vacation with every time of inhale.
Zero Oil Painting Used: All the decoration has used high quality environment-friendly materials to meet the national standards, making you have no worry about your health.
Intelligent Cruise Experience: The new adoption of intelligent service robots and easy connection of mobiles with VOD system to start a convenient and different vacation.
2023 Century Oasis Cruise Routes
Most popular downstream itinerary to see the best significant mountains and gorges of Yangtze.
Destinations: Three Gorges, Three Gorges Dam, Shibaozhai Pagoda, Shennv Stream...
Another classic upstream route to appreciate the golden section of Yangtze with a more leisure pace.
Destinations: Three Gorges, Three Gorges Dam, Shibaozhai Pagoda, Shennv Stream...
What to Expect on Century Oasis?
Schedule of
Century Oasis
Jan.
Feb.
Mar.
Apr.
May.
June.
July.
Aug.
Sept.
Oct.
Nov.
Dec.
Please Note:
The above price range is based on a standard cabin for twin sharing.
The prices are valid by Dec.31 of the year.
Please enquiry for the exact price according to your nationality, cruising time and cruising route.
Please quote us for the price may change during China's Golden Week (the first week of October) and Spring Festival.
Limited winter schedules may be adjusted into other dates, cruise ships, etc. based on the arrangement of the cruise company.
Other Ships of this Company
Save up more to Book a China Tour Package including Yangtze Cruise
Not easy to find the right cruise ship/itinerary for you? Please contact one of our Yangtze cruise specialists to save your time and money. Click the right button to send an online inquiry and we will get back to you within 0.5~23.5 hours.
Your can rely on our expert knowledge and endless enthusiasm!
Have a question? Get answers from our travel experts or guests