Century Oasis
9.9
/ 10
Century Oasis just successfully made its maiden voyage in April 2023 is so far the best and newest Yangtze River cruise ship! As the brand new sister ship of luxury Century Glory and Century Victory under the excellent cruising company - Century Cruises, Century Oasis is an excellent 5-star large, intelligent and environmental friendly cruise. Choosing it definitely gives you the best way to travel the Yangtze River for the ultimate in luxury and relaxation.
2023 Brand New Upgraded Services from Century Cruises:
1). Embarkation night dinner (19:00-20:30); 2). Porter service; 3). Themed flavored cuisines; 4). Midnight snacks daily; 5). All-day set menu snacks; 6). Selected free drinks at lunch and dinner; 7). Childcare service; 8). Guide earphone for sight visiting.
Cruise Route:
Price:
Enquiry Now
Century Oasis Overview
Century Oasis (SHI JI LV ZHOU in Chinese Pinyin) is the 2023 best large and deluxe 5-star Yangtze River cruise under the management of Century Cruises (leading the high-class luxury cruises in China), just making her inaugural cruise in the spring of 2023. It is the best cruise choice symbolizing a "new era of China's Yangtze River cruise industry"!
Like her sister ships - Century Glory and Century Victory, Century Oasis is the new generation of high-end luxury cruise which adopts the high technologies and high value-added electric propulsion mode, with the installation of an intelligent energy efficiency system to meet the high double standards of "green" and "high-efficiency"! Besides, bringing in multiple great new technologies, procedures, equipment and appliances and materials, Century Oasis highly reduces the exhaust emission and the vibration and noise during the sailing, thus, offering the praised new cruise experience of "Safety, Environmental Protection, Technology, Intelligence And Comfort" for all its global travelers. A smooth sailing is no myth! Moreover, Century Oasis entrusts the well-known professional team of Studio-L from the Netherlands to custom design its interior decoration for your wish for large space and high pursuit of aesthetics in a vacation. Plus, themed in diverse green colors, this ship is filled with classic elegant Chinese charm, resembling a floating oasis and a traditional mountain and water landscape painting for a natural roaming.
Constructed with 8 decks, Century Oasis elaborately arranges 6 different types of spacious, stylish and intelligent accommodations for various satisfaction of solo, couple, friends, family and business groups. Also, all visitors onboard can have a happy gourmet indulgence with rich gourmet choices at its Yangtze rare double-deck grand restaurant and exquisite VIP restaurant, and diverse wines and drinks in the bars and lounges. More than that, the specially designed museum and library onboard offer a close-up to the Three Gorges culture and history for a distinct and meaningful cruise trip with culture savory! Furthermore, emphasizing the all-round experience of all guests, this cruise carefully prepares a rich array of chic public spaces for your entertaining, sightseeing, releasing, etc., including the theater, mahjong room, children's playground, SPA, etc. Also, diverse interesting activities and shows will create so much fun travel memories along the river!
However, good facilities and diverse entertainment are not enough to make a memorable trip for travelers, so Century Oasis hires kind, hospitable and helpful cruise staff who are well-trained to the highest Western standard to provide great services to international guests. They are always ready with smiles to help you enjoy your cruise journey to your fullest. Therefore, to seek a luxury and memorable Yangtze River cruise vacation, Century Oasis is your reliable choice!
Maiden Voyage

2023

Tonnage

15000 T

Length

149.98 M

Width

21.2 M

Height

29.6 M

Speed

26km/h

Itinerary

CQ=YC

Capacity

650

Crew

180

Decks

7

Elevators

2

Restaurants

2

WIFI

Free

Swimming Pool

N/A

Laundry Service

Yes

Cabins

260

Private Balcony

Yes

Private Bathroom

Yes

Hair Dryer

Yes

VIP Restaurant

Yes
Why Choose Century Oasis?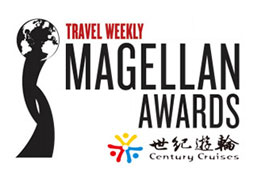 Top of the Top
It is the new star cruise of Century Cruises, the proud leading fleet winning "Silver Prize of Travel Weekly Magellan Awards", "Asia's Best River Cruise Ship 2021 & 2022", "Cooperate Travel Awards 2019 - Luxury Cruises in Asia of the Year", "2017 best Luxury inland river cruise brand in Asia" and the "most dynamic cruise line on Yangtze River" by New York Times.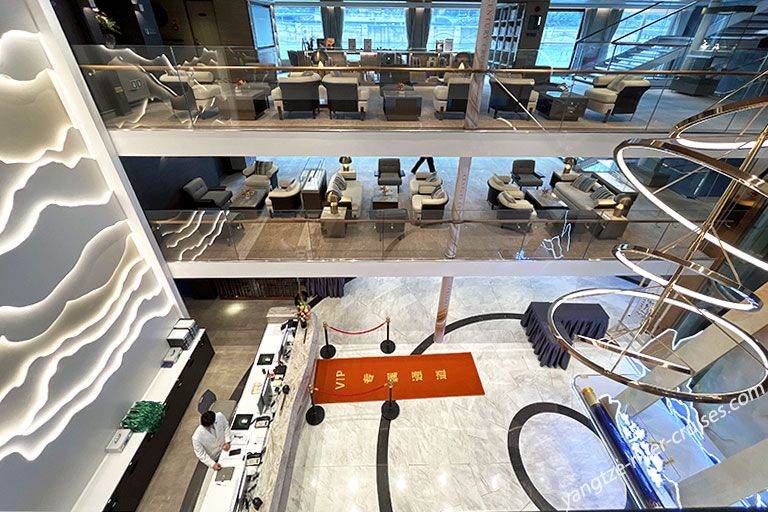 Proud Newest Cruise on Yangtze River
After making its maiden voyage in April 2023 under great public concern, Century Oasis is the newest sailing cruise vessel for every international guest to enjoy a fresh and stylish Yangtze River cruise holiday with the top best new facilities, amenities, new standard services and fresh enjoyment.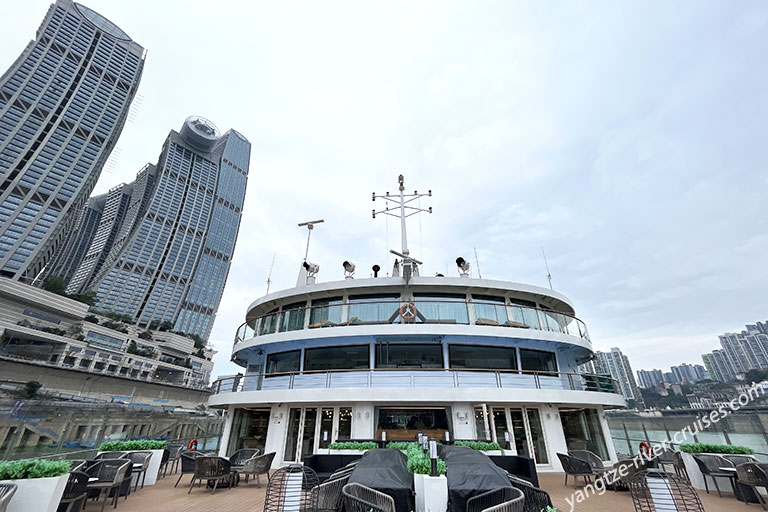 Honored Green & Intelligent Cruise Brand
The brilliant adoption of strictly high technologies and electric propulsion grants Century Cruises the proud awards of "Green Ship" and "Intelligent Efficiency" by China Classification Society, which ensures all travelers' truly high pursuit of a green and safe trip!
Exclusive Complimentary Treatment Only for Century Cruises Guests: Embarkation night dinner; Porter service; Themed flavored cuisines; Midnight snacks daily; All-day set menu snacks; Selected free drinks at lunch and dinner; Childcare service; Guide earphone for sight visiting.
5 Firsts for Your Exclusive Holiday Experiences: First create various luxury rooms on water, first create mobile intelligent cruise, first create luxury cruise with most restaurants on the Yangtze, first create super large sun deck of 1,000 square meters, and first create river cruise with a highly quiet environment, zero oil painting, and super comfort.
Amazing Culinary Moments The Yangtze unique double-deck Emerald Restaurant, viewing dining bar at the prow and the VIP restaurant collecting various food of Chinese, Western and Asian styles offers fantastic moments of gourmets.
Highly Quiet Cruise Environment: All guestrooms are arranged at the front part of the cruise ship, considerately protecting everyone from and minimum noise and disturbance during your sailing.
Fresh & Comfortable Always: All the central air-conditioner are managed with the best cozy temperature and every room is facilitated with private a refreshing system for the easy access of fresh air outside on the river, just to let you fully relax in the vacation with every time of inhale.
Zero Oil Painting Used: All the decoration has used high quality environment-friendly materials to meet the national standards, making you have no worry about your health.
Intelligent Cruise Experience: The new adoption of intelligent service robots and easy connection of mobiles with VOD system to start a convenient and different vacation.
2023 Century Oasis Cruise Routes
Most popular downstream itinerary to see the best significant mountains and gorges of Yangtze.
Destinations: Three Gorges, Three Gorges Dam, Fengdu Ghost City, Shennv Stream...
Another classic upstream route to appreciate the golden section of Yangtze with a more leisure pace.
Destinations: Three Gorges, Three Gorges Dam, Fengdu Ghost City, Shennv Stream...
What to Expect on Century Oasis?
Schedule of
Century Oasis
Jan.
Feb.
Mar.
Apr.
May.
June.
July.
Aug.
Sept.
Oct.
Nov.
Dec.
Please Note:
The above price range is based on a standard cabin for twin sharing.
The prices are valid by Dec.31 of the year.
Please enquire us of the exact price according to your nationality, cruising time and cruising route.
The cruise prices for holidays such as National Holiday (the first week of October), Labor Day, Spring Festival, etc., are quoted upon request.
Limited winter schedules may be adjusted into other dates, cruise ships, etc. based on the arrangement of the cruise company.
Other Ships of this Company
Save up more to Book a China Tour Package including Yangtze Cruise
Not easy to find the right cruise ship/itinerary for you? Please contact one of our Yangtze cruise specialists to save your time and money. Click the right button to send an online inquiry and we will get back to you within 0.5~23.5 hours.
Your can rely on our expert knowledge and endless enthusiasm!
Have a question? Get answers from our travel experts or guests