Yangtze River Cruise Deals in 2023
Are you looking for a great deal when booking a Yangtze River cruise in 2023? The exciting news is that all the cruise companies are going to offer good prices with great deals, making you save around $10-$93! Rejoice!
In 2023, there are over 20 ships sailing between Chongqing and Yichang and different cruise companies offer different, awesome and innovative arrangements and activities. With all-inclusive package, travelers will enjoy scenic sightseeing along Three Gorges, shore excursions, accommodation, dining, entertainment, evening shows and more.
No matter you are interested in 4 days & 3 nights downstream cruise from Chongqing to Yichang, or want to try 5 days & 4 nights upstream cruise from Yichang to Chongqing, you will be fulfilled your dream with a lot of choices and probably take a ship as low as $378! Sail now!
No. 1: Century Victory, the "Best" "Newest" and "Largest" Yangtze River Cruise, Very Good Value for Money only from
$491-$537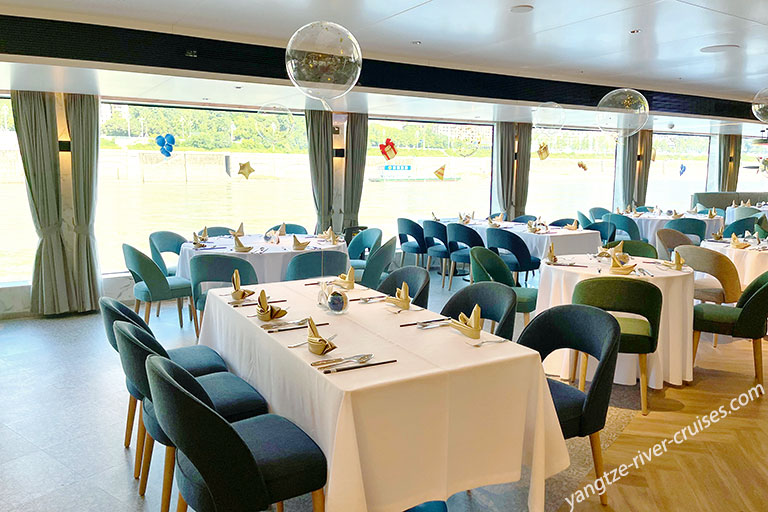 The Globe Restaurant in Century Victory Cruise.
Brand-new ship first launch in July 2022: Century Glory sailed its maiden voyage on July 10, 2022. It belongs to the ninth ship of Century Cruises with the European-style management. Hence, it is marked as the "BEST", "NEWEST" and "LARGEST" vessel among all the Yangtze cruise ships.
Chongqing - Yichang classic & golden route: This new ship is trying to meet most travelers' demands, sailing between Chongqing and Yichang for 4~5 days. You won't miss the highlighting attractions and fantastic shore excursions along Yangtze River for the 648-kilometer journey.
Upgraded Amenities and Services in 2022: In order to give customers a superb cruise experience, the cruise company provide customers who choose Century Victory upgraded services including guiding audio devices, luggage handing service, children's car service, all-day set menu snacks, selected fine wine & drinks, embarkation night dinner, exquisite cuisine, midnight snacks.
So, if you are looking for a Yangtze cruise with best value for money, exceptional service, engaging activities and memorable experiences, go with the newly
Century Victory
cruise, or her sister ship -
Century Glory
cruise!
No. 2: Victoria Cruises, luxury down to the smallest details, the best price at only
$362-$453

Enjoy beautiful Three Gorges scenery on the sundeck of Victoria Cruises.
American style management & great service: Belonged to the only American managed cruise company, Victoria Cruises is the time-honored brand with seven luxury ships sailing stably between Chongqing and Yichang during March to November every year since 1994. Travelers can experience excellent service from the moment you get aboard to the last minute when you leave the ship…Victoria Cruises' charm lies within the smallest details.
Top Victoria Cruise Ships:
| Ship Name | Price of 2023 | Itinerary | Year of Built | Decks | Elevators | Capacity | Cabins |
| --- | --- | --- | --- | --- | --- | --- | --- |
| Victoria Jenna | $362-$453 | CQ=YC | refurbished 2016 | 6 | 4 | 378 | 189 |
| Victoria Anna | $362-$453 | CQ=YC | refurbished 2017 | 6 | 2 | 266 | 133 |
| Victoria Katarina | $362-$453 | CQ=YC | refurbished 2014 | 6 | 1 | 264 | 132 |
No. 3: Century Paragon & Century Legend: the perfect blend of elegance and luxury, only at $438-$483


Excellent dining service offered by Century Paragon
Modern, comfort & style: First launched the two newest 398-passenger vessels on Yangtze River in 2013, Century Paragon and Century Legend have been designed for the western travelers in collaboration with European naval architects Yran and Storbratten.
Luxury at every turn: From the spacious staterooms to sumptuous suites of Century Paragon and Century Legend, you'll find comfortable accommodation to suit any taste. Besides, dine, relax and rest in elegant luxury. Every private balcony, lounge, bar and sundeck are your invitation to relax.
Why not cruise in comfort and luxury with the second best Century ships in 2023? Go with Century Paragon and Century Legend now!
We will keep updating any latest Yangtze cruise deal info here. If you want to know further, please contact our travel agents who are ready to serve you at any time! To get to know and compare the cruise ships, you can head to our Yangtze Cruise ship list to have a check or use our cruise calendar to find a cruise to meet your likes.
Not easy to find the right cruise ship/itinerary for you? Please contact one of our Yangtze cruise specialists to save your time and money. Click the right button to send an online inquiry and we will get back to you within 0.5~23.5 hours.
Your can rely on our expert knowledge and endless enthusiasm!
Have a question? Get answers from our travel experts or guests