Nanjing Tours & China Nanjing Travel
Nanjing, the Capital of Jiangsu Province, is situated in the lower reaches of the Yangtze River. Nanjing was called Jinling in ancient times. This settlement was an ancient capital thousands of years ago throughout several dynasties and kingdoms, and the traces of history can be found here wherever you go. In Nanjing, the ancient sites and historical landmarks tell the history and culture of Nanjing. You won't miss the top tourist attractions like Dr. Sun Yat-sen Mausoleum, Confucius Temple, Qinhuai River, Presidential Palace...All the stories will be heard.
Located between Shanghai and Yichang, you can make a trip to Nanjing first and then get to Yichang for the relaxing Yangtze River cruise. High speed trains are well connected Nanjing with Shanghai and Yichang. No matter which way is your style, just feel free to contact us for a customizable tour at the best price in 2021/2022!
Top 4 Nanjing Tour Packages - Travel Nanjing with Hot Itineraries
Our Nanjing tour packages cover popular Yangtze cruise tours from Nanjing, and hot city tours. Besides, Nanjing used to be one of the port destinations with Yangtze River cruise sailing to that you can have a nice exploration in this charming city. Feel free to select your likes or if you have your own needs or personal requirements, please tell us directly. We are here to help you customize your own trip at any time!
Nanjing & Yangtze Cruise Essential Guide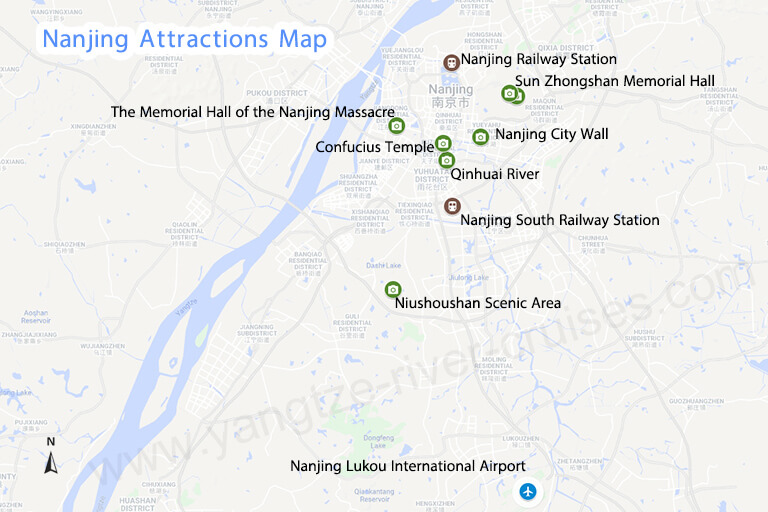 How to Plan Your Nanjing Tour or Nanjing Yangtze Cruise Tour?
If you show interests in visiting Nanjing, it is recommended to spend around 2 days in this city. The top attractions for you to explore include Sun Ya-sen Mausoleum, Presidential Palace of Nanjing, Confucius Temple, Nanjing Museum, the Memorial of the Nanjing Massacre, Xuanwu Park & Xuanwu Lake, Nanjing City Wall (Ming City Wall), etc.
The classic Yangtze River cruise sailing along the golden section usually takes about 4 or 5 days. Nanjing is located in the east of Yichang, about 850 kilometers away. Travelers can get from Nanjing to Yichang by high speed train for the cruise.
To well combine a Nanjing tour with Yangtze River cruise, you can learn more about: How to Plan a China Tour with a Yangtze River Cruise >>
Nanjing Rough Guide
Nanjing & Yangtze Travel Ideas
Nanjing & Yangtze Highlights
6 Strongly Recommended China Yangtze Tours
For most first-timers to China, they would like to cover several hot destinations in China, such as Beijing, Xian, Shanghai, Yangtze River, Guilin, Chengdu, Lhasa, Zhangjiajie to get an overall impression about the vast and beautiful China. Usually, Yangtze River cruise is served as a relaxing short break during the whole vacation. The following are the top 6 strongly recommended China Yangtze tours, and you can select your favored trip based on your interests, travel length and budget! If you have got your own ideas, contact us directly to discuss the travel plan and we can tailor made the tour for you!
Not easy to find the right cruise ship/itinerary for you? Please contact one of our Yangtze cruise specialists to save your time and money. Click the right button to send an online inquiry and we will get back to you within 0.5~23.5 hours.
Your can rely on our expert knowledge and endless enthusiasm!
Have a question? Get answers from our travel experts or guests