China River Cruises & Tours 2023/2024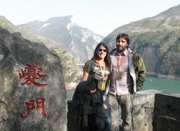 Whether you've visited China once or a dozen times, you haven't really experienced the best of the Middle Kingdom until you've explored its most significant rivers - Yangtze River, the World's third largest; Li River, one of the world's top 10 watery wonders; and the Water Towns, remarked as "the Venice of the East" by Marco Polo.

Specialized in organizing China cruise tours for many years, we know how to make your vacation smooth and delightful. Unwind. Enjoy. And leave the rest to us.
Yangtze River Cruise Tour
On a Yangtze River cruise you can participate in the onboard cultural activities, go exploring the riverside ancient towns, or simply relax on deck, breathe some fresh air, view the stunning passing scenery and take photos.
Yangtze River cruise - that's what we are specialized in.
Our Favorite Yangtze Cruise Tours
Li River Cruise Tour
A Li River Cruise, usually from Guilin downtown to the Paradise Yangshuo town, is the best way to admire the beautiful scenery of Guilin.
Besides, the approximate 4-hour cruise is a real treat and insight into the Chinese rural life, and you'll view graceful bamboo groves, farmers tending rice paddies, and lumbering water buffalos pulling carts or cooling off in the river.
Our Favorite Li River Cruise Tours
China Water Towns Tour
China's water towns, with hundreds of years of history, often referred as Venice of the East, famous for their town buildings, bridges, canals, and ways of life that have not changed in centuries.
Stroll in ancient water towns with artistic stone arch bridges and dwellings, and unwind youself at traditional gardens full of classic Chinese aesthetics.
Our Favorite Water Towns Tours

Not easy to find the right cruise ship/itinerary for you? Please contact one of our Yangtze cruise specialists to save your time and money. Click the right button to send an online inquiry and we will get back to you within 0.5~23.5 hours.
Your can rely on our expert knowledge and endless enthusiasm!
Have a question? Get answers from our travel experts or guests