Jiuzhaigou Yangtze Cruise Tour Packages
Our Jiuzhaigou Yangtze tours are mainly covered the two most scenic destinations - Jiuzhaigou and Yangtze River that you'll be totally immersed in the awesome natural scenery.

Also, the well designed itineraries and featured activities will prove they are the best ways to experience the beauty, soul and charm of Sichuan and Three Gorges. Open your eyes, open your heart and explore now!
Notes: due to the big earthquake in Jiuzhaigou area on August 8th, 2017, the Jiuzhaigou Valley Scenic Area has been closed for its reconversion. We would update the news once we receive its reopening date. Any inconvenience, please understand! If you want to enjoy more splendid sceneries in China, you could also join our Yangtze cruise tour with Guilin to discover its praisable landscapes. See more about Guilin Yangtze cruise tour!
Top Jiuzhaigou Yangtze Tour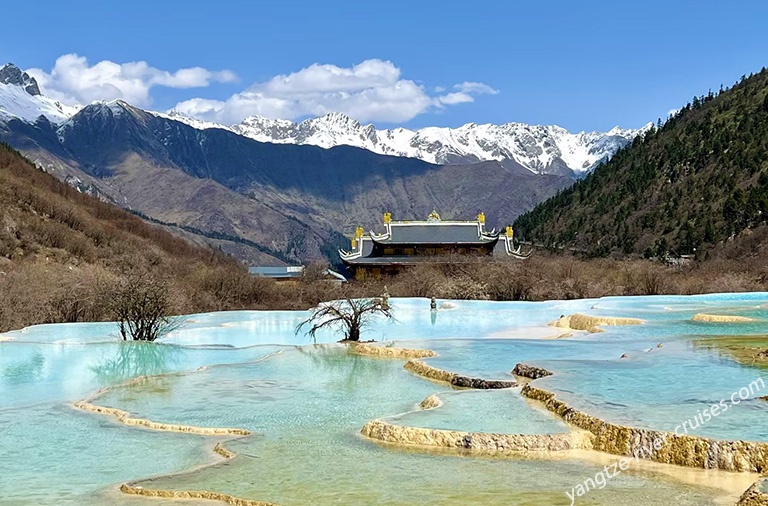 Highlights: Jiuzhaigou Valley, Huanglong Valley, Chengdu Panda Base, Yangtze River Cruise
Features: The combination of Jiuzhaigou and a Yangtze River Cruise in this tour make this tour feast of natural beauty, cultural treasures and historical sites. Choose the comfortable pace to journey in China and appreciate all the nature beauty under heaven now!
Check Details
Best China Yangtze Tours with Jiuzhaigou
10 Days Best of Sichuan Tour with Yangtze River Cruise

Chengdu / Leshan / Emei / Chengdu / Huanglong / Jiuzhaigou / Chongqing / Yangtze Cruise / Yichang

This tour covers all the highlights of Sichuan and Yangtze River. You'll have in-depth exploration in Sichuan by visiting Chengdu Panda, Jiuzhaigou Valley, Huanglong National Park, Leshan Giant Buddha and Mount Emei. After that, a relaxing cruise will take you down Yangtze River, from west to central China.

Price from: request

Check Details
16 Days Stunning China Tour with Jiuzhaigou Waterscape & Yangtze Cruise

Beijing / Xian / Jiuzhaigou / Chengdu / Chongqing / Yangtze Cruise / Yichang / Shanghai

No visit to Jiuzhaigou Valley that you'll never know how nature makes this place so magic and breathtaking. Indeed, it is the "Fairyland on Earth" no matter when you go. In this tour, you'll encounter the most beautiful side of China, as well as enter into the living classroom to learn the profound history and splendid culture. Besides, some happy hours with the Giant Pandas will leave you once-in-lifetime memory. Go with us now!

Price from: Request

Check Details
Not easy to find the right cruise ship/itinerary for you? Please contact one of our Yangtze cruise specialists to save your time and money. Click the right button to send an online inquiry and we will get back to you within 0.5~23.5 hours.
Your can rely on our expert knowledge and endless enthusiasm!