Yichang Tours & Yichang Yangtze River Trips
Yichang, a small port city in Hubei Province, is known as "the Gateway to the Three Gorges" and "Throat between Sichuan and Hubei". Located in the boundary between middle reaches and the upper reaches of the Yangtze River, Yichang is the starting point for 5 days & 4 night upstream cruise from Yichang to Chongqing, also served as the ending site for 4 days & 3 nights downstream cruise from Chongqing to Yichang. It is a popular choice to take a Yangtze cruise trip to relax both onboard and onshore.
With a history over 2700 years and home to the world famous project - Three Gorges Dam, Yichang has many things to see and explore. Of course, don't miss the chance to witness the hydroelectric gravity damn which is the largest in the world and appreciate beautiful Three Gorges scenery in different seasons.
Besides, Yichang is not far away from Wuhan, Zhangjiajie, Xian, Shanghai and other hot destinations in China, you can add some of the favored cities into your Yichang cruise trip. All are definitely worth your time!
Top 4 Yichang Tour Packages - Travel Yichang with Classic Itineraries
Our Yichang tour packages cover popular Yichang Yangtze cruise tours (Yichang to Chongqing cruise tour / Chongqing to Yichang cruise tour), one day Yichang city tour. Also, you can choose the Yangtze cruise tours to Zhangjiajie for more interesting exploration to enter into the Avatar world. Feel free to select your likes or if you have your own needs or personal requirements, please tell us. We are here to help you customize your own trip!
Yichang & Yangtze Cruise Essential Guide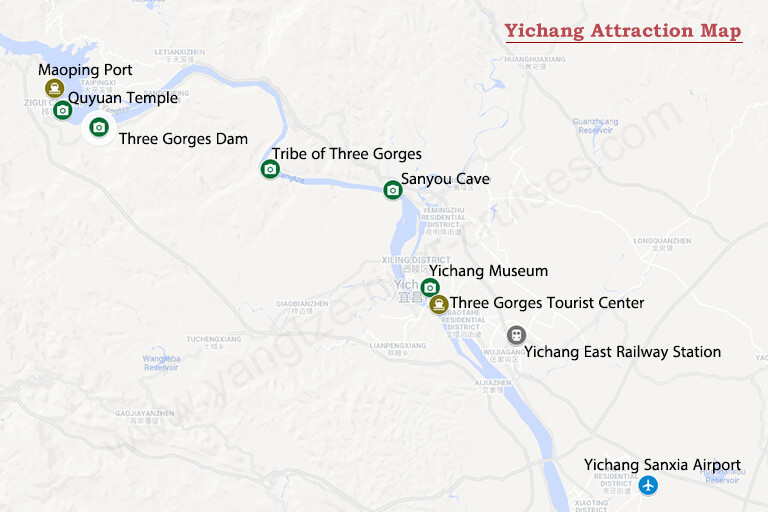 How to Plan Your Yichang Tour or Yichang Yangtze Cruise Tour?
The classic Yangtze River cruise usually takes about 4 or 5 days. The highlights of Yichang are Three Gorges Dam and sceneries along Three Gorges areas. There is not so much things to see in Yichang downtown area. Most travelers would like to make a transfer to Yichang to board a cruise ship directly. However, if you arrive in Yichang downtown area early, it is suggested to spend about half day taking a simple look at Yichang. Yichang Museum is the new window to let you know more about this city and the over 30,000 pieces cultural relics will dazzle your eyes. The Sanyou Cave is quite amazing for the unique Yangtze cave scenery. Yiling Square will present you the vivid city life. To well combine a Yichang tour with Yangtze River cruise, you can learn more about: How to Plan a Yangtze River Cruise | Yangtze Cruise Ultimate Planning for 2022/2023 >>
Yichang Rough Guide
Yichang & Yangtze Travel Ideas
Yichang & Yangtze Highlights
China Yangtze Tours with Yichang - Strongly Recommended
For most first-timers to China, they would like to cover several hot destinations in China, such as Beijing, Xian, Shanghai, Yangtze River, Guilin, Chengdu, Lhasa, Zhangjiajie to get an overall impression about the vast and beautiful China. Usually, Yangtze River cruise is served as a relaxing short break during the whole vacation. The following are the top 6 strongly recommended China Yangtze tours with a visit in Yichang, and you can select your favored trip based on your interests, travel length and budget! If you have got your own ideas, contact us directly to discuss the travel plan and we can tailor made the tour for you!
Not easy to find the right cruise ship/itinerary for you? Please contact one of our Yangtze cruise specialists to save your time and money. Click the right button to send an online inquiry and we will get back to you within 0.5~23.5 hours.
Your can rely on our expert knowledge and endless enthusiasm!
Have a question? Get answers from our travel experts or guests