Yichang Maps: Updated, Detailed & Downloadable
Want to have more clear idea of Yichang? Search for detailed maps when traveling to Yichang?
We are here doing our best to provide useful and clear maps of Yichang for you in order to assist your Yangtze River Cruise Tour. Maps including Yichang Location Map, Yichang Transportation Map, Yichang Tourist Attraction Map and Yichang Yangtze Map.
Yichang Transportation Map
This transportation map shows you the location and the rough distance of Airport, Railway Stations, and Ports in Yichang City.
Yichang Location Map
Situated in western Hubei, Yichang lies on the northern bank of Yangtze River and covers an area of about 21,000sq.km. Yichang features mountains and forest in the west and flat fertile land in the east.
Yichang Tourist Attraction Map
Yichang Tourist Attraction Map, clearly listing the tourist sites of Yichang, such as Three Gorges Dam, Three Gorges, Gezhou Dam, China Sturgeon Museum, etc. Don't miss any highlights in Yichang!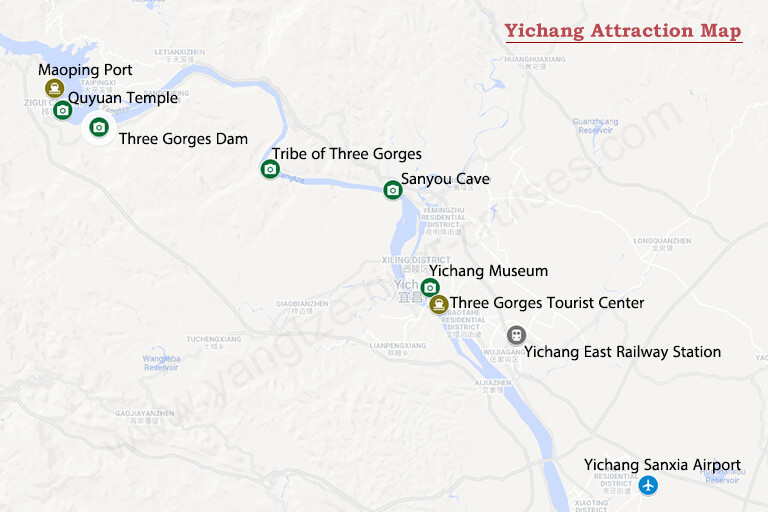 Yichang Yangtze Map
From this Yichang Yangtze Map, you could have a very clear idea of Yichang, including the important location and the nearby tourist attraction, etc. Whether Yichang is your end or your beginning of your Yangtze Cruise, it could never be end of your trip.
More Yichang Travel Articles
Keep Readings of Yangtze River Cruise
Popular Yichang & Yangtze River Cruise Tours
Not easy to find the right cruise ship/itinerary for you? Please contact one of our Yangtze cruise specialists to save your time and money. Click the right button to send an online inquiry and we will get back to you within 0.5~23.5 hours.
Your can rely on our expert knowledge and endless enthusiasm!
Have a question? Get answers from our travel experts or guests