Yangtze River Panorama Cruise from Shanghai to Chongqing 2022 [Expired]
- To Savor Half of China's Splendid Nature, Culture & History with Top Best Luxurious Cruise from only $2,919
China is vast! China is also splendid no matter its nature, culture, history or food! Yangtze River as one of the two important "Mother River" of China since thousands of years ago has nourished the civilization and booming economy of this enormous country! There are so many ways to travel through China and discover the amazing regions along the river, but none can be compared to the intimated, luxurious, stylish, relaxing and sophisticated experience of a river cruise! How about watching half of China in 15 days by a cruise?
The 2021 brand new 15 days Yangtze River Panorama Cruise from Shanghai to Chongqing is delicately designed by the Yangtze renowned brand - Century Cruises that is the classic luxury cruise company receiving "Magellan Awards" from Travel Weekly and praised as the "Most Dynamic Cruise Company on Yangtze River" by New York Times.
In 2021, Century Legend, the proud top best luxury cruise vessel of Century Cruises, will take you to immerse into your deluxe, relaxing and in-depth Yangtze River cruise discovery! During this half a month vacation, you will sail leisurely passing Shanghai, Nanjing, Wuhan, Three Gorges, Chongqing, and many other unknown but charming places along the middle and lower reaches of the Yangtze to explore the fabulous sightseeing, brilliant culture, profound history, diverse customs and flourishing economy of the core part of China! Only 3 scheduled sailings (March, June & November) in whole 2021! Let's glimpse at what to expect during the vacation and on the cruise at below! You will enjoy more discounts if you book early cruises.
Shanghai to Chongqing Yangtze Cruise - Explore Half of China in 15 Days
① Valuable all-inclusive cruise package: enjoy a quite valuable sailing vacation with everything included in the quotation from US$2,919 per person, including rooms of 5-star hotel standard, three meals per day with plentiful types of delicious food & drinks, 24-hour caring service around the cruise, all attractions visiting, tour guides, etc., which needs only about US$195 (about CNY1,284) per day for each one.
② Encounter at least 7 types of Chinese Cultures along the Yangtze: Shanghai regional culture, Wu & Yue Kingdoms Culture, Salt Merchants Culture, Buddhist Culture, Three Kingdoms Period Culture, Three Gorges Culture, poetry culture, food culture, etc.
③ Comprehensive discovery of China's profound history: feel the great change of the key part of China from Three Kingdoms period 1700 years ago to Tang, Song, Yuan, Ming & Qing dynasties during 6th - 19 centuries, and from Republic of China era (1910s - 1940s) to the current 21st century.
④ Figure out why China's economy flying so unbelievably: Marvel at the incredible flying development of the golden economy belt of the Yangtze in China.
⑤ Close visit to 10 cities: enjoy fantastic visits to 4 provinces (Jiangsu, Jiangxi, Hubei and Hunan), 2 municipalities (Shanghai & Chongqing), 8 cities (Yichang, Jingzhou, Yueyang, Wuhan, Jiujiang, Chizhou, Nanjing, Yangzhou). Including pacing Tour at the 4 mega dynamic cities and authentic shore excursions to 8 Ancient Cities.
⑥ Have great time at more than 10 different types of scenic sites: old towns & villages, ancient streets, ancient city walls, temples, museums, pavilions, parks, lakes, gorges, mountains, caves, etc.
⑦ Cruise along the magnificent and classic Yangtze Three Gorges.
⑧ Savor delectable 4 main Chinese cuisines (Sichuan Cuisine, Huaiyang Cuisine, Anhui Cuisine & Hubei Cuisine) and diverse international delicacies. Also, you will be welcomed with diverse kinds of afternoon tea, snacks and unlimited selected drinks during the whole sailing.
Shanghai to Chongqing Yangtze Cruise Highlights
Leisure Vacation with Century Legend, Top Best Yangtze Luxury Ship
Century Legend first sailing in 2013 is the representative and one of the best luxurious Yangtze River cruise ships for all global travelers to the Yangtze, which is extremely popular and frequently praised with its fancy cruise hardware and skills by international teams as well as featured European styled service, catering international visitors. Click to check more info of the ship facilities, cabins, deckplans, food & drinks, onboard service, entertainment, reviews, etc. and more photos of Century Legend!
Detailed Sailing Schedules at below:
Detailed Itinerary for 15-day Shanghai to Chongqing Cruise
All the Yangtze River cruise sailing from Shanghai to Chongqing will take 15 days and 14 nights along the lower and middle reaches of Yangtze River. The first day is the embarkation day that travelers from other places should transfer to Shanghai, and the cruise company will arrange transportation escorting you from the airport / train station to Shanghai Port International Cruise Terminal for embarkation. You will enjoy full days from the second day to fourteenth day to enjoy the natural, cultural, historical, economical and food highlights all the way passing various parts of Chongqing, Yichang, Jingzhou, Yueyang, Wuhan, Jiujiang, Chizhou, Nanjing, Yangzhou and Shanghai, including visits to Three Gorges, Three Gorges Dam, etc. On the morning of the fifteenth day, you will arrive in Chongqing downtown and the cruise will dock at Chongqing Chaotianmen Port for your disembarkation. The cruise company will also arrange vehicle to escort you to Chongqing airport / railway station for your leaving for the next destination or home. Check the following cruise itinerary from Shanghai to Chongqing to have a general idea about what to expect during such in-depth Yangtze river vacation!
Map of Chongqing Shanghai Cruise Route
Sampling Itinerary Day by Day
Day 1 Shanghai Arrival & Embarkation (D)
Embark at Shanghai Port International Cruise Terminal. (Opposite to the Pearl Tower); Jazz Night onboard along the Huangpu River.
Highlight:
Situated at the mouth of Yangtze River, Shanghai is the largest and most developed city in China. It is a flourishing international metropolis and a popular tourist destination renowned for its historical landmarks the Bund, Yu Garden as well as the extensive and growing Lujiazui skyline. The cruise company will arrange vehicle to meet you at Shanghai airport / train station for your embarkation.
Shanghai Huangpu River and Lujiazui View
Day 2 Shanghai (B, L, D)
City tour in Shanghai including Zhujiajiao Ancient Town; Lecture on Huaiyang Salt Merchant Culture
Highlight:
Reputed as the Venice of Shanghai, Zhujiajiao Ancient Town is a 1700-year-old town with old bridges, old streets, Ming-Qing dynasty architectures, old Buddhist and Taoist sites, etc. Of course, you won't miss the tranquil time to relax on the lovely water with a traditionally-decorated boat to enjoy fascinating scenery passing by.
Shanghai Zhujiajiao Water Town
Day 3 Yangzhou (B, L, D)
Slender West Lake; walking tour to Daming Temple; Chinese Folk Music Night by Traditional Musical Instruments
Highlight:
Slender West Lake: the symbol of the dignified and graceful Yangzhou and the must-visit site in this city. The verdant trees with branches and flowers dancing in the wind dress the lake into a pretty gorgeous lady who will arouse your interest to enjoy the seasonal scenery. Moreover, the old garden architectures, multiple bridges of different shapes, remaining literary works of those historically famous scholars and poets would offer very suitable opportunity to go into the history and cultural connotation of Yangzhou. To discover the romance of famous and dreaming city, it is not to be missed.
Daming Temple: This famous historic temple has a long history more than 1,500 years. Apart from its long history, it is also famed for the well-respected Monk Jianzhen, who was once an abbot of the Temple. Jianzhen made six attempts to cross the sea to Japan with the aim of disseminating Buddhism.
Huaiyang Cuisine
Yangzhou Slendar West Lake
Yangzhou Daming Temple
Day 4 Nanjing (B, L, D)
Mt. Niushou Cultural Park; Muyan Riverside Scenic Site; Lecture on Healthy Well-being of TCM
Highlight:
Niushou Mountain, named from its two peaks seeming two ox horns. It boasts the parietal Sarira of Shakyamuni, attracts numerous visitors to feel its rich Buddhist culture and its peculiar building that has won "Luban" Prize, a high prize of architecture in China.
Nanjing Muyan Riverside Scenic Site
Nanjing Niushou Mountain Cultural Park
Day 5 Chizhou (B, L, D)
Pace walking tour to Xinghua village with traditional local opera enjoyment; Lunch at Pingtian Lake restaurant with another relax walking tour will follow; Crew Cabaret Show & Folk Song Party of the Yangtze at night.
Highlight:
Xinghuacun Village: reputed as the "No. 1 Village under Heaven" for the famous poem called Qingming by Du Mu from Tang dynasty, this ancient village tells what the best romantic scenes of rain, blossoms, and liquor. It is said poem and liquor are the best friends by many famous ancient poets in China. Roam in the site famous for producing liquor, walk by the old wooden houses, bridges, and gardens, and know about the stories of Du Mu and the idyllic rural life of leisure.
Chizhou Xinghuacun Village
Chizhou Pingtian Lake Restaurant
Day 6 Jiujiang (B, L, D)
Full day shore excursion to Mt.Lushan. Or alternatively to Jingdezhen Porcelain Town; Demonstration of Hospitality & Service Skills by the Crew
Highlight:
Lushan Mountain is listed as one of the 10 Famous Mountains in China and is famous for having long been complimented by many famous ancient Chinese poets in their masterpieces to describe its peculiar beautiful sightseeing and many kinds of looks from different angle of view.
Jingdezhen Town has been especially famous for over 1,000 years and reputed as "City of Ceramics" for its excellent skill of porcelain production. Visit this elegant town in Jiangxi Province to watch in person the real ancient porcelain factory, ancient kiln porcelain yard, Expo area and various exquisite artistic porcelain works.
Jiangxi Jingdezhen
Jiujiang Lushan Mountain
Day 7 Wuhan (B, L, D)
Yellow Crane Tower; Hubei Provincial Museum; Sharing Talking Session by Celebrities from Wuhan
Highlight:
Hubei Provincial Museum, one of the 8 national class museums in China, displays nearly 1,000 pieces of state-level historic and cultural relics. It currently holds over 240 thousand objects to logistically introduce the history and culture of the ancient Chu State and the ancient Yangtze River, among which the most astonishing are the objects excavated from the Zenghouyi Tomb which was built about 2,400 years ago.
Hubei Provincial Museum
Yellow Crane Tower
Day 8 Yueyang (B, L, D)
Yueyang Tower; Leisurely afternoon on the ship; History & Culture Lecture of the Three Kingdoms
Highlight:
Yueyang Tower is one of the ten famous historical and cultural towers in China which is well-known for over 1,000 thousand years since the classic Chinese poem. Besides the outstanding construction skills and abundant poem and calligraphic displays, you can get on the tower to admire the great sightseeing of Dongting Lake.
Yueyang Tower
Day 9 Jingzhou (B, L, D)
Jingzhou Ancient City Wall; The Chariot and Horse Mausoleum of the King of Chu (Xiongjia National Archaeological Site Park); International Standard Ballroom Dancing Party
Highlights:
Jingzhou Ancient City Wall is one of the best preserved and larges scaled city wall in southern part in China, which is historic from the Warring States period. Visit this ancient site to admire its look kept from the Qing dynasty and understand the history of Jingzhou being the famous place in the past dynasties.
Jingzhou Museum
Jingzhou Ancient City Wall
Day 10 Yichang (B, L, D)
Three Gorges Dam. Sail through the Five-stages Ship Locks; Sail through Xiling Gorge; Informative Presentation about the Yangtze Three Gorges Dam Project
Highlight:
The Three Gorges Dam is the No.1 must-see attraction arranged by every ship as the first or last shore excursion. Located in Yichang City, it has been the world's largest power station. Three Gorges Dam is 3,335 meters long and the top of the dam is 185 meters above sea level. The dam consists of three parts - dam body, power plants and ship lift. It is used for producing electricity, but also increase the Yangtze River's shipping capacity. Travelers with a Yangtze River cruise will spend about 2 to 3 hours visiting the dam. You will not only have a close look at the impressive huge dam, but also learn the history, social impact, economics about the dam.
Three Gorges Dam Five Stages Ship Locks is so far the largest ship locks globally. With a water height difference of 113 meters in total, it is the most complicated ship locks to construct universally.
Sail through the Xiling Gorge at the eastern section to enjoy its beautiful sightseeing with some feeling of the dangerous gorge landform with turbulent river, high hills, rugged shoals, etc.
Xiling Gorge with Mists
Three Gorges Dam with Ship Locks
World-famous Three Gorges Dam
Day 11 Fengjie (B, L, D)
White Emperor City; Sail through Qutang & Wu Gorges; Informative Presentation about the Yangtze History & Culture
Highlight:
White Emperor City is located on the north side of Qutang Gorge, White Emperor City offers the best angle to view the magnificent Kui Gate. Known as the Poem City, White Emperor City has attracted many poets come and left many famous poems. What makes this place known to outside is the historical story of "Entrusting Zhuge Liang with an Orphan in Baidi Town".
Qutang Gorge at the western section is narrow and dramatic like an art gallery of nature, which offers superb magnificent scenery for all guests. Wu Gorge is the middle one gorge. It is a mysterious gorge site well-known for its frequently rising and passing mists, which is extremely beautiful and gorgeous with the leaves in red, yellow, golden and orange during autumn.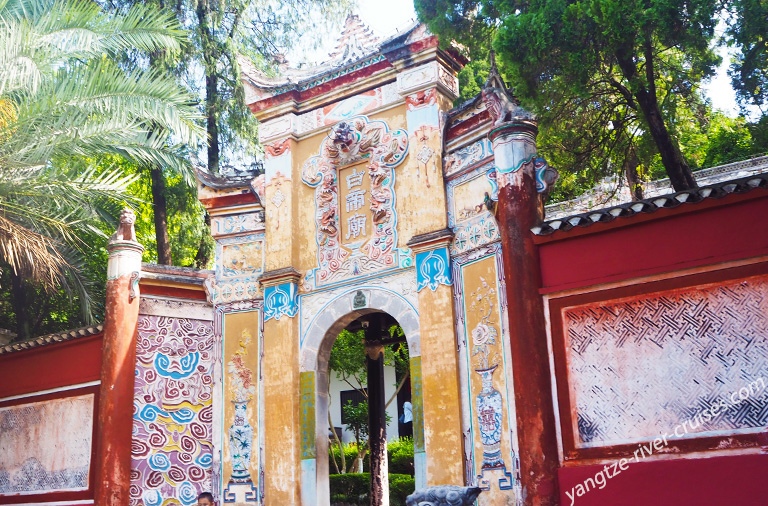 Fengjie White Emperor City
Magnificent Qutang Gorge
Breathtaking Wu Gorge Scenery
Day 12 Yunyang (B, L, D)
Zhang Fei Temple; Yunyang Longgang National Geological Park; Demonstration and Introduction about Sichuan Cuisine & Hotpot
Highlight:
Zhang Fei Temple: This 1,700-year-old cultural site is the great site to commemorate Zhang Fei, the famous general during Three Kingdom period, where to appreciate the resplendent ancient styled architecture and the abundant preserving precious carvings, calligraphic and painting relics.
Yunyang Longgang National Geological Park: This National AAAAA Tourist Attraction is a terrific natural site to enjoy the world No.5 deepest natural oval pit with over 330 meters and with lush vegetation and take a risk to walk on the hanging glass bridge 700 meters above the deep valley.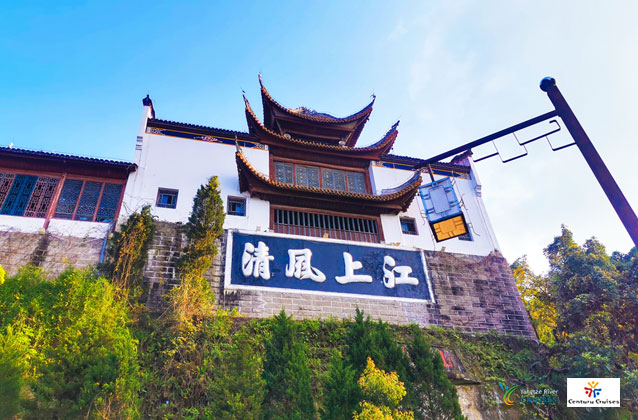 Yunyang Zhangfei Temple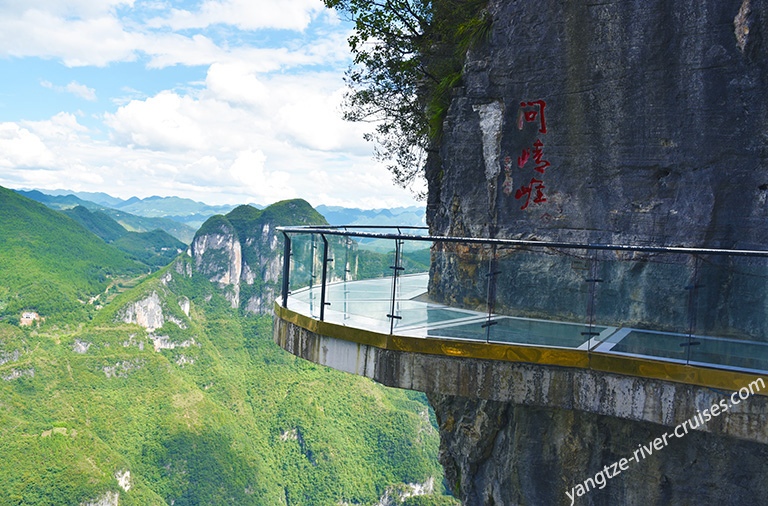 Yunyang Longgang National Park
Day 13 Fengdu (B, L, D)
Visit Fengdu Ghost City & Ancient Dwelling Houses; Night Costume Party onboard
Highlight:
Fengdu Ghost City is a large complex of shrines, temples and monasteries dedicated to the afterlife located on Ming Mountain. You'll have a learning about Chinese demons and beliefs of Confucianism, Taoism and Buddhism.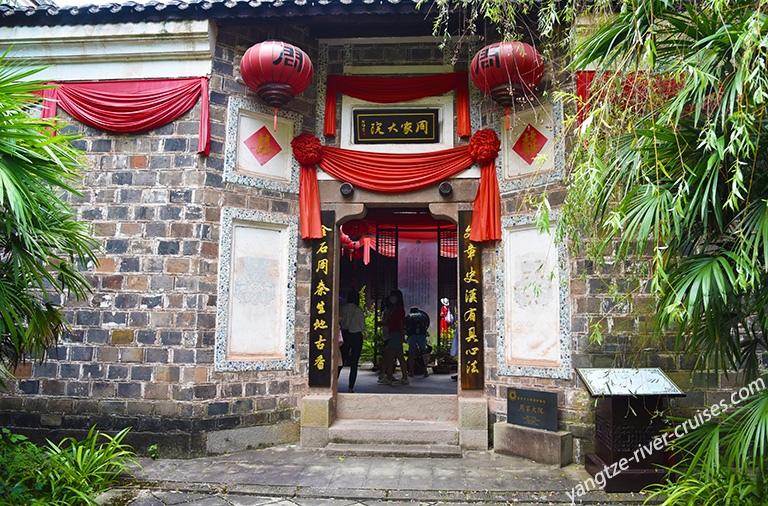 Fengdu Xiaoguanshan
Fengdu Ghost City
Day 14 Fuling (B, L, D)
Visit 816 Nuclear Military Plant and 816 Town; Photography Sharing Party about the Yangtze & Cruise
Highlight:
816 Nuclear Military Plant strikes the world not only because it's the world largest artificial cave, but also for its unveiled structure of the real nuclear plant (radiationless for no manufacture happened). You would meet the tens of kilometers long cave, multiple paths inside and a lot of unbelievable parts in the 816 Underground Project. As in the list of 20th century's architectural heritages in China, this plant is really great for visiting, education and knowledge enrichment.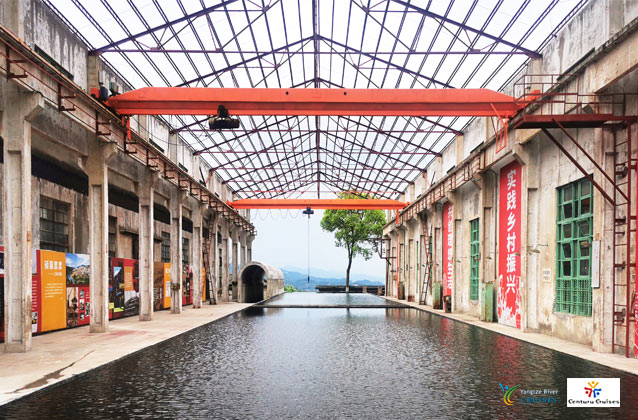 Fuling 816 Town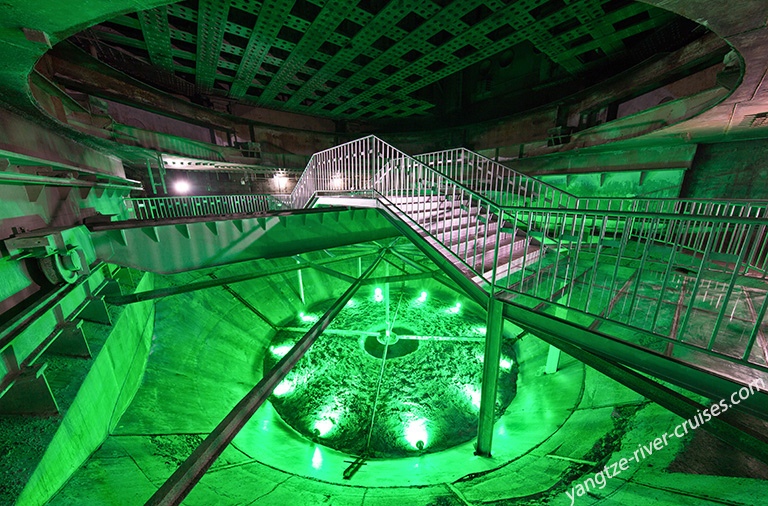 Fuling 816 Nuclear Military Plant
Day 15 Chongqing Disembarkation (B)
Embark the cruise at Chaotianmen Port around 08:30 a.m.
Highlight:
Welcome to Chongqing, the City of Mountain. Chongqing is China's fourth municipality after Beijing, Shanghai and Tianjin, attracting visitors from home and aboard for its delicious food, cultural heritage, tourist attractions, unbelievable mountain landform... Located at the confluence of Yangtze River and Jialing River, it is best to appreciate the view of the city center. The cruise company will arrange a vehicle to see you off at the Chongqing airport / train station. If you like, you can also choose to discover Chongqing after disembarkation.
Chongqing Chaotianmen Dock
Quotation Includes:
Accommodation: Cruise Cabin with private river-view balcony, based on two persons sharing one room with twin beds or a king size bed; Please note double bed room is on request basis which is subject to Hotel's availability and re-confirmation upon check-in;
Meals onboard and on land as specified in the itinerary;
Transportation: pick-up and drop-off service for embarkation and disembarkation in Shanghai and Chongqing, while sightseeing in each shore excursion visit;
Luggage Transfers between airports, trains and the cruise;
Entrance fees of the scenic spots as listed in the itinerary;
Guide introduction service during each shore excursion listed in the itinerary;
High staff-to-guest ratio ensures personalized service;
Room Service: Free Room Service Menu 24 Hours a Day;
Elegant casual ambience & enrichment programmes;
Free and unlimited access to shipboard Wi-Fi;
Free swimming at the indoor heated swimming pool;
Welcome fruits on the boarding day;
Unlimited selected drinks throughout the cruise;
Free Valet Laundry Service once;
Free gratuities, luggage handling, service charge;
Service Charge (the planning, handling, operational and communication charges) & Government Taxes.
(The price will be a little lower if you pay in Chinese Yuan (RMB!)
Price excludes:
Accommodation not as listed in the itinerary;
Visa Fees: Please make sure that you have got your valid passport and visa before your entry to China. We can send you a free official invitation letter to assist you in obtaining your visa after the reservation deposit is received;
Sightseeing not listed in the itinerary;
Meals not listed in the itinerary;
Personal expenses such as laundry, drink, fax, telephone call, optional activities, etc.;
Gratuities, tips to guides, drivers, bellboys, etc.;
Excess Baggage Charges;
Life Tourist insurance. Please kindly note that the full coverage travel insurance from your country of origin should be purchased in advance on your own.
Here are recent candid photos of this China trip / Yangtze cruise trip. If you want to share your own tour photos, simply email your photos to info@yangtze-river-cruises.com with your Booking ID Number. Thanks in advance for sharing!
Note:
1. The above information including itinerary, attractions, and shore excursions, is not fixed and will be changed slightly because of the differences in ships, seasons, water levels, and weather condition.
2. Included meals as noted in above itinerary: (B) = Breakfast; (L) = Lunch; (D) = Dinner.
3. Get to / away from Shanghai: Shanghai Hongqiao International Airport and Shanghai Pudong International Airport are two top busy airports in China, which have frequent flights every day to most destinations in China and international destinations. Besides, high speed trains launch frequently from / to Shanghai Hongqiao Station, Shanghai South Railway Station and Shanghai Railway Station every day, liking it with many destinations in China, like Beijing, Xian, Guangzhou, Hangzhou, etc.
4. Get to / away from Chongqing: Chongqing Jiangbei International Airport has frequent flights to majority domestic places in China and some direct flights to Seoul, Tokyo, Nagoya, Bangkok, etc. Besides, Chongqing North Railway Station, Chongqing West Railway Station and Chongqing Shapingba Railway Station has high speed trains to / from Beijing, Xian, Chengdu, Guilin, Kunming, Guangzhou, etc.
5. What to Wear for Yangtze River Cruise: wear casual seasonal wears like coats, T-shirts, light knitwear, jeans, etc. in spring and autumn, shorts, light jackets, T-shirts, skirts, sunglasses, sun hat, sunblock, etc. in summer and jackets, warm pants, sweaters, gloves, scarves, etc. in winter.
6. What to Pack: Travel documents, "Carry On" luggage, confirmation letter, casual clothes to pack, daily commodities, credit cards, cash, mobile phone, cameras, as well as any essential medicines, etc.
Make an Enquiry
Interested in the cruise? Select from the following cruise dates and make an inquiry to start your trip planning & cruise vacation!
Chongqing to Shanghai
Shanghai to Chongqing
Book Now
Not easy to find the right cruise ship/itinerary for you? Please contact one of our Yangtze cruise specialists to save your time and money. Click the right button to send an online inquiry and we will get back to you within 0.5~23.5 hours.
Your can rely on our expert knowledge and endless enthusiasm!