Century Cruises: Cruise Yangtze River in Luxury & Comfort
Century Cruises is now leading in luxurious river cruising on the Yangtze River. It was praised as "the Most Dynamic Cruise Company on Yangtze River" by New York Times and received MAGELLAN AWARDS from Travel Weekly.
Century Cruises is the largest fleet on the Yangtze River and it has prospered and blossomed into a sophisticated cruise company offering four luxury ships and presenting you with the most enchanting holiday experience in China. And there are four other luxury ships are under construction. All the four ships have been awarded a five-star rating by The China National Tourism Administration. Moreover, it is the only Yangtze cruise company obtained 30 cruise patents. All staff are meticulously trained to the highest Western standards, and the management of the ships is entrusted to an experienced hospitality management team.
To make travelers live in the most comfortable way, Century Cruises has large, spacious and environmentally-friendly cabins with "green" technology which lowers engine emissions and the extensive use of high-tech compound panels for interior decoration and furniture. It also has proceeded technological innovations - "the first integrated E-Propulsion and Rudder Propeller System on the Yangtze", substantially reducing vibration and noise and significantly increasing the ship's maneuvering capabilities. With Century Cruises, you'll experience the highest level of service in every detail to make your cruise in comfort and style.
2023 Deals & Latest News:

1. Maiden Voyage of Century Oasis Cruise: Another top-luxury cruise - Century Oasis just made its maiden voyage in April 2023. It is the newest sister ship of luxury Century Glory and Century Victory. Choosing it definitely gives you the best way to travel the Yangtze River for the ultimate in luxury and relaxation.
2023 Exclusive Brand New Upgraded Services from Century Cruises
Exclusive complimentary upgrade services ONLY FOR Century cruise travelers! Book your Century Cruise ship to enjoy a valuable and worry-free sailing vacation!! (For Chongqing Yichang Upstream & Downstream Cruises)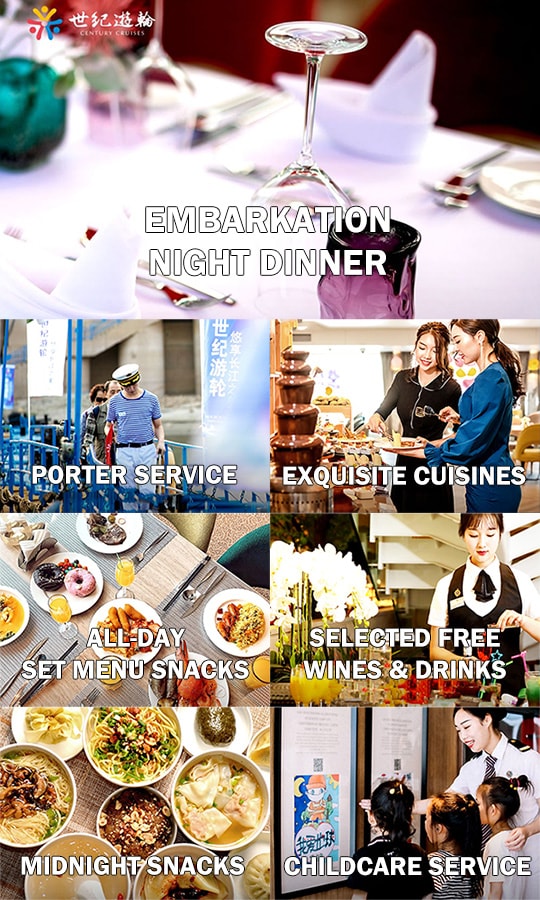 Top 5 Century Cruise Ships
Cruise Calendar
Itinerary
Fleet Comparison
Booking & Boarding Tips
Life onboard
Century Cruises Calendar in 2023 & 2024
Ramark: CQ=Chongqing; YC=Yichang; SH=Shanghai; WH=Wuhan;
Century Cruises Itinerary
Century Cruises is always elaborately as well as innovatively designed its itineraries with all-year round departures to satisfy its travelers sailing on Yangtze River in comfort and style. In 2023, all of Century ships run between Chongqing and Yichang that travelers can choose 4 Days & 3 Nights downstream itinerary from Chongqing to Yichang or 5 Days & 4 Nights upstream itinerary from Yichang to Chongqing.
During the short break, travelers on Century Cruises can not only enjoy the gorgeous scenery of Three Gorges, but also enjoy kinds of shore excursions to the natural and cultural sites which gives you great opportunity to deeply explore the world-famous project, local people's real life, Chinese architecture, history and culture along Yangtze River.
Century Cruises Chongqing - Yichang Itinerary & Shore Excursions
/
Upstream Sites (YC-CQ)
Downstream Sites (CQ-YC)
Included
Optional (CNY/pp)
Included
Optional (CNY/pp)
Please Note:
Please note that the shore excursions are subject to change due to weather, river conditions and permission from the navigational authorities. The cruise company will arrange the same fabulous sightseeing if the prearranged sites cannot be visited in a particular case.
The OPTIONAL shore excursion needs extra charge and you have the final say whether you take it or not.
The OPTIONAL shore excursions are prepared based on the number of visitors who want to go. You can visit if there are 30 or more people interested (the number of visitors may be adjusted based on the real situation). You have the final decision where to go or not on your own. If yes, tell the reception desk who would register for you and receive your pay in site. The ARRANGED shore excursions are included in your quotation, so you could visit the sites without extra charge. However, if you do not visit the sites, the fees of arranged shore excursion sites are not refunded. If you do not visit the shore excursions, you could stay on the ship to enjoy some leisure time. And for your safety, you are not allowed to leave your ship on your own.
Choose the ship to see the SAMPLE cruise itinerary.
Compare the Ships
All ships of Century Cruises offer you a luxury 5-star cruising experience, as each cabin onboard is outside with private balcony and each ship is equipped with sightseeing elevators. Besides the same standard high level services, there are also some differences about the hardware of each ship.

To help you find the best Century cruise ship, we've listed the features of all the Century Cruises in the table below, so you can compare them at a glance.
Century Cruises Booking Tips
Please Provide Complete Information for Booking
When booking a Century cruise ship, please provide us the complete information including your and your group members' name, nationality (if you have two nationalities, please show us the nationality used for entry visa), gender, passport number, date of birth, your favorite cabin and amount of cabins, and other personal requirements.
Valid Documents & Real-name Registration
When booking the Century cruise ships with us, please provide us the correct passport info, like your name and passport number. Real-name registration is needed when booking the cruise. If there is any change for your passport, please contact us and provide us the latest personal info that we should deliver to the cruise company once you changed.
What's Include & Exclude in Century Cruise Fee
The following items are included in your cruise fare and there is no need to pay when you board a Century cruise ship.
Entrance Fees: The arranged shore excursions listed in the itinerary of your cruise ship. Arranged downstream and upstream shore excursions include Fengdu Ghost City, Shennv Stream and Three Gorges Dam Site.
Meals: The daily meals (specified with "B", "L" or "D") on your cruise ship.
Cabins: A bed in the cabin as specified in the itinerary. You could enjoy your room during daytime and night. Usually,
Chongqing to Yichang for 3 nights onboard;
Yichang to Chongqing for 4 nights onboard;
Activities & Lectures: Captain Welcome Party, cabaret shows, fashion shows, Chinese Yangtze culture and history lectures, Captain Farewell party;
Cleaning:room cleaning service every day;
Local guides for the arranged shore excursions;
Accident Injury Insurance;
Service Charge & Government Taxes.
The following items are excluded in the Century cruise fare. If you want to enjoy the services, you need to pay extra fees accordingly.
Transfers: Transportation between Chongqing Jiangbei Airport / Chongqing North Railway Station and Chongqing Chaotianmen Port; also between Yichang Sanxia Airport / Yichang East Railway Station and Taohuacun Port.
Optional Shore Excursions: Feng Yan San Guo Show, White Emperor City, Tribe of Three Gorges need extra charge. Each is for 290 RMB/person.
Personal Expenses: Expenses of a purely personal nature such as laundry, clinic service, faxes, telephone calls, spa, salon, shopping, Internet, DVDs, etc.
Meals: Any meals which are not specified with "B", "L", or "D".
Single Room Supplement: If you want to stay in one cabin (usually two beds in one cabin) on your own, you need to pay higher than one room shared with another.
Tip: There is a mandatory service tip required to be paid when checking in the cruise, you can pay at the ship reception counter. You can decide to pay or not for volunteer tips to river guide, cruise director and staff onboard.
Century Cruises Boarding Tips
Call the Ship or Check Email ahead
In normal circumstances, no matter you take downstream or upstream Century Cruises, you usually embark your ships at Chongqing Chaotianmen Port / Yichang Maoping Port. Check the exact ship for detailed boarding time. Also, the boarding port may do some adjustment for special events, like weather condition, level of water, river navigational conditions, annual maintenance of the Three Gorges Dam ship locks, etc.
To make everything go smoothly, please call the ship (the phone number we'll show you clearly in the Confirmation Letter) one day ahead or at least in the morning on the boarding day. Or, you can also check your mailbox on the boarding day or one day before for the updated boarding information our travel consultant delivered. Please make sure your phone can be called through in China, so that we can also call you if there is any urgent change.
Find the Exact Pier in Chongqing & Yichang
Chongqing Chaotianmen Port is the general pier name and it is consisted of 13 sub-piers. While, While, Yichang Maoping Port is about 55-60 kilometers away from Yichang downtown area which needs 1~1.5 hours' for driving. Travelers who take an upstream cruise will first gather at Yichang East Railway Station or Yichang Three Gorges Cruise Terminal to take the arranged bus to Maoping Port for embarkation.
For the boarding piers is not so easy to get to, you'd better use our worry free private transfer service. The local guide or driver will take you to the correct cruise pier from the airport / train stations, etc.
Board your Ship at the scheduled Time
Please plan your transportation ahead and board your ship at schedule time. If there is any trouble for your flights, train or local transportation to the port causing you arrive at the port late, please contact us at first time and we'll try our best to help you solve the problem.
Collect Cruise Ticket at the Pier
Travelers need to collect your cruise ticket with real-name info signed at the corresponding port in Chongqing / Yichang (please make sure your passport and ticket with consistent information). After the ticket collecting, you'll be followed to get security check before board the ship for check-in.
Note: The cruise ticket collecting and security checking time of Century Cruises in Chongqing Chaotianmen Port is from 15:00 on the boarding day.
Luggage
Please kindly note that if you do not book private transfer with us and need to hire the local porters to carry your luggage in either Chongqing or Yichang Port to your ship, please discuss the price with the porter beforehand. It usually charges according to the number of your luggage.
For more Century Cruises booking and boarding questions, please feel free to contact our professional cruise agents who are here ready to help you at any time!
Life Onboard
First Class Facilities
The FIRST on Yangtze River: The only fleet with Grand Atrium Lobby with six or seven decks;
The FIRST on Yangtze River: The largest indoor constant-temperature Swimming Pool (244 m²);
The FIRST on Yangtze River: The largest multi-functional cinema which can hold 150 people at the same time; the cinema also can use for international simultaneous interpretation;
The FIRST on Yangtze River: All of the cabins have private sightseeing balconies;
The FIRST on Yangtze River: Advanced purified water system makes drinkable water to every cabin that travelers can enjoy tap water on Century Paragon and Century Legend;
The FIRST on Yangtze River: Largest per capita public area and the largest sightseeing sundeck;
The FIRST on Yangtze River: Two sightseeing elevators;
The FIRST on Yangtze River: Travelers enjoy the largest space for the average size of each cabin;
The FIRST on Yangtze River: The fleet with a sundeck bar or an a la carte restaurant with panoramic views;
Cuisine & Drinking
Cuisine on New Century Cruises highly praised dining experience is reflective of China's ever-enriching culinary landscape, with a fusion of western dishes. Breakfast, lunch and dinner are all western and Chinese buffets, all served in the single-seating capacious restaurants, with marvelous picture windows, which invite the dramatic scenery of the Yangtze River indoors. The famous Chinese chef Martin Yang designed the menu making it best suit for European travelers' appetite as well as Asia travelers' flavor.
Note:
Breakfast, lunch and dinner on every Century ship are all western and Chinese buffets (except for the Captain's Farewell Banquet). The dining of each meal will be very hearty, palatable and healthy.
Early bird treatment: Early risers can enjoy complimentary early bird coffee and tea in the Sundeck Bar after a fresh walk on the sundeck (usually at 06:30~07:00).
Special dietary requirements, such as diabetic or vegetarian, are accepted onboard, but need to be advised in advance at time of booking with us or you can tell the front desk when checking in.
The scheduled time listed for each Century ship is for reference and it may do some adjustment based on the real situation. You can have a clear idea about the daily schedule in the elevator, through TV channel or by listening to the broadcast.
Advanced purified water system with purified water to cabins on Century Paragon and Century Legend. Also, drinkable water is offered through the room thermos and bottled water (1 bottle per person per day).
Each Century ship has a sundeck bar offering offers drinks, beverage, wines for travelers from morning till night.
The legal drinking age on New Century Cruises ships is 18 years old.
Accommodation
Enjoy memorable time in the large, green, comfortable and quiet cabins and suites with every Century cruise ship!
The newest Century Paragon and Century Legend have four types of cabins onboard including Deluxe Cabins, Junior Suites, Executive Suites and Presidential Suites. While, Century Sun and Century Sky has three types of cabins that travelers can choose among Deluxe Cabins, Junior Suites and Deluxe Suites.
Besides the cozy beds in each cabin, the other facilities usually include table, chairs, sofa, broadcast, refrigerator, television, telephone, guide to using the telephone, ball-point pen, note, private bathrooms, bathtub, shower, shower cap, towels, soap, cups, comb, shampoo, shower gel, toilet paper, slipper, clothesline, clothes hanger, thermos, bottled water, coffee bags, coffee-mate, white sugar, brown sugar, safe box, hair dryer, life jacket, laundry bag and so on.
Note:
The size of deluxe cabins of all the Century ships are above 26m² with private balconies. The presidential suites are as large as 106m² with 30m² sightseeing balconies.
The twin single beds in deluxe cabins of each Century ship can be put together to a double larger bed. Also, it can add one bed in the deluxe cabins.
Travelers live in Executive Suites or Presidential Suites can enjoy VIP service.
If you need and can't find toothbrush and toothpaste in your cabin, please ask for the front desk.
Entertainment & Culture Programs
Entertainment & culture programs on every Century ship are very colorful and meaningful, including Yangtze River Briefing, Yangtze River History & Culture lectures, Exotic Night Life, Feature Films, Morning Taichi, Chinese Calligraphy, Mahjong, Chinese Folk Dance, Chinese Cooking Lessons and Flying kite, etc. Besides, travelers on Century Paragon and Century Legend can have lots of fun in mutifunctional-hall, KTV, gym, and swimming pool, etc.
Shopping
SHOPPING - in the Century boutique is a wide variety of Chinese gifts and souvenirs for family, friends or personal collections, as well as useful sundries. Souvenirs are all from Yangtze destinations with oriental clothing, Century logo items, post cards and more.
Relaxing yourself
New Century Cruises offer Massage rooms, Reading Room, and Beauty Salon on each ship, where you can totally relax yourself after a shore excursion or kill your time at afternoon. Sundeck, lounges and bars on board are good choices to meet new friends. Your kids can enjoy kinds of activities in the Children's Paradise.
Health Care
There is a doctor and health clinic on each Century ship. Customary charges are in effect for medical care. And the doctor will take a lecture of traditional Chinese Medicine, telling you something about Chinese medicinal herb and acupuncture and moxibustion. You can do some exercises in the Fitness room on board, or join to play Taichi on the sundeck every morning.
Service
International / local phone calls and faxes are available at the reception desk and the Business Center on all New Century Cruises ships. Each ship is also equipped with Internet access and an Internet cafe on board… All of these services are fee-based and you can sign these charges to your account and settle them at the end of the voyage.
Electricity: 220 volts throughout all ships; 110 volts in the bathroom; wattage may not be compatible with your hair dryer. Please DO NOT use personal equipment in your cabins. Video cameras, digital cameras and other electrical appliances can be recharged at the front desk.
Staff onboard
To keep Western travelers in mind, Century Cruises has adopted European-management to serve every traveler in the friendly way. Used to be hired by Viking River Cruises - one of the top 10 river cruise lines in the world, Century Cruises takes care of its travelers in every detail once you board on the cruise. There is western cruise director and English-speaking guides on each ship, providing real-time interpretation about China and the Yangtze River for you. Every staff on New Century Cruise is trying their best to offering guests the most personalized and highest level of service.
Useful Articles & Travel Guide for Yangtze River Cruise
There are some aspects you should consider before booking a cruise - best time, travel length, cruise ship and line, accommodation and dining onboard, onboard activities and cruise holiday extension...
Fully know what to see along the section between Chongqing and Yichang, and make some preparations before taking the amazing shore excursions to different sites along the Three Gorges.
Chongqing Chaotianmen Dock is only port used in Chongqing. Check the latest transportation guide to know how to get to Chongqing first and then make a transfer to Chaotianmen Dock and its sub-piers.
Travelers should first get to Yichang by air or train and then reach Yichang Three Gorges Center Cruise Terminal for a shuttle bus at the appointed time to Maoping Port.
You May Be Interested in Other Cruise Companies...
Not easy to find the right cruise ship/itinerary for you? Please contact one of our Yangtze cruise specialists to save your time and money. Click the right button to send an online inquiry and we will get back to you within 0.5~23.5 hours.
Your can rely on our expert knowledge and endless enthusiasm!
Have a question? Get answers from our travel experts or guests