Shanghai Tours & China Shanghai Trips
Shanghai, located on the southern estuary of the Yangtze River in the East of China, is one of the top gateway cities to China. The metropolis Shanghai is a city evokes much history, glamour, mystique and exotic flavor. There are many top tourist attractions to see and featured activities to do. You'll never get bored no matter in daytime or at night. Visitors will surely be amazed by the food, the people, the European street, art deco buildings, the narrow alleys and the sense of purpose. It is a good idea to spend 1 or 2 days in Shanghai for true East-meets-West experience.
Shanghai is also well connected with Suzhou, Hangzhou and Huangshan. In 3-6 days, you could combine your Shanghai day trips with water towns, Suzhou, Hangzhou and Yellow Mountain to see the best of the bests in the east! With over 10 years' rich experience providing Yangtze River Cruises and China Yangtze tours, you can feel free to travel with us to any destinations of China! Best experience and best prices are guaranteed in 2022/2023!
Top 8 Shanghai Tour Packages - Travel Chongqing with Hot Itineraries
Our Shanghai tour packages cover popular Yangtze cruise tours from Shanghai with Chongqing to Yichang cruise tour or Yichang to Chongqing cruise tour, hot city tours, inspiring side trips to Suzhou for classic gardens, Hangzhou for leisure break and Huangshan for Yellow Mountain and UNESCO Xidi & Hongchuan Ancient Villages. Shanghai is usually served as the east gate of the Yangtze River with convenient transportation to Yichang for the cruise. Feel free to select your likes or if you have your own needs or personal requirements, please tell us directly. We are here to help you customize your own trip at any time.
Shanghai & Yangtze Cruise Essential Guide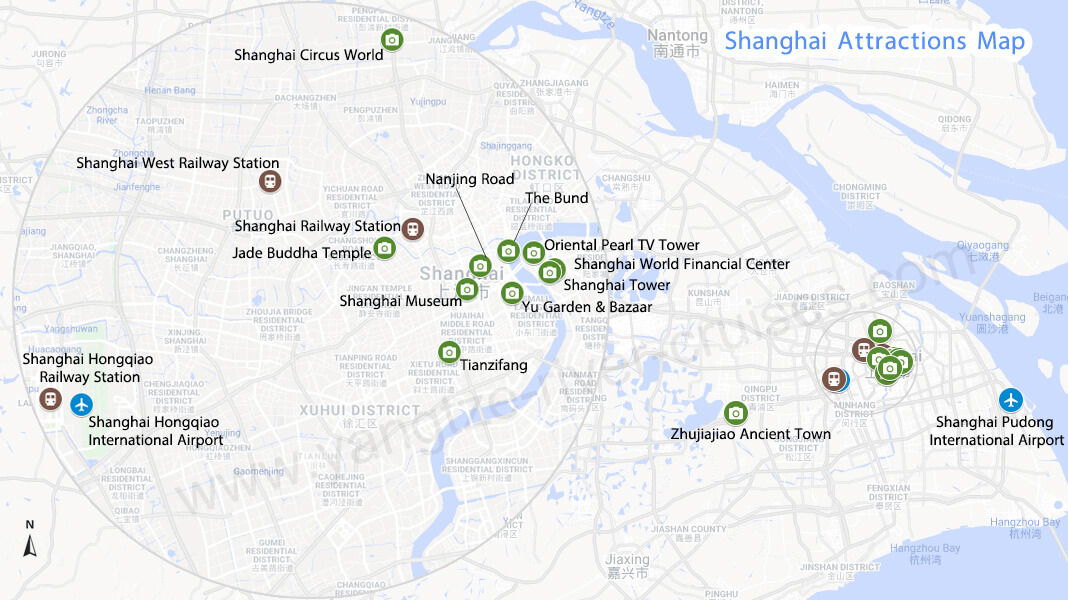 How to Plan Your Shanghai Tour or Shanghai Yangtze Cruise Tour?
Generally speaking, spending one full day exploring the essences of Shanghai is enough. The highlighting attractions include Bund, Nanjing Road, Yu Garden & Bazaar, Shanghai Museum and Shanghai World Financial Center. Shanghai is located in the core area of the Yangtze River Delta, making it the popular gateway to Suzhou (1 day), Hangzhou (1 day) and Huangshan (2 or 3 days) well linked with each other by high speed trains.
The classic Yangtze River cruise sailing along the golden section usually takes about 4 or 5 days. Shanghai is often chosen as the first destination to land in China and it is very popular to start a Yangtze River cruise from Shanghai. To well combine a Shanghai tour with Yangtze River cruise, you can learn more about: How to Plan a Yangtze River Cruise | Yangtze Cruise Ultimate Planning for 2022/2023 >>
Shanghai Rough Guide
Shanghai & Yangtze Travel Ideas
Shanghai & Yangtze Highlights
China Yangtze Tours with Shanghai - Strongly Recommended
For most first-timers to China, they would like to cover several hot destinations in China, such as Beijing, Xian, Shanghai, Yangtze River, Guilin, Chengdu, Lhasa, Zhangjiajie to get an overall impression about the vast and beautiful China. Usually, Yangtze River cruise is served as a relaxing short break during the whole vacation. The following are the top 6 strongly recommended China Yangtze tours with a visit in Shanghai, and you can select your favored trip based on your interests, travel length and budget! If you have got your own ideas, contact us directly to discuss the travel plan and we can tailor made the tour for you!
Not easy to find the right cruise ship/itinerary for you? Please contact one of our Yangtze cruise specialists to save your time and money. Click the right button to send an online inquiry and we will get back to you within 0.5~23.5 hours.
Your can rely on our expert knowledge and endless enthusiasm!
Have a question? Get answers from our travel experts or guests