Chongqing Maps: Updated, Detailed & Printable
Search for useful travel maps of Chongqing? Here, we provide some Chongqing maps to informative your Chongqing tours. Find the updated and detailed maps of Chongqing including Chongqing City Map, Chongqing Yangtze Map, and Chongqing Transportation Map as well.
The large and detailed maps contain everything that the tourists expect to find. It will be a helpful Chongqing travel guide. You could download the Chongqing Maps for free.
Chongqing Maps 2023/2024
Chongqing City Map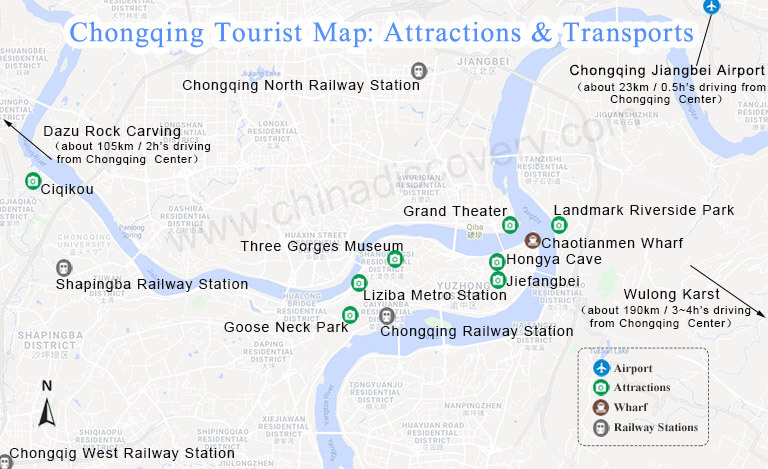 Chongqing Wulong Dazu Map
Chongqing Yangtze Cruise Map

Map of Chongqing Port
Map of Chongqing Port Transfer
Recommended Chongqing Tours
4 Days Chongqing Essence Tour with Yangtze Cruise
5 Days Chongqing & Yangtze Cruise Tour
6 Days Chongqing, Yangtze River & Zhangjiajie Tour
More Chongqing Travel Articles
Keep Readings of Yangtze River Cruise
Popular Chongqing & Yangtze River Cruise Tours
Not easy to find the right cruise ship/itinerary for you? Please contact one of our Yangtze cruise specialists to save your time and money. Click the right button to send an online inquiry and we will get back to you within 0.5~23.5 hours.
Your can rely on our expert knowledge and endless enthusiasm!
Questions & Discussions
Following are latest questions and answers from our webusers and customers. You can learn many useful information from the discussion and cases. You can also join in the discussions or ask your own question. Our experts will help you ASAP.
bus routes in chongqing
can you please tell how I can find, or send, a public transportation/bus map of Chongqing which includes the bus numbers and routes?
If it is downloadable, I hope to take it to a print shop and have it for my own personal use only!
Thank you very much!
Hello Bill,

Thank you for the message. You could buy a transportation map of Chongqing at the local railway station, airport or some newsstands in Chongqing after your arrival, and also some hotels would provide some local maps. As for the downloadable edition, we have not found it on the website. From Chongqing Jiangbei Airport, you could take the Rail Transit 3 and Line 6 to get Chaotianmen Port, if you take the Line 3 and transfer to Line 2, you could get to the downtown area. If you take a bullet train to Chongqing, you would arrive at Chongqing North Station, where you could take the Line 3 and Line 2, or just take the bus 105 to get to the central Chongqing and also you could take the bus 141 and transfer to 440 to Chaotianmen Port to catch your Yangtze River cruise. The routes of local buses may be changed a little for the construction and other reasons. If you need local transfer service to save more time of transfer and get away from waiting for the vehicles, you could just tell us, and our local guide and driver would give professional services to pick you up to your ideal attractions, railway station or airport with speed and safety and the prices are reasonable!

Wish you a wonderful trip in Chongqing!
Have a question? Get answers from our travel experts or guests