Reviews of Yangtze River Cruise
Still not deciding if a Yangtze River Cruise is worth for you? Many of our travellers have experienced a lifetime changing trip and now more than happy to share their stories with you. Check out their memorable Yangtze Cruise reviews and experiences.
Hi Stephanie,
I and my family had a great time on President No. 8. The service was good and scenery beautiful. Thanks you very much. I'm glad to recommend you and your company.
Have a great week.
Regards,
Mahadevan
Hello,
Tracy. Sorry for my late response.
To be honest, everything was above my expectations.
The only thing I can have a little complaint about was the situation at Chongqing port. Traffic was a complete mess, and the walk to the ship was almost training for the Olympics.
But I have to make you a complement, and also everybody else behind the scenes, arrangements were perfect from beginning to the end.
Thank you, and I will recommend yangtze-river-cruises to everybody interested.
Cheers, André
Hi Jack,
Thank you very much for helping me organizing our trip so successful and smoothly. One word to said it all "excellent ". You and your company will be highly recommend by me to my friends and colleagues. Again, thank you for everything.
Regards,
CHRIS TRUONG
Hi Linda,
I am in Chongqing Jiangbei International Airport now waiting for my flight back to Malaysia. Ya, I truly enjoyed my first DIY trip in China with your help. The Century Sun was a good choice to cruise along the Yangtze River. Well, I did read about the positive comments on Trip Advisor before placing the booking. Everything goes well.The cabin was ok and the food was fabulous. The buffet spread for every meal was sumptuous and I get to try different kind of dishes everyday ranging from western to eastern food. The off shore excursions are well organised.
I am so glad that I have asked you to purchase my train tickets earlier on. Otherwise I would have to stand all the way throughout my journey.
Once again thank you and I will seek your help again for my next DIY in China.
Regards,
Madam Ang.
Dear Linda,
I was delighted with the cruise, so here is some useful information for future guests, especially non-Chinese people
The cabins are great, non-smoking but people do seem to often smoke on their private balconies. They do offer you upgrades to the room, but I declined. they also offer you an upgrade for dining to the VIP dinner room, but do not go for it, as you will miss the atmosphere of being with everyone.
On my cruise there were about 200 Chinese and just 7 non-Chinese, however we were very well looked after with announcements etc in English and all staff had some command of English and one of the staff, Shirley, was exceptionally good at making us feel welcome and talking to us at our table every day. The 'foreigners' were all grouped together. Shirley advised us to go on some tours but suggested we avoided one as it was all going to be presented in Chinese and we probably would not find it very interesting!
Do not miss the 'Three Kingdoms Scenic Spot' show it was truly spectacular, one of the best live shows I have seen, beating those of Disney parks. And 'no' I have no idea what it was all about but it was amazing!
Each day a couple of bottles of water were provided free. My guide recommended I took my own drinks onboard which I did, he told me that the drinks were very expensive, however by hotel standards that was not so, a decent cocktail was around $12. There are small shops on several of the deck on the ship where you can buy snacks and soft drinks.
Meal times were a bit of a crush with everyone rushing to the buffet at the start, but the food was better than I expected. On our table we were provided knives and forks, but we all refused them and insisted on chopsticks!
I was surprised that the bars were empty a lot of the time, except for the 'Farewell dinner' when the 'foreigners' were given a reserved spot, another example of being well looked after. The crew gave a cabaret performance which was certainly not Broadway, but was fun to watch.
Dress on the boat was very casual, we were wearing shorts/very casual for breakfast and lunch and a little more 'smart casual' for the evenings. the advice of a shirt and tie for the Captains dinner was not correct, simple trousers and a casual or polo shirt for men and a simple dress etc for women.
The Chinese guests on the boat were very friendly at all times, with quite a few photos taken of us with some of them. One of the highlights for me was when a lady of 87 starting chatting to me in perfect English, but I then learnt she had been a professor of languages for a career.
You are not expected to tip the staff all the time, but a small tip for the cleaner of the cabin ($15) and the same for the waiter who served all the meals at our table seemed appropriate.
At the end of the cruise, my guide who took me to the airport was very pleasant and good conversation, She did not really tell me anything much about the area, but she was nice and made me confident of the journey and assisted me to check in for my flight and then took me to the restaurant before boarding at the airport and assisted me to buy my lunch before heading home.
The service I had from Yangtze Rover Cruises, and especially my contact Linda Deng was exceptionally good, far better than usually experienced from other agencies.
Best Regards,
Larry Smith
Dear Tracy,
The cruise was excellent!!
Everything was well organized from airport pick up until airport drop off !!
Thank you very much
Best regards,
Arthur Jansma
Dear Rita Jiang. ☺
O Yes we enjoyed the cruise ,had a nice room and the tours especially the one to the lesser three gorges where so beautiful .The only thing which was not the best was the weather.On the first day it rained a lot. We visited the Three Gorges Damm with an umbrella.Anyway we have seen a lot, had some fun, met some new people and got save to Chongqin. We want to say thank you so much for your good Organisation. Wishing you all the best.
Yours,
Torsten Langer 🙌
Hi Wing,
Yes would be happy to answer your questions
I found your tour arrangements very good and would definitely recommend your company to my friends and family,
Just a blip on the pick up as David told us to wait on the boat after trip and we were told to get off and meet at the visitor center.
I would use your service again found you very helpful the whole time from start to end of the booking.
Karen Ubsd
(The following pictures were shared by Anita Bedinghaus)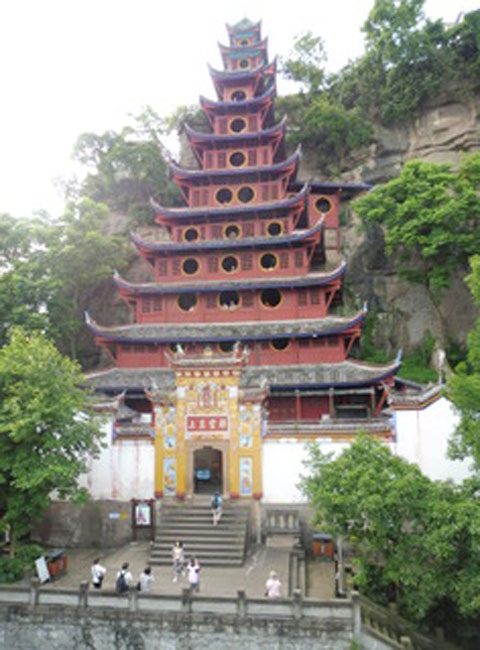 Beautiful Landscape Photoed by Karen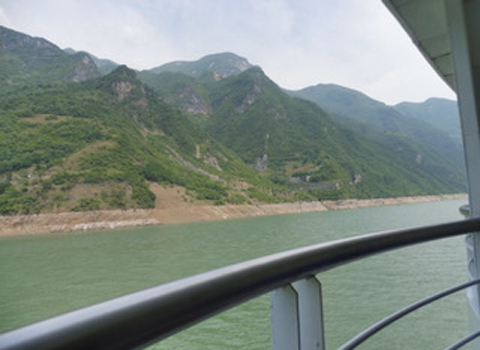 Beautiful Landscape of Yangtze River Photoed by Karen
Questions & Discussions
Following are latest questions and answers from our webusers and customers. You can learn many useful information from the discussion and cases. You can also join in the discussions or ask your own question. Our experts will help you ASAP.
Vegetarian Food
Hi, We are traveling in the cruise from 9 May. Is there any Indian vegetarian food. What are the other vegetarian options
Hello Ravi,

Greetings from China! At present, there is no Indian vegetarian food served onboard Yangtze River cruise ships. However, the breakfast, lunch and dinner are almost arranged in buffet styles with about 3-5 vegetarian dishes, like cabbages, vegetables in season, vegetable and fruit salad, and so on, and some cruises prepare the dinner in Chinese sitting form with some specially cooked vegetarian dishes for guests. And if want, you could also pay extra to order some vegetarian food at the reception desk and tell the staff about your needs and eating habits, and the cruise chefs would prepare great food for your enjoyment. Besides, the Yangtze River ships serving foreign guests from the world have provided service to many vegetarian travellers and have gained rich experience and good reviews, so you can enjoy your dining time on the ship!

Wish you a wonderful Yangtze River sailing trip in May!
Room with balcony
If I book a China tour with webjet, what is the name of cruise ship used. Also can I book a cabin with balcony
Hi Christine,

Thanks for your question. As I know, there probably is no Yangtze River cruise business on the Webjet. And if you are interested in enjoying the leisurable cruise in China, you could book the cruise tour with us. Nearly all cabins onboard the cruise, such as the Century cruises, Victoria cruises, President cruises, Yangtze Gold cruises, Yangtze Explorer, etc. are facilitated with an open balcony for your sightseeing enjoyment and also many great services and high standard facilities and amenities. Please feel free to tell us your Email address, nationality, group size, traveling time to China, needs, and other basic information, and our professional Travel Consultant could help you as soon as possible to tailor make a route for you with really nice price.

Have a nice day!
Should we worry about Motion Sickness
Just not sure if we should need motion sickness meds. We are on your cruise that departs from the Yichang Port for Yangtze River from April 24- April 27, 2017. Thank you so much
Dear Mary,

Thanks for taking a Yangtze River cruise with us. April is a great time with fine weather to enjoy the gorgeous scenery along Three Gorges.

No matter which ship you take, it will run very steady at a relatively slow speed. As you know, the construction of Three Gorges Dam controls the water level and flow velocity of Yangtze River that it will be steady to guarantee every ship to sail smoothly. Unlike the ocean cruise, there is no need to bring motion sickness meds for travelers who on Yangtze River cruise. If your physical condition are seasick easily, take some just in case. And no worry, there is a clinic onboard who will serve at any time.

Wish you have a nice journey!
Have a question? Get answers from our travel experts or guests
Your Question:

Your Name:

Your Email: