Reviews of Yangtze River Cruise
Still not deciding if a Yangtze River Cruise is worth for you? Many of our travellers have experienced a lifetime changing trip and now more than happy to share their stories with you. Check out their memorable Yangtze Cruise reviews and experiences.
Dear Riley,
Everthing went perfect! First we had a Good lunch. Then We visited the ancient town and Eling Park. Dave was such a very Good guide! Now We are on board with Dave helping us. No hassles. Nice room. Thanks Riley
Rodriguez
Rodriguez, Philippines
September 14, 2018
Hi Vivien,
we loved it.
We are still on vacation. When we are back, I will give a good feedback.
We have a few good pics, but I need to get them off the phone first.
Greetings
Georg
Georg, German
September 14, 2018
Dear Wing,
I want to congratulate you for the excellent service you provided to our group's recently concluded China Tour. We are pleased with all the travel arrangements you made for us, the planning was meticulous and well thought out and just right.
You have always been on top of everything from the moment we presented you with our travel ideas and it was pleasure to see how you responded to our needs and questions prior to the tour and during the tour and making yourself available to all our needs
We had few issues down the trip - needed medical help to one of us – your immediate response and stepping up to help, arranging medical help and facilitating the transfer was much appreciated. The speed of response and managing the process was excellent and was indeed a great help for all concerned – you are the best and I am glad you were our travel agent.
We also encountered few other setbacks (1) you also, took action to change the unprofessional Tour guide on the 1st day of our tour - within few hours of my email and replaced with an excellent Tour guide. (2) Helped us, with two other members who missed their in-bound flight.
Each step of our journey we were met by professional guides and drivers (never late!) We were impressed. Our appreciation and admiration of the guides and drivers during our journey remain deeply in our fond memory the exception is Vivian – very unprofessional, rude and does not have the quality to be a guide the only sore point of the tour.
I would like to recommend the following two guides for their exceptional service and delivery – MR Kai in Beijing and Ms. Tutu in Zhangjiajie and these two are the best travel guides we came into contact. Kai is very knowledgeable about history and perfect spoken English. He explains with animations and lot of pride in his work. He is also very caring and always opened for questions and concerned with our safety. Tutu too was knowledgeable, good explanations in English, caring and she was always there to help us by staying with the group till late nights to accompany us to restaurants and help us with the food selection – she was so gentle, kind, caring about our security and wellbeing and touched our hearts.
The Tour company please take note that Ms. Wing was exceptional and she was there for us throughout our tour and helped us with all our needs, All the best to China discovery and again accept our heartfelt appreciation and thanks to Wing for her excellent service and she is the best – China Discovery should be proud to have at their service such a talented Travel agent.
This is not the last of our visit to China. There are still so many places to explore, and we will definitely stay with China Discovery and Wing, and will highly recommend them to all my family and friends. Please, share this note with your Manager.
I will provide you more details about our experience with the River Cruise, food, Hotels and sites visited etc. in my next email and I encourage everyone in our group to provide their feedback as well.
Kind Regards
Shantha
Shantha , Canada
September 13, 2018
Hi Wing,
On behalf of all of us on the tour, here is a very big THANK YOU for everything you did for us before and during the tour.
We really appreciate all your help. As mentioned in Shantha's email. you were there for us every step of the way. We all are
very impressed with your work.
Like Shantha mentioned, all tour guides ( except one) were excellent. I have to specially mention KAI ( Beijing) and TUTU ( Zhangjiajie).
I am sorry we were not able to meet you this time but hopefully, some day we will.
Can you please send us email addresses of people whom we could write to about your excellent work? They should know what a great
person you are. And also, we would like to let China Discovery know the good work done by their guides. And we would like to give them
our opinions on the hotels and restaurants etc. I think that would help them in the future so if you have a contact person there, send that to
us.
Once again, thank you very much
Vijit Witane
Vijit, Canada
September 13, 2018
Hello Lily,
We are still in China .When I get home I will write comments about your service and the tour .We were very impressed with every thing .
Best regards
Judith Bennett
Judith, Australia
September 12, 2018
Hi Lily
We have just disembarked from the Victoria Lianna after an amazing cruise. Everything was brilliant, well organised, great staff and amazing scenery. Especially Rebecca, Mirror and Christina made our trip great they are a credit to Victoria cruises.
Thank you for organising the trip for us and being patient with my questions.
Regards,
Stu and Kim
Kim, New Zealand
September 9, 2018
Dear Wonder,
Thank you for arranging a fantastic tour for the four of us on the Yangtze cruise, Chongqing and Guizhou.
You responded to my enquiries promptly and clearly.
The tour guides David and Jason were very knowledgeable and considerate to us. They have a good command of the English language. Jason even arranged for the driver to carry a bag for the most senior of our group up and down the Yue Tang hotel in hilly XIJIANG. This was very much appreciated.
I would recommend your services without hesitation.
Kind regards
Yim Kong Wong
Kong Wong, Australia
September 6, 2018
HI Wendy,
Yes, safely back in Australia now. The cruise was very relaxing. It would have been nice to be able to get off the boat when you didn't want to participate in the optional excursions. I also think that the use of facilities, such as the pool, should be inclusive in the price. Staff and service were good. I have attached a few photos.
Regards
Julie
(The following pictures were shared by Julie)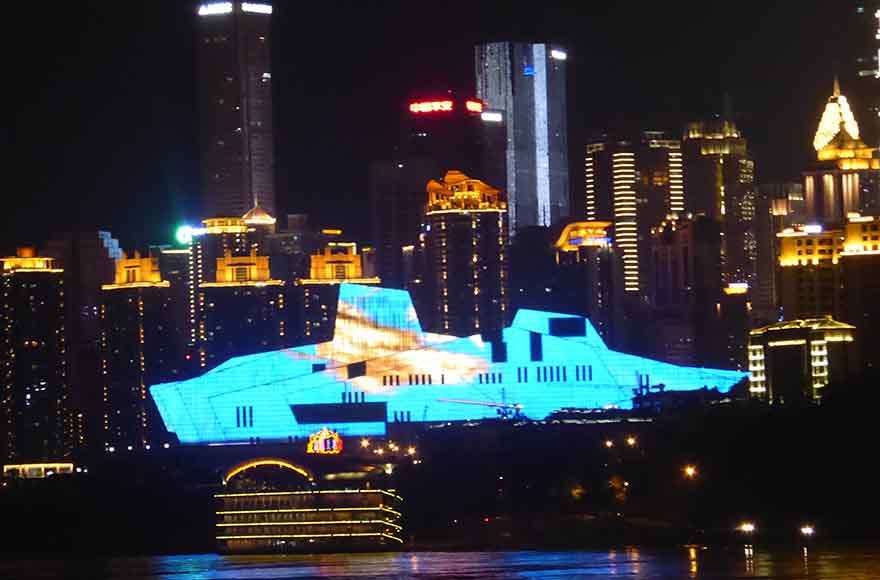 Chongqing Grand Theater at Night
Julie, Australia
September 5, 2018
Questions & Discussions
Following are latest questions and answers from our webusers and customers. You can learn many useful information from the discussion and cases. You can also join in the discussions or ask your own question. Our experts will help you ASAP.
Vegetarian Food
Hi, We are traveling in the cruise from 9 May. Is there any Indian vegetarian food. What are the other vegetarian options
Hello Ravi,

Greetings from China! At present, there is no Indian vegetarian food served onboard Yangtze River cruise ships. However, the breakfast, lunch and dinner are almost arranged in buffet styles with about 3-5 vegetarian dishes, like cabbages, vegetables in season, vegetable and fruit salad, and so on, and some cruises prepare the dinner in Chinese sitting form with some specially cooked vegetarian dishes for guests. And if want, you could also pay extra to order some vegetarian food at the reception desk and tell the staff about your needs and eating habits, and the cruise chefs would prepare great food for your enjoyment. Besides, the Yangtze River ships serving foreign guests from the world have provided service to many vegetarian travellers and have gained rich experience and good reviews, so you can enjoy your dining time on the ship!

Wish you a wonderful Yangtze River sailing trip in May!
Room with balcony
If I book a China tour with webjet, what is the name of cruise ship used. Also can I book a cabin with balcony
Hi Christine,

Thanks for your question. As I know, there probably is no Yangtze River cruise business on the Webjet. And if you are interested in enjoying the leisurable cruise in China, you could book the cruise tour with us. Nearly all cabins onboard the cruise, such as the Century cruises, Victoria cruises, President cruises, Yangtze Gold cruises, Yangtze Explorer, etc. are facilitated with an open balcony for your sightseeing enjoyment and also many great services and high standard facilities and amenities. Please feel free to tell us your Email address, nationality, group size, traveling time to China, needs, and other basic information, and our professional Travel Consultant could help you as soon as possible to tailor make a route for you with really nice price.

Have a nice day!
Should we worry about Motion Sickness
Just not sure if we should need motion sickness meds. We are on your cruise that departs from the Yichang Port for Yangtze River from April 24- April 27, 2017. Thank you so much
Dear Mary,

Thanks for taking a Yangtze River cruise with us. April is a great time with fine weather to enjoy the gorgeous scenery along Three Gorges.

No matter which ship you take, it will run very steady at a relatively slow speed. As you know, the construction of Three Gorges Dam controls the water level and flow velocity of Yangtze River that it will be steady to guarantee every ship to sail smoothly. Unlike the ocean cruise, there is no need to bring motion sickness meds for travelers who on Yangtze River cruise. If your physical condition are seasick easily, take some just in case. And no worry, there is a clinic onboard who will serve at any time.

Wish you have a nice journey!
Have a question? Get answers from our travel experts or guests
Your Question:

Your Name:

Your Email: