Reviews of Yangtze River Cruise
Still not deciding if a Yangtze River Cruise is worth for you? Many of our travellers have experienced a lifetime changing trip and now more than happy to share their stories with you. Check out their memorable Yangtze Cruise reviews and experiences.
Hello Lily,
This is Tim, not Christine. We loved the cruise and would recommend it to anyone. Beautiful scenery and interesting shore excursions.
Tim
Tim, Canada
November 12, 2018
Hi Rita,
Just back home, due to I have limited wifi in CQ just seen your email, sorry for the late reply.
My friends really enjoyed the cruise, appreciated for the swiftly transfer arrangement in CQ n Yichang, please thank to DAVID, n Fay too.
Attached some of the photo at the cruise n CQ, we really get some attention on our group name"...."
Thanks and regards,
Leow
(The following pictures were shared by Leow)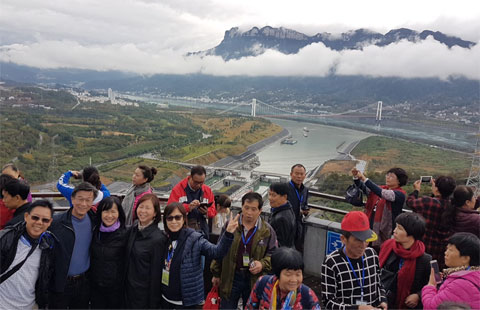 Short Excursions - Three Gorges Dam and Kui Gate
Leow, Singapore
November 11, 2018
Dear Ashley,
I'm fine to provide you with a feedback on your questions; you may put it on your site.
1. My mails were all answered the next day, I was very pleased with the services of Ms. Ashley He,
2. The services of the tourguides was fine, all of them service-minded and fairly good Enghlish,
3. I would recommandeer the company since I was services well.
Some remarks: After embarking on the Yangtze Gold 1, the crew asked us for upgrading the Cabin from standaard to 4st Floor, and for upgrading from 2nd Floor dining to 6th Floor restaurant. We agreed and were upgraded for 1000 Yuan to a langer cabin on the 4th deck. The 6th floor diningroom was full, which was a pitty since the rood on the 2nd was not great.
We were not aware of there upgradabilities in advance, we would have chosen those for sure.
Thank you for your good services,
Best Regards,
Jan
Jan, Netherlands
November 11, 2018
Dear Mrs Wing Zeng,
thanks for asking - yes, I am back home and busy again, but after having enjoyed 4 weeks of fabulous individual roundtrip through China.
Please find my answers to your questions below:
(1) The visit of Fengdu was ok, the visit of the Three Gorges Dam was a bit disappointing because I have expected to enter the technical section or at least to walk over the dam. The additional arrangements (White Emperor City, sailing through Three Gorges Dam, etc.) were very expensive, so that we only chose "Lesser and Mini Three Gorges". That trip was also ok.
Honestly speaking: We came from Yunnan province, where we had excellent weather and where we had visited marvellous ancient cities and temples in beautiful nature. In contrast to that Fengdu was just average and the river banks of Yangtze river often covered by ugly beton cities.
The service itself I would recommend to friends.
(2) The service was excellent, the staff very nice and helpful. No ideas for improvement.
(3) I would use your service again - but for another purpose than a Yangtze cruise :-)
Best regards,
Christoph
Christoph,
November 9, 2018
Dear Echo!
Everything was very good, and we are very satisfied with our trip. I cannot think about anthing that could have been done better. Give my regards to all our guides and drivers. I really hope that I can give you more business. What is the best time to visit China if you want fairly good weather and avoid the top seasons?
Med vennlig hilsen/best regards
Kjersti
Kjersti, Norseland
November 7, 2018
Dear Wing,
Truthfully, can't thank enough of your timely and impeccable service online.
A. The Yangtze River cruise was excellent. From embarkation to check in, cabin, food and the accompanying itinerary...till yichang.
B. Pretty much up to expectation, except may be the cruise could have provided a souvenir or memento to each guest for a long lasting memory-example: s Victoria Anna Mug!
C. I m keen to go to Tibet and Hunan. Any package that your highly recommend? I am most interested on excursion to exotic yunan with Lijiang or shangrila and hilltribes with padifields, n mystical Tibet highlands.
You requested photos of my YRC, perhaps you can lead me to where I can load or link to your website.
Hear from you soon.
Thank you.
Warmest regards,
Kennet
Kennet, Singapore
November 6, 2018
Hello Mr Wang,
Mrs Lacey and I had a fantastic time on century diamond Yangtze River cruise
Great food, great staff, great views and trips and of course great service from yourself in arranging everything
Thank you so much for your help, we will definitely recommend this tour and your services to our friends
John
Hi Jack,
Many thanks for organising a wonderful holiday. All the guides were kind and friendly especially Lingzy in Beijing, David in Lhasa, Yuti in Chongqing and Zhou Fei in Yichang. Tours and activities were well organised. Flights went fine and hotels were good although wifi was terrible in all places.
Airport collection and drop off at Lhasa should be better and it would have been helpful if you had emailed Airport Hotel in Beijing with Chinese characters.
Best wishes
Raja
Questions & Discussions
Following are latest questions and answers from our webusers and customers. You can learn many useful information from the discussion and cases. You can also join in the discussions or ask your own question. Our experts will help you ASAP.
Vegetarian Food
Hi, We are traveling in the cruise from 9 May. Is there any Indian vegetarian food. What are the other vegetarian options
Hello Ravi,

Greetings from China! At present, there is no Indian vegetarian food served onboard Yangtze River cruise ships. However, the breakfast, lunch and dinner are almost arranged in buffet styles with about 3-5 vegetarian dishes, like cabbages, vegetables in season, vegetable and fruit salad, and so on, and some cruises prepare the dinner in Chinese sitting form with some specially cooked vegetarian dishes for guests. And if want, you could also pay extra to order some vegetarian food at the reception desk and tell the staff about your needs and eating habits, and the cruise chefs would prepare great food for your enjoyment. Besides, the Yangtze River ships serving foreign guests from the world have provided service to many vegetarian travellers and have gained rich experience and good reviews, so you can enjoy your dining time on the ship!

Wish you a wonderful Yangtze River sailing trip in May!
Room with balcony
If I book a China tour with webjet, what is the name of cruise ship used. Also can I book a cabin with balcony
Hi Christine,

Thanks for your question. As I know, there probably is no Yangtze River cruise business on the Webjet. And if you are interested in enjoying the leisurable cruise in China, you could book the cruise tour with us. Nearly all cabins onboard the cruise, such as the Century cruises, Victoria cruises, President cruises, Yangtze Gold cruises, Yangtze Explorer, etc. are facilitated with an open balcony for your sightseeing enjoyment and also many great services and high standard facilities and amenities. Please feel free to tell us your Email address, nationality, group size, traveling time to China, needs, and other basic information, and our professional Travel Consultant could help you as soon as possible to tailor make a route for you with really nice price.

Have a nice day!
Should we worry about Motion Sickness
Just not sure if we should need motion sickness meds. We are on your cruise that departs from the Yichang Port for Yangtze River from April 24- April 27, 2017. Thank you so much
Dear Mary,

Thanks for taking a Yangtze River cruise with us. April is a great time with fine weather to enjoy the gorgeous scenery along Three Gorges.

No matter which ship you take, it will run very steady at a relatively slow speed. As you know, the construction of Three Gorges Dam controls the water level and flow velocity of Yangtze River that it will be steady to guarantee every ship to sail smoothly. Unlike the ocean cruise, there is no need to bring motion sickness meds for travelers who on Yangtze River cruise. If your physical condition are seasick easily, take some just in case. And no worry, there is a clinic onboard who will serve at any time.

Wish you have a nice journey!
Have a question? Get answers from our travel experts or guests
Your Question:

Your Name:

Your Email: