Reviews of Yangtze River Cruise
Still not deciding if a Yangtze River Cruise is worth for you? Many of our travellers have experienced a lifetime changing trip and now more than happy to share their stories with you. Check out their memorable Yangtze Cruise reviews and experiences.
Hi Wendy,
Thank you yes, we arrived home safely. Both Jacqui and I returned to work the following Monday so life has been very busy in the two weeks since our return. You are welcome to use my feedback on your website.
We were more than happy with our Yangtze cruise and enjoyed every minute on the "Victoria Anna". The ship was only at half capacity for passengers so we took the option and upgraded our cabin. The staff were always pleasant and helpful and the evening entertainments enabled them to display some of their other talents while we learned some of the local culture and history. The food was excellent and no request was too much trouble for the restaurant or bar staff.
The optional excursions were wonderful, especially the small boats in Shennv Stream. The highlight however was definitely the Ship Lift and the Three Gorges Dam. There were two American couples, who were also travelling independently, so we spent a great deal of time with them, both on and off the ship. By the end of the cruise we were firm friends. All in all a wonderful cruise.
Booking the cruise and train tickets to Suzhou with Wendy was trouble free and went off without a hitch. The email correspondence was always prompt and the arrangements perfect.
We had originally booked a tour with Sinorama who went into liquidation in October 2018 so we lost our money. We decided to travel independently so that we could have greater control over where we went and how long we spent in each place. Neither of us are shoppers and we like to get outside the cities and go on hikes. We did have private guides for some of our chosen activities but by the time we arrived in Chonqing we wanted to do something as part of a group - it was not important that they spoke English. We found a tour company two doors from our hotel and they booked us on a full day tour to Wulong Karst where we hiked as part of a large group - none of whom spoke English and the tour guide spoke only a little English. That is fine - we are after all in China - and we were hiking, we actually went on two hikes that day. The total cost of the day, including lunch, was 420rmb for both of us. This does not compare well with the quote of 5352rmb for the a private tour to Wulong Karst and Dazu the following day.
I would suggest that China Discovery offer group tours, as well as private tours, before the Yangtze cruises.
I will certainly recommend China Discovery and Wendy Dan to any friends who decide to travel independently in China.
Kind regards,
Vicky
(The following picture was shared by Vicky)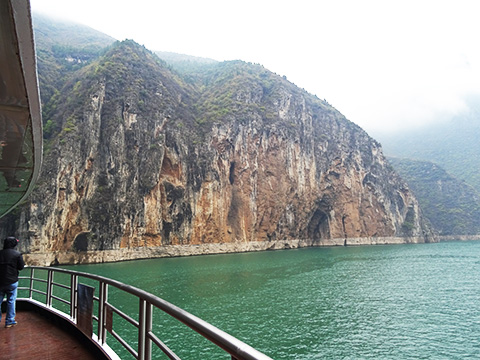 Broad View on the Deck
Dear Wonder,
My wife and I have finally returned from our cruise from Shanghai to Tokyo which followed our tour with your company.
I wanted to thank you and give you some favorable feedback on our Yangtze River Cruise.
Everything was great and well executed by your staff.
Our interaction with you during the planning phase was excellent as you were very thorough and accurate in your descriptions and responded very quickly to any questions that we had. You were very responsive even during your wedding and Chinese New Year holiday which we appreciated. One suggestion would be to give your American customers the airline confirmation numbers and flight details in advance to allay any anxieties they might have. In the US we like to have such details. Advance details of train tickets or hotel confirmation numbers would be good too.
The Yangtze River Cruise on the Victoria Katerina was also excellent and we enjoyed this part of the trip very much. The Katerina was not quite up to US 5 star standards and we ended up upgrading our suite to the more expensive Shangrila Suite at an extra cost of USD 640. There are very few foreigners on this cruise and the english language tour guides spoke very little english. The tour guides wold speak in chinese at some length and then speak in english very briefly so it was clear we were not getting the whole tour commentary.
The guides you arranged in each of the cities we visited all were excellent. These were Charlie Soong in Chongqing, Coffee in Yichang, Derrick Dai in Zhangjiajie and Laura in Shanghai. All of them were punctual, friendly, polite and knowledgeable. We spent the most time with Derrick in Zhangjiajie and he was really terrific. But we really liked all the guides.
Overall we are very pleased with the service of your company and would recommend you highly to anyone else.
Thank you so much for arranging our China and Yangtze River trip.
Best wishes,
Dennis
Dear Mr Wang,
Here are my answers:
1. Communication fast and everything very good!
2. I am very satisfied with the service!
3. Of course, I recommend your company! Perfect organization and very good service during the trip!
Greetings from train to Beijing!
Dear Vivien,
Of course I'm more than happy to write a review on yourself and your company. You've done a very excellent job.
Thanks
Kim
Not easy to find the right cruise ship/itinerary for you? Please contact one of our Yangtze cruise specialists to save your time and money. Click the right button to send an online inquiry and we will get back to you within 0.5~23.5 hours.
Your can rely on our expert knowledge and endless enthusiasm!
Questions & Discussions
Following are latest questions and answers from our webusers and customers. You can learn many useful information from the discussion and cases. You can also join in the discussions or ask your own question. Our experts will help you ASAP.
Eating inn the restaurant
Hello, We will be joining a tour which includes a 4 night cruise on the Century Sun... Can you let me know if you can sit anywhere in the restaurant, and do you have tables for 2 people? Also, are you able to eat/ have dinner in your cabin ?
Hi Lisa,

Thanks for your question! To offer a better service for guests, Century Sun will considerately arrange seats according to guests' eating habits, nationalities and cabin number onboard. Everyone onboard usually eats at a fixed seat of a big round table with 8-10 people.

If you want to eat in your own cabin, you can call the reception desk and order dishes and drinks you like. Attendants will deliver the great food to your cabins, and this service needs to pay extra.

If you are interested, check more about eating onboard Yangtze River cruises (for reference) at:
https://www.yangtze-river-cruises.com/experience/dining.html

Enjoy your coming cruise journey with Century Sun!
Clothing for Yangtze River Cruise
We are travelling on the Yangtze River cruise in early May 2019. Is it normally cold or can we wear shorts during the day
Hello Robert,

Thanks for your question. Early May is during the spring along the Yangtze River. The weather changes warmer and warmer, and usually sunny in the day time, but there would be some cold wind at early morning and during night. It's ok to wear shorts on balmy sunny days. However, you are also recommended to prepare pants with you, because there may be some light raining days during the spring.

Wish you a memorable ship experience in China!
Vegetarian Food
Hi, We are traveling in the cruise from 9 May. Is there any Indian vegetarian food. What are the other vegetarian options
Hello Ravi,

Greetings from China! At present, there is no Indian vegetarian food served onboard Yangtze River cruise ships. However, the breakfast, lunch and dinner are almost arranged in buffet styles with about 3-5 vegetarian dishes, like cabbages, vegetables in season, vegetable and fruit salad, and so on, and some cruises prepare the dinner in Chinese sitting form with some specially cooked vegetarian dishes for guests. And if want, you could also pay extra to order some vegetarian food at the reception desk and tell the staff about your needs and eating habits, and the cruise chefs would prepare great food for your enjoyment. Besides, the Yangtze River ships serving foreign guests from the world have provided service to many vegetarian travellers and have gained rich experience and good reviews, so you can enjoy your dining time on the ship!

Wish you a wonderful Yangtze River sailing trip in May!
Room with balcony
If I book a China tour with webjet, what is the name of cruise ship used. Also can I book a cabin with balcony
Hi Christine,

Thanks for your question. As I know, there probably is no Yangtze River cruise business on the Webjet. And if you are interested in enjoying the leisurable cruise in China, you could book the cruise tour with us. Nearly all cabins onboard the cruise, such as the Century cruises, Victoria cruises, President cruises, Yangtze Gold cruises, Yangtze Explorer, etc. are facilitated with an open balcony for your sightseeing enjoyment and also many great services and high standard facilities and amenities. Please feel free to tell us your Email address, nationality, group size, traveling time to China, needs, and other basic information, and our professional Travel Consultant could help you as soon as possible to tailor make a route for you with really nice price.

Have a nice day!
Should we worry about Motion Sickness
Just not sure if we should need motion sickness meds. We are on your cruise that departs from the Yichang Port for Yangtze River from April 24- April 27, 2017. Thank you so much
Dear Mary,

Thanks for taking a Yangtze River cruise with us. April is a great time with fine weather to enjoy the gorgeous scenery along Three Gorges.

No matter which ship you take, it will run very steady at a relatively slow speed. As you know, the construction of Three Gorges Dam controls the water level and flow velocity of Yangtze River that it will be steady to guarantee every ship to sail smoothly. Unlike the ocean cruise, there is no need to bring motion sickness meds for travelers who on Yangtze River cruise. If your physical condition are seasick easily, take some just in case. And no worry, there is a clinic onboard who will serve at any time.

Wish you have a nice journey!
Have a question? Get answers from our travel experts or guests