Reviews of Yangtze River Cruise
Still not deciding if a Yangtze River Cruise is worth for you? Many of our travellers have experienced a lifetime changing trip and now more than happy to share their stories with you. Check out their memorable Yangtze Cruise reviews and experiences.
Hi Wing,
Please find reply to your questions below. We all are very pleased with your service. All the tour guides were knowledgeable and helpful. Service on Victoria paragon cruise was very nice and truly 5 star.
I think all the credit goes to you for organizing this tour. We all thoroughly enjoyed. You prompt response and clear planning made it lot more easy. Thank you again for your services. We haven't collected all the photos. Will email them later on. You can use our email and photos on your website.
(1) How do you like our tour arrangements and are you willing to recommend our service to your friends?
All the arrangements were spot on and will definitely recommend the service to others
(2) Do you have some suggestions for us to improve our service?
There were no issues what so ever. All I'l say is keep up the service.
(3) If you come to China again, would you like to use our service again?
Most certainly will.
Mitesh
Hello Jack,
It was one of the best trips we have ever made in China. My whole family enjoyed every single hour of it. It was impressive, exciting but also quite relaxing at the same time. We would definitely recommend to those who are interested in ancient history, who enjoy beautiful nature landscape and can value the great engineering achievements in bending the power of the fascinating Jangtze!
Best regards,
Van Hau
Hi Stephanie,
Yes, the tour was great, the service too, and I reflected that in my feedback card. We were also lucky with the weather, so really everything worked out very well. And I booked all optional tours and I am glad I did so :)
Best regards,
Milosh
Hello Catherine,
My wife and I very much enjoyed our cruise. Thank you for your efficient service. I would have no hesitation in recommending Yangtze River Cruises and Yangtze 2.
We cannot fault the ship. When compared to other ships we passed, it appeared to be the newest, in best condition and certainly the fastest! On the morning of day 2, our sailing was delayed by an hour due to another ship being tied up beside us. We then proceeded to overtake four other cruise ships and arrived at our next destination on time. The ship is quiet, maintained to a high standard, the decor is tasteful and the crew helpful and friendly.
Best regards
Alan Kingston
Dear Mrs. Stephanie Kuang,
We arrived just monday evening back in Switzerland. That's the reason for my late answer. Please excuse me.
We had a great trip on the Yangtse.
I can give you the following answers:
1. Yes, the answers were fast enough. I had always immediatly an answer.
2. The service on the cruise ship was excellent. Specially the personal contact to the crew. Our personal agent was Jane, she was very attentive
3. Yes, sure. I will recommend it.
I hope to go to China again. I was very surprised about the positive experience and the nice people.
Thank you for everything.
With best regards,
Yours sincerely
Marco Prack
Hello Catherine,
We had a marvelous time on Yangtze River Cruises' 13 Days Classic China Tour with Yangtze Cruise. It included Beijing, Xian, Guilin and a cruise on the Li River to Yangshuo, a cruise on the Yangzi from Chongqing to Yichang, and Shanghai. The itinerary is a great bucket list setup, covering highlights of China's history, scenery and culture, and is very well thought out. Catherine Liu, our travel consultant at Yangtze River Cruises, suggested we do the cruise part downstream, toward the end of our China tour, and that was indeed a good idea.
In each city, Yangtze River Cruises provide my wife and I with a dedicated guide and driver team, and a well-structured but also flexible itinerary. This is definitely not a group tour, and the individual attention is a bargain. The guides knew what they were doing, what they were talking about, and how best to see the attractions. They also were good at listening and acting on what we were interested in, which changed from time to time. Essentially you are getting a private tour at far below what most tour companies, especially the foreign river cruise ship companies, charge for the same extensive itinerary in a crowded group tour. And the quality was great.
The hotels chosen are built for foreigners and quite adequate. They have fancy rooms but sometimes odd features (notably stiff beds). Overall they compare to Holiday Inn or Comfort Inn chain hotels in the US, but with granite floors and far more extensive breakfast buffet offerings. Lunches are generally provided outside the hotels during your land tour, chosen by the independent guides, and you are on your own for supper.
On ship all meals are provided, and our Victoria Jenna's meals were pretty good. It is well worth paying a bit more for the "amenities package," which the ship will try to upsell you anyway, as the a la carte dining room was much nicer than the downstairs dining room even though both are buffet for breakfast and lunch. Dick, the American cruise director, is worth taking Victoria Jenna over any of the other ships.
Last, Yangtze River Cruises' tours work well because of its travel consultants. Ours was Catherine Liu, and she was superb. Our itinerary covered more than 4000 miles inside China, and airlines there sometimes change or cancel scheduled flights without much notice. A hotel might toss its reservations to host a dignitary or convention. Catherine fixed each issue as it sprung up during the trip, and was quite adept at explaining options to enhance our experience even before we went. She was also very straightforward. When she had to put us on a train after an airline canceled, she had guides give us a refund. When a hotel canceled, she found a better one at no extra cost. When there was a better travel option that cost a bit more, the extra we paid was what it cost, not an upselling markup.
You won't go wrong choosing any of Yangtze River Cruises' tours, and you will be surprised at the affordable cost.
James Maxstadt


Hello!
I'd be glad to help.
1. Yes. Great support in English during booking process.
2. Everything was very smooth and well organized.
3. Absolutely.
4. This is a perfect opportunity for a traveler to China to relax for a few days. The ship is very luxurious, the program interesting, the food delicious, the atmosphere great.
5. Including dinner/snacks on first evening, and lunch/snacks on last day.
6. Feel free.
Thank you for everything!!
Meryim
(The following pictures were shared by Meryim)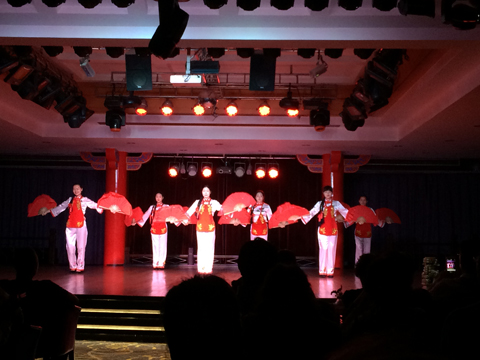 Meryim's Group Enjoyed The Show Onboard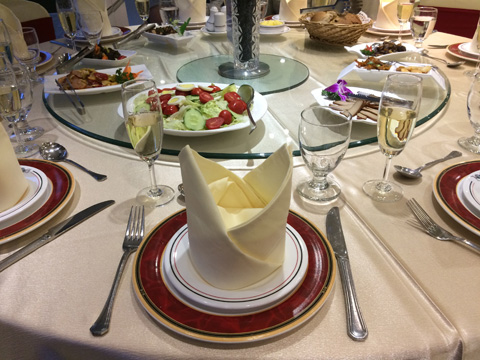 Meryim's Group Enjoyed The Dinner Onboard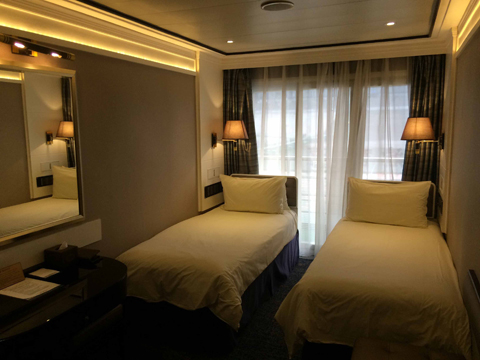 Meryim's Standard Room Onboard
Dear Linda,
I wasn't able to send a reply earlier. My apologies.
Overall, we were satisfied with the cruise. The Century Paragon was well-equipped and clean and our Executive Suite was spacious. We are happy that we selected that and that we also had a separate dining room on the top floor as well as a lounge where we could enjoy coffee or tea throughout the day, especially because food was only available at meal times on this cruise.
The weather wasn't bad on the last day, was very nice on the second day, but poor on the first day. We didn't realize that it is normal for it to be very foggy along that route (as was explained by the crew) and therefore, the views would not be very good. Unfortunately the fog was so bad one night that no boats were allowed to sail overnight at all. Because we were delayed until 5 AM, the itinerary had to be changed and we were unable to see the second gorge. There is not much that can be done about that.
One suggestion, however — before disembarking and preferably in the advertising of the excursions, you should warn people with disabilities or older age about the level of difficulty. I personally had a knee injury and was not able to visit The Red Pagoda because of the number of steps. I might have made it had I brought my cane but I didn't know that it would be so difficult. There were people more elderly, too, that couldn't visit it. We had no choice but to walk back to the ship. This happened again when visiting The White Emperor's City. From the ship to the top of the mountain was over 500 steps. I made it up and so did an older couple, but it was very difficult and had we known, we might not have gone along. Please tell your customers in your advertising and certainly before disembarking about the level of accessibility and difficulty of the shore excursion.
Another point we would like to make — the final day. It was a bit of a let-down having left the ship to visit the Three Gorges Dam Project, only to be brought back to a bus terminal and simply left there. Had we not pre-arranged for transportation to the airport we would have been left feeling quite stranded. As it was, many of us did not fly out until that evening leaving a 7-hour wait at the airport with little to do there. (It didn't help the the flight didn't actually leave until midnight, meaning we had been there for 11 hours.)
What we thought might have been nice is if there had been an optional lunch arranged for us somewhere in Yichang where we could relax, socialize before we said our goodbyes, and fill in some time. Also, our tour guide simply got off the bus, probably to pick up another tour, and we didn't know this. We would have given her a gratuity had we known she wasn't going to be with us until the end of the bus ride.
We hope you appreciate receiving this feedback. Thank you for your good organization. We had a memorable trip.
Best regards,
Janice Barbour Moss
Questions & Discussions
Following are latest questions and answers from our webusers and customers. You can learn many useful information from the discussion and cases. You can also join in the discussions or ask your own question. Our experts will help you ASAP.
Vegetarian Food
Hi, We are traveling in the cruise from 9 May. Is there any Indian vegetarian food. What are the other vegetarian options
Hello Ravi,

Greetings from China! At present, there is no Indian vegetarian food served onboard Yangtze River cruise ships. However, the breakfast, lunch and dinner are almost arranged in buffet styles with about 3-5 vegetarian dishes, like cabbages, vegetables in season, vegetable and fruit salad, and so on, and some cruises prepare the dinner in Chinese sitting form with some specially cooked vegetarian dishes for guests. And if want, you could also pay extra to order some vegetarian food at the reception desk and tell the staff about your needs and eating habits, and the cruise chefs would prepare great food for your enjoyment. Besides, the Yangtze River ships serving foreign guests from the world have provided service to many vegetarian travellers and have gained rich experience and good reviews, so you can enjoy your dining time on the ship!

Wish you a wonderful Yangtze River sailing trip in May!
Room with balcony
If I book a China tour with webjet, what is the name of cruise ship used. Also can I book a cabin with balcony
Hi Christine,

Thanks for your question. As I know, there probably is no Yangtze River cruise business on the Webjet. And if you are interested in enjoying the leisurable cruise in China, you could book the cruise tour with us. Nearly all cabins onboard the cruise, such as the Century cruises, Victoria cruises, President cruises, Yangtze Gold cruises, Yangtze Explorer, etc. are facilitated with an open balcony for your sightseeing enjoyment and also many great services and high standard facilities and amenities. Please feel free to tell us your Email address, nationality, group size, traveling time to China, needs, and other basic information, and our professional Travel Consultant could help you as soon as possible to tailor make a route for you with really nice price.

Have a nice day!
Should we worry about Motion Sickness
Just not sure if we should need motion sickness meds. We are on your cruise that departs from the Yichang Port for Yangtze River from April 24- April 27, 2017. Thank you so much
Dear Mary,

Thanks for taking a Yangtze River cruise with us. April is a great time with fine weather to enjoy the gorgeous scenery along Three Gorges.

No matter which ship you take, it will run very steady at a relatively slow speed. As you know, the construction of Three Gorges Dam controls the water level and flow velocity of Yangtze River that it will be steady to guarantee every ship to sail smoothly. Unlike the ocean cruise, there is no need to bring motion sickness meds for travelers who on Yangtze River cruise. If your physical condition are seasick easily, take some just in case. And no worry, there is a clinic onboard who will serve at any time.

Wish you have a nice journey!
Have a question? Get answers from our travel experts or guests
Your Question:

Your Name:

Your Email: