Reviews of Yangtze River Cruise
Still not deciding if a Yangtze River Cruise is worth for you? Many of our travellers have experienced a lifetime changing trip and now more than happy to share their stories with you. Check out their memorable Yangtze Cruise reviews and experiences.
Good morning,
My 5 star review was sent to TripAdvisor on March 23, 2018:
https://www.tripadvisor.ca/ShowUserReviews-g294213-d4273160-r568337710-Yangtze_River_Cruise-Chongqing.html
I hope it's acceptable.
Hanna
(Hanna's 5 star review on TripAdvisor)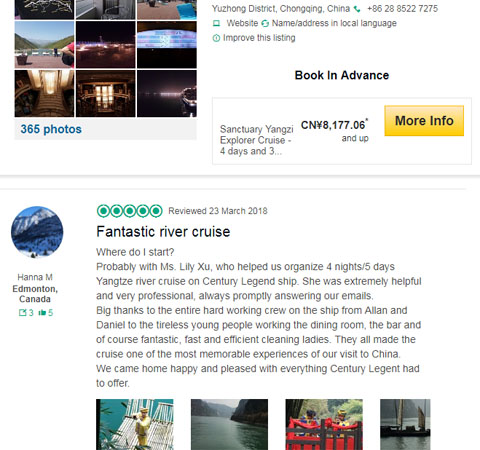 Hanna's 5 star review on TripAdvisor
Dear Echo,
We are now back in the UK after a very exciting trip to China. I would like to say thank you for your support in booking our Yangzhe cruise. You were very friendly, efficient and helpful and I am happy to recommend your service to your customers or to my friends. If I return to China I will definitely use you again.
The cruise was lovely. Beautiful gorges. I am not writing a blog but have attached a couple of photos of the views.
Thanks again!
Jacqueline
(The following pictures were shared by Jacqueline)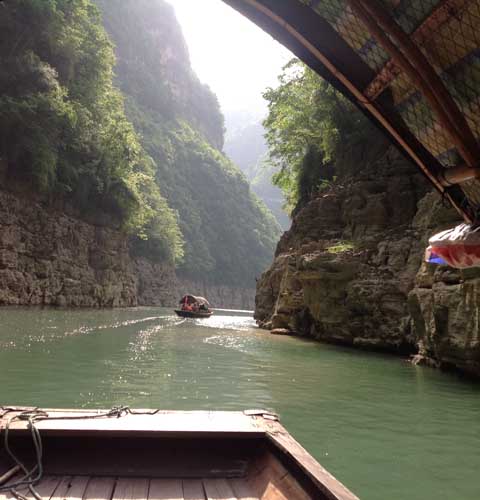 The Beautiful Landscape of Yangtze River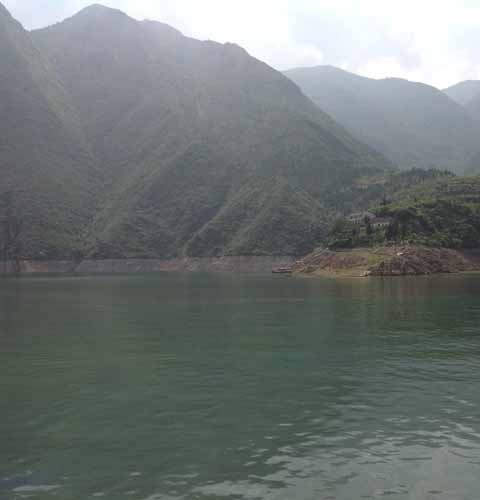 The Beautiful Landscape of Yangtze River
Jacqueline ,
May 10, 2018
Hi wonder,
My family and I were really enjoyed our 19days trip in April, 2018 and it was organized by you.
I was so pleased of your prompted reply emails. You weren't only designed us programs according to what we were interested in, but also advised us with some thoughtful suggestions. Thank you Wonder😁
During our trip, our tour guides Scott, who toured Kunming, David toured Zhangjiajie and Also another David toured Chongqing. They were excellent and knowledgeable about the areas. We got picked up on time and were toured to many intresting scenic spots in surroundings. We were really having good times.
Absolutely, I will recommend you and your company to family and friends, who likes to travel to China.
Thank you so much Wonder!
Best Regards,
Jenny
Hello Echo,
We would like to thank you for your organising our trip to Shanghai and Yangtze River Cruise. We were very impressed with our Hotel in Shanghai and the level of service provided by all the drivers and guides. The cruise was fabulous.
Again thank you very much we will have no hesitation recommending your travel company.
Regards,
Suzanne Duryea
Hi Lily,
Our hostel in Chongqing called the ship phone so it was no problem to find the right pier. Cruise and transport to the train station were perfect organized and we had a great trip.
Thanks for everything.
Kind regards,
Jonathan
Thanks Lily,
I did arrive in Chongqing again...I manage to get the single room because of the kindness of the Directir and Manager of the cruise.
Thanks and regards,
Boedi Poerwoko
Dear Ashley,
I'm very good. How are you?
Hereby my anwers on the questions below.
1. The service was very good! It was fast, friendly and very helpful.
2. The service on board was great. The crewmembers were very friendly and helpful. They made us feel like home.
3. I absolutely would recommend the company to others. It was a wonderful!
Thanks Ashley for all your help to make this a special and memorable trip.
Sincerely,
Matijs
(The following pictures were shared by Matijs)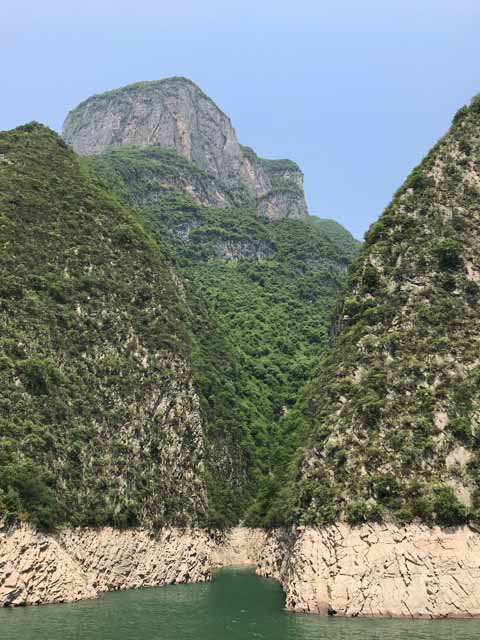 The Beautiful Landscape of Yangtze River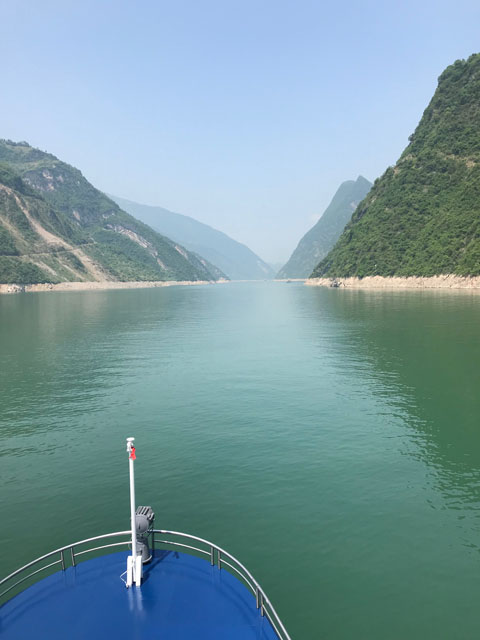 The Beautiful Landscape of Yangtze River
Matijs, Netherlands
May 4, 2018
Dear Ms. Gou,
My husband and I just want to say a BIG THANK YOU to you and all the details/organisations you put into our itinerary for our trip. Everything went very well, the 3 tour guides (Diane/Nancy & Melinda) you arranged to take us from airport to boat to train & to airport again were all very friendly & efficient and informative.
Please pass on our appreciation and thanks to them & to your managers about what a good job you all did to make our trip so enjoyable and free of problems.
Your help has been much appreciated.
Magdalen Kit Fong Fry
Questions & Discussions
Following are latest questions and answers from our webusers and customers. You can learn many useful information from the discussion and cases. You can also join in the discussions or ask your own question. Our experts will help you ASAP.
Vegetarian Food
Hi, We are traveling in the cruise from 9 May. Is there any Indian vegetarian food. What are the other vegetarian options
Hello Ravi,

Greetings from China! At present, there is no Indian vegetarian food served onboard Yangtze River cruise ships. However, the breakfast, lunch and dinner are almost arranged in buffet styles with about 3-5 vegetarian dishes, like cabbages, vegetables in season, vegetable and fruit salad, and so on, and some cruises prepare the dinner in Chinese sitting form with some specially cooked vegetarian dishes for guests. And if want, you could also pay extra to order some vegetarian food at the reception desk and tell the staff about your needs and eating habits, and the cruise chefs would prepare great food for your enjoyment. Besides, the Yangtze River ships serving foreign guests from the world have provided service to many vegetarian travellers and have gained rich experience and good reviews, so you can enjoy your dining time on the ship!

Wish you a wonderful Yangtze River sailing trip in May!
Room with balcony
If I book a China tour with webjet, what is the name of cruise ship used. Also can I book a cabin with balcony
Hi Christine,

Thanks for your question. As I know, there probably is no Yangtze River cruise business on the Webjet. And if you are interested in enjoying the leisurable cruise in China, you could book the cruise tour with us. Nearly all cabins onboard the cruise, such as the Century cruises, Victoria cruises, President cruises, Yangtze Gold cruises, Yangtze Explorer, etc. are facilitated with an open balcony for your sightseeing enjoyment and also many great services and high standard facilities and amenities. Please feel free to tell us your Email address, nationality, group size, traveling time to China, needs, and other basic information, and our professional Travel Consultant could help you as soon as possible to tailor make a route for you with really nice price.

Have a nice day!
Should we worry about Motion Sickness
Just not sure if we should need motion sickness meds. We are on your cruise that departs from the Yichang Port for Yangtze River from April 24- April 27, 2017. Thank you so much
Dear Mary,

Thanks for taking a Yangtze River cruise with us. April is a great time with fine weather to enjoy the gorgeous scenery along Three Gorges.

No matter which ship you take, it will run very steady at a relatively slow speed. As you know, the construction of Three Gorges Dam controls the water level and flow velocity of Yangtze River that it will be steady to guarantee every ship to sail smoothly. Unlike the ocean cruise, there is no need to bring motion sickness meds for travelers who on Yangtze River cruise. If your physical condition are seasick easily, take some just in case. And no worry, there is a clinic onboard who will serve at any time.

Wish you have a nice journey!
Have a question? Get answers from our travel experts or guests
Your Question:

Your Name:

Your Email: