Reviews of Yangtze River Cruise
Still not deciding if a Yangtze River Cruise is worth for you? Many of our travellers have experienced a lifetime changing trip and now more than happy to share their stories with you. Check out their memorable Yangtze Cruise reviews and experiences.
Hi Wing! Yes—-I received your email. Everything was great on our cruise, and I would recommend to my friends.
Thank you,
Donna
Hi Vivien,
I'm still in China until mid-June. So no time for photos etc. right now.
Everything was perfect.
Best regards,
Michael Doessegger
Hi Jack,
We really enjoyed the cruise. The boat, food, crew and tours were excellent. Thanks for making our booking.
Kind regards,
Karen
Hi Wonder,
We had a really great and enjoyable time in China
We like to express our thank and appreciation to you and your great team for the effort in getting us to Yichang- when our flight was suddenly cancelled from Xian.
It was really great of you to respond to my email immediately then. It was very reassuring for us, when we were stuck in an unfamiliar place, to know that you were organizing alternative transport to get us to Yichang on time to catch the cruise ship that evening
You had turned a stressful situation-of been stranded in Xian - into an exciting bonus trip on the fast train- and it was reassuring for us to know you had organized for a guide to take us to the correct gate at Wuhan terminal and a late pick up at Yichang station
Could you Please convey our appreciation, gratitude and thank to -the driver who pick us up from Xian airport to the train station, the guides who organized the train tickets and the one who met us at Wuhan Station and the driver who met us at the Yichang Stations.
Overall the guides -Kelly, Diana and Alice -were very friendly and professional and helpful
Will write a review for you and will definitely recommend your company to friends and family
Thank you!
Livia & Charles
Hi Catherine,
Overall, we're very satisfied for the service provided.
Everything was clear, we had no surprise we received fast replies.
Best Regards,
Francesco Miscioscia
(The following pictures were shared by Francesco Miscioscia)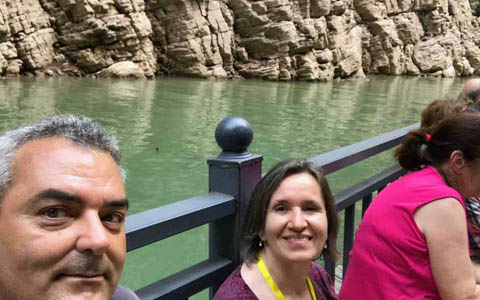 Francesco and his family along the yangtze river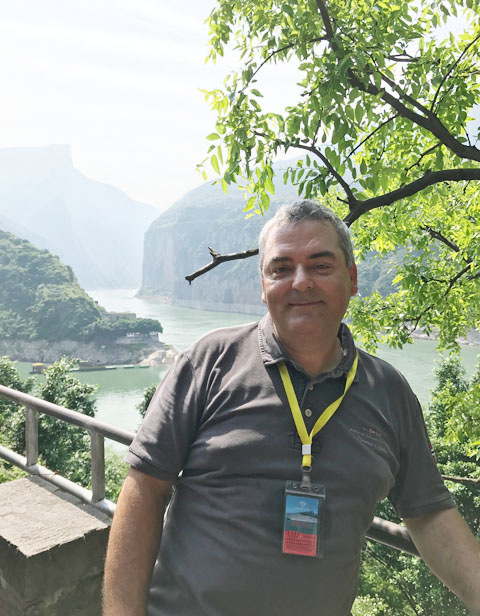 Beautiful View along Yangtze River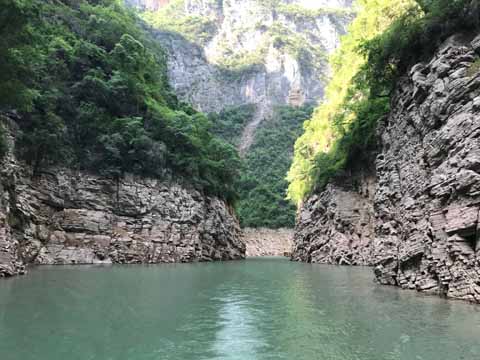 Beautiful View Photoed by Francesco
Hi Stephanie,
Thanks for your mail.
We had a very good time on the tour.
Answers as below:
1. Yes, you fast and patient enough to answer my E-mail and questions!
2. The service during my whole tour is ery good!
3. Yes. I would recommend your company to my friends.
Thanks again for everything
Regards,
Mahadevan
Dear Johnson
We had a lovely cruise & we are very pleased to answer your survey questions.
1. Joseph as our travel consultant you were outstanding. Your answers to our queries were always immediate & detailed. Thank you. Also the guides provided before & after the Cruise were really good for sightseeing & transfer to Yichang Station. The Bullet Train was very special & greatly enjoyed.
2. First Class.
3. Yes, definitely.
4. Excellent.
5. Two observations for Century Cruises would be:
a. A meal (not necessarily a full dinner) should be available on the embarkation evening & be part of the package cost for the Cruise.
b. The Service Charge would be more correctly gathered at the end of the Cruise. A 15% service charge for drinks/all extras is excessive - 5% is more realistic & reasonable.
Perhaps you could make these points to them.
6. Yes - unfortunately we don't have electronic photos. Our cruise experience was recorded by camcorder & hence is on cassette. We then, by cable, play on our television when we return home next week.
Joseph very many thanks again - we are having a great time with our younger son in Shanghai & are about to leave for a long weekend approx 3 hrs away & 'Up Country'.
With best wishes
Bob & Elizabeth
(Mr & Mrs RG Woolsey)
N.B. Afterthought - Stephen the excellent Cruise Director of Century Sun took a great picture of our dinner table - ourselves & a lovely Columbian Family of Mum, Dad, Son-in- Law & two very attractive daughters !! Would make a really good publicity picture.
Hi Leo,
Hope you're well.
In summary, the river cruise was very good. The rooms were very nice, food was nice and the staff very friendly and welcoming.
There are a few minor development points that we have noted:
- the activities on board should be included (and the gym equipment should be better maintained);
- a meal upon embankment would have been very nice; and
- we were provided western food on the first night this should have been a choice prior to embankment, as we preferred a more traditional Chinese meal, which we requested for the second night.
Again, I would like to re-iterate that the tour was very good.
Thanks,
Steve
Questions & Discussions
Following are latest questions and answers from our webusers and customers. You can learn many useful information from the discussion and cases. You can also join in the discussions or ask your own question. Our experts will help you ASAP.
Vegetarian Food
Hi, We are traveling in the cruise from 9 May. Is there any Indian vegetarian food. What are the other vegetarian options
Hello Ravi,

Greetings from China! At present, there is no Indian vegetarian food served onboard Yangtze River cruise ships. However, the breakfast, lunch and dinner are almost arranged in buffet styles with about 3-5 vegetarian dishes, like cabbages, vegetables in season, vegetable and fruit salad, and so on, and some cruises prepare the dinner in Chinese sitting form with some specially cooked vegetarian dishes for guests. And if want, you could also pay extra to order some vegetarian food at the reception desk and tell the staff about your needs and eating habits, and the cruise chefs would prepare great food for your enjoyment. Besides, the Yangtze River ships serving foreign guests from the world have provided service to many vegetarian travellers and have gained rich experience and good reviews, so you can enjoy your dining time on the ship!

Wish you a wonderful Yangtze River sailing trip in May!
Room with balcony
If I book a China tour with webjet, what is the name of cruise ship used. Also can I book a cabin with balcony
Hi Christine,

Thanks for your question. As I know, there probably is no Yangtze River cruise business on the Webjet. And if you are interested in enjoying the leisurable cruise in China, you could book the cruise tour with us. Nearly all cabins onboard the cruise, such as the Century cruises, Victoria cruises, President cruises, Yangtze Gold cruises, Yangtze Explorer, etc. are facilitated with an open balcony for your sightseeing enjoyment and also many great services and high standard facilities and amenities. Please feel free to tell us your Email address, nationality, group size, traveling time to China, needs, and other basic information, and our professional Travel Consultant could help you as soon as possible to tailor make a route for you with really nice price.

Have a nice day!
Should we worry about Motion Sickness
Just not sure if we should need motion sickness meds. We are on your cruise that departs from the Yichang Port for Yangtze River from April 24- April 27, 2017. Thank you so much
Dear Mary,

Thanks for taking a Yangtze River cruise with us. April is a great time with fine weather to enjoy the gorgeous scenery along Three Gorges.

No matter which ship you take, it will run very steady at a relatively slow speed. As you know, the construction of Three Gorges Dam controls the water level and flow velocity of Yangtze River that it will be steady to guarantee every ship to sail smoothly. Unlike the ocean cruise, there is no need to bring motion sickness meds for travelers who on Yangtze River cruise. If your physical condition are seasick easily, take some just in case. And no worry, there is a clinic onboard who will serve at any time.

Wish you have a nice journey!
Have a question? Get answers from our travel experts or guests
Your Question:

Your Name:

Your Email: