Reviews of Yangtze River Cruise
Still not deciding if a Yangtze River Cruise is worth for you? Many of our travellers have experienced a lifetime changing trip and now more than happy to share their stories with you. Check out their memorable Yangtze Cruise reviews and experiences.
Jack,
The trip was wonderful. Very well organized and good guides. It was exhausting travel, especially from Yichang to Zhangjiajie. The sleeper car was not so clean, but I realize that was the first class car on that train.
All the guides were excellent. Very helpful and eager to please.
Thank you for your help
Josephine
Josephine, USA
December 29, 2017
Wendy,
Know we are back to France for a few weeks.
Our trip was so nice, but, as you will easily understand, a little bit tiring ... since after China we added a two weeks trip to Burma ...
I had time to update our personal internet site, and I give you the internet address of it.
Please select the China chapter ...
You will find inside all our pictures (about 3000) and video clips, which you can easily download..
But I also added a chapter named "itinéraires" including
- the map of the trip
- the description of it, day by day
- our advice on each visit (quoted from 0 to ***)
You'll understand we are very glad with this journey, and with your company's help !
Know, if you wish any other detail, I shall try to help you.
In addition, I am going to complete our opinion on Trip Advisor
Have a happy Christmas,
Best regards
Jean-Bernard
(The following pictures were shared by Jean-Bernard)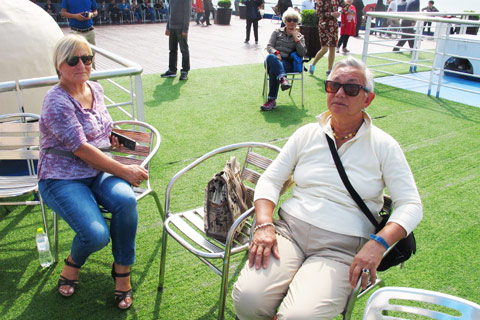 Jean and Bernard Enjoying Yangtze River Cruise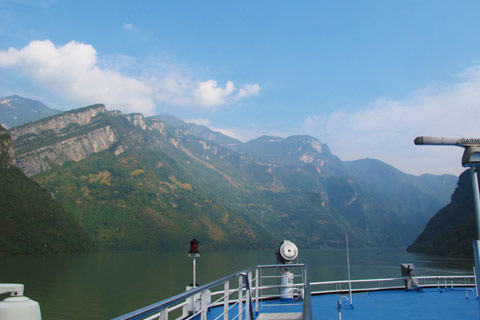 Yangtze River Sightseeing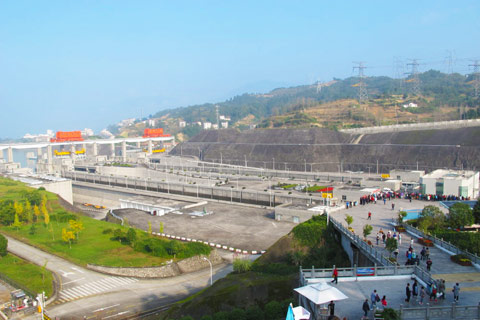 Yangtze Three Gorges Dam Project
Jean-Bernard, France
December 18, 2017
Dear Lily,
Sorry it took so long to reply I have been very busy.
First of all I would like to thank you (Lily) personally for helping me book my cruise. I appreciated your advice, professional efficient and friendly approach, it was very much appreciated! The booking process was easy to follow and communications simple and effective. Well done!
Good points
Very kind crew and staff who looked after me whilst I was on the cruise. Staff were highly motivated and customer focused. I would like to thank bar staff on the 5th floor and Reception. I would also like to put in a special thanks to ERIN (dining room) who was very approachable and an exemplary host and ensured I had a comfortable time on board. ERIN is a good advert for the company!!!
For those on busy tours of China (like me)the Yangtse cruise was a good chance for a respite from all the travelling and to see the Gorges and Chinas varied landscapes.
Although I was only one of two Europeans on board- the cruise was a great opportunity to mix with Chinese passengers who like to have a good time and were very kind to me.
I wear a leg brace and have mobility problems and found the visit to the Dam interesting but difficult and missed going to the Ghost City. I did enjoy enormously the visit to the little Gorges and the ride in the sanpan. On the whole the guides were informative.
Kind Regards
John
P.S. my travel profile is:- (62 year old independent traveller from UK who wears leg brace and has mobility problems. My tour of China included:- Hong Kong, Shanghai, Yangste River, Xi'an, Beijing).
John, UK
December 18, 2017
Hello Miss Lily,
Thank you for arranging our trip on the Century Diamond. We had a wonderful time.
Best regards,
Elizabeth
Elizabeth, UK
December 16, 2017
Hello echo,
Below is my general feedback:
1.How about your tour arrangements? It was good in general. The tour guide Cecilia was very friendly funny and gave great explanation. She was very organized as well so we were always on time with our schedule.
2.Are you willing to recommend our service to those who would like to come to China ? Yes I would.
3. Your general opinion on us? Great trip!
4. What will be your suggestions regarding how to improve our services?
5.Do you plan to write (or have already written) a travelogue or a story to share with your friends? Would you like to share it with us and our clients? We would be happy to publish it on our website. Photos often tell more than words and we would appreciate if you share some of them with us.
6.Frankly, our company can also provide online the whole China travel services, I hope we have chance to serve you again!
Yenni
Yenni, Taiwan
December 4, 2017
Hello Jack,
All went very well, the service at the cruise ship was superb and Wendy organized ZJJ very well indeed.
Appreciate all the coordination and your follow up.
Thanks again.
Warm regards
Angeline
Angeline,
December 3, 2017
Dear Johnson,
Thank you so much for arranging our trip. We had a fabulous time! We truly appreciated your recommendations, responsiveness and accommodating our needs and requests.
The local tour guides and transfer guides were all on-time. They were all very friendly and ensured our trip was enjoyable. We learned so much from them.
Nancy, the Yichang port to train station transfer guide was extremely competent and had an excellent command of the English language. We complimented her on her English language skills.
Wishing you the very best.
Regards,
Sonia
Sonia, USA
December 2, 2017
Hi Wing,
Yes i've returned from my trip to China.
The cruise was most wonderful. I enjoyed it very, very much. What a beautiful country China is!
Everything was well organised thanks to you.
I've appreciated your service very much. What really works well is that from the first moment you were my only contact person in your company. That makes communication clear and fast.
I definitely am willing to recommend your service to my friends in case they want to visit China!
Your service is very good. Can't think of any improvements.
If i come to China again and need help for a trip i certainly will contact you.
Thank you very much for all your attention.
Kind regards,
Wouter
Wouter,
November 23, 2017
Questions & Discussions
Following are latest questions and answers from our webusers and customers. You can learn many useful information from the discussion and cases. You can also join in the discussions or ask your own question. Our experts will help you ASAP.
Clothing for Yangtze River Cruise
We are travelling on the Yangtze River cruise in early May 2019. Is it normally cold or can we wear shorts during the day
Hello Robert,

Thanks for your question. Early May is during the spring along the Yangtze River. The weather changes warmer and warmer, and usually sunny in the day time, but there would be some cold wind at early morning and during night. It's ok to wear shorts on balmy sunny days. However, you are also recommended to prepare pants with you, because there may be some light raining days during the spring.

Wish you a memorable ship experience in China!
Vegetarian Food
Hi, We are traveling in the cruise from 9 May. Is there any Indian vegetarian food. What are the other vegetarian options
Hello Ravi,

Greetings from China! At present, there is no Indian vegetarian food served onboard Yangtze River cruise ships. However, the breakfast, lunch and dinner are almost arranged in buffet styles with about 3-5 vegetarian dishes, like cabbages, vegetables in season, vegetable and fruit salad, and so on, and some cruises prepare the dinner in Chinese sitting form with some specially cooked vegetarian dishes for guests. And if want, you could also pay extra to order some vegetarian food at the reception desk and tell the staff about your needs and eating habits, and the cruise chefs would prepare great food for your enjoyment. Besides, the Yangtze River ships serving foreign guests from the world have provided service to many vegetarian travellers and have gained rich experience and good reviews, so you can enjoy your dining time on the ship!

Wish you a wonderful Yangtze River sailing trip in May!
Room with balcony
If I book a China tour with webjet, what is the name of cruise ship used. Also can I book a cabin with balcony
Hi Christine,

Thanks for your question. As I know, there probably is no Yangtze River cruise business on the Webjet. And if you are interested in enjoying the leisurable cruise in China, you could book the cruise tour with us. Nearly all cabins onboard the cruise, such as the Century cruises, Victoria cruises, President cruises, Yangtze Gold cruises, Yangtze Explorer, etc. are facilitated with an open balcony for your sightseeing enjoyment and also many great services and high standard facilities and amenities. Please feel free to tell us your Email address, nationality, group size, traveling time to China, needs, and other basic information, and our professional Travel Consultant could help you as soon as possible to tailor make a route for you with really nice price.

Have a nice day!
Should we worry about Motion Sickness
Just not sure if we should need motion sickness meds. We are on your cruise that departs from the Yichang Port for Yangtze River from April 24- April 27, 2017. Thank you so much
Dear Mary,

Thanks for taking a Yangtze River cruise with us. April is a great time with fine weather to enjoy the gorgeous scenery along Three Gorges.

No matter which ship you take, it will run very steady at a relatively slow speed. As you know, the construction of Three Gorges Dam controls the water level and flow velocity of Yangtze River that it will be steady to guarantee every ship to sail smoothly. Unlike the ocean cruise, there is no need to bring motion sickness meds for travelers who on Yangtze River cruise. If your physical condition are seasick easily, take some just in case. And no worry, there is a clinic onboard who will serve at any time.

Wish you have a nice journey!
Have a question? Get answers from our travel experts or guests
Your Question:

Your Name:

Your Email: