Reviews of Yangtze River Cruise
Still not deciding if a Yangtze River Cruise is worth for you? Many of our travellers have experienced a lifetime changing trip and now more than happy to share their stories with you. Check out their memorable Yangtze Cruise reviews and experiences.
Hello May,
Wonderful time in China but the best was Yantsé river cruise on Victoria Anna. Fantastic cruise. They just refurbished the boat last winter. It was like brand new. Nice room, excellent food, good entertainment, friendly staff, nice view and good excursions. Not many passengers on that trip, about 100 friendly passengers. We got along with everyone. We had so much fun.
Your driver took a good care of us in Yichang and we even met one of your friend who brought us around the city during our waiting before boarding.
Thank you for your help. You were very efficient and reliable. We recommend your agency to everybody.
We will contact you for future trip, probably Tibet trip.
God bless you
Lucie and Bertin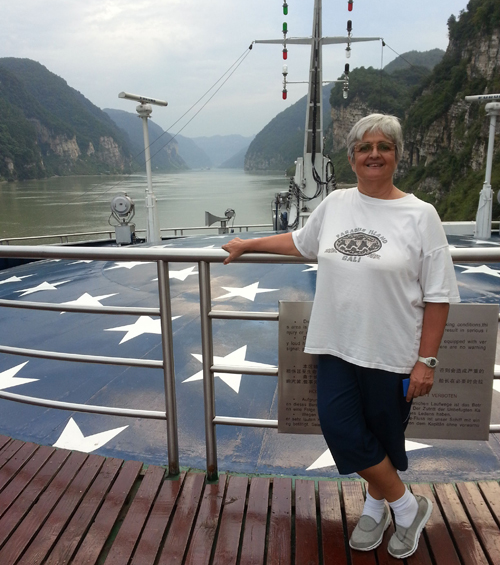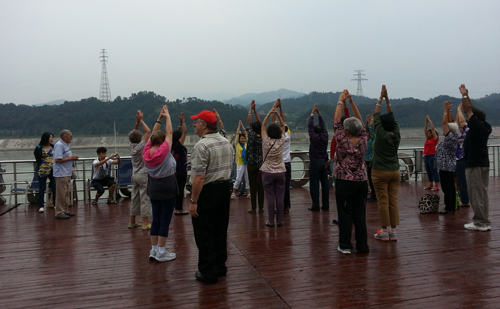 Lucie and Bertin, Canada
September 28, 2013
Hi Ian,
We enjoyed our trip very much. Here is some feedback.
1. How about your tour arrangements?
Everything went according to plan and there were no bad surprises. The staff on the boat were very friendly and helpful, and gave us excellent service and support.
2. Are you willing to recommend our service to those who would like to come to China ?
Yes, your service was very good. Payment was easy and secure, and your response time was very fast.
3. Your general opinion on us?
I think you run a good business and will definitely use you again when I visit China.
4. What will be your suggestions regarding how to improve our services?
Everything went fine, so I have no suggestions. You did a great job for us.
Best regards,
Donald Beau Brummel
Donald Beau Brummel , USA
September 26, 2013
Hello Ian,
Yes, everything was good and I enjoyed the Century Paragon cruise. I fly home on Friday and when I am at home I will send you my response to your comment. Your service was excellent and I thank you personally for your efforts on my behalf.
Robert, Australia
September 3, 2013
Hello Bruce,
Our Yangtse Trip was beautiful...
So i want to to the same next year in august (2014) but from Chongqing to Shanghai when you have more information, please tell me, i will book in spring 2014.
Best regards
Karl H. Eder
Karl H. Eder, Germany
August 29, 2013
Dear May,
The Cruises was perfect. I will give you more comments if we come back in Germany. Now we are in Guilin for some days and some in Hainan and Another two days in Shanghai.
China and the Chinese people are wonderful so frendly. We had many contacts.
Best regards,
Wolfgang
Wolfgang, Germany
August 27, 2013
Hi Ian,
Thank you for putting our Yangtse cruise etc. together for Tricia and I. All your arrangements were on time and as promised. We enjoyed our river trips and your guides were excellent.
A special mention re "Frank" in Shanghai. He went over and above what was required of him, and would highly recommend him to anyone wanting a good look at Shanghai.
Once again our sincere thanks,
Allan & Tricia
Alpasca, Australia
August 23, 2013
Dear Jessie,
I felt it necessary to email you regarding one of your customer service employees within Yangtze river cruise company.
Due to the fact that I myself am in business, I feel that when my staff preform outstandingly they should be recognised.
The gentleman in question is Mr Tiger Wei, I have been dealing with Mr Wei over the last couple of weeks to which nothing has been too much trouble for him no mater how menial some of my queries have been.
Mr Wei has been nothing but extremely prompt in answering my queries, very professional and I feel has gone over and above the call of duty. I feel Mr Wei should be recognised for his 100 % work ethic and is an asset to your company.
As previously mentioned being in business when you have such an outstanding employee this should not go unnoticed.
Due to the fact that Mr Wei preformed in such a manner I then preceeded to book other aspects of my trip through him.
Mr Wei is a valuable employee and I feel will go very far in your company, congratulations to Mr Wei and to Bamboo tours for employing such a professional.
Kind Regards
Mrs Jennifer Nassaris
Adelaide, AUSTRALIA
Jennifer Nassaris, Australia
August 16, 2013
Dear Laura,
Thank you for organizing our trip. Overall it was enjoyable. The cruise was overbooked with over 400 passengers and lots of children!!
The ship Century Paragon was great. Clean, new, lovely rooms, smooth and quiet cruising. Appreciated ship hotel manager Ian upgrading us to the executive floors when we checked in as lower floors were a little noisy. Enjoyed eating in the pavilion restaurant - on 6th floor- quiet, good view, good service. Initially there were complimentary tea coffee snacks in the floor 5 VIP lounge made available but it was removed after the second day. Only after we questioned the owner David( who was onboard training the management staff) did he inform us that we could get complimentary coffee from the bar.
Meals were good - breakfast was our family favorite as there was an eggs kitchen. Buffet style - caters more for the local tastebuds. Good salad and fruit selection. Overall good meals and well presented.
Upon arrival in Yichang. We were warmly greeted by Fay and brought us to a silk embroidery museum to browse and purchase works. She also took us to the Fengshui place where our zodiacs and fortunes were told to us. Our kids found that particularly fun.
Cruise crew was accommodating and special thanks to Ruska and Dexter to ensure announcements were made in both English and mandarin.
Particularly enjoyed the lesser three gorges excursion.
Best Wishes
Mary
Questions & Discussions
Following are latest questions and answers from our webusers and customers. You can learn many useful information from the discussion and cases. You can also join in the discussions or ask your own question. Our experts will help you ASAP.
Vegetarian Food
Hi, We are traveling in the cruise from 9 May. Is there any Indian vegetarian food. What are the other vegetarian options
Hello Ravi,

Greetings from China! At present, there is no Indian vegetarian food served onboard Yangtze River cruise ships. However, the breakfast, lunch and dinner are almost arranged in buffet styles with about 3-5 vegetarian dishes, like cabbages, vegetables in season, vegetable and fruit salad, and so on, and some cruises prepare the dinner in Chinese sitting form with some specially cooked vegetarian dishes for guests. And if want, you could also pay extra to order some vegetarian food at the reception desk and tell the staff about your needs and eating habits, and the cruise chefs would prepare great food for your enjoyment. Besides, the Yangtze River ships serving foreign guests from the world have provided service to many vegetarian travellers and have gained rich experience and good reviews, so you can enjoy your dining time on the ship!

Wish you a wonderful Yangtze River sailing trip in May!
Room with balcony
If I book a China tour with webjet, what is the name of cruise ship used. Also can I book a cabin with balcony
Hi Christine,

Thanks for your question. As I know, there probably is no Yangtze River cruise business on the Webjet. And if you are interested in enjoying the leisurable cruise in China, you could book the cruise tour with us. Nearly all cabins onboard the cruise, such as the Century cruises, Victoria cruises, President cruises, Yangtze Gold cruises, Yangtze Explorer, etc. are facilitated with an open balcony for your sightseeing enjoyment and also many great services and high standard facilities and amenities. Please feel free to tell us your Email address, nationality, group size, traveling time to China, needs, and other basic information, and our professional Travel Consultant could help you as soon as possible to tailor make a route for you with really nice price.

Have a nice day!
Should we worry about Motion Sickness
Just not sure if we should need motion sickness meds. We are on your cruise that departs from the Yichang Port for Yangtze River from April 24- April 27, 2017. Thank you so much
Dear Mary,

Thanks for taking a Yangtze River cruise with us. April is a great time with fine weather to enjoy the gorgeous scenery along Three Gorges.

No matter which ship you take, it will run very steady at a relatively slow speed. As you know, the construction of Three Gorges Dam controls the water level and flow velocity of Yangtze River that it will be steady to guarantee every ship to sail smoothly. Unlike the ocean cruise, there is no need to bring motion sickness meds for travelers who on Yangtze River cruise. If your physical condition are seasick easily, take some just in case. And no worry, there is a clinic onboard who will serve at any time.

Wish you have a nice journey!
Have a question? Get answers from our travel experts or guests
Your Question:

Your Name:

Your Email: