Reviews of Yangtze River Cruise
Still not deciding if a Yangtze River Cruise is worth for you? Many of our travellers have experienced a lifetime changing trip and now more than happy to share their stories with you. Check out their memorable Yangtze Cruise reviews and experiences.
Dear Olivia,
I am very happy to be back in Switzerland, but still dream about my trip to China. Everything went wonderfully well. I had a great time, specially when my husband joined for the Yangtze River and the Park. We met your guides and they spoke well English (which was a surprise after my experience in the north...) - they were very competent and nice. They thank you again to them from us.
The River Cruise and also the stay in the National Forest Park were fantastic. We upgraded the room on the ship - it was worth it. With the bigger room came also the nicer restaurant for breakfast and dinner, so that was great. The hotels were well choosen and we only missed the western breakfast...
This trip was really well organised and a big adventure for us with wonderful memories. We send you a big hug and stay well.
Sincerely yours,
Veronika and Gion Pfister
Veronika and Gion Pfister,
June 20, 2015
Dear WONDER,
Thanks for all your help with our cruise and tours. Your personal service was excellent and our tours and cruise was very, very nice.
The travel consultant is absolutely excellent. I commend Wonder Wang for his great service.
The tours were very nice and the guides were very attentive.
The cruise itself was even better that I expected and the trip through the THREE GORGES was beautiful. It was so good that I have recommended to our Chinese friends to take the trip as well.
Marshall and Sonia Slemrod
Marshall and Sonia Slemrod,
June 17, 2015
Hello Tiger,
Apologies for the slow response, we had quite a long holiday after the cruise and then have been away for work.
Just let you know the cruise was great. We went with Victoria Cruises on your recommendation.
The Victory Katarina leaving Chongquing to Yichang.
The ship was extremely clean and tidy, staff friendly and efficient. We really enjoyed our trip meeting some great people from all over the world and Queensland! The cruise has some spectacular scenery and is very relaxing sitting on the balcony watching China go by.
Couple of scenic photos attached.
The highlight for me was the Goddess stream, make sure you recommend people to include this section.
Thanks for your help, your advice was really appreciated about the cruise and other travel arrangements within China.
Goodaye,
Mark and Sandy Johnston
Mark and Sandy Johnston,
June 12, 2015
Hello Ian,
Just wanted to thank you for all the fruits which we are already enjoying this evening.
We had a very nice day. Happy and Trevor are a good team and we will be happy to see them again next Thursday for our last excursion day in Beijing.
We also enjoyed our lunch at the Commune by the Great Wall. Beautiful views, excellent food and service. And you can eat for much less then the price you announced. It all depends what you order. You may want to integrate it into your tour plans for westerners or even Chinese tourists of a certain caliber. The architecture of the place is very interesting as well and you can visit a part of the Great Wall in a very private way, without the crowds of Badaling. We even arrived without a reservation and it was no problem. It is not run by Kempinsky (an Austrian hotel management company) but by Soho China. A different way of seeing the Great Wall.
Have a nice day and thank you again for your understanding and all the trouble.
Regards,
Matilde Bingemer
Matilde Bingemer,
June 9, 2015
Dear Rita,
Thanks for the email. Betty and I had a great trip in China and thoroughly enjoyed it. I would certainly recommend your travel firm to our friends.
Our only problems were in regard to the air travel, as the flights from KL to Guangzhou and then to Xian were very late, as I detaiiled in my previous email to you. This resulted in the Guide there not being at the airport and we had to wait about 90 minutes for her. I was not critical of her as it was outside her control., and the changes in flight schedules must have been confusing.
On the way beween the end of the cruise and Ghnagzhou the plane was on time, but the flight from Ghangzhou to Penang was late and was subsequently diverted to Kua;a Lumpur because of a very severe storn with lightening in Penang. We ultimately got to Penang at midnight, 3 hours late.
We are in Penang for 7 days because I am examining medical students here in their final exams.
I will send some photographs to you afetr we return to Melbourne on 15 June.
My comments to the various questions you asked are in your email in UPPER CASE type.
Yours
Roger Pepperell
Roger Pepperell,
June 8, 2015
Dear Isabel,
• At the dinner the food was served much too fast, I guess it was done to please us with a rapid service, however I will suggest that on a "a la carte" dinner they should wait some time between each course to be served. They had also given us the same drinks as the day before automatically without asking, one bier and one red wine, instead of asking what we wanted to drink. This I am sure they also did to be nice, so this is not a critic, just a good advice.
• The staff at the Spa was a bit too pushy, when we had ordered a massage they kept on asking several times during the massage if we wanted more, like head massage, foot massage etc .
However we had a very nice time onboard and have told several friends that they should do the same voyage.
Your follow up has been excellent all the time!!
Please give our regards to the crew and thank you for giving us this nice cruise!
All the best
Hans
PS. I heard the news about the accident at the river yesterday evening, it must have chocked you all that something like that could happen on such a calm area. DS.
Hello Isabel,
Sorry for the delay on getting back to you but we were still traveling. Everything was very good for being our first time in China, but as you ask me here are my comments...
For you service...
I'm very happy with your service, contact and fast responses. Also, I like that you were very opened to design each itinerary as I requested even that there were a lot of changes. I appreciate your patience and actually that was the reason the made me feel confident about you and your company.
My only suggestion is that if you knew that it's was our first time in China you could probably suggested itinerary changes to improve the overall experience. For example, if I had known about the Terracotta Army at Xi'an I would change the Dazu Carving Rocks for the Terracottas at Xi'an. Please note that is just a suggestion, not a complain since I'm very happy with the service you provided me.
For Cathy @ Shangai
She was an excellent guide with very good explanations of every place and a good English proficiency. The only suggestion is that she was very strict with the time (she forgot we were on vacation!) but besides that the tour was very good.
For our guide @ Chongqing
The first day she was a good guide since she gave us a good explanation of the Dazu Carving Rocks. The second day, I think she was very quiet and almost all the time she was talking with the driver with very few explanation. At this city we felt that the driver was driving very fast even when there was no need to. In all the other cities the drivers did an excellent job but just in this city we were a bit worried about this.
For Rita @ Chengdu
We were happy with her service and she was a very kind person. The only suggestion for her is to improve her english proficiency since sometimes she had difficulties to communicate with us or to give an extensive explanation.
For Jin @ Beijing
Jin is the funniest person we met in China just after the driver who was always smiling, happy and making jokes (amazing driver!). Jin was an excellent tour guide even that sometimes he spoke a lot and, at certain moments, he was speaking of something different than the place where we were (religion, politics, miscellaneous topics). We really liked him and probably the only suggestion for Jin is to improve his english pronunciation beyond that, he is very kind and he was always worried about our satisfaction (we felt very secure with him).
Thanks again for your service and surely in some time I will come back with you for our second trip to China.
Best regards,
Jorge H. Fierro
Jorge H. Fierro,
May 29, 2015
Hi Tiger,,
Yes,everything on the cruise was great. And we had a really good time.
Thank you very much for your help!
Below are a couple pictures from the cruise
Cheers,
Jonathan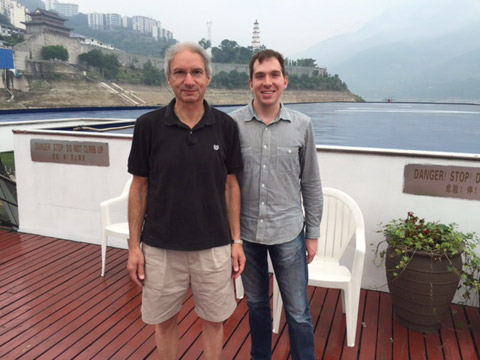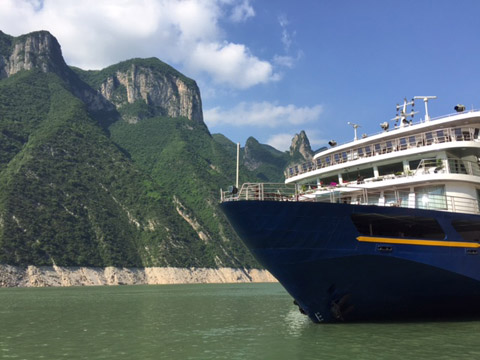 Jonathan Guerra,
May 28, 2015
Questions & Discussions
Following are latest questions and answers from our webusers and customers. You can learn many useful information from the discussion and cases. You can also join in the discussions or ask your own question. Our experts will help you ASAP.
Clothing for Yangtze River Cruise
We are travelling on the Yangtze River cruise in early May 2019. Is it normally cold or can we wear shorts during the day
Hello Robert,

Thanks for your question. Early May is during the spring along the Yangtze River. The weather changes warmer and warmer, and usually sunny in the day time, but there would be some cold wind at early morning and during night. It's ok to wear shorts on balmy sunny days. However, you are also recommended to prepare pants with you, because there may be some light raining days during the spring.

Wish you a memorable ship experience in China!
Vegetarian Food
Hi, We are traveling in the cruise from 9 May. Is there any Indian vegetarian food. What are the other vegetarian options
Hello Ravi,

Greetings from China! At present, there is no Indian vegetarian food served onboard Yangtze River cruise ships. However, the breakfast, lunch and dinner are almost arranged in buffet styles with about 3-5 vegetarian dishes, like cabbages, vegetables in season, vegetable and fruit salad, and so on, and some cruises prepare the dinner in Chinese sitting form with some specially cooked vegetarian dishes for guests. And if want, you could also pay extra to order some vegetarian food at the reception desk and tell the staff about your needs and eating habits, and the cruise chefs would prepare great food for your enjoyment. Besides, the Yangtze River ships serving foreign guests from the world have provided service to many vegetarian travellers and have gained rich experience and good reviews, so you can enjoy your dining time on the ship!

Wish you a wonderful Yangtze River sailing trip in May!
Room with balcony
If I book a China tour with webjet, what is the name of cruise ship used. Also can I book a cabin with balcony
Hi Christine,

Thanks for your question. As I know, there probably is no Yangtze River cruise business on the Webjet. And if you are interested in enjoying the leisurable cruise in China, you could book the cruise tour with us. Nearly all cabins onboard the cruise, such as the Century cruises, Victoria cruises, President cruises, Yangtze Gold cruises, Yangtze Explorer, etc. are facilitated with an open balcony for your sightseeing enjoyment and also many great services and high standard facilities and amenities. Please feel free to tell us your Email address, nationality, group size, traveling time to China, needs, and other basic information, and our professional Travel Consultant could help you as soon as possible to tailor make a route for you with really nice price.

Have a nice day!
Should we worry about Motion Sickness
Just not sure if we should need motion sickness meds. We are on your cruise that departs from the Yichang Port for Yangtze River from April 24- April 27, 2017. Thank you so much
Dear Mary,

Thanks for taking a Yangtze River cruise with us. April is a great time with fine weather to enjoy the gorgeous scenery along Three Gorges.

No matter which ship you take, it will run very steady at a relatively slow speed. As you know, the construction of Three Gorges Dam controls the water level and flow velocity of Yangtze River that it will be steady to guarantee every ship to sail smoothly. Unlike the ocean cruise, there is no need to bring motion sickness meds for travelers who on Yangtze River cruise. If your physical condition are seasick easily, take some just in case. And no worry, there is a clinic onboard who will serve at any time.

Wish you have a nice journey!
Have a question? Get answers from our travel experts or guests
Your Question:

Your Name:

Your Email: