Reviews of Yangtze River Cruise
Still not deciding if a Yangtze River Cruise is worth for you? Many of our travellers have experienced a lifetime changing trip and now more than happy to share their stories with you. Check out their memorable Yangtze Cruise reviews and experiences.
Dear Bertina,
The cruise by the President no. 8 was beautiful and very good arranged.
First of all a compliment special for you, the payment was difficult but you had all understanding and did a good job..
We had a good cabin, very good service everywhere, sitting on a table for 2 for lunch/dinner, interesting excursions, english speaking on board and on the excursions. In short it was perfect.
But what a difference with the year 1983!
We are very glad that we have been on the ferry and see the Yangtze river then. Yoy can not compare.
The romantic and simplicity was so nice. Complete different people and towns.
Of course that will never come back. The change in China within 30 years is the same as the change in our country in 90 years.
We have had a marvellous time, also thanks to you.
Maybe, at another moment we will call your help again.
Kindest regards
Cees & Yvette Rosingh
Cees & Yvette Rosingh,
September 23, 2016
Dear Bertina,
Sorry to answer you so late, we have been very busy, we moved from our old apartment to a new one a couple of weeks ago. Our new address is ****. Could you please send it again to this address? The name is correct.
By the way, thank you so much for your whole kind attention during all the process of booking the cruise and hotel and transportation, from the very beginning you have been most helpful solving all the issues. We are very satisfied with our cruise, the planning was perfect and my family enjoyed it very much, for sure we will recommend it to our friends. Thank you again!
With kind regards,
Victoria
Victoria,
September 22, 2016
Hi Bertina
Arrived this morning in Xian for three days.
We had a wonderful time on the Yangtze River cruise... Full on during the day and enjoyable show at night. Few of their crew was looking lovely .. Aurora and Taylor always have a beautiful smile when they greet us.
The day tour in Yichang was good. My husband loved the sturgeon park. The tour guide - coffee is recommendable. Very nice gentleman.
The wall was tremendously enjoyable .. We walked for four hours and Tour guide - Echo was very helpful.
I will post some photos later tonight for you.
Thanks again for arranging our tours and will definitely not forget you when we revisit China again..... Hopefully next few years! Hahaha.
Take care and keep well.
Regards
Marita
Marita,
September 22, 2016
Dear jack,
I am sorry I have taken so long to write. June and I did not return to Canberra until 18th and since then until today I have had a problem with my computer. We had a wonderful cruise. Everything went well and we enjoyed all we saw and learned about that amazing 3 Gorges project. We enjoyed the cruise and found the crew all helpful and friendly. Yes there was a small delay at Yichang but that did not matter. We were well cared for by the cruise Director and Hotel Manager on the ship until our transport arrived. They also spoke to you. We were not put out or worried about that short delay. Thank you so much for your organization of our cruise and for the transport connections. Our visit to Shanghai also went well and we have had a lovely holiday.
Yours sincerely
Margaret and June
Margaret and June,
September 21, 2016
Hi Bertina
We all had a great time!
Thanks again
Charles
Charles,
September 18, 2016
Hi Stephanie
Yes we had a really great time on the cruise which was all it was advertised to be. The ship and its crew were fantastic and we had a small group of passengers and all got on well.
See below for the answers to the questions and I am happy for you to use my evaluation.
Stephanie the travel consultant did a very good job and responded quickly and accurately to our queries.
The river guide on the ship was excellent. Oscar spoke good English was engaging with the passengers and very helpful in understanding the local conditions and the sights.
I would have no hesitation in recommending the Yangtze River cruise from Chongquin Shanghai to anyone wanting to see China from a different perspective. The on-board facilities, food and service were great and the range and variety of shore excursions was just the right mix. Overall a wonderful 7 days.
Michael Butler
Michael Butler, Australia
September 13, 2016
Good morning Johnson,
Sorry for the late reply but we have been travelling. Thank you so much for the information you sent me on the train. We are now in macau, and yesterday travelling was effortless, so thank you once again. You have been extremely helpful. You certainly have made our trip with your itinerarys and helpful staff easy.
I will highly recommend you, if we have people visiting China from New Zealand. Also we loved the Yangtze River Cruise.
Once again, many thanks
Kind regards
Jenny
Mr. Steve wishnowsky, New Zealand
September 12, 2016
Dear Johnson,
Yes we are back in Chongqing and had a relaxing remainder of our week, we had a wonderful time on the cruise. Everything was perfect.
I will be happy to answer your survey as you will see below,
Our travel agent, Johnson Wang, incredibly helpful in answering any and all of our questions. We had many questions in regards to everything about this cruise. We were unsure of our dates and being assured there was english speaking and also to be sure that we had a room with a double bed. He immediately walked us through every question and had the best possible solutions for all of our concerns. I would highly recommend him to anyone.
All arrangements were made to exceed our expectations. Right down to an english guide at the end and first class train tickets to return.
I would highly recommend your service to my people who also have an interest to visit China.
We have been living in China for the last 4 years but had never required a travel agency service before. It was a bit intimidating trying to find one that was trustworthy and so helpful. Since we found this service on an internet search it was a bit scary. But we were extremely please with this service as they went above and beyond our expectations.
Thanks again for all your attention to detail.
Wendy Lafleur Goudreau
(The following pictures were all shared by Wendy Lafleur Goudreau)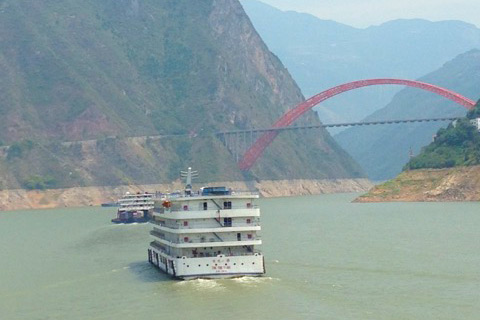 Sightseeing of Yangtze River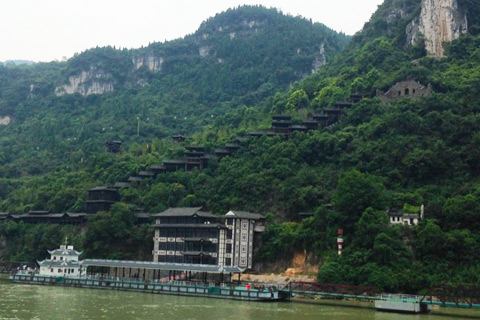 Sightseeing on Banks of Yangtze River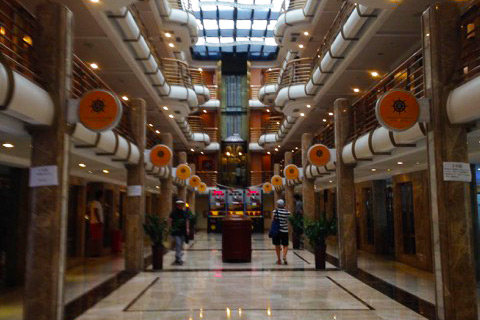 Yangtze River Cruise
Wendy Lafleur Goudreau, Canada
September 5, 2016
Questions & Discussions
Following are latest questions and answers from our webusers and customers. You can learn many useful information from the discussion and cases. You can also join in the discussions or ask your own question. Our experts will help you ASAP.
Vegetarian Food
Hi, We are traveling in the cruise from 9 May. Is there any Indian vegetarian food. What are the other vegetarian options
Hello Ravi,

Greetings from China! At present, there is no Indian vegetarian food served onboard Yangtze River cruise ships. However, the breakfast, lunch and dinner are almost arranged in buffet styles with about 3-5 vegetarian dishes, like cabbages, vegetables in season, vegetable and fruit salad, and so on, and some cruises prepare the dinner in Chinese sitting form with some specially cooked vegetarian dishes for guests. And if want, you could also pay extra to order some vegetarian food at the reception desk and tell the staff about your needs and eating habits, and the cruise chefs would prepare great food for your enjoyment. Besides, the Yangtze River ships serving foreign guests from the world have provided service to many vegetarian travellers and have gained rich experience and good reviews, so you can enjoy your dining time on the ship!

Wish you a wonderful Yangtze River sailing trip in May!
Room with balcony
If I book a China tour with webjet, what is the name of cruise ship used. Also can I book a cabin with balcony
Hi Christine,

Thanks for your question. As I know, there probably is no Yangtze River cruise business on the Webjet. And if you are interested in enjoying the leisurable cruise in China, you could book the cruise tour with us. Nearly all cabins onboard the cruise, such as the Century cruises, Victoria cruises, President cruises, Yangtze Gold cruises, Yangtze Explorer, etc. are facilitated with an open balcony for your sightseeing enjoyment and also many great services and high standard facilities and amenities. Please feel free to tell us your Email address, nationality, group size, traveling time to China, needs, and other basic information, and our professional Travel Consultant could help you as soon as possible to tailor make a route for you with really nice price.

Have a nice day!
Should we worry about Motion Sickness
Just not sure if we should need motion sickness meds. We are on your cruise that departs from the Yichang Port for Yangtze River from April 24- April 27, 2017. Thank you so much
Dear Mary,

Thanks for taking a Yangtze River cruise with us. April is a great time with fine weather to enjoy the gorgeous scenery along Three Gorges.

No matter which ship you take, it will run very steady at a relatively slow speed. As you know, the construction of Three Gorges Dam controls the water level and flow velocity of Yangtze River that it will be steady to guarantee every ship to sail smoothly. Unlike the ocean cruise, there is no need to bring motion sickness meds for travelers who on Yangtze River cruise. If your physical condition are seasick easily, take some just in case. And no worry, there is a clinic onboard who will serve at any time.

Wish you have a nice journey!
Have a question? Get answers from our travel experts or guests
Your Question:

Your Name:

Your Email: