Reviews of Yangtze River Cruise
Still not deciding if a Yangtze River Cruise is worth for you? Many of our travellers have experienced a lifetime changing trip and now more than happy to share their stories with you. Check out their memorable Yangtze Cruise reviews and experiences.
Dear Rita
We are back from a fantastic trip to the Yangtze. You don't have to miss us, we still are in China and will stay here for another 3 years :)
The Century Legend was fantastic. We were surprised. The staff of this ship is great.
When they keep this high quality standard, I can highly recommend this tour to everyone and I will do in the near future.
If you need more detailed information, please feel free to ask.
Best regards
Monique
Monique,
October 11, 2016
Hi Johnson,
We had a very nice trip and your planning was spot on. Thanks for making it all possible! I will look for an appropriate photo to forward for you. Here are the survey responses.
Our consultant, Johnson, was quick with responses and generous with his time. He provided lots of good insight as to what we might expect during a busy travel week in China, as well as how to mitigate the crowds.
The tour was excellent all around and well-documented support made it easy to enjoy our trip.
I would certainly recommend Yangtze River Cruises to anyone who would like to visit China and who would prefer the details be smoothed out ahead of their trip. The consultant (Johnson) was skillful at predicting areas of possible difficulty, then offering a soup-to-nuts solution making our trip a breeze. We had three generations on this trip and everyone had a terrific time. Additionally, during the busy travel time of "Golden Week", the limited passenger count of a riverboat was a nice way to keep our kids and their grandmother from being overrun by crowds.
Yangtze River Cruises seems to have this trip style down pat. Not only is the information on the website thorough, the consultant also knew what additional questions to ask and was ready with solutions when we needed anything out of the ordinary.
I will look for an appropriate photo or two to share. Thanks again for a terrific trip!
Best Regards,
Joe
Hi Wonder
Thank you so much for checking in with us. We had a really enjoyable cruise and I am very happy to provide a feedback for your kind assistance and the brilliance of Victoria Cruises. Please see my responses below.
I was assisted by youm, Wonder Wang, who replied promptly to all my emails and provided further details which helped me to make an informed choice. Your experience and knowledge on the cruise packages also helped me to tailor our holiday to our specific needs.
Your company's process also helped to make the booking and payment for the cruise really smooth and straight forward.
Our experience of the cruise was brilliant from the time we stepped onto Victoria Jenna till we left. Special mention of gratitude to Dr. Li who went out of his way to accompany me to hospital when I had an unfortunate accident and ensured I had received the care I needed. I cannot imagine how events would have turned out without Dr. Li's help.
The route of the cruise was well planned and the shore excursions were well organised in small groups.
The service on board the Jenna was excellent. From the food and beverage to house keeping and entertainment. We could not fault a thing.
The river guides were very knowledgable and provided valuable insights about the local area and history.
All my needs were adequately met so I can only say Victoria Cruises should keep doing a great job.
I shall try and attached some pictures here for you but if it doesn't work I will send it in a separate email.
Feel free to post my review on your website and look out for recommendations I will send your way. Wonder.
Thank you for a job well done!
Best regards,
Vickey
(The following pictures were all shared by Vickey & Neil)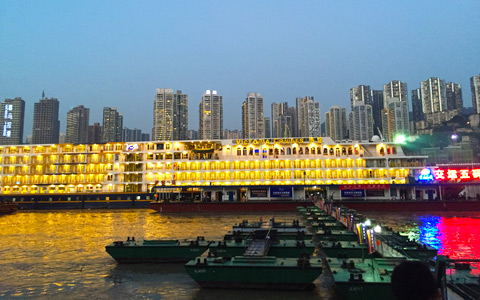 Yangtze River Nightview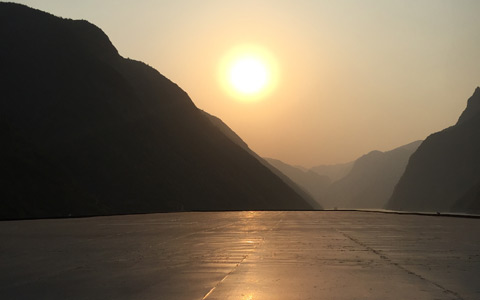 Sunrise on the Yangtze River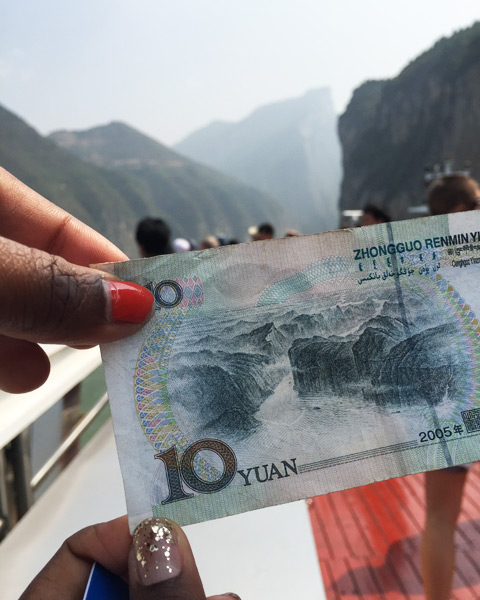 Same Scenery on the Renminbi
Vickey & Neil,
October 10, 2016
Hello Vivien
I am just writing to thank you for all your help arranging my Yangtze cruise. It was a great trip and I really enjoyed it - and all your arrangements worked out perfectly - you are a star!
I see that your office is in Chengdu so I am wondering if you could recommend an agency to help me organise a trip for myself and my daughter to Chengdu and Harbin in December? Please let me know as soon as possible.
Thanks again for all your patience, efficiency and support.
Best wishes
Heather
Heather, Britain
October 9, 2016
Wonder,
We enjoyed the cruise and the food was good. All the tours were interesting, it was a nice rest from our hectic travel. We did not experience crowds on the tours.
Thanks for arranging the transport to and from the ship all went well.
Lynette Ballou
Lynette Ballou,
October 9, 2016
Hi Stephanie,
Sorry for the late response. I only just returned from my trip.
Travel consultant was very helpful, informative and answered my inquiries quickly.
Tour guides were very organised. All parts of the trip and excursions were explained fully. They both spoke very good English and helped us with transportation to our next venue once we left the boat.
Yes I would recommend the tour and company to other travelers.
Regards
Kate Sebben
Kate Sebben,
October 9, 2016
Ariel,
Ariel Wang was incredible! I sent so many emails to her whilst trying to figure our independent trip out. She was EXTREMELY patient and helpful. Always replying within a 2-3 hours! She deserves a pay rise!
We planned our own but had Ariel book our Yangtze River Cruise and a guide to collect us and drop us at airports. This exceeded expectations, we were shown around Chongqing by a fabulous guide, treated to a delicious lunch and were WOWed by the service from start to stop. Highly recommend Ariel Wang!
The comnany is generally fantastic! I was unsure at first but, Ariel replied and answered my concerns quickly and efficiently. Exceeded all expectations. Our 2 week massive, and surreal, unreal tour of China went completely without a glitch!
I am absulutely willing to recommend the service to my people who also have an interest to visit China.
Deb Lang
Deb Lang,
October 3, 2016
Hi Lyn,
Everything went well on the cruise. I am glad we took the time to do that trip between busy days in Shanghai, Xi'an and Beijing. The cruise was as expected and we had no problems. Food was good, ship was very clean, service was good, tours from ship were good, etc.
The taxi driver who took us from the airport to the dock in Chongqing did not know where he was going but stopped to get directions. After the cruise we stayed at the Crown Plaza in Yichang and flew to Beijing the next day. No problems.
You were most helpful and I would certainly recommend you to others.
Louise
Questions & Discussions
Following are latest questions and answers from our webusers and customers. You can learn many useful information from the discussion and cases. You can also join in the discussions or ask your own question. Our experts will help you ASAP.
Vegetarian Food
Hi, We are traveling in the cruise from 9 May. Is there any Indian vegetarian food. What are the other vegetarian options
Hello Ravi,

Greetings from China! At present, there is no Indian vegetarian food served onboard Yangtze River cruise ships. However, the breakfast, lunch and dinner are almost arranged in buffet styles with about 3-5 vegetarian dishes, like cabbages, vegetables in season, vegetable and fruit salad, and so on, and some cruises prepare the dinner in Chinese sitting form with some specially cooked vegetarian dishes for guests. And if want, you could also pay extra to order some vegetarian food at the reception desk and tell the staff about your needs and eating habits, and the cruise chefs would prepare great food for your enjoyment. Besides, the Yangtze River ships serving foreign guests from the world have provided service to many vegetarian travellers and have gained rich experience and good reviews, so you can enjoy your dining time on the ship!

Wish you a wonderful Yangtze River sailing trip in May!
Room with balcony
If I book a China tour with webjet, what is the name of cruise ship used. Also can I book a cabin with balcony
Hi Christine,

Thanks for your question. As I know, there probably is no Yangtze River cruise business on the Webjet. And if you are interested in enjoying the leisurable cruise in China, you could book the cruise tour with us. Nearly all cabins onboard the cruise, such as the Century cruises, Victoria cruises, President cruises, Yangtze Gold cruises, Yangtze Explorer, etc. are facilitated with an open balcony for your sightseeing enjoyment and also many great services and high standard facilities and amenities. Please feel free to tell us your Email address, nationality, group size, traveling time to China, needs, and other basic information, and our professional Travel Consultant could help you as soon as possible to tailor make a route for you with really nice price.

Have a nice day!
Should we worry about Motion Sickness
Just not sure if we should need motion sickness meds. We are on your cruise that departs from the Yichang Port for Yangtze River from April 24- April 27, 2017. Thank you so much
Dear Mary,

Thanks for taking a Yangtze River cruise with us. April is a great time with fine weather to enjoy the gorgeous scenery along Three Gorges.

No matter which ship you take, it will run very steady at a relatively slow speed. As you know, the construction of Three Gorges Dam controls the water level and flow velocity of Yangtze River that it will be steady to guarantee every ship to sail smoothly. Unlike the ocean cruise, there is no need to bring motion sickness meds for travelers who on Yangtze River cruise. If your physical condition are seasick easily, take some just in case. And no worry, there is a clinic onboard who will serve at any time.

Wish you have a nice journey!
Have a question? Get answers from our travel experts or guests
Your Question:

Your Name:

Your Email: