Reviews of Yangtze River Cruise
Still not deciding if a Yangtze River Cruise is worth for you? Many of our travellers have experienced a lifetime changing trip and now more than happy to share their stories with you. Check out their memorable Yangtze Cruise reviews and experiences.
Dear Wing Zeng,
It's great to hear from you and thank you for following up on our 3-week visit to China and Thailand to celebrate our 30th Wedding Anniversary. We've just returned and called it our 'Second Honeymoon Adventure'! The Yangtze River Cruise we booked through you was one of five different things we had planned.
The cruise exceeded our expectations – it was everything described and more. Every day was an adventure in itself. We booked the'President No 7'– The accommodation was luxurious (we booked a Deluxe Cabin for the extra space), the service impeccable, the food absolutely delicious (with such a wide variety), the excursions amazing (with super guides), and the scenery stunning! I would recommend it to anyone!!!
Just a couple of minor points to help for the future. Our cabin was advertised as having a double bed – it was two singles pushed together! The sun deck (which was spacious) could have done with more loungers and also having part of it with a canopy for when you need to be out of the sun.
Thank you for the brilliant service you have given personally from the moment I contacted you and through the whole booking (and follow-up) process. Thank you too for helping to make our time of celebration so very special.
I have attached a few photos which I hope will give a flavour to others who are considering a Yantze River Cruise.
Yours sincerely,
Derek
(The following pictures were all shared by Derek)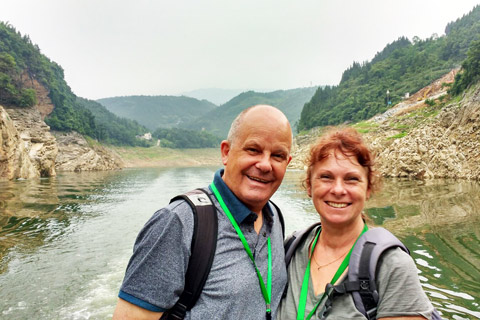 Derek Enjoying Natural Views on Yangtze River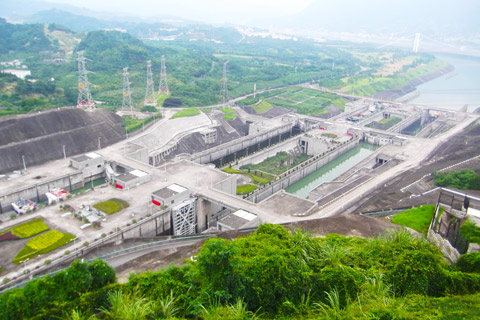 Derek Visiting the Three Gorges Dam Project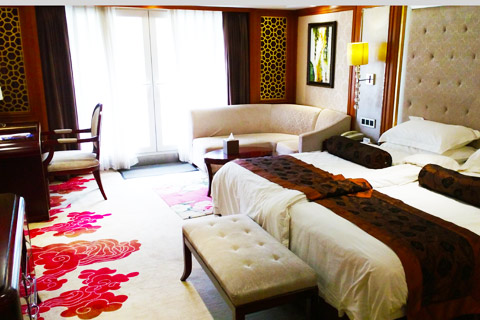 Spending Leisure Time in the Yangtze River Cruise Cabin
Good morning Johnson,
Today we're leaving China and we are boarding our flight to Tokyo but we couldn't leave before thank you and your teamwork for allowing us enjoying a wonderful and smoothly trip discovering all the amazing places that China has to offer the tourist.
As promised let me tell you what a great teamwork was Ms.Lisa and Mr. Dang to support our visit in Beijing.
Ms. Lisa is a super sweet and kind lady, very responsible person and exceed our expectations looking forward to give us advise and getting good seats for the last minute evening shows that we booked. Our driver was very responsible and serviceable person with good sense of humor.
Sharing our great experienced with China Discovery staff at different cities is the reason why our relatives in Shanghai had booked already a few trips with China Discovery as well.
Thank you and China Discovery for having a great professional staff that helps us having a wonderful adventure in our 15 days in China !
Xie Xie, Best regards !
Jose & Carmen
Jose & Carmen,
July 2, 2017
Dear Vivien,
Soryy I am so late to write to you = am having a wonderful holiiday at my son!
Vivien, the whole trip I have had in China was simply awesome, from my self booked trip to walk the Great Wall for 5 days, (tough, but absolutely amazing!) to your booking of my trip on the Yangtzhe, it has ALL been spectacular, and I want to THANK you SO MUCH for all the trouble you took to book for me, the very good advice and everything else!
You have gone out of your way to make things absolutely great for me, and it is so much appreciated.
I hope that some time in the future I may be blessed to do another trip to China, and will certainly remember you!
Your country is simply amazing and I enjoyed absolutely everything!
Thank you again, do take care, and may you have many many more satisfied customers!
Kindest regards,
Catharine
Hello everyone helped booking my Yangtze cruise and Chongqing tour,
Thank you very much for your help. I had an amazing experience and I enjoyed my vacation. Please notify all involved my sincere appreciation. I certainly will contact master card concierge in future!
Mr. Moothathu
Mr. Moothathu,
June 21, 2017
Hi Leo,
We r at the boat and very happy.The services, program,food,Entertain etc. The most important we met u.
Thank you mr. Li
Lana and boban
Lana and boban,
June 15, 2017
Hello Tracy
We got yesterday night Madrid after spending a few days in Beijing.
China is a great country and we were delighted to spend fourteen days there. The cruise was de best part of our trip and we enjoyed a lot. Landscape of three Gorges is one the most wonderful places we ever visited in our lives and Dam of Yangtze is amazing. All crew members were nice and guides on shore excursions provided us valuable information about everthing we visited. They teached us few words and songs in Chinese and a lot knowledge about your traditions and way of living.
Thank a lot for helping us making this trip possible with all your help and advices.
Attached you have a picture of us shipping
Best regards
Cristina & Elena
(The following pictures were all shared by Cristina & Elena)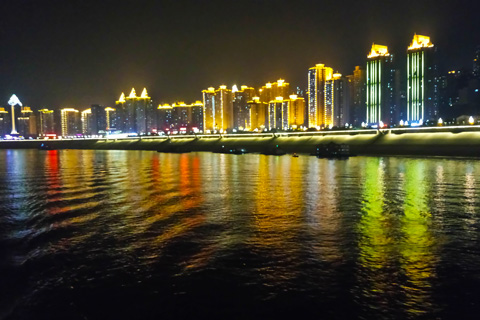 Cristine & Elena Enjoying Night View on Yangtze River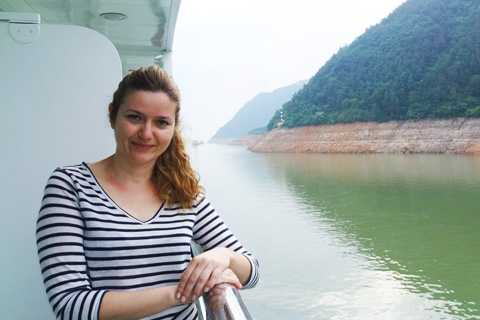 Cristina & Elena Spending Leisure Time Onboard Victoria Sophia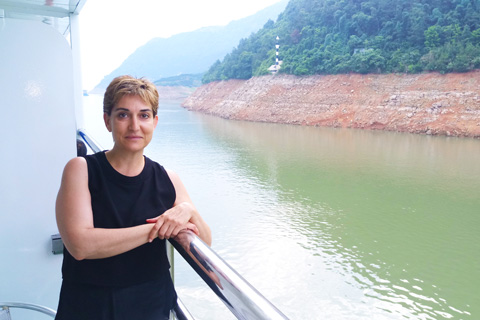 Cristina & Elena Spending Leisure Time Onboard Victoria Sophia
Cristina & Elena, Spain
May 25, 2017
Leo,
Wonderful! Only thing that would've improved it would be free wifi. In an age where we are very used to free wifi, I don't want to have to pay!Anyway, the crew were absolutely great and the room was very comfortable. :smiley:
Jillian
Jillian, Ireland
May 23, 2017
Leo,
I would surely recommend the agency!!!! Driver and guide were amazing! Friendly,smiley, flexible, and knowledgable.
And my consultant made his best to organise the tour exactly as we wented.
Thanks for everything
maria
maria, Greece
May 22, 2017
Questions & Discussions
Following are latest questions and answers from our webusers and customers. You can learn many useful information from the discussion and cases. You can also join in the discussions or ask your own question. Our experts will help you ASAP.
Clothing for Yangtze River Cruise
We are travelling on the Yangtze River cruise in early May 2019. Is it normally cold or can we wear shorts during the day
Hello Robert,

Thanks for your question. Early May is during the spring along the Yangtze River. The weather changes warmer and warmer, and usually sunny in the day time, but there would be some cold wind at early morning and during night. It's ok to wear shorts on balmy sunny days. However, you are also recommended to prepare pants with you, because there may be some light raining days during the spring.

Wish you a memorable ship experience in China!
Vegetarian Food
Hi, We are traveling in the cruise from 9 May. Is there any Indian vegetarian food. What are the other vegetarian options
Hello Ravi,

Greetings from China! At present, there is no Indian vegetarian food served onboard Yangtze River cruise ships. However, the breakfast, lunch and dinner are almost arranged in buffet styles with about 3-5 vegetarian dishes, like cabbages, vegetables in season, vegetable and fruit salad, and so on, and some cruises prepare the dinner in Chinese sitting form with some specially cooked vegetarian dishes for guests. And if want, you could also pay extra to order some vegetarian food at the reception desk and tell the staff about your needs and eating habits, and the cruise chefs would prepare great food for your enjoyment. Besides, the Yangtze River ships serving foreign guests from the world have provided service to many vegetarian travellers and have gained rich experience and good reviews, so you can enjoy your dining time on the ship!

Wish you a wonderful Yangtze River sailing trip in May!
Room with balcony
If I book a China tour with webjet, what is the name of cruise ship used. Also can I book a cabin with balcony
Hi Christine,

Thanks for your question. As I know, there probably is no Yangtze River cruise business on the Webjet. And if you are interested in enjoying the leisurable cruise in China, you could book the cruise tour with us. Nearly all cabins onboard the cruise, such as the Century cruises, Victoria cruises, President cruises, Yangtze Gold cruises, Yangtze Explorer, etc. are facilitated with an open balcony for your sightseeing enjoyment and also many great services and high standard facilities and amenities. Please feel free to tell us your Email address, nationality, group size, traveling time to China, needs, and other basic information, and our professional Travel Consultant could help you as soon as possible to tailor make a route for you with really nice price.

Have a nice day!
Should we worry about Motion Sickness
Just not sure if we should need motion sickness meds. We are on your cruise that departs from the Yichang Port for Yangtze River from April 24- April 27, 2017. Thank you so much
Dear Mary,

Thanks for taking a Yangtze River cruise with us. April is a great time with fine weather to enjoy the gorgeous scenery along Three Gorges.

No matter which ship you take, it will run very steady at a relatively slow speed. As you know, the construction of Three Gorges Dam controls the water level and flow velocity of Yangtze River that it will be steady to guarantee every ship to sail smoothly. Unlike the ocean cruise, there is no need to bring motion sickness meds for travelers who on Yangtze River cruise. If your physical condition are seasick easily, take some just in case. And no worry, there is a clinic onboard who will serve at any time.

Wish you have a nice journey!
Have a question? Get answers from our travel experts or guests
Your Question:

Your Name:

Your Email: