Reviews of Yangtze River Cruise
Still not deciding if a Yangtze River Cruise is worth for you? Many of our travellers have experienced a lifetime changing trip and now more than happy to share their stories with you. Check out their memorable Yangtze Cruise reviews and experiences.
Hi Vivien
Just a quick note to thankyou for all your help on the Yangtze cruise.
We had a great time and the the Century Legend was a beautiful, clean, modern ship.
The service was first class, food excellent, and our room perfect!!!
We were very happy with the booking that you did for us.
Please feel free to use us as a reference if you like.
Cheers
Michael & Vicki
(The following picture was shared by Michael & Vicki)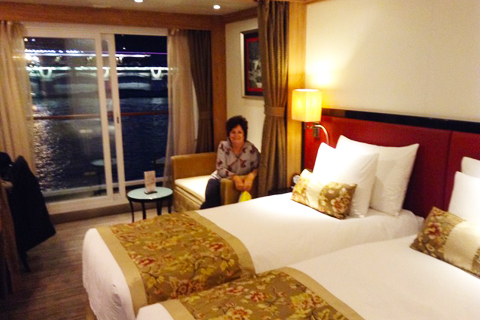 Vicki Spending Leisure Time in the Cabin on Century Legend
Michael & Vicki,
April 4, 2017
Hello Johnson,
Sorry for the late response I'm just coming back from my vacations in China. Below my response to your questions:
1. Is your travel consultant of our company fast enough to answer your E-mail and patient enough to answer your questions?
Response: I am really impressive for your kindness and quickness attending my questions.
2. How do you comment your tour arrangements?
Response: It was very easy to make the arrangements and the services were excellent.
3. Are you willing to recommend our service to your people who also have an interest to visit China?
Response: definitely, I will recommend my friends to use your services.
4. Your general opinion on us?
Response: Excellent attention in the arrangements and very good services in everything.
5. Do you have any suggestions on improving our services?
Response: Maybe to improve the quality of wifi on the cruise (no wifi at rooms and at the main deck very poor)
6. Can we use your comments of our service, the photos or other images that you took on the tour for our websites, brochures, marketing and publicity? If yes, could you please send us some of your photos by E-mail?
Response: yes of course, attached some photos
Juan Teves
(The following pictures were all shared by Juan Teves)
Juan Visiting Yangtze River Cruise Ship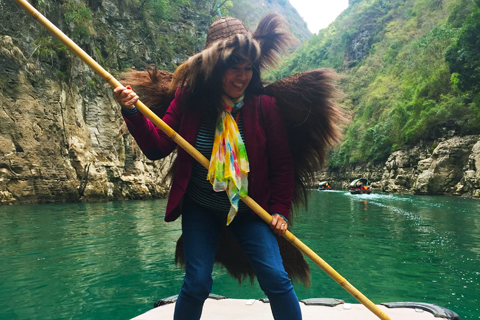 Natural Scenery along Yangtze River Cruise Trip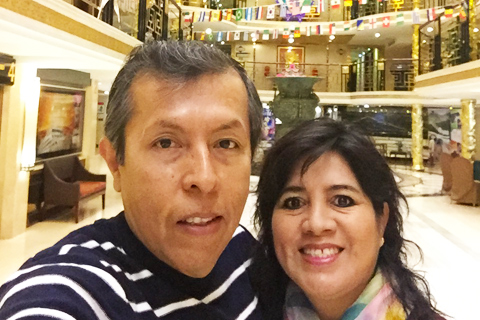 Juan Enjoying Life onboard Yangtze Cruise
Juan Teves,
April 3, 2017
Johnson,
We had a good time in Kunming and Chongqing. The guides and drivers were very good. By the time I contacted you, it was just before the trip and one area was not covered regarding Chongqing but all went well no matter what. The guides were able to accommodate us all the way. We took probably 1,000 pictures but have not loaded them yet and cannot do so now as all we have is an IPad, and we used a camera for almost everything.
I do not have many immediate suggestions and we would be happy to recommend your services to anyone else. We found a restaurant on Green Lake in Kunming which was superior to the one recommended by your company. We showed Flavie, our guide and she should be able to inform you. Again regarding food, when we went to lunch, the quantity of food was usually 2X what we could have eaten. For a large group, there is no problem, I am sure but for 2 or 3 people, I suggest, the guides ask what and how much people would prefer. We personally would like to eat with the guides as that is a good time to get to know them better. As so few people, even in the hotels, speak reasonably good English, a guide is essential though certainly one could travel to the sights by oneself, it would be challenging so services like yours are needed most of the time.
You may use my comments as you wish. Ask me in a month and we should have photos uploaded when we are home to send you. Flavie took several of us in various places which she may be willing to share as well.
Paul
Hi Wendy
I am writing to say thank you for such a wonderful tour. We had a great time and your organization and your suggestions were perfect.
I am sorry we didn't meet. Your guides were all excellent, Andie and Zack, in particular.
We particularly loved Chengdu and Shanghai though were exhausted by Shanghai, too many late nights and early mornings.
Thank you for adapting to our needs through the journey.
We are keen to go Guilin and Tibet at some stage perhaps later this year or next year so would be keen for you to arrange this when the time comes.
Again thank you.
Regards
Jonathan
Hi Wendy:
We did find the bus to board to travel to the cruise.
Our room was very comfortable with lots of room.
The food at all meals was very good.
We got wifi which was nice and VIP service.
The shore excursions to the Three Gorges Dam, the ferry on the river and the walk to the red pagoda were all very good and interesting.
Overall, it was an excellent trip.
Thank you.
Joan
Hi Wing Zeng,
We arrived back home in Germany yesterday. We had a very good cruise :)
1. How about your tour arrangements?
It was great! Everything was fine!
2. Are you willing to recommend our service to those who would like to come to China ?
Definitely, yes.
3. Your general opinion on us?
Super ship, nice cabins, nice and friendly staff. Good program and very good food. It was a bit unfortunate that there was no free wifi. We would have liked to leave the ship while it was designed to do guided tours, in which we did not want to participate.
4. What will be your suggestions regarding how to improve our services?
Free wifi! The possibility to leave the ship for tours on your own.
5. Frankly, our company can also provide online the Yangtze River and Tibet travel services, I hope we have chance to serve you again!
If I travel again to China I will definitely consider this
All the best and happy spring festival,
Julia
Julia, Germany
January 22, 2017
Dear Wendy,
Many thanks, everything was great, we enjoyed the cruise!!
Sergey
Hi Vivien
Just to say a big thank you for all your help and efficiency arranging our holiday. We had a great time, especially the day in Chengdu - the morning at the panda reserve was wonderful!
Please can you send me the link to the trip advisor website so I can write something there about our lovely holiday?
Best wishes
Heather
Questions & Discussions
Following are latest questions and answers from our webusers and customers. You can learn many useful information from the discussion and cases. You can also join in the discussions or ask your own question. Our experts will help you ASAP.
Vegetarian Food
Hi, We are traveling in the cruise from 9 May. Is there any Indian vegetarian food. What are the other vegetarian options
Hello Ravi,

Greetings from China! At present, there is no Indian vegetarian food served onboard Yangtze River cruise ships. However, the breakfast, lunch and dinner are almost arranged in buffet styles with about 3-5 vegetarian dishes, like cabbages, vegetables in season, vegetable and fruit salad, and so on, and some cruises prepare the dinner in Chinese sitting form with some specially cooked vegetarian dishes for guests. And if want, you could also pay extra to order some vegetarian food at the reception desk and tell the staff about your needs and eating habits, and the cruise chefs would prepare great food for your enjoyment. Besides, the Yangtze River ships serving foreign guests from the world have provided service to many vegetarian travellers and have gained rich experience and good reviews, so you can enjoy your dining time on the ship!

Wish you a wonderful Yangtze River sailing trip in May!
Room with balcony
If I book a China tour with webjet, what is the name of cruise ship used. Also can I book a cabin with balcony
Hi Christine,

Thanks for your question. As I know, there probably is no Yangtze River cruise business on the Webjet. And if you are interested in enjoying the leisurable cruise in China, you could book the cruise tour with us. Nearly all cabins onboard the cruise, such as the Century cruises, Victoria cruises, President cruises, Yangtze Gold cruises, Yangtze Explorer, etc. are facilitated with an open balcony for your sightseeing enjoyment and also many great services and high standard facilities and amenities. Please feel free to tell us your Email address, nationality, group size, traveling time to China, needs, and other basic information, and our professional Travel Consultant could help you as soon as possible to tailor make a route for you with really nice price.

Have a nice day!
Should we worry about Motion Sickness
Just not sure if we should need motion sickness meds. We are on your cruise that departs from the Yichang Port for Yangtze River from April 24- April 27, 2017. Thank you so much
Dear Mary,

Thanks for taking a Yangtze River cruise with us. April is a great time with fine weather to enjoy the gorgeous scenery along Three Gorges.

No matter which ship you take, it will run very steady at a relatively slow speed. As you know, the construction of Three Gorges Dam controls the water level and flow velocity of Yangtze River that it will be steady to guarantee every ship to sail smoothly. Unlike the ocean cruise, there is no need to bring motion sickness meds for travelers who on Yangtze River cruise. If your physical condition are seasick easily, take some just in case. And no worry, there is a clinic onboard who will serve at any time.

Wish you have a nice journey!
Have a question? Get answers from our travel experts or guests
Your Question:

Your Name:

Your Email: