Reviews of Yangtze River Cruise
Still not deciding if a Yangtze River Cruise is worth for you? Many of our travellers have experienced a lifetime changing trip and now more than happy to share their stories with you. Check out their memorable Yangtze Cruise reviews and experiences.
Dear Tracy
I would like to place on record that our China tour was a wonderful experience for both of us. Thank you for arranging such an excellent packaged tour, and the many drivers and tourist guides along the route delivered it above expectation and made our stay a very pleasant experience.
From our arrival in Beijing, right until departure in Shanghai, we were each day astounded with the beauty, cleanliness, openness, friendliness, innovation, quality and hygiene focus and most incredible history that is openly shared and clearly embraced by china as a nation.
It was incredible and such a privilege to have toured China, and we would love to return. It has forever positively changed our perspective of China. I plan to make a DVD of my videos, and hope to send you a copy. It may take some time though, as I have over 3 hours of recorded video (and loved every minute of it).
Thank you, we could not have done this without you.
Regards
Hugo and Helen
Hugo and Helen,
July 24, 2017
Hi Tracy,
Here are some photos from the cruise.
The files are too large to send all in one email so I will send a few emails with photos.
These photos are of the executive lounge which we could access with the upgraded room, the executive suite, the view looking down from the top of the stairs and the sundeck of the ship.
Megan
(The following picture was shared by Megan)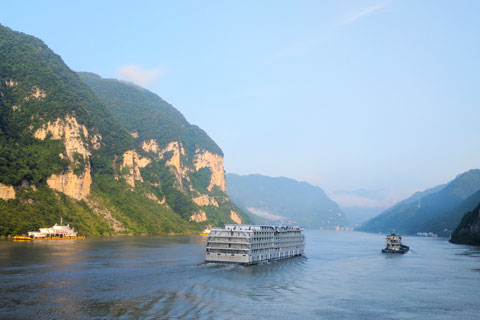 Megan Visiting Yangtze River Cruise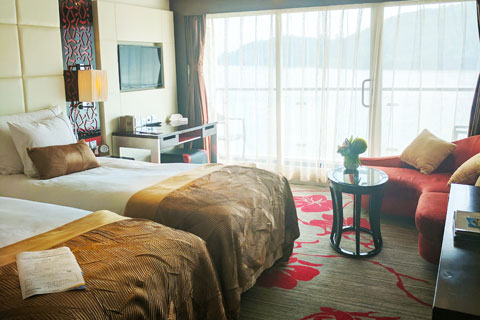 Megan's Room on Century Cruise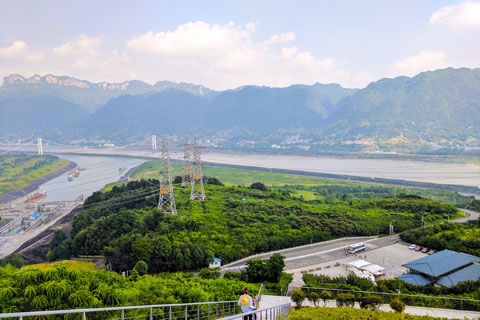 Megan Visiting Yangtze Three Gorges Dam Site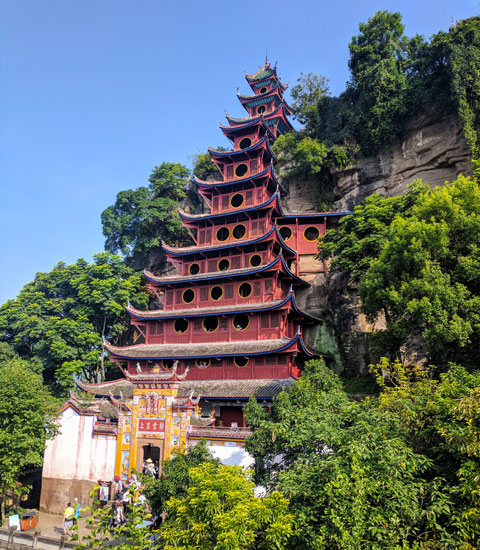 Megan Visiting Shibaozhai Pagoda on Yangtze
Hi Vivien,
We had an amazing experience. We already gave our feedback using the ship's evaluation form. I don't know whether you have another one.
I'll share some pictures in the comming days.
Regards,
Ignacio
Hi Vivien.
The cruise has been amazing! Thank you for your work and making the arrangements for us – it is very much appreciated. The Yangtze Explorer is a fabulous river cruise ship. The staff are wonderful, the excursions are great, and the food magnificent. I would recommend the trip very highly as a must do when anyone visits China!
James
James, Australia
July 23, 2017
Zeng,
Thank you everything was great with the cruise. I am enjoying travel in China very much. I will be going home in two weeks but if I come back, I will look into going to Tibet and yes I would recommend your services. Thank you for all of your help. Feichang gai xie. NVB
Nicolas
Hi Lily,
We enjoyed the 3 Gorges cruise, the cabin was great we decided not to go for the upgrade.
The food on board was good with a mixture of local and western food.
We didnt do any of the extra excursions, we managed to do the ghost town on our own perfectly easy.
The guide for the Red Pagoda was brilliant.
My only criticism is we didnt like not being allowed off the boat unless we were doing the excursion. On the plus side we learnt how to play maj jong with Andy Li.
I think more information is needed for independent travellers especially about leaving the boat (there was a bit of confusion about where we were getting dropped off)
All in all a good trip which we enjoyed and would recommend.
The communication from Lily was excellent.
Jeannette and Bryan
(The following picture was shared by Jeannette and Bryan)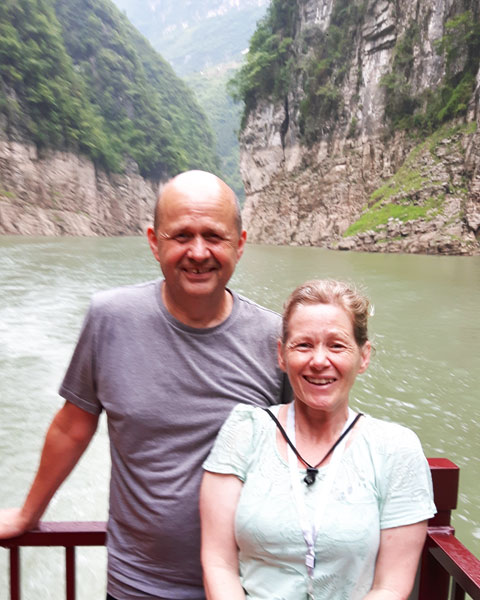 Jeannett & Bryan Visiting Yangtze River Cruise
Jeannette and Bryan,
July 20, 2017
Wonder
Just back from the extension of the trip to Vietnam.
First thank you for all your work to make this trip to China memorable. All of the arrangements were in place, all of the guides and drivers meet as as scheduled, all of the hotels were 4 star and we were well received every where we went.
All of our guides Stephen in Beijing, Jacob Lee in Xian, cherry in Chongging, Nancy in Yichang And Yao in Shangai were all knowledgeable, helpful and fun to be with.
I must single out Cherry. Our flight from Xian was 3 hrs late and we arrived with 45 minutes to make it to the boat for the Yangtze River cruise. She was there took charge of our luggage and Was in touch with the boat to tell them of our progress. When we reached the the dock she Grabbed our largest suitcase and took off down the dock to get us to the ship on time. She is a Great asset to your company as were all the guides and drivers.
My only complaint is the internal flights in China. Beijing to Xian 1.5 hrs late. Xian to Chongging 3 hrs late. Yichang to Shanghai 4.5 hrs late (arrived at 2 am but was happy to see the driver Waiting for us)
There was no information from the airlines about the delays or how long they would be, we were just left to wait in the terminal. From what I understand this is normal and while I know there is nothing you can do about it you should work delays into the schedules and advise your clients about it.
Again thank you for all your work. It was a wonderful trip.
I will gladly recommend you to anyone interested in travel in China.
You are welcome to put this e mail and the photos below on your website.
Best regards
Tom and Mary
(The following pictures were all shared by Tom and Mary)

Tom & Mary Visiting Beijing Forbidden City and Great Wall

Tom & Mary Visiting Xian and Shanghai
Tom and Mary,
July 19, 2017
Hi Johnson,
thank you for everything! It was a great pleasure working with you. I'd definitely like to answer these questions. Please see below.
1. Your travel consultant of our company fast enough to answer your E-mail and patient enough to answer.
Yes, our agent Johnson Wang is very prompt in responding to all my requests. I started with a river cruise request, and he is very responsive to my questions. During the booking process, I also had to make several changes and he is very accommodating to all the change requests. His professionalism and sincerity triggered me to make additional travel arrangement requests that were beyond the original scope. He was patiently assisting all my requests. After I arrived in China, we had a few phone conversations and I recognized that some of the phone calls were definitely outside his working hours; however, he was extremely responsive and helpful with my adhoc asks.
2. How do you comment your tour arrangements?
We are very satisfied with our tour arrangements. Both the river cruise and the additional travel itinerary that was made at the last minute worked out nicely. The amount of time allocated and stops arranged were just right. We also appreciate agent Johnson's consideration in selecting family and kids friendly tour guide and driver for us since we have small children. We were also very satisfied with the tour guide assigned to us.
3. Are you willing to recommend our service to your people who also have an interest to visit China?
Yes, absolutely! Highly recommended, especially around the regions we traveled to.
4. Your general opinion on us?
I'm very impressed and appreciated with the professionalism and honesty your agent has demonstrated, which shone a great spotlight among all the negative publicity we had heard about the tourism industry prior to our travel. His help relieved lots of anxiety and made our life much easier!
5. Do you have any suggestions on improving our services?
I can't think of anything else right now. Hope all your agents provide the same quality service as agent Johnson!
Helen
(The following pictures were all shared by Helen)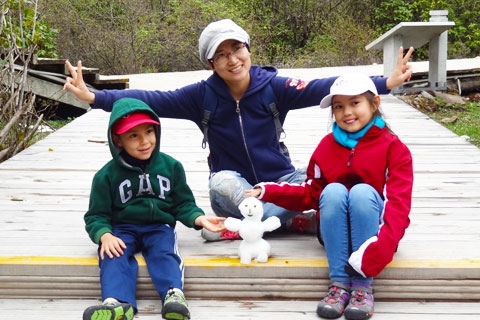 Helen Visiting Jiuzhai Valley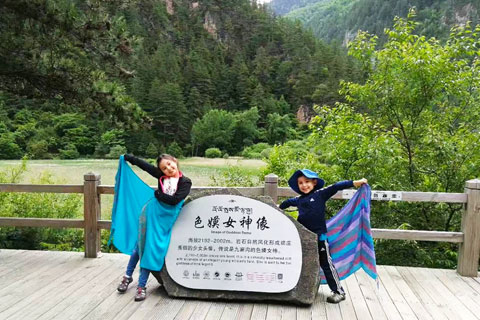 Helen's Group Visiting Jiuzhai Valley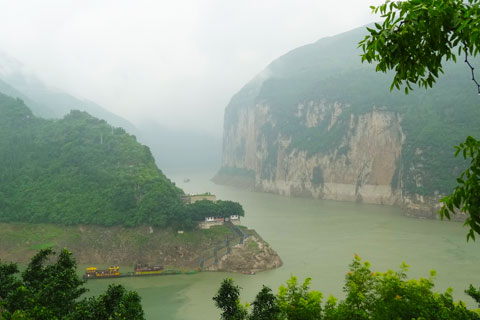 Helen Visiting Kuimen Gate at Yangtze Three Gorges
Questions & Discussions
Following are latest questions and answers from our webusers and customers. You can learn many useful information from the discussion and cases. You can also join in the discussions or ask your own question. Our experts will help you ASAP.
Clothing for Yangtze River Cruise
We are travelling on the Yangtze River cruise in early May 2019. Is it normally cold or can we wear shorts during the day
Hello Robert,

Thanks for your question. Early May is during the spring along the Yangtze River. The weather changes warmer and warmer, and usually sunny in the day time, but there would be some cold wind at early morning and during night. It's ok to wear shorts on balmy sunny days. However, you are also recommended to prepare pants with you, because there may be some light raining days during the spring.

Wish you a memorable ship experience in China!
Vegetarian Food
Hi, We are traveling in the cruise from 9 May. Is there any Indian vegetarian food. What are the other vegetarian options
Hello Ravi,

Greetings from China! At present, there is no Indian vegetarian food served onboard Yangtze River cruise ships. However, the breakfast, lunch and dinner are almost arranged in buffet styles with about 3-5 vegetarian dishes, like cabbages, vegetables in season, vegetable and fruit salad, and so on, and some cruises prepare the dinner in Chinese sitting form with some specially cooked vegetarian dishes for guests. And if want, you could also pay extra to order some vegetarian food at the reception desk and tell the staff about your needs and eating habits, and the cruise chefs would prepare great food for your enjoyment. Besides, the Yangtze River ships serving foreign guests from the world have provided service to many vegetarian travellers and have gained rich experience and good reviews, so you can enjoy your dining time on the ship!

Wish you a wonderful Yangtze River sailing trip in May!
Room with balcony
If I book a China tour with webjet, what is the name of cruise ship used. Also can I book a cabin with balcony
Hi Christine,

Thanks for your question. As I know, there probably is no Yangtze River cruise business on the Webjet. And if you are interested in enjoying the leisurable cruise in China, you could book the cruise tour with us. Nearly all cabins onboard the cruise, such as the Century cruises, Victoria cruises, President cruises, Yangtze Gold cruises, Yangtze Explorer, etc. are facilitated with an open balcony for your sightseeing enjoyment and also many great services and high standard facilities and amenities. Please feel free to tell us your Email address, nationality, group size, traveling time to China, needs, and other basic information, and our professional Travel Consultant could help you as soon as possible to tailor make a route for you with really nice price.

Have a nice day!
Should we worry about Motion Sickness
Just not sure if we should need motion sickness meds. We are on your cruise that departs from the Yichang Port for Yangtze River from April 24- April 27, 2017. Thank you so much
Dear Mary,

Thanks for taking a Yangtze River cruise with us. April is a great time with fine weather to enjoy the gorgeous scenery along Three Gorges.

No matter which ship you take, it will run very steady at a relatively slow speed. As you know, the construction of Three Gorges Dam controls the water level and flow velocity of Yangtze River that it will be steady to guarantee every ship to sail smoothly. Unlike the ocean cruise, there is no need to bring motion sickness meds for travelers who on Yangtze River cruise. If your physical condition are seasick easily, take some just in case. And no worry, there is a clinic onboard who will serve at any time.

Wish you have a nice journey!
Have a question? Get answers from our travel experts or guests
Your Question:

Your Name:

Your Email: