Reviews of Yangtze River Cruise
Still not deciding if a Yangtze River Cruise is worth for you? Many of our travellers have experienced a lifetime changing trip and now more than happy to share their stories with you. Check out their memorable Yangtze Cruise reviews and experiences.
Hi Stephanie,
You are welcome to publish any of my feed backs
1. I was very satisfied of my travel consultant, I received very fast and clear answers to all my questions -> excellent
2. The crew of the ship and guides were very kind people and helped us as much as they could, a member of the crew spoke French and made sure we did not miss anything -> excellent, should you have the opportunity to do so feel free to give à feed back to the crew
3. Yes I would recommand your company.
99% of the people on the ship were chinese, most of them very friendly, it was a great opportunity for us.
Just one point, not so important for us, may dissapoint some people, the standard of the ship does not meet the 5 stars western standard.
I cannot send currently photos. If this is important, you can ask again in September.
Best regards
Pierre
Pierre, France
August 21, 2017
Dear Stephanie
Thanks for your E-Mail. We arrived back in Switzerland yesterday.
I was very happy with your support and can answer your questions as follows:
1. Is your travel consultant of our company fast enough to answer your E-mail and patient enough to answer your questions?
Yes absolutely. I was very satisfied with the service.
2. How's the service of the tour guides during your whole tour?
Both tour guides did an excellent job. Especially Johnny from Xian was great.
3. Would you like to recommend our company?
Yes anytime
Best regards
René
René, Switzerland
August 20, 2017
Dear Mr. Wang,
I am sending you our feedback. Your cruise was very nice and it was excellent experience.
I will remember the cruise all my life, because we engaged with my fiance there.
Below you can find answers.
1. Is your travel consultant of our company fast enough to answer your E-mail and patient enough to answer your questions?
Responds were very fast and very helpful. We had all information we needed for the cruise.
2. How do you comment your tour arrangements?
No problem. All details were met. Everything was fine.
3. Are you willing to recommend our service to your people who also have an interest to visit China?
Of course, the cruise was very nice without problem. Tour manager spoke English very well and there was no problem during the cruise.
4. Your general opinion on us?
Excellent servise, nice and very clean boat. Great communication.
5. Do you have any suggestions on improving our services?
Do not have anything. Maybe only shop was without seller and demonstration of glass painting was canceled.
6. Can we use your comments of our service, the photos or other images that you took on the tour for our websites, brochures, marketing and publicity? If yes, could you please send us some of your photos by E-mail?
No problem, I will send some pictures later.
Many thanks,
Milan
Milan, Czech Republic
August 16, 2017
Hi Wing,
I am so sorry that i am only getting back to you now. You are more then welcome to use my feedback on your website as long as you don't include my email address :)
We thoroughly enjoyed our Yangtze River Cruise and your services were absolute great and effortless. The cruise accommodated everyone from all ages and genders. My two fathers were fascinated with the Three Gorges dam Project and my Mothers with the luxury and relaxation on the boat as well as the service and evening performances. My baby girl was also well accommodated for apart from a cot for her, i would suggest getting a baby crib for a family who wants to bring an infant.
Thank you so much for all your help and wonderful services and i would recommend this to anyone who wants to experience China, its a great way to see the country and the information is invaluable.
Thank you.
Kind regards
Pippa
Dear Leo,
Please excuse my delay reply your email.
I would like to thank you for your help with the organisation. I was very satisfied with the cruise and can give my most positive feedback to the whole team of Century Sky, who was very friendly, attentive and helpful. I was impressed by the entertainment program organized during the cruise. The meals were also very good, diverse and delicious and the restaurant team was very attentive and friendly. I would like to specially thank the room service, as the room was always very clean and in excellent order.
All in all I was very happy with the cruise and I will definitely further recommend the Century Sky.
Should you have any questions please do not hesitate to contact me.
Best regards,
Ekaterina
Ekaterina, Russia
August 9, 2017
Good morning Jake,
We have arrived home and can't THANK YOU enough the trip you organized and planed for us, was the best ever. All 6 of us thank you, everything went to time and all the drivers and tour guides were terrific.
The vans that picked us up were clean and had good air conditioning. The tour guides spoke clear English and very helpful, they knew a lot about your country .
We could not fault a thing, it was a 10 out of 10 for all of us,the other 2 couples said that it was the best holiday they have done I agree.
We would be recommending you to all our family and friends.
I hope one day to come back with my children and grandchildren.
You have a beautiful country and lovely people.
They Yangzi River cruise was a high light and the ship was great I would recommend the Century Legend it was so quit and comfortable to travel on, we upgraded to the 6 floor[ dinning] and that was the best thing we did.
Thank you and hope to do business with you again one day.
Helen, Fay and Wally were all terrific tour guides and very helpful , would recommend them.
Many thanks,
Marina
Dear Wendy,
I am writing to let yo know that both my husband and I enjoyed our trip to Zhangjiajie. We realized without the Zhangjiajie guide Linda who helped us to navigate the city of Zhangjiajie and has years of experience and expertise not only knowing the parks well, but the taste of the foreign visitors, it would be impossible for us to figure everything out on our own. She made our trip wonderful in a limited days that we had. Pullman Hotel was a great accommodation for us and we did not expect that we could have a such up scale hotel in Zhanjiajie.
Thanks again.
Hsiaomei and Leonid
Hsiaomei and Leonid,
July 25, 2017
Hi Catherine,
Please find photos and my opinion on the cruise arranged by your company.
1. Is your travel consultant of our company fast enough to answer your E-mail and patient enough to answer your questions?
Catherine was the most helpful travel consultant i have come across. From the time we started the enquiry till the time we could board the ship, we had all the arrangements made by Catherine. She is excellent at her work and all arrangements were perfect.
2. How do you comment your tour arrangements?
Yangtze river cruise arrangements made by Catherine were excellent. We had a great time on the cruise, the cruise operators were very good and offered an excellent service to the passengers on board. The Yichang city tour was also excellent. The tour guide and driver arrived on time to pick us from the pier.
3. Are you willing to recommend our service to your people who also have an interest to visit China?
I will definitely recommend my family and friends planning to visit China in the near future. We had an excellent time in China.
4. Can we use your comments of our service, the photos or other images that you took on the tour for our websites, brochures, marketing and publicity? If yes, could you please send us some of your photos by E-mail?
Yes you can use all the info i have given on your website. Please find photos from our tour.
Regards,
Jackson
(The following pictures were all shared by Tom and Mary)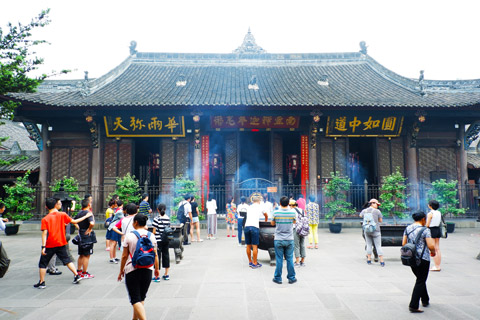 Jackson Enjoying Yangtze River Cruise Tour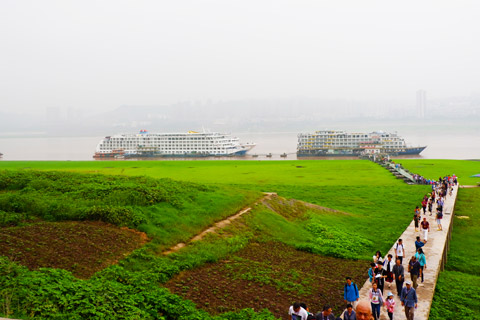 Jackson Taking the Yangtze River Cruise Shore Excursion
Jackson, United Arab Emirates
July 25, 2017
Questions & Discussions
Following are latest questions and answers from our webusers and customers. You can learn many useful information from the discussion and cases. You can also join in the discussions or ask your own question. Our experts will help you ASAP.
Clothing for Yangtze River Cruise
We are travelling on the Yangtze River cruise in early May 2019. Is it normally cold or can we wear shorts during the day
Hello Robert,

Thanks for your question. Early May is during the spring along the Yangtze River. The weather changes warmer and warmer, and usually sunny in the day time, but there would be some cold wind at early morning and during night. It's ok to wear shorts on balmy sunny days. However, you are also recommended to prepare pants with you, because there may be some light raining days during the spring.

Wish you a memorable ship experience in China!
Vegetarian Food
Hi, We are traveling in the cruise from 9 May. Is there any Indian vegetarian food. What are the other vegetarian options
Hello Ravi,

Greetings from China! At present, there is no Indian vegetarian food served onboard Yangtze River cruise ships. However, the breakfast, lunch and dinner are almost arranged in buffet styles with about 3-5 vegetarian dishes, like cabbages, vegetables in season, vegetable and fruit salad, and so on, and some cruises prepare the dinner in Chinese sitting form with some specially cooked vegetarian dishes for guests. And if want, you could also pay extra to order some vegetarian food at the reception desk and tell the staff about your needs and eating habits, and the cruise chefs would prepare great food for your enjoyment. Besides, the Yangtze River ships serving foreign guests from the world have provided service to many vegetarian travellers and have gained rich experience and good reviews, so you can enjoy your dining time on the ship!

Wish you a wonderful Yangtze River sailing trip in May!
Room with balcony
If I book a China tour with webjet, what is the name of cruise ship used. Also can I book a cabin with balcony
Hi Christine,

Thanks for your question. As I know, there probably is no Yangtze River cruise business on the Webjet. And if you are interested in enjoying the leisurable cruise in China, you could book the cruise tour with us. Nearly all cabins onboard the cruise, such as the Century cruises, Victoria cruises, President cruises, Yangtze Gold cruises, Yangtze Explorer, etc. are facilitated with an open balcony for your sightseeing enjoyment and also many great services and high standard facilities and amenities. Please feel free to tell us your Email address, nationality, group size, traveling time to China, needs, and other basic information, and our professional Travel Consultant could help you as soon as possible to tailor make a route for you with really nice price.

Have a nice day!
Should we worry about Motion Sickness
Just not sure if we should need motion sickness meds. We are on your cruise that departs from the Yichang Port for Yangtze River from April 24- April 27, 2017. Thank you so much
Dear Mary,

Thanks for taking a Yangtze River cruise with us. April is a great time with fine weather to enjoy the gorgeous scenery along Three Gorges.

No matter which ship you take, it will run very steady at a relatively slow speed. As you know, the construction of Three Gorges Dam controls the water level and flow velocity of Yangtze River that it will be steady to guarantee every ship to sail smoothly. Unlike the ocean cruise, there is no need to bring motion sickness meds for travelers who on Yangtze River cruise. If your physical condition are seasick easily, take some just in case. And no worry, there is a clinic onboard who will serve at any time.

Wish you have a nice journey!
Have a question? Get answers from our travel experts or guests
Your Question:

Your Name:

Your Email: