Reviews of Yangtze River Cruise
Still not deciding if a Yangtze River Cruise is worth for you? Many of our travellers have experienced a lifetime changing trip and now more than happy to share their stories with you. Check out their memorable Yangtze Cruise reviews and experiences.
Hi Wendy,
indeed, we did arrive well back home. Our holidays have been just great! Thanks to your support.
Your travel consultant (the guide in Zhangjiajie) has been so nice, kind, funny, talkative, flexible and supportive. We were really happy having him. The program has been just awesome!
The cruise was very nice and the daily tours very nice as well. We enjoyed it a lot. The help to get the luggage on/off board might have been better as I had to carry the luggage myself.
The service and especially your support and flexibility was just perfect! I also placed the comment on TripAdvisor.
Have a great time,
Michael
Michael,
October 17, 2017
Dear Vivien,
the river cruise was definitely one of the highlights of the vacation.
Your service was very nice and friendly.
The excursion during the trip (ghost city, 3 smaller gorges and 3 gorge dam) have been very interesting.
The support by Melody was excellent. She did a great job to make us non-Asians feel comfortable.
Also the other girls that served us dinner or drinks at the bar have been very friendly and helpful.
The only point for improvement was the cocktails. I am not sure if there is a different way to make cocktails in China or if it was only on the cruise, but I was a bit disappointed about the taste.
All in all it was a really great trip!
With best regards,
H. Weitlich
(The following picture was shared by H. Weitlich)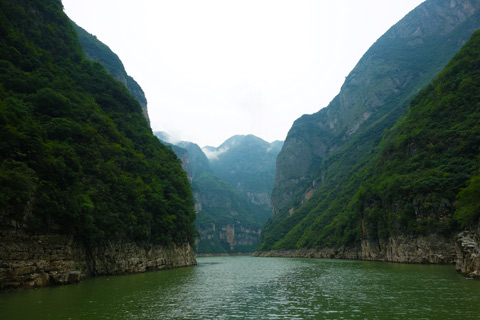 Weitlich Visiting Yangtze Three Gorges
H. Weitlich,
October 16, 2017
Hi Wang,
The trip was really lovely. I' de be glad to send you some photos, but this will take some time after getting back to Berlin. So you will hear from us at the beginning of November.
All the best,
Markus
Ariel
All was very good thanks for your help will recommend you
Adi
Dear Ms. Lyn Wang,
back in Germany I can tell you that all around the cruise worked well.
The two guides were friendly and helpful.
Kind regards
Rudolf
HI Johnson,
We really enjoyed the cruise. We had to talk to the manager to be upgraded to 6th floor dining. It would have been helpful if your tour can arrange that beforehand.
The cabin itself is spacious & clean.Everything worked, especially important for the washroom.
We particularly enjoyed the dam tour & the White Emperor optional tour.
Even though we booked Room 439 etc., we were offered 405 & was persuaded that it was a better room. Well it wasn't., as it is directly under the 5th floor entertainment hall. Noisy in evening. Good thing that we were so tired that we fell asleep anyway!
The wifi was spotty at best but we were forewarned by the staff.
You are welcome to share my comments with potential travellers.
Regards,
Winson T.
Winson T., Canada
September 29, 2017
Leo,
Just returned to Singapore one hour ago. Sent my message in WhatsApp.
I was cut off from the rest of the world because Google, gmail and Facebook are blocked in China.
I have been in many cruises before in Europe, US and South East ASIA but the Century Legend is most outstanding.
I understand that it was built in 2013 and it looks very well maintained and I am impressed with what the Chinese are doing with the cruises.
I have read many reviews of horror stories on Chinese cruises and I held my breath when I decided to join the Yangtze 3 gorges cruises.
Apart from the incident with the porter who demanded 100 CNY for carrying my luggage I was well taken care of by the hotel manager when I complained that it was so hot in my cabin.
3 times a day a room attendant will visit my room to ensure that it is kept at a comfortable temperature with an Air cooler .
I met some passengers in the train from Yichang to ZJJ and the complained how terrible the cruise was with the Yangtze Gold and Victoria cruises. In fact I passed by the Yangtze Gold and Victoria cruises and they all look so old and badly maintained.
My Cabin was very comfortable after they lowered the temperature with air cooler and the meals were civilised. No need to rush for food like the other boats and no need to upgrade to a different dining room.
The other gripe is that it was raining everyday and we could not admire the beauty of the 3 gorges.
I made some good friends in the cruise and we did things together.
The next trip will be going upstream in the 3 gorges and hopefully there will be another new boat and definitely NOT SEPTEMBER!!
None of the passengers I met had been swindled by the porters because their travel agent arranged the porterage. Perhaps you can think of Creative ways to provide porter service for dependent Travellers who booked thru you.
Or you advised the independent traveller about porters upon arrival @ boat because there are many flight of stairs to climb whereas I saw travel Sgt st drive near the dick with the luggage
Grace Ong
Grace,
September 28, 2017
Hi Wendy,
You have already done the Chongqing tour we arranged and the Yangtze cruise , so how was this trip overall ? Excellent but it would be good to alert all clients ahead of time regarding the various upgrades and additional tours. Pushing for it at the registration can be quite hassling and uncomfortable.
Here below are the questions for you:
1. Was your travel consultant of our company polite and patient to answer your questions? Yes, they are polite and professional
2. How was your tour? The tour was well organised and the schedule was excellent in terms of timing and breaks in between items.
3. ??
4. Do you have any suggestions on improving our service? Do try to improve your selection of wines.
The Program Director, Dick and River Guide Steven were great.
With best wishes...
DrChow
Dr Chow,
September 24, 2017
Questions & Discussions
Following are latest questions and answers from our webusers and customers. You can learn many useful information from the discussion and cases. You can also join in the discussions or ask your own question. Our experts will help you ASAP.
Vegetarian Food
Hi, We are traveling in the cruise from 9 May. Is there any Indian vegetarian food. What are the other vegetarian options
Hello Ravi,

Greetings from China! At present, there is no Indian vegetarian food served onboard Yangtze River cruise ships. However, the breakfast, lunch and dinner are almost arranged in buffet styles with about 3-5 vegetarian dishes, like cabbages, vegetables in season, vegetable and fruit salad, and so on, and some cruises prepare the dinner in Chinese sitting form with some specially cooked vegetarian dishes for guests. And if want, you could also pay extra to order some vegetarian food at the reception desk and tell the staff about your needs and eating habits, and the cruise chefs would prepare great food for your enjoyment. Besides, the Yangtze River ships serving foreign guests from the world have provided service to many vegetarian travellers and have gained rich experience and good reviews, so you can enjoy your dining time on the ship!

Wish you a wonderful Yangtze River sailing trip in May!
Room with balcony
If I book a China tour with webjet, what is the name of cruise ship used. Also can I book a cabin with balcony
Hi Christine,

Thanks for your question. As I know, there probably is no Yangtze River cruise business on the Webjet. And if you are interested in enjoying the leisurable cruise in China, you could book the cruise tour with us. Nearly all cabins onboard the cruise, such as the Century cruises, Victoria cruises, President cruises, Yangtze Gold cruises, Yangtze Explorer, etc. are facilitated with an open balcony for your sightseeing enjoyment and also many great services and high standard facilities and amenities. Please feel free to tell us your Email address, nationality, group size, traveling time to China, needs, and other basic information, and our professional Travel Consultant could help you as soon as possible to tailor make a route for you with really nice price.

Have a nice day!
Should we worry about Motion Sickness
Just not sure if we should need motion sickness meds. We are on your cruise that departs from the Yichang Port for Yangtze River from April 24- April 27, 2017. Thank you so much
Dear Mary,

Thanks for taking a Yangtze River cruise with us. April is a great time with fine weather to enjoy the gorgeous scenery along Three Gorges.

No matter which ship you take, it will run very steady at a relatively slow speed. As you know, the construction of Three Gorges Dam controls the water level and flow velocity of Yangtze River that it will be steady to guarantee every ship to sail smoothly. Unlike the ocean cruise, there is no need to bring motion sickness meds for travelers who on Yangtze River cruise. If your physical condition are seasick easily, take some just in case. And no worry, there is a clinic onboard who will serve at any time.

Wish you have a nice journey!
Have a question? Get answers from our travel experts or guests
Your Question:

Your Name:

Your Email: