Reviews of Yangtze River Cruise
Still not deciding if a Yangtze River Cruise is worth for you? Many of our travellers have experienced a lifetime changing trip and now more than happy to share their stories with you. Check out their memorable Yangtze Cruise reviews and experiences.
Dear May,
We are back home in Riga. It is cold here- around 7C... and it is very gray and raining... we already miss China and you, too. ( we really liked our trip and I must say it wasn't long enough. We felt there very well and used only public transportation - it functions very well and people are very kind and nice... Our cruise was great - we liked it very much; and there were very nice people from around the world; we made a few new friends (from US and Australia) and they invited us to come over :-) I love water and everything related to water -this is why I picked the cruise…
I hope you will stay in touch and will consider visiting us. If you will come to see us one day, you can stay with us (also your friend)
Very warm regards,
Irena, Riga, Latvijas Republic
Oct. 10, 2012
Hi Jessie,
Home again. Have not forgotten you. As you may have heard our flight to Shanghai was a little disastrous. Because of bad storms in Shanghai we were diverted to Hangzhou where we sat in the plane on the runway for 5 hours before continuing to Shanghai; arriving just after 2:30am. We had not slept now for 26 hours. With difficulty with the language we finally got a taxi and arrived at the hotel at 4am. We later found out that Cathy had waited till about 2am for us. A short sleep till breakfast and Cathy came to pick us up at about 8am to take us to the railway station. The bullet train experience was great as we don't have them in Australia yet. It was worth adding the extra day on our tour.
To answer your questions:
1. How about your tour arrangements?
We definitely like the personal relationship with the tour guides with just the 2 of us and the flexibility. All the arrangements went pretty much as planned. Only minor changes. And were quite satisfactory. We were most impressed with the cruise ship Anna. The cabin, the meals, the entertainment, the excursions, and the friendly staff were all first class. All the hotels you arranged for us were excellent.
(On return to Guilin from Yangzhou we pleasantly surprised to be upgraded to an executive suite for the last night). All our transport was good and excellent drivers. And especially all the guides were good; good English and good education. And looked after us well.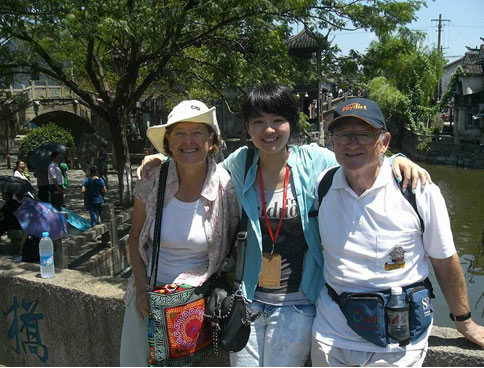 2. Are you willing to recommend our service to those who would like to come to China?
Definitely yes. I took some 1500 photos home, and picked out 200 and put together in an album that I am showing to our friends together with the itinerary and your costing and certainly some have shown interest.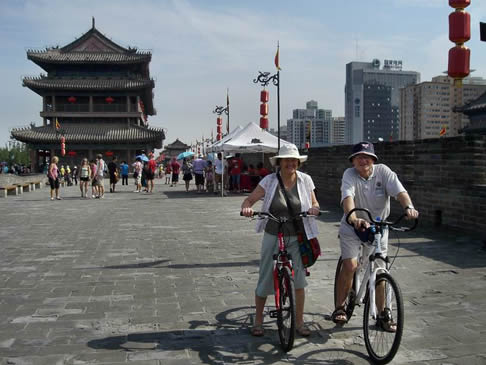 3. Your general opinion on us?
We are very happy with the service that you gave us.
Jessie you were prompt to reply to our varied requests while we developed our itinerary and with excellent suggestions. And your costings were quite fair and reasonable also. It is a pleasure communicating with you. Definitely we do not have any complaints about your service with us.
Finally, once again we would like to thank you most sincerely for your very professional service you have given us. We will certainly tell our friends this, and if we are ever to return to China we will call on you again
Kind Regards
John and Deslie
John and Deslie, Australia
Oct. 10, 2012
Hi Karen,
Thanks for your assistance in our travelling plans. We are now back in Perth and just writing to let you know we had a fantastic time in China.
With many thanks,
Kind regards,
Jill , Australia
Oct. 3, 2012
Hi Karen,
Maire and I have now arrived back home in London and I have had a chance to write down some of our memories about our wonderful visit to Sichuan....I am attaching the text file and some of the photos as I promised....You can use any or all of it for your website and make any changes you like.
Thanks again for your help in making our visit so wonderful.
Best wishes
Rob and Maire Jeffries, USA
Oct. 1, 2012
Hi Karen,
We just wanted to say thank you very much for making our trip to China such a memorable experience. We had a fantastic time and enjoyed every minute. Everything about the trip went like clockwork and this was down to your hard work and planning - so a big thank you…
You live in a remarkable country with such beautiful scenery and friendly people.
Regards!
Maria & Lindsay, Australia
Sept. 25, 2012
Laura,
We are 4+ satisfied. The boat staff was great & the cleanliness far exceeded my expectations. We met some wonderful people and we will remember the trip forever.
We're now taking advantage of our privilege to use the Air China 1st class lounge and we fly back to Germany at 0150. We thank you greatly for the super trip. We will tell our friends about our good experience.
Ken & Tanya, Germany
Sept. 12, 2012
Hi Bruce,
Now back in the office after 2 fantastic weeks in China!
Just wanted to thank you very much indeed for all your assistance with the tours in Beijing, transfers and the boat cruise. All the arrangements went like clockwork and we had a great time. Can't wait to come back and see a different part of the country!
Kind regards
Ann
Dear Bruce,
Thanks for your email which my husband received yesterday. On behalf of our family I would like to thank you very much for organizing our wonderful and very memorable trip to China. We thoroughly enjoyed ourselves and loved all places we visited. Your tour guides were very friendly and helpful [we miss them lot]
Give our regards to them all and thankyou once again. Food was nice but would appreciate if there was more variety for vegetarians.
Questions & Discussions
Following are latest questions and answers from our webusers and customers. You can learn many useful information from the discussion and cases. You can also join in the discussions or ask your own question. Our experts will help you ASAP.
Should we worry about Motion Sickness
Just not sure if we should need motion sickness meds. We are on your cruise that departs from the Yichang Port for Yangtze River from April 24- April 27, 2017. Thank you so much
Dear Mary,

Thanks for taking a Yangtze River cruise with us. April is a great time with fine weather to enjoy the gorgeous scenery along Three Gorges.

No matter which ship you take, it will run very steady at a relatively slow speed. As you know, the construction of Three Gorges Dam controls the water level and flow velocity of Yangtze River that it will be steady to guarantee every ship to sail smoothly. Unlike the ocean cruise, there is no need to bring motion sickness meds for travelers who on Yangtze River cruise. If your physical condition are seasick easily, take some just in case. And no worry, there is a clinic onboard who will serve at any time.

Wish you have a nice journey!
Have a question? Get answers from our travel experts or guests
Your Question:

Your Name:

Your Email: