Reviews of Yangtze River Cruise
Still not deciding if a Yangtze River Cruise is worth for you? Many of our travellers have experienced a lifetime changing trip and now more than happy to share their stories with you. Check out their memorable Yangtze Cruise reviews and experiences.
Hi Ian,
We had a fabulous trip!! The hotel arrangements you made and the tour guides/drivers were excellent. I have been contacted already by several of my friends who want to travel to China and I will recommend your company to them.
Here are my suggestions on the trip:
1. Hotel arrangements - Pleased will all the hotels, especially the Shangri-La Hotel in Suzhou. All hotel choices were excellent.
2. Guides - The best guides we had in order of English usage, knowledge of sites we traveled to and overall attitude in preference order are Darcy in Shanghai and water towns, Earnest in Xian, Linda in Beijing.
3. Drivers (all locations) Your drivers are amazing!! Traffic in China is scary. No one in the US should try to drive on their own in China. Your drivers went through major traffic congestion, especially on National Day, and safely got us to our destination.
4. Breakfast and lunch. All the breakfasts were excellent. The excellent hotels that were selected had a wide variety of western and Chinese food options.
Overall, we were exceptionally pleased with your service and would recommend your company to others. Thank you for a wonderful China adventure.
Linda Martin
Good day Bruce,
Back from china now and getting back to a normal working routine. The cruise was very good, great scenery and a good mix of people on board, locals and o/s. Everything worked out pretty well,and I would recommend it to anyone.
Thanks again,
Luke
Luke , Australia
Oct 2, 2013
Hi Bruce,
I am in Shanghai. I am flying home tomorrow.
I have had a wonderful trip and a wonderful time. I thank you so very much. I could never have gone on this trip without your help. I have traveled a lot but very few people speak english in China. The guides were all great. When you don't know where to go it is nerve racking to try to figuer out what to do. Without laying this out I would never have made it back. I wish there was something I could do for you to thank you. I hope in your future the universe smiles on you and fills you life with good luck. I am going to miss e mailing you! Thanks again.
Sincerely,
Diane
Hello May,
Wonderful time in China but the best was Yantsé river cruise on Victoria Anna. Fantastic cruise. They just refurbished the boat last winter. It was like brand new. Nice room, excellent food, good entertainment, friendly staff, nice view and good excursions. Not many passengers on that trip, about 100 friendly passengers. We got along with everyone. We had so much fun.
Your driver took a good care of us in Yichang and we even met one of your friend who brought us around the city during our waiting before boarding.
Thank you for your help. You were very efficient and reliable. We recommend your agency to everybody.
We will contact you for future trip, probably Tibet trip.
God bless you
Lucie and Bertin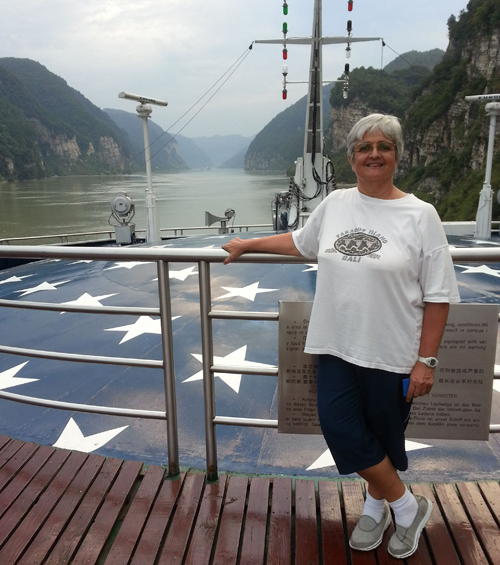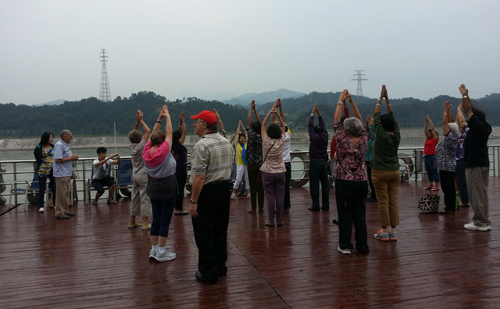 Lucie and Bertin, Canada
September 28, 2013
Hi Ian,
We enjoyed our trip very much. Here is some feedback.
1. How about your tour arrangements?
Everything went according to plan and there were no bad surprises. The staff on the boat were very friendly and helpful, and gave us excellent service and support.
2. Are you willing to recommend our service to those who would like to come to China ?
Yes, your service was very good. Payment was easy and secure, and your response time was very fast.
3. Your general opinion on us?
I think you run a good business and will definitely use you again when I visit China.
4. What will be your suggestions regarding how to improve our services?
Everything went fine, so I have no suggestions. You did a great job for us.
Best regards,
Donald Beau Brummel
Donald Beau Brummel , USA
September 26, 2013
Hello Ian,
Yes, everything was good and I enjoyed the Century Paragon cruise. I fly home on Friday and when I am at home I will send you my response to your comment. Your service was excellent and I thank you personally for your efforts on my behalf.
Robert, Australia
September 3, 2013
Hello Bruce,
Our Yangtse Trip was beautiful...
So i want to to the same next year in august (2014) but from Chongqing to Shanghai when you have more information, please tell me, i will book in spring 2014.
Best regards
Karl H. Eder
Karl H. Eder, Germany
August 29, 2013
Dear May,
The Cruises was perfect. I will give you more comments if we come back in Germany. Now we are in Guilin for some days and some in Hainan and Another two days in Shanghai.
China and the Chinese people are wonderful so frendly. We had many contacts.
Best regards,
Wolfgang
Wolfgang, Germany
August 27, 2013
Questions & Discussions
Following are latest questions and answers from our webusers and customers. You can learn many useful information from the discussion and cases. You can also join in the discussions or ask your own question. Our experts will help you ASAP.
Should we worry about Motion Sickness
Just not sure if we should need motion sickness meds. We are on your cruise that departs from the Yichang Port for Yangtze River from April 24- April 27, 2017. Thank you so much
Dear Mary,

Thanks for taking a Yangtze River cruise with us. April is a great time with fine weather to enjoy the gorgeous scenery along Three Gorges.

No matter which ship you take, it will run very steady at a relatively slow speed. As you know, the construction of Three Gorges Dam controls the water level and flow velocity of Yangtze River that it will be steady to guarantee every ship to sail smoothly. Unlike the ocean cruise, there is no need to bring motion sickness meds for travelers who on Yangtze River cruise. If your physical condition are seasick easily, take some just in case. And no worry, there is a clinic onboard who will serve at any time.

Wish you have a nice journey!
Have a question? Get answers from our travel experts or guests
Your Question:

Your Name:

Your Email: