Reviews of Yangtze River Cruise
Still not deciding if a Yangtze River Cruise is worth for you? Many of our travellers have experienced a lifetime changing trip and now more than happy to share their stories with you. Check out their memorable Yangtze Cruise reviews and experiences.
Dear Lyn,
How are you?
The organisation you and your agency gave me was outstanding 10/10! And I will not hesitate not even once to recommend you to my friends. I just wanted to thank you for all again and hope we can get in touch in the future!
Very kind regards!
Valerie
Hello Berthina:
We arrived safely back home yesterday. Our entire trip was nothing short of amazing. We loved every minute. Always felt safe and well cared for.
Is Yangtze River Cruise and China Discovery the same company?
Angela was amazing.....our favorite. Jimmy was great, too.
I will try to send pictures when they are downloaded
Thanks for all your help
Patti R
Hi Cathy,
see comments below
My travel consultant of your company was definitely fast enough to answer the E-mail and patient enough to answer questions!
The service of the tour guides during the whole tour was very good. Thanks for all your help.
I would you like to recommend your company. Best excursion was the pagoda.
Justine Shaffner
Justine Shaffner, USA
June 23, 2016
Dear Cathy,
The Trip was fantastic. We really enjoyed.
See my answers below.
All requests were answered in short time.
The service of the tour guides was very good.
Of course. I already did recommend your company. Always again.
Best is I send you some pictures per WeChat.
Best regards
Martina
Martina, Germany
June 22, 2016
Lyn
Sorry for delay in getting back to you.
We had a fantastic trip. Both guides in Yichang and Chongqing were excellent. Good knowledge of their cities.
I really appreciate the great service you provided in making all our arrangements. It made our travel very simple
The staff on the Century Sun did an excellent job.
We certainly will make use of your agency when we return to China for another vacation trip.
Again, Many thanks for your help
Regards,
Roy
Hi Jack,
We had a great time. We were only 2 of 6 foreigners (there were 350 passengers) but they had a few English speaking crew.
The food was satisfactory and plentiful. The views were fantastic. All in all a great experience.
Cheers,
Darren
Dear Bertina.
We arrived home 2 days ago. And we must say we had an awesome cruise. Everything was very satisfying.
Every age group had a ball!
But please show some kids movies in the cinema! That could be great.
The trip overall was quite interesting and enjoyable, and your service was excellent.
Thanks for a great trip!
Best regards
Lone Skriver
The following pictures were shared by Lone Skriver.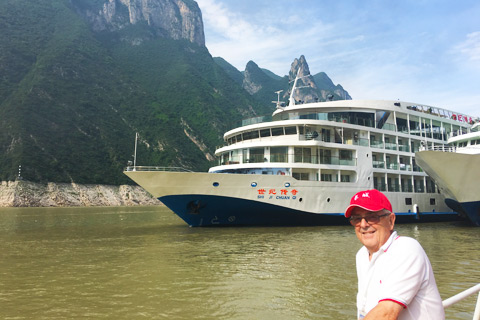 My dad I front of the legend. ( I think it's our ship :-)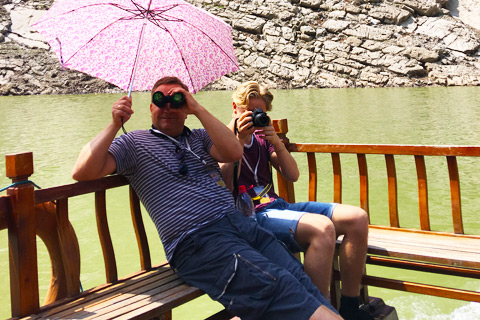 Michael and Rasmus boat trip to the gorges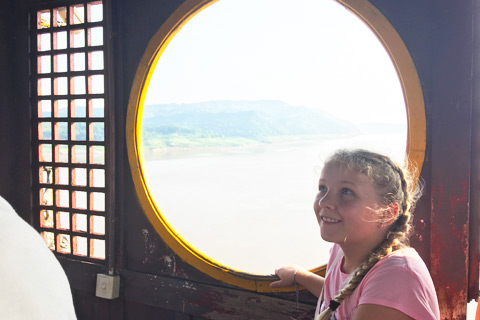 Silla in the top of the red pagoda
Lone Skriver,
June 21, 2016
Dear Johnson,
I am very appreciative of your excellent assistance with booking our Yangtze River Cruise. You were always prompt in responding to my inquiries, answered my question completely, and generally provided excellent service.
I would be happy to recommend your services to anyone looking to visit China.
Generally, the Yangtze River Cruise went very well. The overall trip down the river was very interesting, and the included side trips were excellent. The accommodations were good, there was an excellent variety of food, and everything was handled very professionally.
The trip overall was quite interesting and enjoyable, and your service was excellent.
Thank you again. I wish you all the best.
Andrew Edmund Scharlach
(The following pictures was shared by Andrew Edmund Scharlach)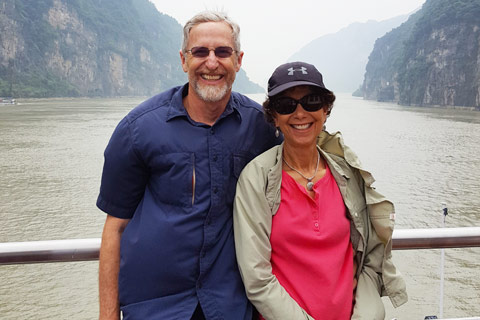 Andrew Edmund Scharlach Visited Yangtze River
Andrew Edmund Scharlach,
June 20, 2016
Questions & Discussions
Following are latest questions and answers from our webusers and customers. You can learn many useful information from the discussion and cases. You can also join in the discussions or ask your own question. Our experts will help you ASAP.
Should we worry about Motion Sickness
Just not sure if we should need motion sickness meds. We are on your cruise that departs from the Yichang Port for Yangtze River from April 24- April 27, 2017. Thank you so much
Dear Mary,

Thanks for taking a Yangtze River cruise with us. April is a great time with fine weather to enjoy the gorgeous scenery along Three Gorges.

No matter which ship you take, it will run very steady at a relatively slow speed. As you know, the construction of Three Gorges Dam controls the water level and flow velocity of Yangtze River that it will be steady to guarantee every ship to sail smoothly. Unlike the ocean cruise, there is no need to bring motion sickness meds for travelers who on Yangtze River cruise. If your physical condition are seasick easily, take some just in case. And no worry, there is a clinic onboard who will serve at any time.

Wish you have a nice journey!
Room with balcony
If I book a China tour with webjet, what is the name of cruise ship used. Also can I book a cabin with balcony
Hi Christine,

Thanks for your question. As I know, there probably is no Yangtze River cruise business on the Webjet. And if you are interested in enjoying the leisurable cruise in China, you could book the cruise tour with us. Nearly all cabins onboard the cruise, such as the Century cruises, Victoria cruises, President cruises, Yangtze Gold cruises, Yangtze Explorer, etc. are facilitated with an open balcony for your sightseeing enjoyment and also many great services and high standard facilities and amenities. Please feel free to tell us your Email address, nationality, group size, traveling time to China, needs, and other basic information, and our professional Travel Consultant could help you as soon as possible to tailor make a route for you with really nice price.

Have a nice day!
Have a question? Get answers from our travel experts or guests
Your Question:

Your Name:

Your Email: