Reviews of Yangtze River Cruise
Still not deciding if a Yangtze River Cruise is worth for you? Many of our travellers have experienced a lifetime changing trip and now more than happy to share their stories with you. Check out their memorable Yangtze Cruise reviews and experiences.
Hi, Wonder,
My travel consultant of your company was fast enough to answer my E-mail and patient enough to answer my question, making reservations and getting our questions answered was very easy.
The cruise experience was excellent, and the cruise exceeded all of our expectations! The service was impeccable, the shore excursions were exceptional, and our suite (We upgraded to the Celestial Suite) was out of this world fantastic! We had our own private sun deck to view China's incredible beauty from. Wow!
We will recommend this cruise to all our friends in Shanghai.
Robyn and Gavin
( The following pictures were all shared by Robyn and Gavin)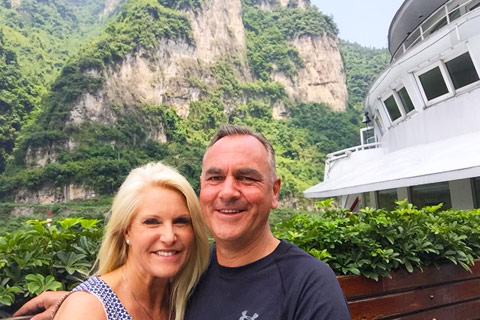 Robyn and Gavin Visited Yangtze River
Robyn and Gavin,
June 13, 2016
Dear Stephanie,
Thank you, Stephanie! We are on the way to the port now, Thanks for your wonderful service. I will contact you if we have any trouble.
Ms. Kirsten
Ms. Kirsten,
June 11, 2016
Hi Wonder,
Cruise was absolutely fabulous and I have the tickets in my hand ....
Many thanks for your great service....
kindest regard
Jan & Peter
Jan & Peter,
June 7, 2016
Dear Wendy
We were very satisfied with your collaboration. We were also very satisfied with the cruise which was organised perfectly. The train tickets and the guides to help us were all well organised. Especially the guide for the Huangshan tour was very efficient and helpfull and very good English speaking.
Kind regards
Hanne and Erling
Hanne and Erling,
June 6, 2016
Hi Rita,
The trip that you arranged for us was wonderful and just about everything worked out perfectly.
Your tour guide, Waldner, and driver in Xi'an were exceptional and the Sofitel hotel was very nice and in a perfect location for visitors.
The Century Paragon was a great experience for us as well, as they balanced the need to entertain and feed western and Chinese passengers perfectly. The ships facilities were very nice, as the boat is relatively new.
All of our agreed arrangements worked out perfectly, and when the low river level in Chongqing changed our plans, your team worked quickly to get us back on track.
We were very pleased with working with you and I will recommend your company to all my friends interested in a trip to China.
I will also post to the trip advisor web site about our positive experience.
Thank you, again, for helping to make our tour of China so pleasurable.
Alan
Hi, Stephanie,
Yeah we just came from the tour to the shennog stream. It was amazing experience. The weather is also very good. Thanks for your attention.
Ms. Irene
Hi Wendy
The cruise was great thank you. Very enjoyable, friendly staff, comfortable cabin, interesting excursions.
Thank you for arranging this for me.
Warm regards
Vicki
Hi, Stephanie,
My father wants to thank you for being always so diligent and good making.
Ms. Irene
Questions & Discussions
Following are latest questions and answers from our webusers and customers. You can learn many useful information from the discussion and cases. You can also join in the discussions or ask your own question. Our experts will help you ASAP.
Should we worry about Motion Sickness
Just not sure if we should need motion sickness meds. We are on your cruise that departs from the Yichang Port for Yangtze River from April 24- April 27, 2017. Thank you so much
Dear Mary,

Thanks for taking a Yangtze River cruise with us. April is a great time with fine weather to enjoy the gorgeous scenery along Three Gorges.

No matter which ship you take, it will run very steady at a relatively slow speed. As you know, the construction of Three Gorges Dam controls the water level and flow velocity of Yangtze River that it will be steady to guarantee every ship to sail smoothly. Unlike the ocean cruise, there is no need to bring motion sickness meds for travelers who on Yangtze River cruise. If your physical condition are seasick easily, take some just in case. And no worry, there is a clinic onboard who will serve at any time.

Wish you have a nice journey!
Have a question? Get answers from our travel experts or guests
Your Question:

Your Name:

Your Email: