Reviews of Yangtze River Cruise
Still not deciding if a Yangtze River Cruise is worth for you? Many of our travellers have experienced a lifetime changing trip and now more than happy to share their stories with you. Check out their memorable Yangtze Cruise reviews and experiences.
Dear Bertina,
Thanks for the follow up. We thoroughly enjoyed our cruise. The accommodations were good. The service on the ship was very good. The actual Yangtze River was the hightlight. We would like to thank you for your attention and response to all our quiries and I would have no hesitation recommending your services to our friends.
Yours sincerely,
Rob and Marjorie
Rob and Marjorie,
May 14, 2016
Hi, Wonder,
I am still in Yunnan, Dali today and Shaxi tomorrow.
My travel consultant of your company never missed a step to answer E-mails fast and patiently enough.
The service of the tour guides during the whole tour is very good.
I would like to recommend your company.
Brent
Hello Wendy,
You're too fast for me,
I wanted to write you a little word to thank you for your kind help, But you were first.
We DID have a very good time during this cruise, And your advises were helpful
For real, I read guides before our departure, and some talked about low level boats, And I was a little afraid about what we will find
I made white hairs for nothing:
Fine boat
Fine crew,
Good food,
Comfortable cabin, and even good fellows at our table (you choose them for us?)
I am not sure to do the same cruise again another year, but be quiet about me: if some of my friend ask me for a reliable person to organize a cruise, I will give him your name,
And if I can help you to become the boss of the Yang tse river Cruises, you can give my mail to your boss or ask him to write me to have confirmation (for free, no need to promise upgrading ha ha ha)
We don't have your WeChat id, but if you give it to me, I will send you a few photos of the cruise, for technical reasons, it is easier than by mail
Best regards
JF
Hello June,
Our whole trip was a great success. Nice, interesting towns and excellent cruise
Our answers are below:
My travel consultant was fast and polite, every time I got answers latest for next day, there is time shift so my questions was sent in your evening or night time. She also informed us immediately about changes in cruise plan, and was able to reorganize our trip. We really appreciate this. Anyway we were happy these arrangements were not needed as Cruise started as was planned.
Pity as these long cruises are ending, we were lucky to see whole Yangtze. The first part also is indeed interesting seeing these incredible amounts of barges and ferries.
The tour arrangements were excellent, nothing to complain. On ship the staff was sometimes even too polite and eager to serve,
Absolutely I am willing to recoomend your service to my people who also have an interest to visit China. At first I was little bit suspicious to order and pay journey beforehand but some googling and mails with June confirmed me that it is safe to order and pay cruise
I will give 10+ points to your company, especially many thanks to June for replying my mails and fulfilling our needs.
Actually your service is perfect :)
You can use our comments and pictures as you like,however if there are passengers or ship staff in pictures I don't know if you are allowed to publish these.
I'll attach pictures now! The first part and two more mails are following as there are limits how much may be sent in one mail.
Yours,
Matti&Ritva
( The following pictures were all shared by Matti&Ritva)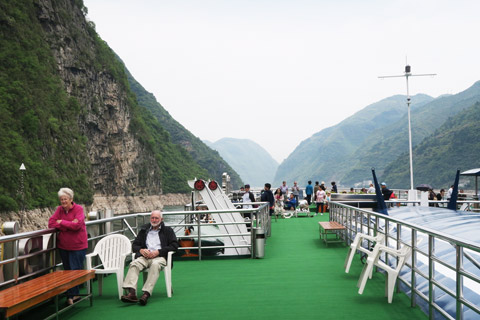 Matti& Ritva Visited Yangtze River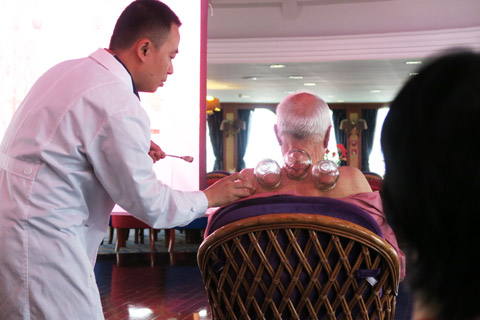 Activity on Yangtze River Cruise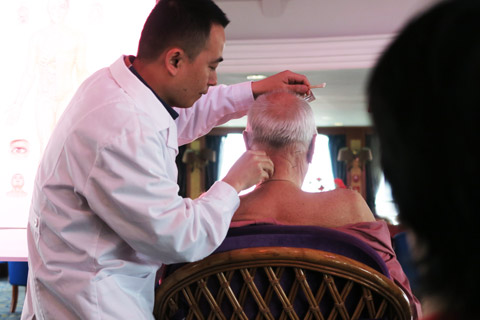 Matti Experienced activity on Yangtze River
Matti&Ritva,
May 10, 2016
Hello Cathy

Thank you very much for your support. Everything was all right and we enjoyed our trip. Our feedback see below.

My travel consultant of your company is fast enough to answer your E-mail and patient enough to answer questions.

The tour guides during the Yangtze River Cruise spoke good english and was very friendly.The guide (coffee) in Yichang spoke also very good english, was flexibel about the program and also very friendly. We are only not sure, if we didn't pay to much (148 RMB per Person) for the entry into the "Three Travellers Cave". His Behavior was a little bit special.

I would absolutely like to recommend your company.

Best regards
Iva Krüttli
Hi Bertina,

Yes, we are in Zhangjiajie now. The cruise was amazing and we had a wonderful trip. Thank you so much for all of your help! You have made planning this trip very easy. I will definitely recommend you to all of my friends that are thinking about coming to China.

Joy
Dear Bertina,

What a wonderful time we have had on our cruise.

Thank you so much.

David was excellent. Great service and a very informative tour. He excelled in getting us safely to the cruise boat . What a long walk.

The Boat was great as was our fabulous and totally unexpected upgrade to Deck 6.

Bertina, you have been an exceptional tour organiser and I will be recommending you and your company to all of my friends.

We will most likely be back in China in November but for now we fly to Hong Kong early in the morning. Anthony returns to London and I to Brisbane.

Will be in contact again, I am sure.

Jane
Hi June

Sorry for my late answer, I'm back in Switzerland now.

The tour was great thanks for your organisation. Everything worked fine, we were picked up at the right time in Chongching and all the transfers and visits were supervised by english speaking guides. I could recoment this tour to other travelers.

Regards
Paolo
Have a question? Get answers from our travel experts or guests
Your Question:

Your Name:

Your Email: