Wuhan Port: Yangtze Cruise Port of Wuhan
Note: In 2021/2022, there is no cruise sailing towards Wuhan. For latest information of Wuhan Yangtze cruise line, please feel free to contact us.
Tourists who want to both enjoy charming scenery of the best section of Yangtze River and tour around Wuhan - "City on Rivers", could take the Chongqing Yichang cruise to savor the astonishing highlights of Three Gorges. Before or after the Yangtze River cruise tour, tourists can take the high-speed train and spend 2-3 days to tour around Wuhan!
Most Recommended Yangtze River Cruise Tour with Wuhan:
► 6 Days Wuhan City Tour with Yangtze Cruise
Basic Information about Wuhan Port
Location & Brief Introduction about Wuhan Port
Location: Yanjiang Avenue, Jiangan District, Wuhan City (武汉市江岸区沿江大道)

Wuhan Harbor Transportation Map
Although there is no cruise sailing between Chongqing and Wuhan, Wuhan Port is still one of the eight important ports along Yangtze River. Wuhan Port is in the middle reaches of Yangtze River, located at Wuhan downtown. Nowadays, the port is mainly used for transportation of goods.
How to get to the Wuhan Port ?
Travel with Yangtze River Cruises
This is the most convenient way chosen by our customers. Whether you are new to Wuhan or not, book our local transfer guide for your Yangtze Cruise tour with Wuhan can be advisable as the local guide will arrange your whole transfer way to the port, train stations or famous attractions since you arrive in Wuhan. With this service, you can enjoy a more pleasant and comfortable cruise trip. For details, please contact our experienced travel consultants!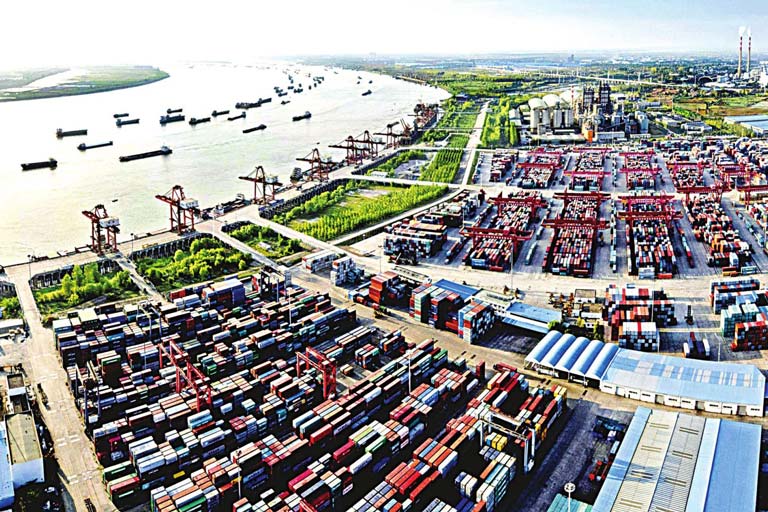 Wuhan Port
By taxi
If you want to arrange the transfer way by yourself, taking taxi is another option for you to choose, on condition that you have enough time. Here are some information about the destinations for you to leave for Wuhan Port.
Wuhan Airport-Wuhan Port: 30km, take about one hour.
Wuhan Train Station-Wuhan Port: 18km, take about 40 mintues.
Wuchang Train Station-Wuhan Port: 10km, take about 30 minutes.
Hankou Train Station-Wuhan Port: 8km, take about 20-30 minutes.
Taxi in Wuhan City
How to Travel Wuhan with Yangtze River Cruise Tour ?
Even there is no direct cruise between Chongqing and Wuhan, people can still enjoy all highlights of Yangtze River and Wuhan in a very convenient way. You can cruise on Yangtze River between Chongqing and Yichang, then take a bullet train to transfer between Yichang and Wuhan.

Click to Enlarge Yangtze Cruise Tour with Wuhan
Wuhan is about 336km from Yichang. Public transportation is well developed between two cities. There are quiet a large number of bullet trains running between Yichang and Wuhan, only takes about 2-3 hours.
You can either start your Wuhan Yangtze Tour from Wuhan or Chongqing and take Yichang as a connecting city.
Wuhan - Yichang - Chongqing
For people who arrive at Wuhan first, can plan a 2-3 days city tour here, then take a high-speed train to Yichang and board the 5 day Upstream Yangtze River Cruise to Chongqing.
If you take the upstream Yangtze River cruise, you need to arrive at Yichang Three Gorges Center Cruise Terminal during 16:00~21:00, and then take the tourist buses arranged by the cruise company to Maoping Port (except Yangtze 1 cruise). You are recommended to arrive at Yichang East Railway Station before 18:00.
During the cruise journey, you can fully enjoy the high-standard cozy onboard time, immerse in the breathtaking scenery along Three Gorges, explore Ba, Shu culture by visiting historical sites such as Fengdu Ghost City and Shibaozhai Pagodas etc. during the cruise journey and appreciate the grand architecture and world's largest hydroelectric project - the The Three Gorges Dam.
Cruising on Three Gorges
Chongqing - Yichang - Wuhan
If you prefer downstream Yangtze River cruise you can get to Chongqing first. Usually, downstream Yangtze River cruise ships can be boarded at Chaotianmen Dock during 18:00pm~21:00pm. Travelers are suggested to book a flight arriving at Chongqing Jiangbei Airport before 16:30pm or train arriving at Chongqing before 18:00pm.
Your 4 day trip will end at Three Gorges Center Cruise Terminal. Most cruises journey would end around 12:00 in Yichang downtown, you are suggested to book trains which departed after 16:00 to continue your trip to Wuhan.
► 4 Days Chongqing Tour with Yangtze Cruise
The Conjunction of Two Rivers in Chongqing
Travel around Wuhan City
Wuhan, with a history of 3500 years, is one of the oldest megacities on Chinese history. There are many typical spot sites worthy to see in Wuhan City. Most tourist would spend 2-3 days to tour around the city. You explore the museums, take a ferry to enjoy the lake view, climb to the top of the famous towers, visit the ancient temples and appreciate architectures in the "City on Rivers".
► 2 Days Essential Wuhan City Tour
For those who are interested in Kongfu and have long vacations can extend their trip to the famous Taoist Mountain - Wudang Mountain for 2-3 days.
► 10 Days Wuhan, Wudang Mountain & Yangtze River Cruise Tour
Yellow Crane Tower in Wuhan
Travel Wuhan & Yangtze River with yangtze-river-cruises.com
Want to travel Yangtze River and Wuhan but feel trouble about your tour plan? Travel with www.yangtze-river-cruises.com and then all your problems can be solved. We will take care of everything, including the best hotels and ships, most interested attractions, most convenient private car service... During the whole journey, you can spend all your time and focus all your energy on the beautiful scenery, delicious foods and appealing highlights you love.
The tour can be customized according to your plan, group size, time, budget, interests and every special requirement. If you are interested, please feel free to contact us for help!
More Wuhan Travel Articles
Keep Readings of Yangtze River Cruise
Not easy to find the right cruise ship/itinerary for you? Please contact one of our Yangtze cruise specialists to save your time and money. Click the right button to send an online inquiry and we will get back to you within 0.5~23.5 hours.
Your can rely on our expert knowledge and endless enthusiasm!
Have a question? Get answers from our travel experts or guests