Century Victory
9.9
/ 10
Century Victory is 2022 newest luxury 5-star Yangtze cruise and the sister ship of most popular Century Oasis and Century Glory. Lead another new popularity of Yangtze River cruise trip for all cruise lovers seeking the top deluxe, cosy, healthy, green and superior sailing experience with the high standards on hardware and services!
2023 Brand New Upgraded Services from Century Cruises:
1). Embarkation night dinner (19:00-20:30); 2). Porter service; 3). Themed flavored cuisines; 4). Midnight snacks daily; 5). All-day set menu snacks; 6). Selected free drinks at lunch and dinner; 7). Childcare service; 8). Guide earphone for sight visiting.
Cruise Route:
Chongqing - Yichang (4 days & 3 nights)
Yichang - Chongqing (5 days & 4 nights)
Price:
Enquiry Now
2023 Brand New Exclusive Upgraded Services from Century Cruises
Exclusive complimentary upgrade services ONLY FOR Century cruise travelers to enjoy a valuable and worry-free sailing vacation (For Chongqing Yichang Upstream & Downstream Cruises):
| | |
| --- | --- |
| 1. Embarkation night dinner (19:00-20:30) | 2. Porter service for both embarkation and disembarkation |
| 3. Flavored cuisines in different themes | 4. Midnight snacks every day |
| 5. All-day set menu snacks | 6. Free drinks at lunch and dinner (selected red wines, beers, soft drinks, coffee, tea, etc.) |
| 7. Childcare service (2-8 years old) during the cruise | 8. Exclusive guide earphone for pleasant sight visiting |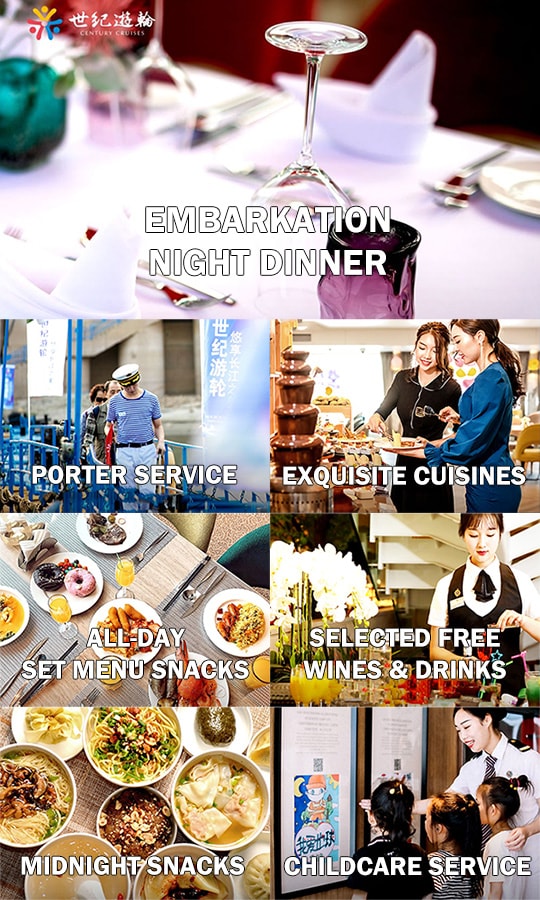 Colorful Life on Century Victory
Dining
The brand new luxury Century Victory presents every traveler guest onboard the ultimate tasting enjoyment during your 4-5 days on the Yangtze River. Both the grand double-deck Globe Dining Room (2-3F) and the exquisite Pavilion VIP Restaurant (4F) are finely designed with large picture windows and decorated with advanced furniture in delicate color scheme of camellia red, champagne and white as well as atmospheric lighting for a high-class fancy restaurant dining experience. All three meals of a cruising day are greatly arranged in Chinese & Western buffet style at both restaurants. The cruise company caters to you to sample diverse kinds of delicacies in China and other countries in the world and to suite your ordinary dietary habit. Furthermore, there are also a-la-carte services in both those two restaurants, thus, you can order other food as you like to have the ultimate culinary experience during the cruise trip. Besides the three meals, there are plenty of exquisite snacks of western and local flavors offered onboard from the early bird refreshment to night snacks, so you will absolutely treat your taste buds throughout the day.
Breakfast options: salad (assorted vegetable salad); cheese (orange flavor, Emmenthal); beer sausage, sauces (Thousand Island Dressing, French Dressing, etc.); dry fruit (banana chips, walnut, raisin, etc.); cereal; fruits in syrup (pear, pineapple, etc.); juice (orange, tomato); dairies (milk, soybean milk, plain yogurt, etc.); bread and pastries (toast, Baguette, croissant, raisin muffin, etc.); jam (strawberry, apple, honey, peanut, etc.); butter; hot dishes (seasonal vegetable, ox tripe, etc.); eggs; poached corn, roasted bacon, pickles, fresh fruits; porridge; Chinese dim sum; noodles, cooking stations, etc.
Lunch options: salad (assorted vegetable salad); Chinese salad (cabbage, chicken with chilli and wild pepper sauce, celery with sesame oil, etc.); Chinese hot dishes (stir-fried choy sum with garlic, dry braised blunt-snout bream, etc.), Western hot dishes; Western dressings (chopped egg, chopped bacon, olive rings, etc.); sushi (salmon, tuna, caviar, etc.); salad with sauces; sauces; bread and pastries; pickles; soups (cream potato soup, etc.); desserts (mango jelly, orange mousse, black forest cake, puff, snow fungus soup, etc.); fruits; porridge, rice, cooking stations, etc.
Dinner options: salad (assorted vegetable salad); Western dressings (chopped egg, chopped bacon, olive rings, etc.);salad with sauces; sauces (Thousand Island Dressing, French Dressing, sesame oil, aromatic vinegar, chilli oil, etc.); Chinese dressings (chopped green onion, chopped peanut, etc.); Chinese cold dishes (broccoli in scallion oil, sweet and sour ribs, etc.) western old dishes (Philippine styled stewed pork, pizza with mixed sausages, etc.); Chinese hot dishes (braised Dongpo pork hock with brown sauce, stir fried seasonal vegetables, shredded beef with hot peppers, etc.); soups (tomato and beef meatballs soup, etc.); desserts (matcha red bean mousse, German cheese cake, caramel pudding, etc.); bread and pastries (soft rolls, hard rolls, etc.); fruits; porridge; rice; cooking stations, etc.
(Please note: 1. The above dish list of breakfast, lunch and dinner is for reference only; 2. Special dietary requirements, such as diabetic or vegetarian, are accepted onboard, but need to be informed in advance at the time of booking with us or when checking in onboard the cruise; 3. To know exact dining time, you can have a clear idea in the elevator, through TV channel or by listening to the broadcast.)
Drinking
1. Early bird treatment: Early risers can enjoy complimentary early bird coffee and tea with pastries in the bar (usually at 06:30~07:00).
2. Advanced purified water system with purified water directly offered to cabins on Century Victory. Also, drinkable water is offered through the room
thermos
and
bottled water
(1 bottle per person per day). 3. Free drinking of selected red wines, beers, soft drinks, coffee, tea, etc. are offered at lunch and dinner. Milk, coffee, tea, juice and other selected non-alcoholic drinks are offered at breakfast. 4. Century Victory has the
Cheers Bar
,
Panorama Café
and
Executive Lounge
offering drinks, beverage, wines for travelers from morning till night. 5. The legal drinking age on Century Cruises ships is 18 years old.
Drink Packages:
Onboard Century Victory, there are some drink packages for cruise travelers to enjoy a leisurable drinking holiday with good prices. Please know the details from staff onboard after your embarkation. Also, you can check Century Cruises Drink Packages for more information for reference.
Deluxe, Cozy & Intelligent Accommodations
Century Victory arranges in total 6 types of comfortable and deluxe intelligent cabins and suites onboard for the total relaxing stay during the cruise vacation, including Deluxe Cabins, Superior Deluxe Cabins, Executive Suites, Family Suites, Victory Suites and Presidential Suites. Every room is more than 25 s.q.m. wide with a private bathroom and a private balcony, and also is meticulously designed into elegant and modern Chinese style for a peaceful travel mood and decorated well with advanced equipment and appliances for a highly intelligent staying enjoyment. The zero-oil painting environment with entire environmental friendly materials ensures the best healthy accommodation for everyone. And the entire linen of 5-star luxury hotel standard will care your skin and help you sleep really soundly. What's super novel and important is the two types of Family Suites of 34 s. q. m., with one themed with pink kitty and the other with green giant panda. An additional single children's bed is arranged within the suite, just next to the double bed, which is fantastic for couples traveling with children. Besides, the Victory Suites of 71 s.q.m. wide and Presidential Suites of 85 s.q.m. wide are really top choices for prestigious luxury experience onboard.
Booking the Executive Suites, Family Suites, Victory Suites or Presidential Suites on Century Victory offers you a rich series of complimentary VIP services from dining, drinking, to caring, shore excursion visiting, and so forth, for your ultimate luxuriant cruise travel memory in China!
Check More Century Victory Accommodation Info & VIP Services
Entertainment & Cultural Activities
You will never feel bored when on Century Victory, since quite many types of interesting cultural activities, performances and entertaining items are arranged during day and late night for your wonderful holiday experience.
In the early morning, stretch your body by learning Taichi with others under the guidance of the Taichi master to start a fresh day. During the day, just feel free to join in the popular cultural lectures, seasonal themed activities & DIYs, like moon cakes making, dumpling making, kite flying, etc. to learn some interesting Chinese culture, art, history, and so on, to enrich your harvest of the trip. Besides, enjoy a movie at the Century Theater on the Bottom Deck. You can also show your singing talent and charm with your friends or family members in the KTV rooms (extra fee). And no worry, if you travel in solo, the advanced new Karaoke machine (extra fee) can also create relaxing hours for you. Furthermore, during your unoccupied time, if you are interested, you can also visit the Captain's bridge (extra fee) to know how they control the so large cruise, play Mahjong (extra fee) in the Card and Chess Room to get more different fun, and so on.
Moreover, remember not to miss the Captain's Welcome Reception on your embarkation night with band play on site for a great party enjoyment. Furthermore, watch the jubilant Crew Talent Show in the evening to receive the welcome from the whole cruise staff and harmonious moments with international cruise travelers.
If you want some quiet moments, get up to the super-large Top Observation Deck and lie on the deck chair to enjoy the passing scenery and comfortable sunshine, read an interesting book in the Reading Room, etc. Time is just not enough to enjoy them all!
Traveling with kids? No worry! The great children's playground is well facilitated with various recreational items for the fun play of your sweethearts!
Services Onboard
Cruise guests on Century Victory can receive the catering butler service for a worry-free trip experience. All its about 180 staff are systematically and strictly trained to offer considerate and reputed services to every visitor to the cruise, from the reception, dining, drinking, caring, ordering, cleaning, etc. All of them are very glad to receive and talk to you and help you throughout your tour.
Intelligent Service: Century Victory has launched the first intelligent service on Yangtze River cruise. Once you link your smart mobile phone to the Hi-technological AI VOD system, you will know about the comprehensive information of the cruise and your trip clearly.
Guide Service: Experienced English-speaking guide will serve there during the whole cruise and help you know everything clearly. Every day, the guides will inform through the central broadcasting system or bulletin board the arrangement of all the activities of the next day. Besides, he/she will participate in various activities and give nice introduction of the Three Gorges (Qutang Gorge and Wu Gorge) during your visiting. To help you have a much better tourist visiting experience, Century Victory also adapts the guide earphone for every guest during their shore excursion discovery.
Laundry: Every traveler onboard can do laundry. Apart from the simple self-laundry in the bathroom in your cabin, there is also laundry service for your need. If you want to have your clothes cleaning, just put them into the laundry bag in your room and tell the staff or reception desk, and they will arrange to collect your clothes to do laundry. Staff will send your clean clothes to your room. Such service needs extra payment. Moreover, laundromat machines are prepared onboard, which needs about 15RMB for once with coins (detailed price can be known from the staff onboard). And if you need, please tell the staff for help.
Internet & WI-FI: Century Victory offers free Wi-Fi service to all its guests. The Wi-Fi is covered on the entire ship 24 hours during your whole trip, so you can use it to share photos to social media, contact with your people and deal with some business, in both public area and your cabins. Be kindly known that the signal may be influenced when passing some sections of the Yangtze River. Please tell the staff to help you link your phone and other device to the Wi-Fi.
Phone call / Copy & Print: Both domestic and international phone calls are available onboard Century Victory, so you will still keep great contact with your family and friends no matter they are in China Mainland, Hong Kong, Macao, Taiwan or other overseas countries. Also, copy & print services are arranged on the cruise. All the services are fee-based, which can be signed to your account and be settled at the end of your cruise trip. Please tell the staff to help you.
Housekeeping: The room attendants will clean your room every day as that in the starred hotels for your neat and fresh staying feeling.
First Aid & Health Care
Century Victory has an onboard doctor offers 24-hour treatment services (with both Chinese and Western treatments) to visitors for emergencies in the Clinic. And the doctor will sometimes hold a lecture about traditional Chinese Medicine, telling you something about Chinese medicinal herb and acupuncture and moxibustion. Besides, to care your body and maintain your health, you can do Spa and massage on board to get fully relaxed or keep your healthy lifestyle and release pressure at the Fitness Center.
Payment Onboard
The onboard currency is the Chinese Yuan (there is a currency exchange counter on board). At the end of the cruise you can settle your onboard account either in cash or by credit card (VISA, Mastercard, American Express, all using chip and PIN). Travelers' Cheques in Euro or US Dollars are also accepted. Also, Alipay and WeChat Pay are also available on the cruise for more convenient e-payment experience during the trip!
Public Facilities & Location
| Facility | Floor | Facility | Floor | Facility | Floor |
| --- | --- | --- | --- | --- | --- |
| Lobby | 2F | Reception Desk | 2F | Globe Dining Room | 2F/3F |
| Reading Room | 5F | Mahjong Room | 1F | Century Theater | -1F |
| KTV | 5F | Cheers Bar | 5F | Top Observation Deck | 7F |
| Panorama Café | 3F | Spa Center | 1F | Executive Lounge | 6F |
| Sun Deck | 6F | Fitness Center | 1F | Pavilion VIP Restaurant | 4F |
| Shopping Center | 6F | Children's Playground | 5F | Clinic | 1F |
Cabin Amenities
Private Balcony
Private Bathroom
Extension Telephone
TV
TV Controller
Shower
Mini Refrigerator
Mini Bar
Life Jacket
Mineral Water
Ball-pen
Memo Pad
Telephone Directory
Hair Dryer
Shampoo
Bath Foam
Shower Cap
Bath Towel
Bed
Face Towel
Hand Towel
Floor Towel
Soap
Soap Plate
Comb
Toothpaste
Toothbrush
Tooth Mug
Slippers
Bathrobe
Kettle
Teacup
Coffee Spoon
Sugar Bowl
Tea Tray
Ice Bucket
Tea Bags
Weight Scale
Napkin Box
Shoe Basket
Shoehorn
Shoe Sponge
Desk
Chair
Clothes Hanger
Cloth Line
Laundry Bags
Alarm Clock
Toilet Paper
Safe Box
Sign of Free Drinking
Non-smoking Tag
Sofa
Schedule of
Century Victory
Jan.
Feb.
Mar.
Apr.
May.
June.
July.
Aug.
Sept.
Oct.
Nov.
Dec.
Sun
Mon
Tue
Wed
Thu
Fri
Sat
1
2
3
4
5
6
7
8
9
10
11
12
13
14
15
16
17
18
19
20
21
22
23
24
25
26
27
28
29
30
Please Note:
The above price range is based on a standard cabin for twin sharing.
The prices are valid by Dec.31 of the year.
Please enquire us of the exact price according to your nationality, cruising time and cruising route.
The cruise prices for holidays such as National Holiday (the first week of October), Labor Day, Spring Festival, etc., are quoted upon request.
Limited winter schedules may be adjusted into other dates, cruise ships, etc. based on the arrangement of the cruise company.
Other Ships of this Company
Save up more to Book a China Tour Package including Yangtze Cruise
Not easy to find the right cruise ship/itinerary for you? Please contact one of our Yangtze cruise specialists to save your time and money. Click the right button to send an online inquiry and we will get back to you within 0.5~23.5 hours.
Your can rely on our expert knowledge and endless enthusiasm!
Have a question? Get answers from our travel experts or guests