President No.8
9.5
/ 10
President No.8 is the 2023 top family-friendly, large and luxury Yangtze ship. Specially designing 230 sets of family-friendly cabins & suites and spacious public facilities, it is particularly a competitive choice for family visitors with kids to enjoy the classic Yangtze River cruise trip in leisure and fun, at a "LOW PRICE"!
Cruise Route:
Price:
Enquiry Now
Colorful Life on President No.8 Cruise
Dining
Your cruise vacation is also a culinary surprise trip onboard President No. 8 cruise! Why? Rich selections of authentic Chinese cuisines of different regions, famous choices of Western specialties, east and southeast Asian flavors, etc. are served in the restaurants. Also, breakfast and lunch of each day are all arranged in buffet style, while dinners are in Chinese table style. So, you have the great chance to put more kinds of food in your plates.
The Main Dining Room (2F) and VIP Restaurant (3F) are both elaborately designed and decorated in luxury atmosphere, with glass sightseeing window, to let you indulge in both the food and view! Besides, A La Carte service is available at VIP Restaurant as well if you want to taste more different food or have other requirements. No matter you want to enjoy your food in the restaurants, bars, sun deck or your private cabin, the delicate gourmet will be served in front of you quickly!
(Please note: 1. Special dietary requirements, such as diabetic or vegetarian, are accepted onboard, but need to be informed in advance at the time of booking with us or when checking in onboard the cruise. 2. To know exact dining time, you can have a clear idea in the elevator, through TV channel or by listening to the broadcast. 3. Midnight Snack: Please contact the Front Desk in advance if midnight snacks are needed. 4. Birthday or anniversary: Please contact the Front Desk in advance to order birthday cake.)
Drinking
1. Early bird treatment: Early risers can enjoy complimentary early bird coffee and tea with pastries in the bar.
2. Bottled drinking water is offered in your room, and there is a thermos if you would like to heat the water. (1 bottle per person per day).
3. Milk, coffee, tea, juice and other selected non-alcoholic drinks are offered at the meal time.
4. President No.8 has bars offering drinks, beverage, wines for travelers from morning till night.
5. The legal drinking age on President Cruises ships is 18 years old.
Drink Packages:
Onboard President No.8 cruise, there are some drink packages for cruise travelers to enjoy a leisurable drinking holiday with good prices. Please know the details from staff onboard after your embarkation.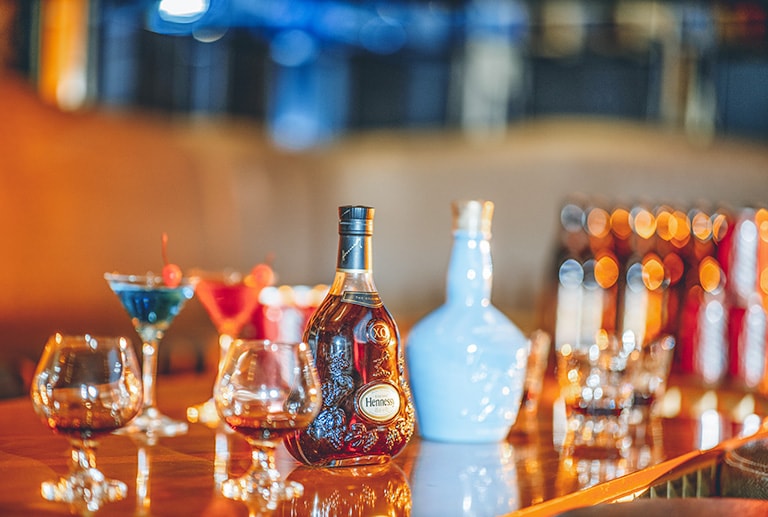 Cozy & Family-friendly Accommodations
President No.8 in mint condition offers 3 types of cabins & suites onboard to meet various needs of international cruise travelers, especially family groups with children, including Deluxe Cabins (27.5 s.q.m.), Executive Suites (41.2 s.q.m.) and Presidential Suites (198 s.q.m.). All rooms are large, comfortable and humanized, additionally decorated cozily and luxuriously, in the elegant mixed Chinese and European style to match your high lifestyle quality. Twin beds and double bed can both be selected. And the twin single beds in deluxe cabins can be put together to a double larger bed. And, an extra bed is available to add in the deluxe cabins if you want. Besides, comfortable soft linen of standard high star-rated hotels, open private balcony with chairs, quality bathroom, central ventilation system, full appliances and more facilities of high levels are all prepared to the point to welcome your visit at any time. However, if you prefer a large room, you would not regret if choosing the superb Presidential Suite on this ship.
Booking the Executive Suites or Presidential Suites on President No.8 offers you a rich series of complimentary VIP services from dining, drinking, to caring, and so forth, for your ultimate luxuriant cruise travel memory in China!
Entertainment & Culture Activities
Various entertainments in different spaces can be enjoyed onboard. No matter you want to indulge yourself in the happy social time with other visitor friends or prefer some leisure quiet time alone or with your private small group, there is something for you, including Chinese cultural lectures, seasonal themed activities, night parties and receptions, physical releasing, etc.
Join the Captain's Welcome Party to receive the warm and sincere welcome toast from the cruise captain team and the entire crew. Various snacks and drinks are provided there for a relaxing chill out with others, and you can also dance together to immerse into the vacation vibe fully!
If you are interested in Chinese culture and history, do not miss the different kinds of activities, DIYs and lectures, which will broaden your horizon about the traditions and folk customs in China, stories about the Yangtze River and the famous Three Gorges Dam project.
Staff onboard will show you their artistic talents with singing, dancing and other forms of performance in the evening crew talent show.
Besides, the Children's Paradise on the 6 floor will be your great place for fun time with your kids!
Indoor constant-temperature swimming pool, gym room, SPA, sauna center, souvenir shops, cigar bar, mini golf, mahjong room, theater, music bar, sightseeing coffee bar, ballroom, KTV room, and more public recreational places are well arranged in different deck to enrich your time onboard! Just play or get released on your cruise vacation with President Cruises!
(Dress code for Captain's Party: A suite and tie for a man or an evening dress for a woman is not strictly required, but avoiding dressing too casual like jeans, round-neck shirts, shorts, slippers and so on.)
Services Onboard
President Cruises has launched the first luxury cruise along the Yangtze, and it has over 40 years' experience serving cruise lovers to the beautiful river. All the around 200 staff members will give the professional service, trying their best to make the "stay at home" environment for every guest onboard.
English-speaking Guide Service: An experienced English-speaking guide will serve onboard during the whole cruise trip and help you know everything clearly. Every day, the guides will inform through the central broadcasting system or bulletin board the arrangement of all the activities, attractions and dining of the next day. Besides, he/she will participate in various activities and give nice introduction of the Three Gorges (Qutang Gorge and Wu Gorge) on the Sun Deck during your visiting.
Reception Desk Service: Besides check-in and check-out procedures, the reception desk staff can provide services morning call, safety box, luggage handing, food delivering arrangement, optional shore excursion visit registration, etc. If you have any question, please call the reception desk for help!
Luggage Carrying: You don't need to carry your luggage on your own. Just tell your cabin number to the porters, and he will help you do it, no matter for embarkation or disembarkation. It needs extra charge, and you can discuss the price with porters.
Phone Calls & Faxes: International / local phone calls and faxes are available at the reception desk and the Business Center on President No.8, so you can still keep great contact with your family and friends no matter they are in China Mainland, Hong Kong, Macao, Taiwan or other overseas countries and regions.
Internet & Wi-Fi: International access is available at the Business Center if you need. Wi-Fi can be used on the ship for updating your social media status by sharing your travel experience and more fun surfing the Internet. Be kindly known that the signal may be influenced when passing some sections of the Yangtze River due to local geographic and other natural reasons. Please tell the staff to help you link your phone and other device to the Wi-Fi. All these services needs extra payment.
Laundry: Every traveler onboard can do laundry. Apart from the simple self-laundry in the bathroom in your cabin, there is also laundry service for your need. If you want to have your clothes cleaning, just put them into the laundry bag in your room and tell the staff or reception desk, and they will arrange to collect your clothes to do laundry. Staff will send your clean clothes to your room. Such service needs extra payment.
Housekeeping: The room attendants will clean your room every day as that in the starred hotels for your neat and fresh staying feeling.
Mini Bar: In your room, there is a mini bar cooling some food and beverages with extra payments. You can enjoy them as you like.
Health Care: There is a health clinic on President No.8 ship just in case of any emergency. If you feel uncomfortable unexpectedly, you can all the Front Desk to ask for doctor service. Furthermore, SPA service is considerately prepared onboard to get your body fully released and benefit your skin.
Payment Onboard & Money Exchange: The onboard currency is the Chinese Yuan (there is a currency exchange counter on board). At the end of the cruise you can settle your onboard account either in cash or by credit card (VISA, Mastercard, American Express, all using chip and PIN). Travelers' Cheques in Euro or US Dollars are also accepted. Also, Alipay and WeChat Pay are also available on the cruise for more convenient e-payment experience during the trip!
Public Facilities & Location
| | | | | | |
| --- | --- | --- | --- | --- | --- |
| Main Lobby | 2F | Reception Desk | 2F | Gift Shop | 3/4F |
| Internet Bar | 6F | Cab | 4F | Cigar Bar | 6F |
| Conference Room | 6F | Photo Studio | 2F | Multi-function Hall | 5F |
| Sun Deck | 6F | Main Dining Restaurant | 2F | KTV | 5F |
| Bar | 6F | VIP Restaurant | 3F | Mahjong Room | 5F |
| Massage Room | -1F | Movie Theater | -1F | Swimming Pool | -1F |
| Beauty Salon | -1F | Spa / Massage Room | -1F | Gym | -1F |
Cabin Amenities
Private Balcony
Private Bathroom
Extension Telephone
TV
TV Controller
Shower
Bathtub
Mini Bar
Life Jacket
Mineral Water
Ball-pen
Memo Pad
Telephone Directory
Hair Dryer
Shampoo
Bath Foam
Shower Cap
Bath Towel
Bed
Face Towel
Hand Towel
Floor Towel
Soap
Soap Plate
Comb
Tooth Mug
Slippers
Bathrobe
Kettle
Teacup
Tea Bags
Coffee Spoon
Shoe Sponge
Toliet Paper
Safe Box
Laundry Bags
Toothbrush
Toothpaste
Desk
Chair
Clothes Hanger
Cloth Line
Mirror
Please note: if you can't find the amenities you need, please ask front desk for help!
Schedule of
President No.8
Jan.
Feb.
Mar.
Apr.
May.
June.
July.
Aug.
Sept.
Oct.
Nov.
Dec.
Please Note:
The above price range is based on a standard cabin for twin sharing.
The prices are valid by Dec.31 of the year.
Please enquire us of the exact price according to your nationality, cruising time and cruising route.
The cruise prices for holidays such as National Holiday (the first week of October), Labor Day, Spring Festival, etc., are quoted upon request.
Limited winter schedules may be adjusted into other dates, cruise ships, etc. based on the arrangement of the cruise company.
Save up more to Book a China Tour Package including Yangtze Cruise
Not easy to find the right cruise ship/itinerary for you? Please contact one of our Yangtze cruise specialists to save your time and money. Click the right button to send an online inquiry and we will get back to you within 0.5~23.5 hours.
Your can rely on our expert knowledge and endless enthusiasm!
Questions & Discussions
Following are latest questions and answers from our webusers and customers. You can learn many useful information from the discussion and cases. You can also join in the discussions or ask your own question. Our experts will help you ASAP.
Selection of Rum
Do they have dark rum on the ship?
Hi Tim,

Greetings from China! Onboard President 8, there are many types of drinks served for all guests of/over 18 years old. As for dark rum, there usually is one kind called Captain Morgan, and you could know the detailed kinds and prices of them from the staff after boarding!

Wish you a forgettable Yangtze River cruise in China!

Have a question? Get answers from our travel experts or guests