8 Days Yangtze Discovery Cruises from Chongqing to Wuhan
- Let's Cruise between Chongqing & Wuhan Again after a Lapse of 4 Years from only $754
This cruise route is not available in 2021!
Do you know? Chongqing Wuhan Yangtze River cruise route has been suspended for as long as 4 years, but now it reopens! Century Emerald, the honored Century ship once hired by Viking Cruises, will take you to cruise between Chongqing & Wuhan Again!
The Chongqing Wuhan Cruises (both Chongqing to Wuhan cruise and Wuhan to Chongqing cruise) take only 8 days & 7 nights! During the 8 days, you will indulge in a worry-free & all-inclusive cruise journey to Chongqing, Fengdu, Yichang, Jingzhou, Yueyang & Wuhan, with explorations of hidden gems you may never visit if you not go with a cruise but no shortage of classic essences! No matter you are cruise lovers, nature enthusiastic, Chinese culture fans or foodies, you will like the Chongqing Wuhan cruises! Only 6 scheduled sailings in summer (2 sailings in each month in June, July and August) this year, choose your sailing now!
Chongqing to Wuhan Yangtze Cruise - Discover Yangtze River in 8 Days
① Only 3~4 Days Longer than the Classic Yangtze Cruise Routes: If you follow this 8-Day Yangtze Discovery Cruise, you will not only get the classic Yangtze River highlights during Chongqing and Yichang (like Three Gorges & Three Gorges Dam), but also take Wuhan, Yueyang & Jingzhou into pocket! 3 more cities in only 3~4 additional days!
② There is a New Angle to Admire the Yangtze River Introduced: In addition to the traditional angles to appreciate the gorgeous Yangtze River while winding through it, you will also get a unique angle to admire it from above! Climbing up to the amazing Yangtze mountains and standing on the glass-paved platform with broad view, you will be rewarded with the rolling heads of the mountains in front of you and breathtaking rivers and its lush banks under your foot!
③ Over 10 Shore Excursions in One Cruise Trip: Highlights are a lot, no waste of time while no lack of a leisure atmosphere, including Fengdu Ghost City, Shennv Stream, Jingzhou Ancient City Wall, Yueyang Tower, White Emperor City, Yunyang Longgang National Geological Park, and so forth.
④ Sample Delicious Specialties of the Cities on the Banks: Every day onboard or onshore is a happy day for foodies! You will taste the specialties along the cruise, from hot pot meal in Chongqing to hot noodles with sesame paste in Wuhan…
Century Emerald Chongqing to Wuhan Cruise
Leisure Vacation with Century Emerald, Luxury Century Ship
Century Emerald is a 5-star luxury ship of Century Cruises, which was praised as "the Most Dynamic Cruise Company on Yangtze River" by New York Times and received MAGELLAN AWARDS from Travel Weekly! The cruise and Cruise Company do excellent on Yangtze River cruise vacation and always do their best to make the guests fell at home. Check its detailed deck plan, accommodation, life onboard, dinning and more here to know the fantastic Century Emerald!
Detailed Sailing Schedules at below:
Detailed Itinerary for 8-day Chongqing to Wuhan Cruise
The entire Yangtze River cruise sailing from Chongqing to Wuhan will take 8 days and 7 nights along the lower and middle reaches of Yangtze River. The first day is the embarkation day that travelers from other places should transfer to Wuhan, and the cruise company will arrange transportation escorting you from the airport / train station to Wuhan Port for embarkation. You will enjoy full days from the second day to seventh day to enjoy the natural, cultural, historical, economical and food highlights all the way passing various parts of Chongqing, Fengdu, Yichang, Jingzhou, Yueyang & Wuhan, with no shortage of visits to Three Gorges, Three Gorges Dam, etc. On the morning of the last day, you will arrive in Wuhan downtown and the cruise will dock at Wuhan Port for your disembarkation. Check the following cruise itinerary from Chongqing to Wuhan to have a general idea about what to expect during such Yangtze river discovery vacation!
Map of Chongqing Wuhan Cruise Route
Sampling Itinerary Day by Day
Day 1 Chongqing Arrival & Embarkation (D)
Embark the cruise at Chaotianmen Port; Safety Briefing; Captain's Welcome Party
Welcome to Chongqing, the City of Mountain. Chongqing is China's fourth municipality after Beijing, Shanghai and Tianjin, attracting visitors from home and aboard for its delicious food, cultural heritage, tourist attractions, unbelievable mountain landform... Located at the confluence of Yangtze River and Jialing River, it is best to appreciate the view of the city center. The cruise company will arrange a vehicle to see you off at the Chongqing airport / train station. If you like, you can also choose to discover Chongqing after disembarkation.
Chongqing Chaotianmen Dock
Day 2 Fengdu & Zhongxian (B, L, D)
Visit Fengdu Ghost City & Ancient Dwelling Houses; Captain's Welcome Party; Three Kingdoms Open Air Show
Fengdu Ghost City is a large complex of shrines, temples and monasteries dedicated to the afterlife located on Ming Mountain. You'll have a learning about Chinese demons and beliefs of Confucianism, Taoism and Buddhism.
Performed on the river stage near Qutang Gorge with rich poetry culture and hi-tech projections, Three Kingdoms Open Air Show is a newly created and worth expecting on-site live performance by Zhang Yimou specialized in shows on real landscapes.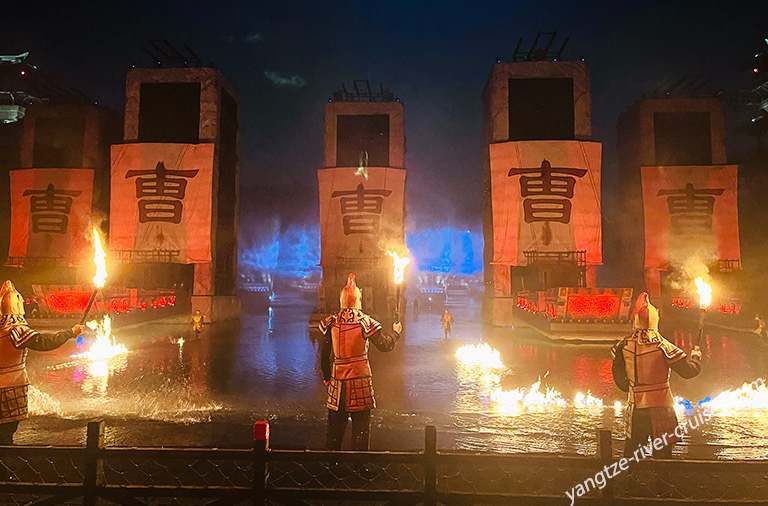 Three Kingdoms Open Air Show
Fengdu Ghost City
Day 3 Yunyang (B, L, D)
Zhang Fei Temple; Yunyang Longgang National Geological Park
Yunyang Longgang National Geological Park
is built atop the majestic mountains at the riverside of the Yangtze River. Here, you will enjoy awe-inspiring hiking along the trails built at the hillside of the cliffs and also breathtaking walking along the grass-paved platform hanging in the air. Look up to see the rolling mountain tops standing shoulder by shoulder, then look down to the deep gorge with lush banks and stunning turns. You won't get no a better gorge view than here.
Yunyang Longgang National Geological Park
Day 4 Wushan/Fengjie (B, L, D)
White Emperor City; Sail through Qutang & Wu Gorges; Sail through the Five-stages Ship Locks; Cruise Shennv Stream
White Emperor City is located on the north side of Qutang Gorge, White Emperor City offers the best angle to view the magnificent Kui Gate. Known as the Poem City, White Emperor City has attracted many poets come and left many famous poems. What makes this place known to outside is the historical story of "Entrusting Zhuge Liang with an Orphan in Baidi Town".
Qutang Gorge at the western section is narrow and dramatic like an art gallery of nature, which offers superb magnificent scenery for all guests. Wu Gorge is the middle one gorge. It is a mysterious gorge site well-known for its frequently rising and passing mists, which is extremely beautiful and gorgeous with the leaves in red, yellow, golden and orange during autumn.
Shennv Stream has painting-like natural wonderland to appreciate the primitive waterscape with strange rocks, verdant peculiar peaks, winding water, in the serene valley with crispy chirps of at Yangtze.
Three Gorges Dam Five Stages Ship Locks is so far the largest ship locks globally. With a water height difference of 113 meters in total, it is the most complicated ship locks to construct universally.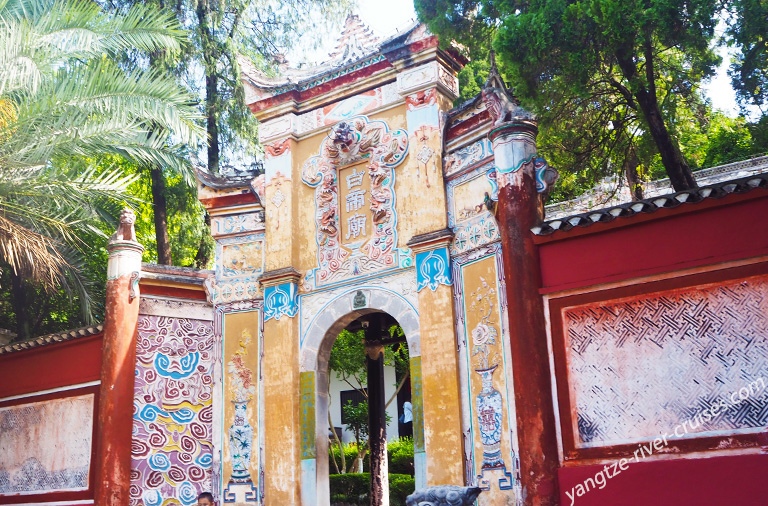 Fengjie White Emperor City
Three Gorges Dam with Ship Locks
Shennv Stream with Primitive Gorge Scenery
Magnificent Qutang Gorge
Breathtaking Wu Gorge Scenery
Day 6 Jingzhou (B, L, D)
Jingzhou Ancient City Wall; Jingzhou Museum
Jingzhou Ancient City Wall is one of the best preserved and larges scaled city wall in southern part in China, which is historic from the Warring States period. Visit this ancient site to admire its look kept from the Qing dynasty and understand the history of Jingzhou being the famous place in the past dynasties.
Jingzhou Museum
Jingzhou Ancient City Wall
Day 7 Yueyang (B, L, D)
Yueyang Tower; Bianhe Street
Yueyang Tower is one of the ten famous historical and cultural towers in China which is well-known for over 1,000 thousand years since the classic Chinese poem. Besides the outstanding construction skills and abundant poem and calligraphic displays, you can get on the tower to admire the great sightseeing of Dongting Lake.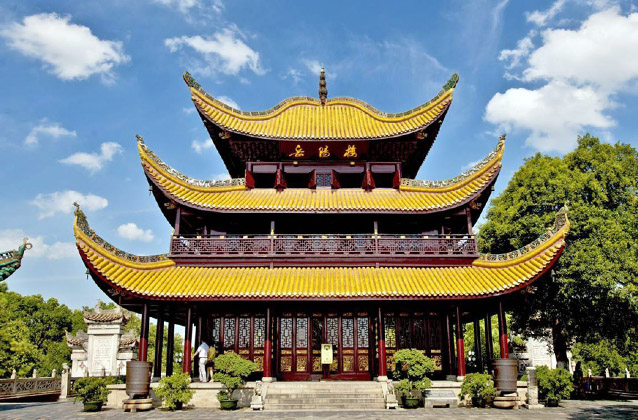 Yueyang Tower
Day 8 Wuhan (B)
Disembark at Wuhan Port
Welcome to Wuhan, the capital city of Hubei Province right located in the middle of the navigable part of the Yangtze River between Shanghai and Chongqing! For centuries, Wuhan has always been a popular tourist destination as it is rich in a long history, beautiful blossoms and so forth. But in 2019 and 2020, it was out of visitors' travel list because of the outbreak of novel coronavirus (2019-nCoV). Now, everything bad has passed and its popularity comes back again!
You will disembark the cruise at Wuhan port. If you like, you can choose to discover Wuhan after disembarkation.
Yellow Crane Tower
Quotation Includes:
Accommodation: One single bed of a Deluxe Cabin with two single beds;
Meals onboard and on land as specified in the itinerary;
Entrance fees of the scenic spots as listed in the itinerary;
Guide introduction service during each shore excursion listed in the itinerary;
Elegant casual ambience & enrichment programmes;
Service Charge (the planning, handling, operational and communication charges) & Government Taxes.
The price will be a little lower if you pay in Chinese Yuan (RMB!)
Price excludes:
Single room supplement and the extra fee if you update the cabin to a suite;
Accommodation not as listed in the itinerary;
Visa Fees: Please make sure that you have got your valid passport and visa before your entry to China. We can send you a free official invitation letter to assist you in obtaining your visa after the reservation deposit is received;
Sightseeing not listed in the itinerary;
Meals not listed in the itinerary;
Personal expenses such as laundry, drink, fax, telephone call, optional activities, etc.;
Gratuities, tips to guides, drivers, bellboys, etc.;
Excess Baggage Charges;
Life Tourist insurance. Please kindly note that the full coverage travel insurance from your country of origin should be purchased in advance on your own.
Here are recent candid photos of this China trip / Yangtze cruise trip. If you want to share your own tour photos, simply email your photos to info@yangtze-river-cruises.com with your Booking ID Number. Thanks in advance for sharing!
Note:
1. The above information including itinerary, attractions, and shore excursions, is not fixed and will be changed slightly because of the differences in ships, seasons, water levels, and weather condition.
2. Included meals as noted in above itinerary: (B) = Breakfast; (L) = Lunch; (D) = Dinner.
3. Get to / away from Wuhan: Wuhan Tianhe International Airport has flights to/from Beijing, Shanghai, Tianjin, Guangzhou, Guilin, Hangzhou, Fuzhou, Huangshan, Xiamen, Harbin, Chengdu, etc. It also offers international flights to/from London, Paris, Bangkok, Seoul, etc. Wuhan Railway Station and Hankou Railway Station in Wuhan have bullet trains to/from Yichang, Chongqing, Shanghai, Guangzhou, Beijing, Xian, Zhengzhou, Shenzhen, Changsha, etc.
4. Get to / away from Chongqing: Chongqing Jiangbei International Airport has frequent flights to majority domestic places in China and some direct flights to Seoul, Tokyo, Nagoya, Bangkok, etc. Besides, Chongqing North Railway Station, Chongqing West Railway Station and Chongqing Shapingba Railway Station has high speed trains to / from Beijing, Xian, Chengdu, Guilin, Kunming, Guangzhou, etc.
5. What to Wear for Yangtze River Cruise: wear casual seasonal wears like coats, T-shirts, light knitwear, jeans, etc. in spring and autumn, shorts, light jackets, T-shirts, skirts, sunglasses, sun hat, sunblock, etc. in summer and jackets, warm pants, sweaters, gloves, scarves, etc. in winter.
6. What to Pack: Travel documents, "Carry On" luggage, confirmation letter, casual clothes to pack, daily commodities, credit cards, cash, mobile phone, cameras, as well as any essential medicines, etc.
Make an Enquiry
Interested in the cruise? Select from the following cruise dates and make an inquiry to start your trip planning & cruise vacation!
Chongqing to Wuhan
Wuhan to Chongqing
Book Now
Not easy to find the right cruise ship/itinerary for you? Please contact one of our Yangtze cruise specialists to save your time and money. Click the right button to send an online inquiry and we will get back to you within 0.5~23.5 hours.
Your can rely on our expert knowledge and endless enthusiasm!