11 Days Deluxe Autumn Yangtze River Cruise from Chongqing to Nanjing 2023
- Marvel at China's Nature, Culture & Art Heritages with Yangtze Explorer from only $3,062
The world third longest river - Yangtze River has much more than the classic and magnificent Three Gorges grand view, and taking a luxury cruise to sail along the water down to the lower reach is the best and most relaxing way to discover more amazing sceneries, historical traces, diverse culture and ethnic folk life, and economical industrial in one go! In 2021, the Yangtze best super 5-star luxurious Yangtze Explorer cruise ship under the global renowned Sanctuary Retreat specialized in luxury trip service offers the brand-new and only 11 Days Yangtze River Cruise from Chongqing to Nanjing! You will have a rich understanding of the vast China with excursions to the representative attractions in Chongqing municipality, Yichang, Jingzhou, Yueyang, Wuhan, Jiujiang and Jiuhuashan, which is a wonderful visual and mental feast. There are totallyonly 4 schedules (September & October, including 2 from Chongqing to Nanjing & 2 from Nanjing to Chongqing) in whole 2021. You will enjoy better discounts if you book early!
Chongqing to Nanjing Yangtze Cruise - Brilliant Autumn Yangtze Savory in 11 Days
① Valuable All-inclusive Cruise Package: enjoy a quite valuable sailing vacation with everything included in the quotation from US$3,062 per person, including rooms of 5-star hotel standard, three meals per day with plentiful types of delicious food & drinks, 24-hour one-on-one caring service around the cruise, all attractions visiting, tour guides, etc., which needs only about US$278 (about CNY1,837) per day for each one.
② An immersion communication with China's influenced dynasties: Have a unique dialogue with precious relics and remaining sites about the historical stories, diverse brilliant culture changes, fierce conflicts and hard thriving of different kingdoms in the middle and lower reach zones of Yangtze River in the past thousands of years.
③ Unique overlook famous Three Gorges: Besides sail through the classic and magnificent Qutang Gorge, Wu Gorge and Xiling Gorge, you will get up to the advantageous scenic spots to catch the rarely seen spectacle of mountain peaks and emerald-belt Yangtze for the real Three Gorges beauty.
④ Discover cultural and engineering mysteries in past China: explore the mysterious layout of the beautiful old village with beneficial Fengshui for people's health and luck, the background of building the enormous nuclear military plant before its unveiling to the world after decades and the influence of Three Gorges Dam project.
⑤ Visual & audio feast only for you: Follow the technique of the prize-won team of Zhang Yimou to savor the Three Kingdom period culture and past life in the 20th century of Wuhan port city.
⑥ Worthy Hiking to Mount Jiuhua: get inspired with the holy and scenic visit to beautiful Jiuhuashan, one of the Four Great Buddhist Mountains in China.
⑦ Close visit to 8 cities: enjoy fantastic visits to 4 provinces (Jiangsu, Jiangxi, Hubei and Hunan), 1 municipalities (Chongqing), 7 cities (Yichang, Jingzhou, Yueyang, Wuhan, Jiujiang, Chizhou and Nanjing).
⑧ Have great time at more than 10 different types of scenic sites: old village, ancient street, ancient city wall, museums, mausoleum sites, pavilions, towers, lakes, gorges, mountains, military plants, etc. Outstanding artistic live performances are covered for appreciation and learning.
Chongqing to Nanjing Yangtze Cruise Highlights
Luxury Leisure Vacation with Yangtze Explorer - Yangtze Only Super 5-star Cruise Ship
Yangtze Explorer under the management of global well-known luxury travel brand - Sanctuary Retreats is the best super 5-star cruise ship superior with the most spacious stand cabins of 31 s.q.m. wide and all exquisite roomy dining rooms, public entertainment space, sightseeing sundeck, etc. for your high expectation of a real deluxe vacation by a cruise. Furthermore, Yangtze Explorer is featured with its praised one-on-one VIP service, catering your seeking and needs of the first-chop service matching your noble status. You can check more ship facilities, cabins, deckplans, food & drinks, onboard service, entertainment, reviews, etc. and more photos of Yangtze Explorer!
DINING
A surprising flavors tour with a rich range of Chinese & Western gourmet prepared by the team of internationally trained chefs.
Detailed Sailing Schedules at below:
No Chongqing Nanjing cruise schedules are available in 2021!
Detailed Itinerary for 11-day Chongqing to Nanjing Cruise
All the Yangtze River cruises sailing from Chongqing to Nanjing by Yangtze Explorer will take 11 days and 10 nights along the lower and middle reaches of the Yangtze River. The first day is the embarkation day that travelers from other places should transfer to Chongqing, and the cruise company will arrange transportation escorting you from the airport / train station to Chongqing Chaotianmen Port for embarkation. You will enjoy full days from the second day to tenth day to enjoy the natural, cultural, historical, economical and food highlights all the way passing various parts of Chongqing, Yichang, Jingzhou, Yueyang, Wuhan, Jiujiang, Chizhou and Nanjing, including visits to Three Gorges, Three Gorges Dam, etc. On the morning of the eleventh day, you will arrive in Nanjing and the cruise will dock at Nanjing Wumadu Port for your disembarkation. the cruise company will also arrange vehicle to escort you to Nanjing airport / railway station for your leaving for the next destination or home. Check the following cruise itinerary from Chongqing to Nanjing to have a general idea about what to expect during such in-depth Yangtze river vacation!
Map of Chongqing Nanjing Cruise Route
Sampling Itinerary Day by Day
Day 1 Chongqing Arrival & Embarkation (D)
Embark the cruise at Chaotianmen Port at 16:00-20:30; Captain's Welcome Party
Welcome to Chongqing, the City of Mountain. Chongqing is China's fourth municipality after Beijing, Shanghai and Tianjin, attracting visitors from home and aboard for its delicious food, cultural heritage, tourist attractions, unbelievable mountain landform... Located at the confluence of Yangtze River and Jialing River, it is best to appreciate the view of the city center. Take the tourist bus arranged by Yangtze Explorer from Chongqing airport / railway station / your hotel in Chongqing downtown to Chaotianmen Dock and board the ship at 16:00-20:30. Come to the sundeck to enjoy the terrific night view of Chongqing, which is reputed as the "little Hong Kong". Depart from Chongqing at around 21:30.
Chongqing Chaotianmen Dock
Chongqing Chaotianmen Port for Yangtze Cruise
Day 2 Fuling (B, L, D)
Highlight: 816 Nuclear Military Plant, Feng Yan San Guo Show night performance
816 Nuclear Military Plant strikes the world not only because it's the world largest artificial cave, but also for its unveiled structure of the real nuclear plant (radiationless for no manufacture happened). You would meet the tens of kilometers long cave, multiple paths inside and a lot of unbelievable parts in the 816 Underground Project. As in the list of 20th century's architectural heritages in China, this plant is really great for visiting, education and knowledge enrichment.
Feng Yan San Guo Show night performance is the marvelous large-scale real landscape show about the brilliant historical culture of the Three Kingdoms Period about over 1,800 year ago and the spirit of loyalty of great military officer Guan Yu.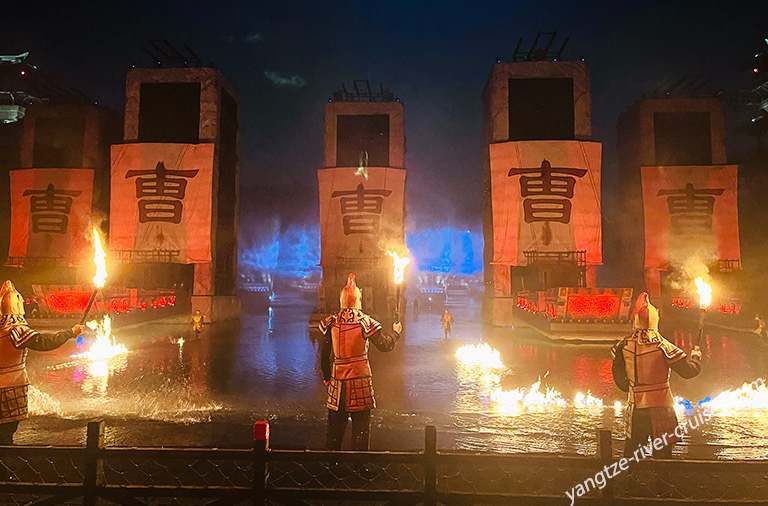 Three Kingdoms Open Air Show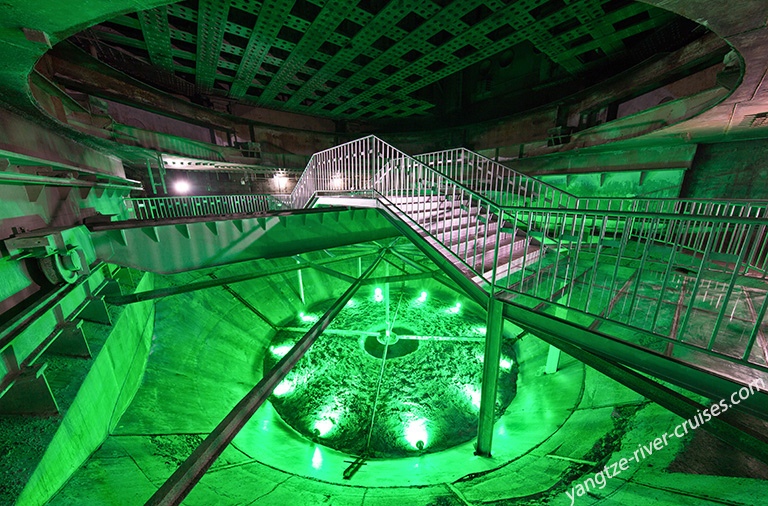 Fuling 816 Nuclear Military Plant
Day 3 Fengjie (B, L, D)
Highlight: Sail through Qutang Gorge; A: White Emperor City; OR B: Summit of Three Gorges
White Emperor City is located on the north side of Qutang Gorge, White Emperor City offers the best angle to view the magnificent Kui Gate. Known as the Poem City, White Emperor City has attracted many poets come and left many famous poems. What makes this place known to outside is the historical story of "Entrusting Zhuge Liang with an Orphan in Baidi Town".
Summit of Three Gorges is the highest peak of the famous Three Gorges area to catch the most beautiful gorge and winding river sightseeing.
Qutang Gorge at the western section is narrow and dramatic like an art gallery of nature, which offers superb magnificent scenery for all guests. 
Leisure walk at Wushan County.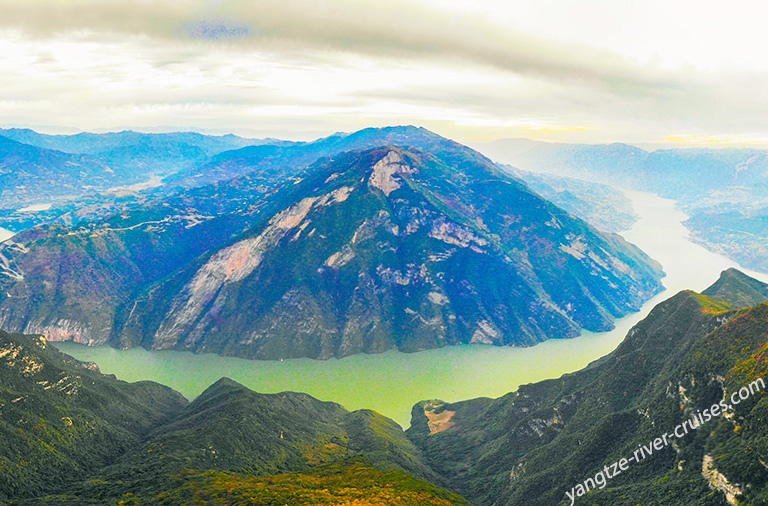 Summit of Three Gorges at Wushan, Chongqing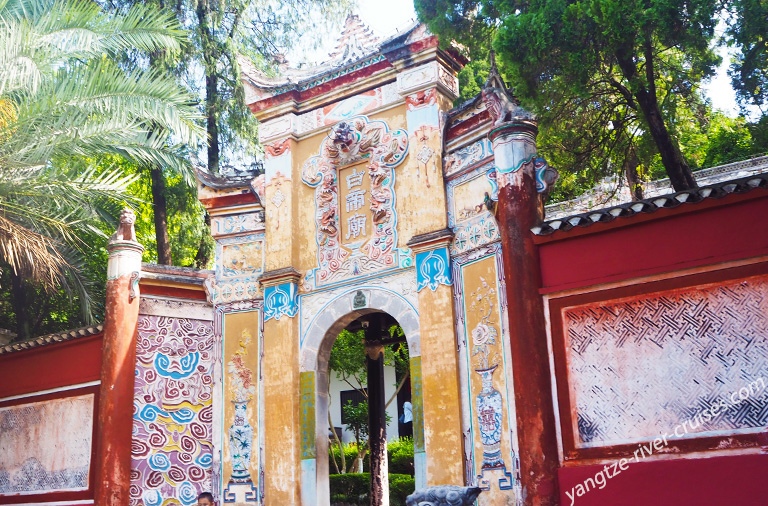 Fengjie White Emperor City
Magnificent Qutang Gorge
Day 4 Wushan (B, L, D)
Highlight: Shennv Heaven Path; Sail through the Five-stages Ship Locks; Sail through Wu Gorge & Xiling Gorge
Shennv Heaven Path with an average altitude of about 1,200 meters is advantageous to overlook the belt-like emerald Yangtze and verdant flowery gorge mountains, especially for the autumn and winter red leaves.
Wu Gorge is the middle one gorge. It is a mysterious gorge site well-known for its frequently rising and passing mists, which is extremely beautiful and gorgeous with the leaves in red, yellow, golden and orange during autumn.
Sail through the Xiling Gorge at the eastern section to enjoy its beautiful sightseeing with some feeling of the dangerous gorge landform with turbulent river, high hills, rugged shoals, etc.
Three Gorges Dam Five Stages Ship Locks is so far the largest ship locks globally. With a water height difference of 113 meters in total, it is the most complicated ship locks to construct universally.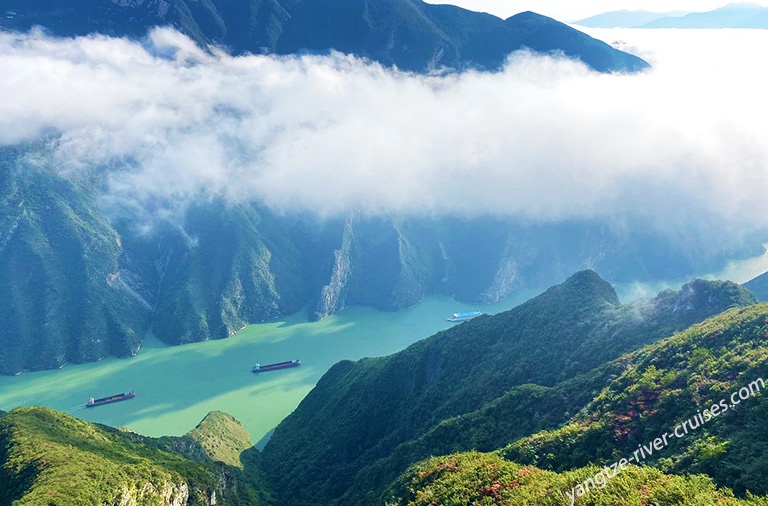 Wushan Shennv Heaven Path in Chongqing
Xiling Gorge with Mists
Three Gorges Dam with Ship Locks
Breathtaking Wu Gorge Scenery
Day 5 Yichang (B, L, D)
Highlight: A: Three Gorges Dam; OR B:Tribe of Three Gorges
The Three Gorges Dam is the No.1 must-see attraction arranged by every ship as the first or last shore excursion. Located in Yichang City, it has been the world's largest power station. Three Gorges Dam is 3,335 meters long and the top of the dam is 185 meters above sea level. The dam consists of three parts - dam body, power plants and ship lift. It is used for producing electricity, but also increase the Yangtze River's shipping capacity. Travelers with a Yangtze River cruise will spend about 2 to 3 hours visiting the dam. You will not only have a close look at the impressive huge dam, but also learn the history, social impact, economics about the dam.
Tribe of Three Gorges is one of the best complimented scenic spots by foreign cruise visitors and is superb to get close to the particularly tranquil, primitive and nice sightseeing of villages on water, on mountain and off brook with fine exploration of interesting folk custom of Tujia minority people.
World-famous Three Gorges Dam
Day 6 Jingzhou (B, L D)
Highlights: Jingzhou Ancient City Wall; The Chariot and Horse Mausoleum of the King of Chu; Jingzhou Museum
Jingzhou Ancient City Wall is one of the best preserved and larges scaled city wall in southern part in China, which is historic from the Warring States period. Visit this ancient site to admire its look kept from the Qing dynasty and understand the history of Jingzhou being the famous place in the past dynasties.
Jingzhou Museum is one of the top National First Class Museums in China with over 130 thousand pieces of historical cultural relics. Admire the top best silk and colorful lacquer exhibitions from the Warring States period, well preserved swords of famous ancient kings. Besides, it boasts the best preserved and most historic ancient male corpse buried in 167BC from the Western Han dynasty.
The Chariot and Horse Mausoleum of the King of Chu (Xiongjia National Archaeological Site Park) is the best and largest tomb site of Chu State representing the highest level of Chu culture in the Spring and Autumn and War State period. Lots of archaeological experts in China often say, "Terracotta Warriors is best in north China, the Chariot and Horse Mausoleum of the King of Chu in south China."
Chariot and Horse Mausoleum of King Chu in Jingzhou
Jingzhou Museum
Jingzhou Ancient City Wall
Day 7 Yueyang (B, L, D)
Highlights: A: Yueyang Tower + Bianhe Street; OR B: Zhang Guying Village
Yueyang Tower is one of the ten famous historical and cultural towers in China which is well-known for over 1,000 thousand years since the classic Chinese poem. Besides the outstanding construction skills and abundant poem and calligraphic displays, you can get on the tower to admire the great sightseeing of Dongting Lake.
Bianhe Street is a 300-meter long antique street with elegant and ancient charm and is great to savor the ancient styled architectures with mixed culture of Yueyang Tower, Dongting Lake and the famous Yueyang City.
Zhangguying Village of more than 500 years old since the moving in of Zhang Guyang who was a master of Fengshui is praised as "Forbidden City for Folks", where preserves quite complete ancient village houses, stream and paths and keeps almost the original look hundreds of years ago for a pleasant admiration.
Yueyang Zhangguying Village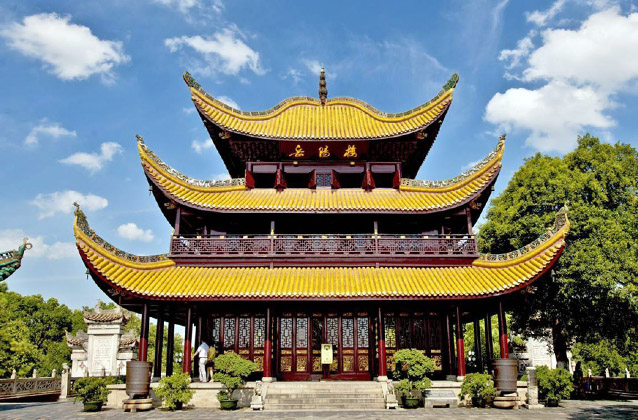 Yueyang Tower
Yueyang Bianhe Street
Day 8 Wuhan / Huanggang (B, L, D)
Highlights: Full day excursion to A: Wuhan (Yellow Crane Tower, Hubei Provincial Museum & local flavored lunch); OR B: Huanggang (Red Cliff, local flavored lunch at Meizhou Dongpo Restaurant); Drama on Zhiyinhao Ship
Yellow Crane Tower from 223 AD is the symbol of Wuhan and is one of the Three Famous Towers in Regions South of the Yangtze River. The antique designs, flying eaves, and rich left charm is great to soak in the literal culture in the historically well-known Chinese poem.
Hubei Provincial Museum, one of the 8 national class museums in China, displays nearly 1,000 pieces of state-level historic and cultural relics. It currently holds over 240 thousand objects to logistically introduce the history and culture of the ancient Chu State and the ancient Yangtze River, among which the most astonishing are the objects excavated from the Zenghouyi Tomb which was built about 2,400 years ago.
Red Cliff is the very site of the historical famous war - Battle of the Red Cliff in 208 AD and contains the original battleground more relative poems and ancient buildings for a clear understanding of the influential place in Chinese history and literary.
Zhiyinhao Ship provides the multi-dimensional drama to show the typical look of the old Wuhan and the port life during 1920s ~ 1930s with great stories.
Ref Cliff in Huanggang, Hubei
Live Performance on Zhiyinhao Cruise in Wuhan
Precious Chimes at Hubei Provincial Museum
Yellow Crane Tower
Day 9 Jiujiang (B, L, D)
Highlights: Full day excursion to A: Lushan Mountain, OR B: Museum of Haihun Marquis Tomb Site
Lushan Mountain is listed as one of the 10 Famous Mountains in China and is famous for having long been complimented by many famous ancient Chinese poets in their masterpieces to describe its peculiar beautiful sightseeing and many kinds of looks from different angle of view.
Museum of Haihun Marquis Tomb Site displays the collections from the tomb of Liu He who was the 27th emperor of Han Dynasty. It is the largest, best preserved and most abundant Han Dynasty marquis tomb found so far and discovers outstandingly the politics, harem fight, massacre, extravagant life and decline in West Han Dynasty 2,000 years ago.
Museum of Haihun Marquis Tomb Site in Nanchang
Jiujiang Lushan Mountain
Day 10 Jiuhuashan (B, L, D)
Highlights: Full day excursion to Mount Jiuhua
Mount Jiuhua is one of the Four Great Buddhist Mountains in China and a World Geopark. With special and refreshing shape like nice lotus flowers, it get the name as Jiuhua and is reputed as "Buddhist World of Lotus Flowers". Hiking to Jiuhuashan has long been expected and achieved by numerous Buddhist believers for over one thousand years, and appreciating the more than 1,500 Buddha statues and 78 temple clusters is really an enjoyment. Besides, the strange rocks, emerald ravines and streams, sunrise, sea of clouds, rimes and light of Buddha makes Jiuhuashan a fantastic place for both culture and nature seeking!
Sacred Buddha in Mount Jiuhua
Mount Jiuhua
Day 11 Nanjing Disembarkation & Departure (B)
Disembark at Nanjing Wumadu Cruise Ship Terminal at 09:00 & bus riding to Nanjing airport / railway station
Welcome to Nanjing, the capital of Jiangsu Province and the famous ancient capital for six past Chinese dynasties. It boasts especially rich historical feature for a cultural discovery with lots of worthy and famous attractions and also a competitive city appearance for a modern China admiration. Take the tourist bus arranged by Yangtze Explorer to the airport / railway station after disembarking at Nanjing Wumadu Cruise Ship Terminal at 09:00. If you like, you can also choose to discover Nanjing after disembarkation.
Nanjing Wumadu Port at Yanziji Area
Nanjing Qinhuai River
Quotation Includes:
Accommodation: one single bed in the Deluxe Suite (31.00 m2), based on two persons sharing one room;
Meals onboard and on land as specified in the itinerary;
Transportation: pick-up and drop-off service for embarkation and disembarkation in Nanjing and Chongqing, while sightseeing in each shore excursion visit;
Luggage Transfers between airports, trains and the cruise;
Entrance fees of the scenic spots as listed in the itinerary;
Guide introduction service during each shore excursion listed in the itinerary;
High staff-to-guest ratio ensures personalized service;
Elegant casual ambience & enrichment programmes;
Service Charge (the planning, handling, operational and communication charges) & Government Taxes.
(The price will be a little lower if you pay in Chinese Yuan (RMB!)
Price excludes:
Accommodation not as listed in the itinerary;
Visa Fees: Please make sure that you have got your valid passport and visa before your entry to China. We can send you a free official invitation letter to assist you in obtaining your visa after the reservation deposit is received;
Sightseeing not listed in the itinerary;
Meals not listed in the itinerary (breakfast and lunch on Day 1; lunch and dinner on Day 11);
Personal expenses such as laundry, drink, fax, telephone call, optional activities, etc.;
Gratuities, tips to guides, drivers, bellboys, etc.;
Life Tourist insurance. Please kindly note that the full coverage travel insurance from your country of origin should be purchased in advance on your own.
Here are recent candid photos of this China trip / Yangtze cruise trip. If you want to share your own tour photos, simply email your photos to info@yangtze-river-cruises.com with your Booking ID Number. Thanks in advance for sharing!
Note:
1. The above information including itinerary, attractions, and shore excursions, is not fixed and will be changed slightly because of the differences in ships, seasons, water levels, and weather condition.
2. Included meals as noted in above itinerary: (B) = Breakfast; (L) = Lunch; (D) = Dinner.
3. Get to / away from Nanjing: Nanjing Lukou International Airport has over has more than 130 domestic and more than 20 international air routes, reaching over 110 destinations home and abroad. Moreover, Nanjing South Railway Station serves high speed trains to / off Beijing, Shanghai, Hangzhou, Suzhou, Ningbo, Wuxi, etc. And Nanjing Railway Station also has bullet trains with Shanghai, Hangzhou, Suzhou, Ningbo, Wuxi, etc. for your choice.
4. Get to / away from Chongqing: Chongqing Jiangbei International Airport has frequent flights to majority domestic places in China and some direct flights to Seoul, Tokyo, Nagoya, Bangkok, etc. Besides, Chongqing North Railway Station, Chongqing West Railway Station and Chongqing Shapingba Railway Station has high speed trains to / from Beijing, Xian, Chengdu, Guilin, Kunming, Guangzhou, etc.
5. What to Wear for Yangtze River Cruise: wear casual seasonal wears like coats, T-shirts, light knitwear, jeans, etc. in spring and autumn, shorts, light jackets, T-shirts, skirts, sunglasses, sun hat, sunblock, etc. in summer and jackets, warm pants, sweaters, gloves, scarves, etc. in winter.
6. What to Pack: Travel documents, "Carry On" luggage, confirmation letter, casual clothes to pack, daily commodities, credit cards, cash, mobile phone, cameras, as well as any essential medicines, etc.
Complimentary Services & Gifts for Yangtze Explorer Cruise Visitors
Travelers booking the special Chongqing Jiujiang cruise will enjoy abundant special complimentary servicesa and gifts for a wonderful superior travel experience.
Booking the Deluxe Suite (31㎡)
People booking the Deluxe Suite of Yangtze Explorer would enjoy following services for free:
Cruise butler service;
Welcome fruit on the embarkation day and complimentary use of the soft MINI bar on the embarkation day;
Specially prepared FIJI water in the room;
Complimentary tea and snack all day;
Delicate cuisines and drinkings from the dinner on the embarkation day to the breakfast on the disembarkation day;
Appointed wines and drinkings during dining onboard, and unlimited bottled water for shore excursions;
Executive guide introduction service for cruise and shore excursions;
Experts sharing of cruise and attractions;
Shuttle bus, scenic transfer and rope way in the scenic spots;
Selected famous performance onland and cruise visiting demonstrated in the itinerary;
Complimentary laundry services (total 6 pieces per suite);
Concierge service for embarkation and disembarkation port cities
Worry-free luggage service during whole sailing;
Booking the Executive Suite (39㎡)
People booking the Executive Suite of Yangtze Explorer would enjoy following services for free (including all services for Deluxe Suite):
Great Location on the upper decks of Xiling Deck (3rd Floor), Wu Deck (4th Floor) and Qutang Deck (5th Floor);
Welcome Chinese tea on the embarkation day;
Coffee, tea and snacks at the Executive Lounge;
Mini Bar supplement every day;
One bottle of wine (imported) in the suite;
Complimentary red and white wine of appointed brands for dinner;
Complimentary laundry services (total 16 pieces per suite);
Turn down service and surprising gifts;
Private cruise drinking party.
Booking Jade/Mandarin(81㎡) & Celestial/Imperial (110㎡) Suites
People booking the Jade Suite, Mandarin Suite, Celestial Suite or Imperial Suite of Yangtze Explorer would enjoy following services for free (including all services for Deluxe Suite and Executive Suites):
Great Location on the upper decks of Xiling Deck (3rd Floor), Wu Deck (4th Floor) and Qutang Deck (5th Floor);
Flight ticket of business class or high speed train ticket of business class from your departure city to ship embarkation city and ship disembarkation city back to your departure city;
Room service with customized menu for once;
One Bird cage afternoon tea in suite;
Service of one butler and one vehicle for one room from and to the port of landing;
Complimentary fruit basket daily;
One bottle of specially supplied sparkling wine;
Room service;
Dyson hair dryer in the room;
Unlimited laundry (water cleaning) and shoe shine service.
Make an Enquiry
Interested in the cruise? Select from the following cruise dates and make an inquiry to start your trip planning & cruise vacation!
Chongqing to Nanjing
Nanjing to Chongqing
Book Now
Not easy to find the right cruise ship/itinerary for you? Please contact one of our Yangtze cruise specialists to save your time and money. Click the right button to send an online inquiry and we will get back to you within 0.5~23.5 hours.
Your can rely on our expert knowledge and endless enthusiasm!