Reviews of Yangtze River Cruise
Still not deciding if a Yangtze River Cruise is worth for you? Many of our travellers have experienced a lifetime changing trip and now more than happy to share their stories with you. Check out their memorable Yangtze Cruise reviews and experiences.
Tracy,
We had a great time on the River Cruise! Thank you for your help.
Ashley
Thanks Leo
All's well that ends well. We had a great time and were impressed with the rugged countryside and scenery. The China we saw was much better than is normally depicted here.
We had a big day getting there but were not the only ones. Our check in time was midnight so were pleased we did no have the morning extra tour option to go to.
Throughout the tour the tour guides were great and tried their best but by the time they did their speech in Mandarin the subject was usually passed by the time they got to English so we missed the point often.
I managed to make it to the top of The White Emperors Temple much to the surprise of most. Even had my own personal English speaking guide.
Generally everything went really well and the people were great.
The only thing I could suggest is that you supply a little more information on the optional excursions and the post cruise activities. We would have loved to have seen the Pandas but it was a miserable day when we departed so chose not to but if we had have known we may have pre booked this option.
I also feel that you need to adopt a code for the amount of physical energy required on excursions so that people our age can make a informed judgment. May I suggest that a 1 walking code indicate flat walking up to 1/2 Kilometer and/or some stairs, 2 walking code flat walking up to 1 kilometer and/or up to 50 stairs and 3 code suitable for those of reasonable fitness.
All in all we are very happy with everything and thank you and your team for your assistance.
All the best
Cec & Kati
Hi Stephanie,
Sheer perfection…
your guides: Coffee, David, Angela and Kevin were the best ever…everything we did and saw was an element of surprise…..
Donna
Hi Vivien,
Thanks for all your help in arranging the transportation and tours! It worked out very well. We are on our train to Zhangjiajie now. The cruise was very good and exceeded our expectation. Is it possible to give me a receipt of some sort for Chongqing and Yichang transport? It can be a combined receipt or separate. If you can indicate my name, date and transportation, that would be great.
Thanks!
Sincerely,
Minah
To whom it may concern:
We found Stephanie Kuang to be an excellent travel consultant who provided us with timely and helpful information. She was very insightful to our needs and made recommendations that made our cruise travel and stay very worthwhile.
As a Canadian, we required a Chinese visa for the trip. The information required was quite vigorous,Stephanie was able to quickly provide the information to complete the visa process.
Stephanie is very knowledgeable of the shipboard processes and recommended guides that met us at the airport for embarkation/disembarkation that made it easy for us to board the ship at our convenience.
Her recommendation of the Park Plaza Beijing was a great choice for us and provided a great opportunity to see Beijing.
It was a great undertaking for us to tour the Yangtze River, Stephanie and your company made it easy and enjoyable.
Thank you.
(The following pictures were shared by Larry)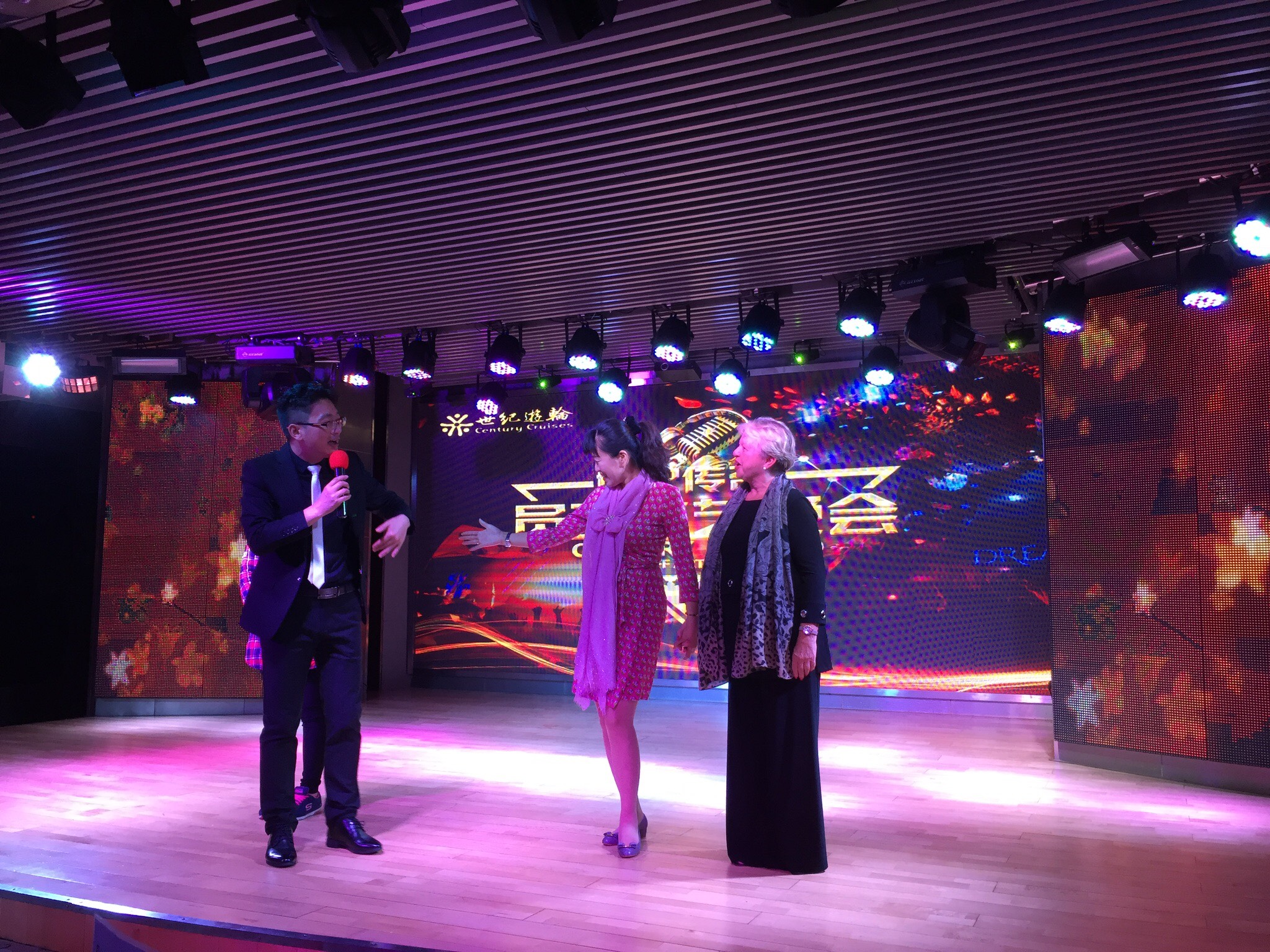 Larry with the Cruise Captain and Managers
1. Flights to Chongqing was on time, the tour guide picked us up and took us for embarkation
2. The Yangtze River Cruise was wonderful, the staffs in the cruise were very helpful, the attendants in the dining room remembered my issues with food allergies, every dining time (breakfast/lunch/dinner) they would either save me some food and/or show me dishes that I can avoid due to my onion and cinnamon allergies.We upgraded our cabin to the presidential cabin,my gift to my husband, whose health is failing and wanted him to be very comfortable.
3. the flight to yichang was on time, tour guide spotted us right away. Followed the itinerary as scheduled. She was very attentive to my food allergies and very informative
4. The last tour was the Sanyou cave. We opted not to see it, because we were very tired and exhausted, so opted for massage. She refunded us the cost of the cave tour (60 rmb pp). That was very nice of her.
5. Xian- tour guide was waiting for us in the airport. Went on the scheduled tour. I mentioned to her that we needed a wheelchair for my husband if we'll do a lot of walking. She secured it from the hotel. She pushed the wheelchair all the time. I wanted to relieve her but she insisted.
There was a slight issue on the hotel rooms. We had to change to non smoking room/floor. I have asthma, when I smelled the floor and room of smoke, I started coughing. I called the front desk to change our room in the morning, since my husband was already asleep. I wore my face masked all night.They did change our room the next day x2 as the first one (though they told me was a non smoking floor, soon as the elevator opened in 7th floor, I started coughing again, and a very strong fume of smoke was detected, so the bellboy was gracious enough to let us wait in the 7th floor ao he went to the front desk to change another floor/room. Finally, the 8th floor was a lot better. So when the guide showed up we were trying to change room and that delayed out start of the tour. I think this would have been avoided if the front desk asked us if we wanted the non smoking room on check in.
The massage was relaxing.It was a nice alternate to the cave tour. According to the guide, the tour ends up in a tunnel and see the wonderful mountains and river. I mentioned to her that we had enough mountains and rivers while we cruised. in the train station, we waited while she got our train tickets. Soon as she got them, she gave them to us. She told us to go the gate for boarding, (the gate # was in the ticket), then she left. We had to asked/showed our tickets to the train staffs to let us know was time is boarding, what floor we need to get the train etc,etc. Communication was a slightly an issue, but managed with gestures. The train staffs were very nice, we were in Q to get in the gate, when she came to us and told us to go ahead and enter the gate, we had to take the elevator to level 1 to take the train and told us to take #2 car. So we had time to load our luggage in the train. In the train, we tried to go to the dining car but they were closed and starts again in 20 mins. Again, we had some communication issues, as the staff serving doesn't understand nor speak English. I was asking about the onion in the package to no understanding. Anyways, another person in the dining car came to rescue us and read us the ingredients. When we opened the pack, the individual seasoning were in separate envelops. That helped some, so I didn't add the package with onion/scallion. Overall experience was very good. I thought it was a nonstop bullet train but we stopped at least 6-7 times to drop off/pick up passengers. It was an adventure experience, since that was out first time to ride a bullet train.
Then came to train station in Beijing, we didn't know where to exit-north or south. we followed the crowd to the south terminal. Lots of folks offered to get a taxi but we told them we have some one meeting us and they were insistent. I think because we were tourist and they spot an easy target.We stopped and waited soon as we reached the south exit, they a guy comes and he says "wait", He left to get Richard, the guide, as he was also covering the north exit in case we went that way. So we walked out of the train station to the parking area, and that was a long walk, my husband was huffing and puffing. I wished he told us to wait outside the train station or a corner of the street while the driver fetched the van. Though my husband made it, I told Richard the my husband has lung and brain cancer and is unable to walk long distance as he get very short of breath. He helped us check in. I asked him if he can secure a wheelchair for all those walking tour the following days. Yes, he was able to secure a wheelchair for us from the hotel, just put deposit. He pushed the wheelchair. Yes, my husband made it to the great wall of China with difficulty. He walked the steps till we reached the big rock and up again to the see more of the wall.I thought he was going to pass out on me, but he tolerated all the activities that day.
I have a question: we paid for the gondola ride RT, I thought that was included in the package tour? Also, in the package, it didn't state that the gondola ride was not included and needs to be paid when we get there.I would appreciate an explanation.
Richard helped us a lot in checking in at the airport, and securing a wheelchair for my husband. That was a long walk. We are glad that the Air China staff provided it.
Richard had a good command of English, wonderful guide, very knowledgeable in Chinese history. We learned a lot from his information. The lunch with a family was a very good touch. We enjoyed that a lot, meeting the family and dining on the home cook food, so different from restaurants. The rickshaw ride around the Hutong village was fun too.
On day 7, I noticed now on the itinerary that there was an experience to the Tea Ceremony, We didn't experience that nor we went to one. Also, for lunch, he took us where the locals go so we experienced dining with the local people in that restaurant.
Over all, it was a very good experience for us, hotels were nice and accommodating and tour guides were very knowledgeable in history and seems to be passionate too about their country.
Thanks for setting up a wonderful tour. It was very memorable and one to cherish. My husband checked it off his bucket list!
Again, thank you.
Hi Wing,
Our day tour in Beijing was really good. Richard was a excellent tour guide and the driver was very reliable. We are very happy with that tour and thank you for organizing it.
We've collected train tickets and received your message regarding other two guides. They will have their task cut out especially trying to fit in Richard's shoes.
Thank you
Hi Leo Li
Our trip to China was successful. Your representatives were waiting for us on all arrivals and pickups. The guides were knowledgeable and adaptable to our needs. Both Li & Timo were exceptional. We had very bad weather in Zhangjaijei but Li put a beautiful smile on her face and her umbrella up.
The Century legend ship was very comfortable. We upgraded in the dining room very worthwhile.
Your attentiveness to my persistence questions prior to going away was commendable. Thank you so much.
The friends that travelled with us will be contacting you for their next year's travel back to China.
Questions & Discussions
Following are latest questions and answers from our webusers and customers. You can learn many useful information from the discussion and cases. You can also join in the discussions or ask your own question. Our experts will help you ASAP.
Vegetarian Food
Hi, We are traveling in the cruise from 9 May. Is there any Indian vegetarian food. What are the other vegetarian options
Hello Ravi,

Greetings from China! At present, there is no Indian vegetarian food served onboard Yangtze River cruise ships. However, the breakfast, lunch and dinner are almost arranged in buffet styles with about 3-5 vegetarian dishes, like cabbages, vegetables in season, vegetable and fruit salad, and so on, and some cruises prepare the dinner in Chinese sitting form with some specially cooked vegetarian dishes for guests. And if want, you could also pay extra to order some vegetarian food at the reception desk and tell the staff about your needs and eating habits, and the cruise chefs would prepare great food for your enjoyment. Besides, the Yangtze River ships serving foreign guests from the world have provided service to many vegetarian travellers and have gained rich experience and good reviews, so you can enjoy your dining time on the ship!

Wish you a wonderful Yangtze River sailing trip in May!
Room with balcony
If I book a China tour with webjet, what is the name of cruise ship used. Also can I book a cabin with balcony
Hi Christine,

Thanks for your question. As I know, there probably is no Yangtze River cruise business on the Webjet. And if you are interested in enjoying the leisurable cruise in China, you could book the cruise tour with us. Nearly all cabins onboard the cruise, such as the Century cruises, Victoria cruises, President cruises, Yangtze Gold cruises, Yangtze Explorer, etc. are facilitated with an open balcony for your sightseeing enjoyment and also many great services and high standard facilities and amenities. Please feel free to tell us your Email address, nationality, group size, traveling time to China, needs, and other basic information, and our professional Travel Consultant could help you as soon as possible to tailor make a route for you with really nice price.

Have a nice day!
Should we worry about Motion Sickness
Just not sure if we should need motion sickness meds. We are on your cruise that departs from the Yichang Port for Yangtze River from April 24- April 27, 2017. Thank you so much
Dear Mary,

Thanks for taking a Yangtze River cruise with us. April is a great time with fine weather to enjoy the gorgeous scenery along Three Gorges.

No matter which ship you take, it will run very steady at a relatively slow speed. As you know, the construction of Three Gorges Dam controls the water level and flow velocity of Yangtze River that it will be steady to guarantee every ship to sail smoothly. Unlike the ocean cruise, there is no need to bring motion sickness meds for travelers who on Yangtze River cruise. If your physical condition are seasick easily, take some just in case. And no worry, there is a clinic onboard who will serve at any time.

Wish you have a nice journey!
Have a question? Get answers from our travel experts or guests
Your Question:

Your Name:

Your Email: