12 Days Valuable Victoria Sabrina Summer Cruise from Shanghai to Chongqing
- To Enjoy Yangtze River Summer Vacation in the Shortest Time from only $1,992
How to spend your summer vacation this year? The precious time is priceless! How can you have an in-depth cruise of the Yangtze River in the shortest time? This 12-Day Cruise from Shanghai to Chongqing makes it possible! During the short 12 days, you will sail through Yangtze River from its end - Shanghai to Yangzhou, Nanjing, Chizhou, Jiujiang, Wuhan, Yueyqang, Jingzhou, Yichang, Three Gorges and finally end your ship journey at the starting city of the most beautiful section - Chongqing!
This cruise is offered by Victoria Cruises, the only American-managed cruise company of Yangtze River that knows the real needs and preferences of western customers! Travelers choose this cruise will sail with Victoria Sabrina, the best and most luxury ship of Victoria Cruises! Only 2 scheduled sailings (July & August, including 1 from Shanghai to Chongqing & 1 from Chongqing to Shanghai) in summer in 2021! You will enjoy more discounts if you book it earlier! Check your calendar and choose your sailing NOW!
Shanghai to Chongqing Yangtze Cruise - Amazing 12 Days Summer Vacation in China
① Valuable Summer Vacation: This itinerary is only offered in July and August - summer! It is a valuable once-in-a-lifetime leisure summer vacation for your family and also an education summer cape for your kids, because there are experienced teachers to teach your kids Chinese culture and customs! All of you can have fun here!
③ The Shortest Chongqing Shanghai Cruises: Normally, the Chongqing Shanghai Cruises take 13~15 days. However, the Victoria Sabrina Yangtze River Summer Vacations take you to cruise between Shanghai and Chongqing in only 11~12 days (11 Days Chongqing to Shanghai & 12 Days Shanghai to Chongqing). The shortest option with no shortage of the highlights along the way!
③ 2,400-Kilometer In-depth Exploration of Yangtze River: You will travel 7 provinces and have shore excursions in over 11 cities of China. From the wonderland of Ba & Shu to the land of Jing & Chu and the water towns of Jiangnan (the south of the lower reaches of the Yangtze River), about half of China is included in this amazing journey!
④ Deluxe Journey with the Newest & Largest Cruise: During the 12 days, you will cruise Yangtze River from Shanghai to Chongqing with Victoria Sabrina, the newest & largest cruise with luxury facilities and excellent service!
⑤ Colorful Discovery of China's Nature, Culture, History & Economy: You will get close to diverse types of tourist sites, from ideal three gorges to marvelous Three Gorges Dam, sacred Buddhist Mount Jiuhua to tranquil Slender West Lake, pavilions to museums, ancient city walls to poetic towers, lovely islands to historic mausoleum… There are also large-scale real-landscape shows and performances…
⑥ Savor Delicious Cuisines & Enjoy Great Operas of the Cities along the Cruise: Specially invite first-class chefs to cook the local cuisine and also professional bands to show famous operas along the route.
Shanghai to Chongqing Yangtze Cruise Highlights
Leisure Vacation with Victoria Sabrina, Top Best Yangtze Luxury Ship
Victoria Sabrina, which made her Maiden Voyage in May, 2020, is the newest cruise amongst all the Yangtze River cruises of all ship companies. It has a large scale of luxury facilities including a la carte restaurant, bar, cinema, spa and gym site, and 5 types of large and elegantly decorated cabins and suites to meet your different needs and guarantee you a wonderful cruise experience! Check its detailed deck plan, accommodation, life onboard, dinning and more here to know the fantastic Victoria Sabrina!
DINING
The three exquisite restaurants with professional chefs and crew give you a superb savory experience of Chinese, Western...
Detailed Sailing Schedules at below:
Chongqing Shanghai

Jul.30.2021 ~ Aug.09.2021

Shanghai Chongqing

Aug.09.2021 ~ Aug.20.2021
Detailed Itinerary for 12-day Shanghai to Chongqing Cruise
The entire Yangtze River cruise sailing from Chongqing to Shanghai will take 12 days and 11 nights along the lower and middle reaches of Yangtze River. The first day is the embarkation day that travelers from other places should transfer to Shanghai, and the cruise company will arrange transportation escorting you from the airport / train station to Shanghai Port International Cruise Terminal for embarkation. You will enjoy full days from the second day to eleventh day to enjoy the natural, cultural, historical, economical and food highlights all the way passing various parts of Chongqing, Yichang, Jingzhou, Yueyqang, Wuhan, Jiujiang, Chizhou, Nanjing, Yangzhou and Shanghai, with no shortage of visits to Three Gorges, Three Gorges Dam, etc. On the morning of the last day, you will arrive in Chongqing downtown and the cruise will dock at Chongqing Chaotianmen Port for your disembarkation. The cruise company will also arrange a vehicle to escort you to Chongqing airport / railway station for your leaving for the next destination or home. Check the following cruise itinerary from Shanghai to Chongqing to have a general idea about what to expect during such in-depth Yangtze river vacation!
Map of Chongqing Shanghai Cruise Route
Sampling Itinerary Day by Day
Day 1 Shanghai Arrival & Embarkation (D)
Embark at Shanghai Port International Cruise Terminal. (Opposite to the Pearl Tower); Jazz Night onboard along the Huangpu River.
Situated at the mouth of Yangtze River, Shanghai is the largest and most developed city in China. It is a flourishing international metropolis and a popular tourist destination renowned for its historical landmarks the Bund, Yu Garden as well as the extensive and growing Lujiazui skyline. Board Victoria Sabrina at Shanghai Port International Cruise Terminal between 17:00 and 20:30. The cruise departs Shanghai at 21:00.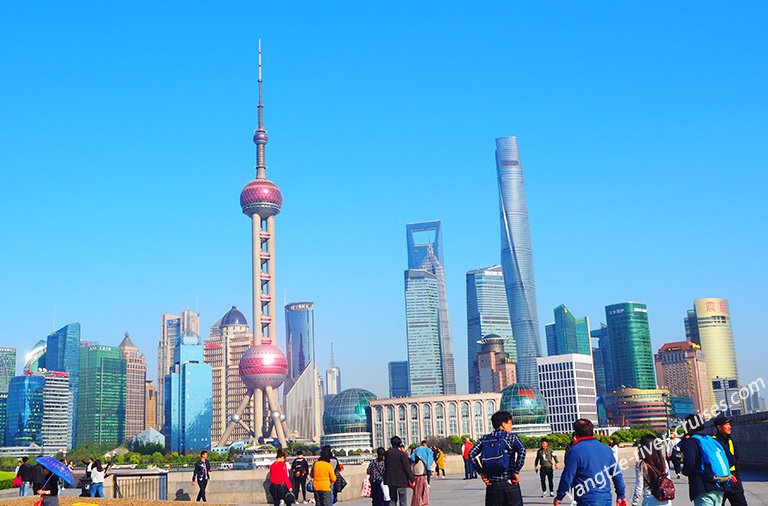 Amazing Shanghai Huangpu River and Lujiazui View
Day 2 Yangzhou (B, L)
Slender West Lake & Daming Temple
Slender West Lake: the symbol of the dignified and graceful Yangzhou and the must-visit site in this city. The verdant trees with branches and flowers dancing in the wind dress the lake into a pretty gorgeous lady who will arouse your interest to enjoy the seasonal scenery. Moreover, the old garden architectures, multiple bridges of different shapes, remaining literary works of those historically famous scholars and poets would offer very suitable opportunity to go into the history and cultural connotation of Yangzhou. To discover the romance of famous and dreaming city, it is not to be missed.
Daming Temple: This famous historic temple has a long history more than 1,500 years. Apart from its long history, it is also famed for the well-respected Monk Jianzhen, who was once an abbot of the Temple. Jianzhen made six attempts to cross the sea to Japan with the aim of disseminating Buddhism.
Daming Temple in Yangzhou
Yangzhou Slendar West Lake
Day 3 Nanjing (B, D)
Sun Yat-sen Mausoleum; Confucius Temple; Xuanwu Lake
Located on the Northern bank of the Qinhuai River, Nanjing Confucius Temple is built to worship Confucius, a great thinker and educator in ancient China. Also, it is one of the top four largest Confucius Temples in China. Walk around along the Qinhuai River to feel local life and culture and history of education in China!
Dr. Sun Yat-sen Mausoleum
Nanjing Qinhuai River
Day 4 Chizhou (B, L, D)
Full day shore excursion to Mount Jiuhua
Mount Jiuhua
is of the four sacred Buddhist mountains in Chinese. It is dedicated to Ksitigarbha (Chinese Pinyin: Dizang), a bodhisattva and protector of beings in hell realms according to Mahayana Buddhist tradition. Buddhism was first introduced to Mount Jiuhua in 401AD. For all these years, It has been constantly attracting global people to make pilgrimages there. Aside from the exquisite ancient Buddhist architectures and grand culture, It is also a fantastic place for breathtaking natural scenery like sunrise, sea of cloud, the Light of Buddha, peculiar rocks…
Sacred Buddha in Mount Jiuhua
Mount Jiuhua
Day 5 Jiujiang & Nanchang (B, L, D)
Tengwang Pavillon; Poyang Lake; The Stone Bell Mountain, Nanchang Bayi Square
Tengwang Pavilion in Nanchang was used to be song and dance pavilion of the royal families. It got its prosperity because of a famous poem of same name. Together with Yellow Crane Tower, Yueyang Pavilion (Yueyang Lou), this fine building is one of the Three Great Pavilions on south side of the Yangtze River.
Tengwang Pavilion
Day 6 Wuhan (B, D)
Yellow Crane Tower; Qingchuan Pavilion; East Lake
Yellow Crane Tower from 223 AD is the symbol of Wuhan and is one of the Three Famous Towers in Regions South of the Yangtze River. The antique designs, flying eaves, and rich left charm is great to soak in the literal culture in the historically well-known Chinese poem.
East Lake - Wondering there provides a great chance to enjoy its natural beauty of lake, plants and the ethnic charm of antique pavilions, gardens and lounge bridges and also experience local leisure life. As many famous ancient poets and artists used to gather there for inspiration, rich culture can be touched. In Tingtao area, you can find the works of the great patriotic poet Qu Yuan (340 BC- 278 BC).
Yellow Crane Tower
East Lake
Day 7 Yueyang (B, L, D)
Yueyang Tower; Dongting Lake; Junshan Island
Yueyang Tower is one of the ten famous historical and cultural towers in China which is well-known for over 1,000 thousand years since the classic Chinese poem. Besides the outstanding construction skills and abundant poem and calligraphic displays, you can get on the tower to admire the great sightseeing of Dongting Lake.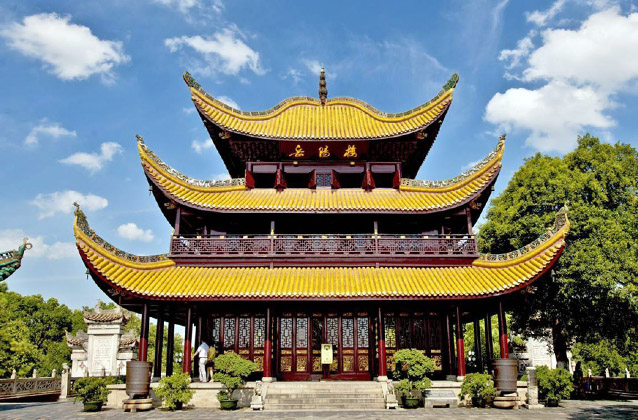 Yueyang Tower
Day 8 Jingzhou (B, D)
Jingzhou Ancient City Wall; Jingzhou Museum; Former Residence of Zhang Juzheng; The Chariot and Horse Mausoleum of the King of Chu (Xiongjia National Archaeological Site Park)
Jingzhou Ancient City Wall is one of the best preserved and larges scaled city wall in southern part in China, which is historic from the Warring States period. Visit this ancient site to admire its look kept from the Qing dynasty and understand the history of Jingzhou being the famous place in the past dynasties.
The Chariot and Horse Mausoleum of the King of Chu (Xiongjia National Archaeological Site Park) is the best and largest tomb site of Chu State representing the highest level of Chu culture in the Spring and Autumn and War State period. Lots of archaeological experts in China often say, "Terracotta Warriors is best in north China, the Chariot and Horse Mausoleum of the King of Chu in south China."
Chariot and Horse Mausoleum of King Chu in Jingzhou
Jingzhou Museum
Day 9 Three Gorges (B, L, D)
Three Gorges Dam; Sail through Xiling Gorge; Gezhou Dam
Sail through the Xiling Gorge at the eastern section to enjoy its beautiful sightseeing with some feeling of the dangerous gorge landform with turbulent river, high hills, rugged shoals, etc.
The Three Gorges Dam is the No.1 must-see attraction arranged by every ship as the first or last shore excursion. Located in Yichang City, it has been the world's largest power station. Three Gorges Dam is 3,335 meters long and the top of the dam is 185 meters above sea level. The dam consists of three parts - dam body, power plants and ship lift. It is used for producing electricity, but also increase the Yangtze River's shipping capacity. Travelers with a Yangtze River cruise will spend about 2 to 3 hours visiting the dam. You will not only have a close look at the impressive huge dam, but also learn the history, social impact, economics about the dam.
Three Gorges Dam Five Stages Ship Locks is so far the largest ship locks globally. With a water height difference of 113 meters in total, it is the most complicated ship locks to construct universally.
Amazing Xiling Gorge
Three Gorges Dam with Ship Locks
World-famous Three Gorges Dam
Day 10 Three Gorges (B, L, D)
Shennv Stream, Sail through Wu Gorge & Qutang Gorge; White Emperor City; Return to Three Gorges Show
White Emperor City is located on the north side of Qutang Gorge, White Emperor City offers the best angle to view the magnificent Kui Gate. Known as the Poem City, White Emperor City has attracted many poets come and left many famous poems. What makes this place known to outside is the historical story of "Entrusting Zhuge Liang with an Orphan in Baidi Town".
Qutang Gorge at the western section is narrow and dramatic like an art gallery of nature, which offers superb magnificent scenery for all guests. Wu Gorge is the middle one gorge. It is a mysterious gorge site well-known for its frequently rising and passing mists, which is extremely beautiful and gorgeous with the leaves in red, yellow, golden and orange during autumn.
Shennv Stream has painting-like natural wonderland to appreciate the primitive waterscape with strange rocks, verdant peculiar peaks, winding water, in the serene valley with crispy chirps of at Yangtze.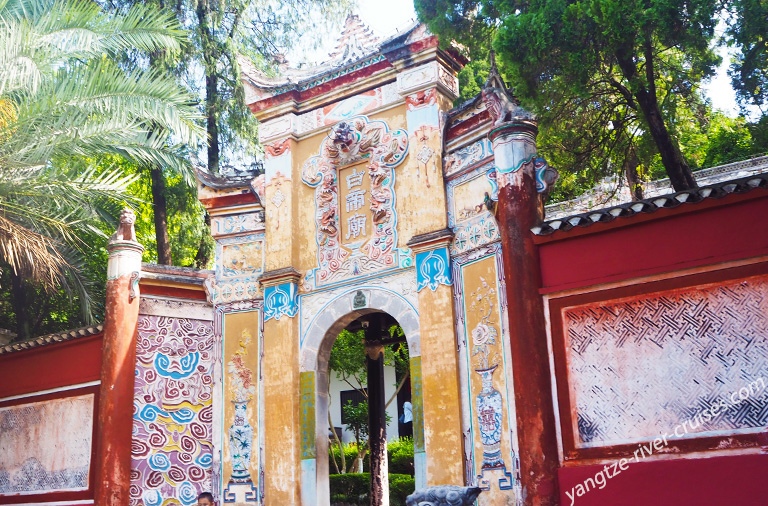 Fengjie White Emperor City
Shennv Stream with Primitive Gorge Scenery
Magnificent Qutang Gorge
Breathtaking Wu Gorge Scenery
Day 11 Fengdu (B, L, D)
Visit Fengdu Ghost City & Ancient Dwelling Houses; Captain's Welcome Party; Three Kingdoms Open Air Show
Fengdu Ghost City is a large complex of shrines, temples and monasteries dedicated to the afterlife located on Ming Mountain. You'll have a learning about Chinese demons and beliefs of Confucianism, Taoism and Buddhism.
Mt. Wuling Great Rift Valley is reputed as "China No.1 Dynamic Valley" to appreciate the 10 km's original Karst valley with magnificent mountains and peaks ranging from 600-1,980 meters above sea and have fun in the pleasant emerald wonderland of nature!
Fengdu Ghost City
Day 12 Chongqing Arrival & Disembarkation (B)
Disembark the cruise at Chaotianmen Port
Welcome to Chongqing, the City of Mountain. Chongqing is China's fourth municipality after Beijing, Shanghai and Tianjin, attracting visitors from home and aboard for its delicious food, cultural heritage, tourist attractions, unbelievable mountain landform... Located at the confluence of Yangtze River and Jialing River, it is best to appreciate the view of the city center. If you like, you can also choose to discover Chongqing after disembarkation.
Chongqing Chaotianmen Dock
Quotation Includes:
Accommodation: One single bed of a Superior Cabin with two single beds;
Meals onboard and on land as specified in the itinerary;
Guide introduction service during each shore excursion listed in the itinerary;
Elegant casual ambience & enrichment programmes;
Service Charge (the planning, handling, operational and communication charges) & Government Taxes.
The price will be a little lower if you pay in Chinese Yuan (RMB!)
Price excludes:
Single room supplement;
Comprehensive service fee for about CNY 600/pp (It is free of charge if you book the suites);
Accommodation not as listed in the itinerary;
Visa Fees: Please make sure that you have got your valid passport and visa before your entry to China. We can send you a free official invitation letter to assist you in obtaining your visa after the reservation deposit is received;
Sightseeing bus that takes you to visit Three Gorges Dam;
All the other shore excursions expect those scenic sites in Nanjing (You can choose the bests as you like after boarding the ship. Besides, it is free of charge if you book the suites.);
Meals not listed in the itinerary;
Personal expenses such as laundry, drink, fax, telephone call, optional activities, etc.;
Gratuities, tips to guides, drivers, bellboys, etc.;
Excess Baggage Charges;
Life Tourist insurance. Please kindly note that the full coverage travel insurance from your country of origin should be purchased in advance on your own.
Here are recent candid photos of this China trip / Yangtze cruise trip. If you want to share your own tour photos, simply email your photos to info@yangtze-river-cruises.com with your Booking ID Number. Thanks in advance for sharing!
Note:
1. The above information including itinerary, attractions, and shore excursions, is not fixed and will be changed slightly because of the differences in ships, seasons, water levels, and weather condition.
2. Included meals as noted in above itinerary: (B) = Breakfast; (L) = Lunch; (D) = Dinner.
3. Get to / away from Shanghai: Shanghai Hongqiao International Airport and Shanghai Pudong International Airport are two top busy airports in China, which have frequent flights every day to most destinations in China and international destinations. Besides, high speed trains launch frequently from / to Shanghai Hongqiao Station, Shanghai South Railway Station and Shanghai Railway Station every day, liking it with many destinations in China, like Beijing, Xian, Guangzhou, Hangzhou, etc.
4. Get to / away from Chongqing: Chongqing Jiangbei International Airport has frequent flights to majority domestic places in China and some direct flights to Seoul, Tokyo, Nagoya, Bangkok, etc. Besides, Chongqing North Railway Station, Chongqing West Railway Station and Chongqing Shapingba Railway Station has high speed trains to / from Beijing, Xian, Chengdu, Guilin, Kunming, Guangzhou, etc.
5. You can cruise part of the route: If your time is limited, you can choose to cruise the Chongqing Wuhan section (7 Days 6 Nights) or Shanghai Wuhan section (6 Days 5 Nights). If you are interested, please feel free to contact us for more details!
6. What to Wear for Yangtze River Cruise: wear casual seasonal wears like coats, T-shirts, light knitwear, jeans, etc. in spring and autumn, shorts, light jackets, T-shirts, skirts, sunglasses, sun hat, sunblock, etc. in summer and jackets, warm pants, sweaters, gloves, scarves, etc. in winter.
7. What to Pack: Travel documents, "Carry On" luggage, confirmation letter, casual clothes to pack, daily commodities, credit cards, cash, mobile phone, cameras, as well as any essential medicines, etc.
Make an Enquiry
Interested in the cruise? Select from the following cruise dates and make an inquiry to start your trip planning & cruise vacation!
Chongqing to Shanghai
Shanghai to Chongqing
Book Now
Not easy to find the right cruise ship/itinerary for you? Please contact one of our Yangtze cruise specialists to save your time and money. Click the right button to send an online inquiry and we will get back to you within 0.5~23.5 hours.
Your can rely on our expert knowledge and endless enthusiasm!