Reviews of Yangtze River Cruise
Still not deciding if a Yangtze River Cruise is worth for you? Many of our travellers have experienced a lifetime changing trip and now more than happy to share their stories with you. Check out their memorable Yangtze Cruise reviews and experiences.
Hello Linda,
Hope you are well.
First of all, we would like to thank you very much for the organisation of our trip to China which was perfect!
However, the last day was very hard. Indeed, we have waited half the day for our plane from Huangshan to Shanghai (flight expected at 10:30 PM) and once arriving at the airport, have been informed of a delay of more than 4 hours. Our guide has been very helpful and we would like to inform you of his kindness. He has waited with us till the transfer to a hotel where we had a rest till the confirmation of our flight.
Except this last day, we have been delighted of this trip. We would like to congrat you for the professionalism of your guides and drivers and for the organisation.
We thank you in advance for your kind and prompt feedback.
Best regards,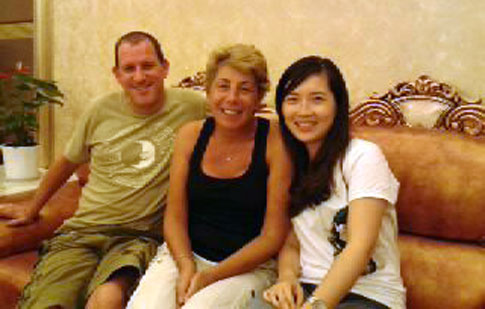 Stéphane's Comment on Tripadvisor:
This travel agent set up for us a comprehensive tour of China. Everything was great and perfectly well organized. The guides were pretty interesting and we could deepen in the chinese culture.
They were quite reactive and made for us a great sur-mesure programe!!!
Visited August 2012
Charlotte and Stephane, France
Aug. 28, 2012
Hi Judy,
We're all ready to have a fabulous trip.
Thanks for everything.
Lorraine, Canada
Aug. 20, 2012
Hi Laura,
We thoroughly enjoyed the tour. The weather was good. Thank you.
Regards,
Steve & Janet, U.S.A
Aug. 14, 2012
Dear Bruce,
Just a short note to express our thanks and compliment you and Yantze River Cruises for the outstanding service we received on our recent trip organised by you and Elena.
Thank you for all you have done and your efforts to help us during the flight delays and itinerary changes. In addition, you also helped us to obtain refunds for the hotel stay in Beijing and the cancellation of the flight from Beijing to Hong Kong even before the actual refund was paid to your company. This is an example of outstanding customer service which minimised the out-of-pocket expenses and disruption to our trip. Your advice and service was invaluable in assiting us during our trip.
Furthermore, every single guide and driver was punctual (even when flights were delayed), polite and professional in every respect. We were very pleased with the service provided by these staff and found them to be very knowledgeable and helpful. In Xian, the guide Jenny and driver helped take my mother to the hospital and obtain a consultation with a doctor because she needed prescription medication. We were very grateful for their compassion and helpfulness during that critical situation.
The itineary was perfectly planned and the hotels were well chosen and appropriate for our requirements. Every aspect of the holiday met and exceeded our expectations.
The visit to Xian and the Teracotta warriors is something I have wanted to do for many years and was absolutely incredible. My only problem was the large crowds, but in the middle of the Chinese summer holidays that was to be expected.
The cruise on the American Victoria Jenna was great and especially enjoyable for my parents. The staff (particularly Lance in the restaurant and Cruise Director Greg Hinton) were exceptional in their service.
We are all very impressed by the service of Yangtze River Cruises and will not hesitate to recommend you and your company to our friends and family in future. Thank you once again.
Regards,
Cindy , U.S.A
Aug. 13, 2012
Toronto's Comment on Tripadvisor:
"Fantastica organización, merece la pena confiar en ellos"
La verdad es que no conocíamos la agencia y nos fiamos de lo que vimos en Internet, algunos foros la recomendaban.
Al principio pagar todo de un tirón antes de ir y sin conocer a fondo la agencia nos supuso un poco de angustia, per de verdad que ha merecido la pena.... Todo ha funcionado como un reloj, bien organizado y sin la más mínima oportunidad a la improvisación. Linda fue nuestro agente de viajes y desde le principio la respuesta a nuestras dudas y preguntas fue inmediata. Los guías buenos, cada uno con sus virtudes, pero en general estupendos. Destacar no obstante a nuestra guía de Pekín, Mai, por su esfuerzo en aprender español para agradarnos. Stela, nuestra guía de Xian por su profesionalidad y conocimientos, finalmente Joanna, nuestra guía de Güillín por su sonrisa y simpatía.
En resumen, os recomiendo esta agencia para vuestros viajes a China.
Visited July 2012
Toronto , Madrid, Spain
July 26, 2012
Hello Judy and Linda,
We have now arrived safely in Chengdu. Thank you to all of your staff who assisted us yesterday in Chongqing. The arrangement worked out very well for us. We found the office without difficulty, and were able to use the time in the morning to visit the fantastic museum of the Three Gorges. We knew that our luggage was safe and dry in your office while we were exploring the city. Without our luggage, we were able to use the subway and to walk comfortably from place to place.
The cruise itself was a great success, and we will be recommending it to all of our Australian friends. Many of our friends, like ourselves, are very interested in travel and want to visit China again.
We will be taking the flight to Kunming on 19th, and will simply present our passports at the China Airlines counter so that our boarding passes can be printed.
Your customer services have been excellent.
With best wishes
Patricia and Daniel , Australia
July 17, 2012
Dear Bruce,
I just want to say THANKS TO BRUCE TANG for making our china vacation perfect, enjoyable and amazing. This was my first internet transaction and I was very uncomfortable during the booking procedure but everything turns up perfect and again thanks to Bruce.
Victoria Grace is pretty good, our cabin is always spic & span, so does all the boat facilities and the food, my goodness too much food that I can consume and its nice of the cruise director to have our dining place where everybody speaks English that is a plus to me...We enjoyed our entire trip excursion and our guides are pretty good.
Also want to thank David, who picks us up in Chongging airport and gives us narrative of the city and so does Edward from Yichang who drives us to the Airport and also provides Yichang city information.
One more to thank for is our Hotel in Shanghai w/breakfast every day, nice location and off course Autumn, she's active and always there to help my sister in law who has problem walking and took us to various interesting sites and my personal favorite is the Bund. Autumn even helped us inside the airport, packed our silk comforter, without her we have no idea/clue on how to handle it. Bruce has provided all of these and thank you so much and it's nice to hear your voice when you called me in our hotel.
Thanks
Karen, hi.
Greetings from Australia. We hope you are well.
Karen, we have arrived home in Australia from our China holiday, one month of interesting travelling. China is an amazing country and the Chinese people we met were delightful.
A special feature of our time in China was the 'Xian and Yangtze River Cruise' you organised for us. Thank you Karen.
Our time in Xian was interesting and informative. The accommodation you arranged for us at the Grand New World Hotel was excellent. The tour of the Terra-cotta Warriors and Horses was fascinating and memorable and so too was the Big Wild Goose Pagoda and the Ancient City Wall. We loved it all. The Yangtze River Cruise and Three Gorges Dam was a wonderful time and experience. We thoroughly enjoyed it. Since returning home to Australia we have told many of our friends of the Cruise you organised for us.
Karen, thank you for your interest and support in organising for us the wonderful time and experience of Xian and the Yangtze River Cruise.
Bronwyn and Gerry, Australia
July 1, 2012
Questions & Discussions
Following are latest questions and answers from our webusers and customers. You can learn many useful information from the discussion and cases. You can also join in the discussions or ask your own question. Our experts will help you ASAP.
Should we worry about Motion Sickness
Just not sure if we should need motion sickness meds. We are on your cruise that departs from the Yichang Port for Yangtze River from April 24- April 27, 2017. Thank you so much
Dear Mary,

Thanks for taking a Yangtze River cruise with us. April is a great time with fine weather to enjoy the gorgeous scenery along Three Gorges.

No matter which ship you take, it will run very steady at a relatively slow speed. As you know, the construction of Three Gorges Dam controls the water level and flow velocity of Yangtze River that it will be steady to guarantee every ship to sail smoothly. Unlike the ocean cruise, there is no need to bring motion sickness meds for travelers who on Yangtze River cruise. If your physical condition are seasick easily, take some just in case. And no worry, there is a clinic onboard who will serve at any time.

Wish you have a nice journey!
Have a question? Get answers from our travel experts or guests
Your Question:

Your Name:

Your Email: