Reviews of Yangtze River Cruise
Still not deciding if a Yangtze River Cruise is worth for you? Many of our travellers have experienced a lifetime changing trip and now more than happy to share their stories with you. Check out their memorable Yangtze Cruise reviews and experiences.
Hi Johnson,
thank you for everything! It was a great pleasure working with you. I'd definitely like to answer these questions. Please see below.
1. Your travel consultant of our company fast enough to answer your E-mail and patient enough to answer.
Yes, our agent Johnson Wang is very prompt in responding to all my requests. I started with a river cruise request, and he is very responsive to my questions. During the booking process, I also had to make several changes and he is very accommodating to all the change requests. His professionalism and sincerity triggered me to make additional travel arrangement requests that were beyond the original scope. He was patiently assisting all my requests. After I arrived in China, we had a few phone conversations and I recognized that some of the phone calls were definitely outside his working hours; however, he was extremely responsive and helpful with my adhoc asks.
2. How do you comment your tour arrangements?
We are very satisfied with our tour arrangements. Both the river cruise and the additional travel itinerary that was made at the last minute worked out nicely. The amount of time allocated and stops arranged were just right. We also appreciate agent Johnson's consideration in selecting family and kids friendly tour guide and driver for us since we have small children. We were also very satisfied with the tour guide assigned to us.
3. Are you willing to recommend our service to your people who also have an interest to visit China?
Yes, absolutely! Highly recommended, especially around the regions we traveled to.
4. Your general opinion on us?
I'm very impressed and appreciated with the professionalism and honesty your agent has demonstrated, which shone a great spotlight among all the negative publicity we had heard about the tourism industry prior to our travel. His help relieved lots of anxiety and made our life much easier!
5. Do you have any suggestions on improving our services?
I can't think of anything else right now. Hope all your agents provide the same quality service as agent Johnson!
Helen
(The following pictures were all shared by Helen)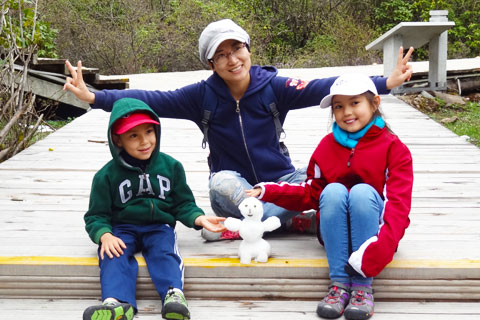 Helen Visiting Jiuzhai Valley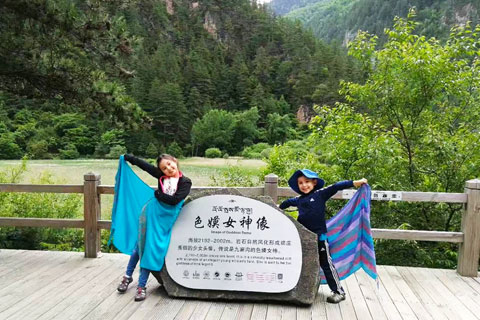 Helen's Group Visiting Jiuzhai Valley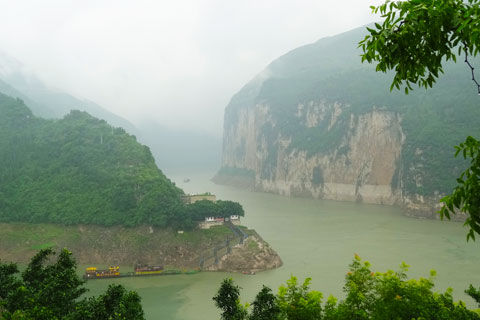 Helen Visiting Kuimen Gate at Yangtze Three Gorges
Hi Lily,
Everything went well. We had a last minute change of plan because my wife was not feeling well in the morning. The tour guide Diana was very understanding. We ended up just having a tour of the Chongqing zoo to see the pandas. Then Diana took us to the pier and walked us all the way to our boat for our Yangtze River Cruise. The price includes the fees for two Porter's to carry our luggages all the way to the ship which definitely saved us a lot of work. We weren't expecting this.
Also the transfer service at Yichang from the boat to the airport also went well despite the boat arriving late due to weather.
Service is highly recommend.
Tin Chee Kam
Tin Chee Kam, USA
July 12, 2017
Hi Jack.
It was more than great.
Special Gracie did organize everything perfect.
Gave the best advice
Dinner, lunch and breakfast were good .
Thanks a lot.
I will tell my friends,
Best regards
Joop
Dear Vivien
We had a wonderful time with Yangtze Explorer.
The room was clean and roomy with a nice balcony, the services was superb and the food was excellent.
We will recommend Yangtze Explorer to our friends.
Best Regards
Charunya
(The following pictures were all shared by Charunya)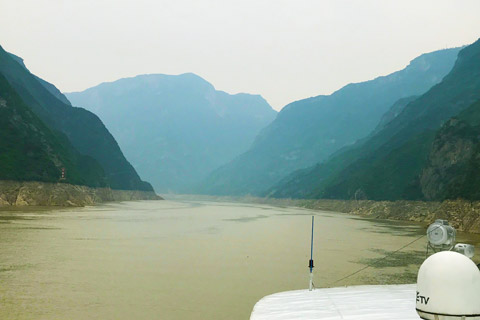 Charunya Visiting Yangtze River Cruise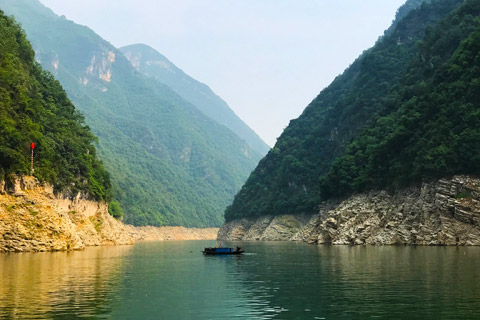 Charunya Enjoying Yangtze River Sightseeing
Hi Tracy,
I'm very good thank you.
The cruise was beautiful and very relaxing. We upgraded to the executive suite and enjoyed the use of the executive lounge. Our room was very clean and spacious with excellent views. We also upgraded the restaurant which allowed us our own private table, a quieter restaurant (around 60 people) and we were told better food. Staff were mostly very pleasant and attentive.
While we enjoyed the cruise very much, we had some trouble with food. As I have mentioned, Judy is a vegetarian (no meat or seafood) and Kurtz and I only eat chicken. We were asked for our dietary requirements and informed staff, however staff were not accommodating of our dietary requirements and most of the time we didn't have much food to choose from. I think it would be worthwhile telling other westerners or people with dietary requirements that the food is very much designed for Chinese people (a lot of the food eaten in China is very rarely seen or eaten in western countries).
Despite the trouble with food, the cruise was fantastic and we would highly recommend it to others.
We are going home in just over a week and I will definitely send you some photos soon after.
Kind regards,
Megan :)
Megan, Australia
July 7, 2017
Stephanie,
We very much enjoyed our river cruise. Your service was very good and we would recommend your company.
Best Regards,
Peter
Dear Tracy.
We were really honoured to have visited such an important person's tomb. It is more of a symbolic thing for us to honour such people and have visited such tombs also in Egypt, Mexico and elsewhere.
For example. Likewise the valley of the kings in Egypt, where we are allowed to enter selected tombs for a fee, that creates massive tourism opportunities and interest which in turn funds scientific exploration and conservation. They lined the walls with glass to protect murials.
Helen has amongst other studied museology and have also worked at restoration of key south african historical sites incl groot constantia. We realise that protection of these sites are of immense and utmost national importance. But we sincerely do hope that in future some of these pyramid tomb sites can be developed and made accessable for tourism to promote history and knowledge.
We are indeed honoured to experience this tour and are really enjoying it. Kimmy is an excellent tour guide.
Regards hugo
Hi Lyn
I have just returned to Australia after my cruise on the Paragon boat and would like to write a review about our cruise could you please give me the links to do this. It was a great cruise and the crew were very friendly and helpful, especially the cruise manager Leo.
Regards
Garry
Garry, Australia
July 4, 2017
Questions & Discussions
Following are latest questions and answers from our webusers and customers. You can learn many useful information from the discussion and cases. You can also join in the discussions or ask your own question. Our experts will help you ASAP.
Should we worry about Motion Sickness
Just not sure if we should need motion sickness meds. We are on your cruise that departs from the Yichang Port for Yangtze River from April 24- April 27, 2017. Thank you so much
Dear Mary,

Thanks for taking a Yangtze River cruise with us. April is a great time with fine weather to enjoy the gorgeous scenery along Three Gorges.

No matter which ship you take, it will run very steady at a relatively slow speed. As you know, the construction of Three Gorges Dam controls the water level and flow velocity of Yangtze River that it will be steady to guarantee every ship to sail smoothly. Unlike the ocean cruise, there is no need to bring motion sickness meds for travelers who on Yangtze River cruise. If your physical condition are seasick easily, take some just in case. And no worry, there is a clinic onboard who will serve at any time.

Wish you have a nice journey!
Have a question? Get answers from our travel experts or guests
Your Question:

Your Name:

Your Email: